Found March 21, 2013 on Fox Sports Southwest:
PLAYERS:
Kevin Durant
,
Russell Westbrook
,
Serge Ibaka
,
Kevin Martin
,
Reggie Jackson
,
Thabo Sefolosha
,
Nick Collison
,
Zach Randolph
,
Scott Brooks
,
Jerryd Bayless
,
Marc Gasol
,
Derek Fisher
,
Ronnie Brewer
TEAMS:
Oklahoma City Thunder
,
Memphis Grizzlies
OKLAHOMA CITY As the Thunder couldn't get a good look in the closing moments of an overtime loss at Memphis on Wednesday night, it was pretty obvious Oklahoma City was missing something. Like James Harden. If you think the Harden talk is over and done with, just wait until the playoffs start here in a few weeks. Unless the Thunder figure out something really quick, expect the conversation to shift back to Harden and the preseason trade Oklahoma City put together with Houston that sent the popular guard south. Here's why: Sure, it would be nice if OKC had a third scorer it could count on, but really the Thunder just needs to find a player, any player, willing to go to the basket in tough situations. Granted, not a lot of players can do what Harden does. He's an All-Star, part of the Olympic team and the owner of a unique skill set even Liam Neesen would be proud of. But Oklahoma City doesn't need Harden so much as it needs Kevin Durant, Russell Westbrook and any combination of Serge Ibaka, Kevin Martin or anyone else to put the ball on the floor and move in the general direction of the hoop. Reggie Jackson seems to be the best bet for future success, but the back-up point guard, who thrives when going to the rim, only gets about 13 minutes per game. When things broke down a season ago, the Thunder could count on Harden to be one of those guys, which in turn, freed up Durant and Westbrook to be more free with their shot selection. Now, it seems like Durant and Westbrook are stuck. Take for example Wednesday night in Memphis. In overtime, Durant missed a 27-footer then a 26-footer. Westbrook's wild, running 15-footer barely got the backboard and then he missed a contested 31-footer. Only after all that did the shot selection get better. Durant then missed a pair of shots in the paint after Oklahoma City fell behind by three. Each made a shot in the final 15 seconds from close range. But here's the problem: Only Thabo Sefolosha even attempted a shot in overtime. No one else seemed interested in shooting and that makes it even more imperative Durant and Westbrook get to the line, which means getting aggressive. Defenses are certainly keying on the two OKC scorers, so the two need to use that to their advantage and refuse to settle for jumpers. Against Denver on Tuesday, another loss for the Thunder, Durant was three-for-six shooting in the fourth quarter and missed both his 3-pointers. Westbrook attempted just one shot while Jackson was two-for-six, but missed all four 3-pointers. Martin didn't contribute. He had just two attempts in the second half. Westbrook has to be more assertive. Durant needs to stop settling. Until both of those things happen, there's going to be a lot of "Remember When" talk about last year and about Harden. Who's Hot No one's saying Nick Collison is under-appreciated, but what he did against Zach Randolph of Memphis was masterful. Faced up against Collison, Randolph went 6-for-23 shooting and Collison blocked two of his shots. Collison finished with five rebounds and four points, but he was also plus-15. That's impressive. Who's Not In a pair of losses this week to Denver and Memphis, Serge Ibaka had a total of eight points and eight rebounds. Huh? I'd say it's unacceptable, but really it's just hard to believe. And it's even worse when it's paired with the fact both Kevin Durant and Russell Westbrook didn't shot a combined 50 percent from the floor in the two losses. The Thunder need Ibaka to contribute, and badly. 3 Thoughts 1. The Thunder have done a great job this season beating up on the teams they should beat up on, but heading into the playoffs, there's a sour trend developing. Oklahoma City is just 3-7 against San Antonio, Denver and Memphis. A matchup with the Clippers looks more inviting as OKC is 3-0 against the Clippers. Oklahoma City is also 0-2 against Miami this season. 2. I wonder if coach Scott Brooks would have done things differently if he had another chance at managing the closing seconds against Memphis. Instead of fouling up three points in the closing seconds, Jerryd Bayless of Memphis lost Thabo Sefolosha on a switch and then faked Reggie Jackson before making the tying 3-pointer. "It's not something that we've done in the past," Brooks told The Oklahoman. "NBA players are so good at seeing that and gathering and shooting that basketball. So it's nothing that we've done yet. That's not saying at some time in the future we won't consider that. But it was a situation where we were switching everything, and he made a great play. He made a contested, shot-fake 3. Sometimes you can do all you can do and they made the shot. We live with that." OK, but in overtime, Brooks didn't call a timeout after Marc Gasol made a tip-in with 0.8 seconds left. Seems odd, considering the Thunder could have advanced the ball to half-court and likely gotten a beter look. The first call was debatable, but I think Brooks whiffed on the second one. 3. Let's go ahead and end any speculation or conversation right now. Yes, Derek Fisher has a handful of championship rings, but no, he's not better than Reggie Jackson. Jackson has to play more. Fisher has to play less. Fisher was a combined zero-for-eight in the past two games. Jackson went 6-for-14. While Jackson has played nearly double the minutes as Fisher in the same span, it leads me to believe Jackson should play even more. Give Fisher's minutes to someone else, possibly Ronnie Brewer for defensive purposes. Just not quite sure what Fisher brings to the team, while I am sure Jackson is the team's most-aggressive scorer off the bench. Quotable "We'll get a win in Orlando. "Simple. It's a must-win game. A must-win game." - Kevin Durant to The Oklahoman about Friday's game against the Magic. "Give them credit. They deserve the credit tonight. There's a number of things that we can get better from and learn from. Our guys have always done that and there's no reason to believe that's not going to continue to happen." - Scott Brooks after the Thunder lost Tuesday night at home to Denver. By the Numbers 6 The Thunder lead with 1:26 to play at Memphis. OKC went on to lose in overtime. 20 The number of wins in a row OKC had at home against Western Conference teams before losing to Denver Tuesday. 11-5 Oklahoma City's record since the All-Star break. Up Next The Thunder get a breather and they need it. This could be a fruitful week for OKC as they go to Orlando Friday, are home against Portland Sunday and then get the Wizards at home Wednesday. That's three teams who aren't going to the playoffs. That's three wins the Thunder have to get. Tower of Power? Bad week for the standings and the stature of Oklahoma City. The Thunder lost to the hottest team in the league Denver and then lost at Memphis the next night. OKC is still in second place in the Western Conference standings but this week showed the Thunder would have a hard time against either the Grizzlies or the Nuggets in a series. Follow Andrew Gilman on Twitter @theandrewgilman
Original Story:
http://www.foxsportssouthwest.com/sto...
THE BACKYARD
BEST OF MAXIM
RELATED ARTICLES
Kevin Durant couldn't get a shot off at the end of regulation and he could barely get one to fall all night. In overtime, Russell Westbrook's miserable night continued with a pair of terrible decisions. But then it looked like things were going to work out. Durant responded with a jumper. Westbrook's dribble-drive and layup gave the Thunder a lead before Marc Gasol...
I'm at event last night, talking about my website with a young lady, when she asks 'Did you see that complex video with Russell Westbrook' and I'm like no, I got to get on that asap. And that's exactly what I'm doing now. I recently reported on Russell's  cover feature for Complex Magazine's April 2013 issue, which lead up to this short interview footage as Russell...
ORLANDO, Fla. (AP) -- Kevin Durant scored 11 of his 25 points in the fourth quarter, Russell Westbrook had 19 points and the Oklahoma City Thunder held off the Orlando Magic 97-89 on Friday night. The Magic briefly took a one-point lead in the final period, but the Thunder hit eight of their final 10 free throws to help seal the victory. The win ends a string of consecutive losses...
Kevin Durant scored 11 of his 25 points in the fourth quarter, Russell Westbrook had 19 points and the Oklahoma City Thunder held off the Orlando Magic 97-89 on Friday night. The Magic briefly took a one-point lead in the final period, but the Thunder hit eight of their final 10 free throws to help seal the victory. The win ends a string of consecutive losses for the Thunder, who...
In a season bereft of much motivation to win except pride and youth development, this is the game and this is the moment the Magic likely want their young players to see and feel. It was not so long ago that Kevin Durant was going through these growing pains -- and Orlando certainly does not have a Kevin Durant on the roster right now -- and suffering losses to teams that were...
The Memphis Grizzlies' Mark Gasol's knee ends up in a very unfortunate place for Oklahoma City's Nick Collision.
Marc Gasol went up for a layup during the Grizzlies 90-89 overtime win over the Thunder and his knee found its way into Nick Collison's groin. It was definitely unintentional but it doesn't change the fact that it will make you cringe when you see it. [SB Nation] Article found on: Next Impulse Sports
Are you a struggling blogger who could use some free pageviews? Have a post you've been busting your ass on that deserves some attention? Have a Bacon Porn photo to submit? mail@bustedcoverage.com JOIN BC BRACKET CHALLENGE – LINK! PASSWORD: BUSTED COVERAGE • Kate Upton rapping w/Flo Rida • March Madness Drinking Game • Sky Sports reporter in her underwear • Claude Giroux...
The last time the Oklahoma City Thunder lost consecutive games they responded with one of their best stretches of the season. The Thunder appear poised to get another run started Friday night when they visit the Orlando Magic, who are mired in another lengthy losing streak. Oklahoma City (50-19) is coming off back-to-back losses for the first time in a month following a 114-104...
Kevin Durant scored 11 of his 25 points in the fourth quarter, Russell Westbrook had 19 points and the Oklahoma City Thunder held off the Orlando Magic, 97-89, on Friday night. The Magic briefly took a one-point lead in the final period, but the Thunder hit eight of their final 10 free throws to help seal the victory. The win ends a two-game skid for the Thunder, who played the...
NBA News

Delivered to your inbox

You'll also receive Yardbarker's daily Top 10, featuring the best sports stories from around the web. Customize your newsletter to get articles on your favorite sports and teams. And the best part? It's free!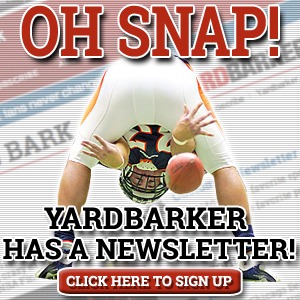 Latest Rumors
The Backyard

Today's Best Stuff

For Bloggers

Join the Yardbarker Network for more promotion, traffic, and money.

Company Info

Help

What is Yardbarker?

Yardbarker is the largest network of sports blogs and pro athlete blogs on the web. This site is the hub of the Yardbarker Network, where our editors and algorithms curate the best sports content from our network and beyond.