Found February 28, 2013 on Fox Sports Southwest:
PLAYERS:
Kevin Durant
,
Scott Brooks
,
Carmelo Anthony
,
Russell Westbrook
,
Derek Fisher
,
Reggie Jackson
,
LeBron James
,
Ronnie Brewer
,
Thabo Sefolosha
,
Derrick Rose
,
Anthony Davis
,
Eric Gordon
,
Joakim Noah
TEAMS:
Oklahoma City Thunder
,
New York Knicks
,
Miami Heat
,
Chicago Bulls
,
New Orleans Pelicans
OKLAHOMA CITY Right after Wednesday's win against New Orleans Kevin Durant just shook his head. Oh, what could have been. Yes, Durant had another triple-double, this one 18 points, 11 rebounds and 10 assists, but the possibility of something spectacular could have been lingered. Too bad coach Scott Brooks benched Durant. Again. Seems like it happens all the time, and in a roundabout way, it could end up costing Durant the scoring title. Durant and Carmelo Anthony of the Knicks are both averaging 28.5 points per game. Durant has won the past three scoring titles. He took just eight shots against the Hornets and is missing plenty of minutes. Even Durant admitted he was bothered by it, albeit jokingly and with a pretty wide smile. He's never been shy about being aware of his stats, often discussing a rebound, steal or assist with the folks at the scorer's table in Oklahoma City, and he knew his situation Wednesday against the Hornets, too. "It's all good," he said of coach Scott Brooks taking him out of yet another game in the fourth quarter. Listen, Durant cares about his numbers. There's no doubt about that, but he's always been a team-first guy, foremost, so there's no doubt he wasn't too disappointed to get some extra rest. His genius this season hasn't been in his scoring, it's been in his overall game. Durant is averaging a career high in assists, steals and blocks. In the middle of the second quarter Wednesday, he had four shots and four assists, showing he's not one-dimensional. Yet, 12 times this season Durant hasn't played in the fourth quarter, and thanks to the Thunder blowing out another opponent, beating New Orleans 119-74, Durant sat, but not until he got his third triple-double of the season. "I wasn't aware until he was one assist short," Brooks said of Durant's numbers Wednesday. "I just focus on playing good and getting the win. I don't care who scores and who makes the plays. If we do that we can put ourselves in a position to win. He demands a lot of attention." He'll be getting plenty of attention coming up. After a stretch against Minnesota, Chicago and New Orleans, the Thunder and Durant now go on the road against Denver and the Clippers before coming home to face the Lakers on Tuesday. Should be good. And while Durant likely won't be trying to pad his stats, he will likely be playing in the fourth quarter. Who's hot: Great run by Russell Westbrook. He scored a season-high 37 points Friday against Minnesota, going 13-of-22 shooting. He followed that up with two good performances, too. Sunday, Westbrook was 10-of-17 shooting for 23 points and then went 8-of-17 for 29 points against New Orleans, including going five-of-eight for 18 points in the first quarter. Who's not: Certainly not trying to pile on, but Derek Fisher really hasn't been very productive this year. A career 8.6 points per game guy, Fisher went zero-for-four for zero points in his Thunder debut. Coach Scott Brooks will say the back-up point guard isn't a position where the Thunder need points, but with Fisher becoming no threat at all, it could put more pressure on other bench players to contribute. 3 Thoughts 1. If Wednesday was a tryout for Reggie Jackson, it was a successful one. Coach Scott Brooks said there will be a number of situations where newly acquired Derek Fisher and Jackson will contribute, but when both entered the game at the same, it was hard to see it as anything but a head-to-head tryout. Jackson is still new to the game. He's just in his second season, but he has an ability to get to the rim, distribute and create a shot. Fisher really doesn't do those things. I'd love to see Jackson get some more burn, but bringing in Fisher probably will limit Jackson, particularly as we get closer to the playoffs. 2. One of the things the Thunder desperately need, in addition to getting a more-productive third scorer, is someone to guard LeBron James. Yeah, him. We're a ways away from a Finals rematch, and a lot has to happen, but acquiring Ronnie Brewer from the Knicks will help. Known for his defense, Brewer is a playoff veteran having played at Utah and Chicago before spending the first part of this season in New York. "He's a smart, tough player. Great teammate. He'll do whatever you ask him to do. Can guard multiple positions. Can really pass the ball. Can feed the post. Moves extremely well without the ball. He'll fill any role you ask him to fill," said Tom Tibodeau, Brewer's former coach in Chicago. But what Brewer really does is give the Thunder more options. He, or Kevin Durant, or Thabo Sefolosha can work on guarding LeBron. Another option is always a positive. Brewer had five points, four rebounds, two steals and an assist all in 12 minutes in his debut for the Thunder Wednesday. "It's going to be a feel thing," Brooks said of Brewer's minutes. "There's not a lot of minutes to be had. All you want is options and we have options." 3. Hard to not feel bad for the fans after this three-game homestand. Not only were all three games blowouts, but the lack of star power kind of stunk. Minnesota didn't have Kevin Love. Chicago was missing Derrick Rose. Even lowly New Orleans was missing its two top players, Anthony Davis and Eric Gordon. The result meant even less of the Thunder stars. Kevin Durant, Russell Westbrook and the starters didn't even play in the fourth quarter against Chicago and New Orleans and the arena was as empty as I've ever seen it late in the game Wednesday against the Hornets. Quotable "These guys were great to me last year. It didn't take long to get me settled on the court. I felt great physically." - Derek Fisher on his return to Oklahoma City "The way we competed was embarrassing. It's not the time to feel sorry for ourselves. Everyone needs to look themselves in the mirror. It's very humbling to lose like that." - Bulls center Joakim Noah after the Thunder beat the Bulls 102-72 Sunday. Tweetable @KDTrey5: Yea my longhorns came back from being down 22, all that showboating and coming back home to Oklahoma with a L..hookem Kevin Durant after his former college team rallied from 22 points down in the final 8 minutes to beat Oklahoma Wednesday night. Numbers game 7: The number of free throws the Thunder have missed in the past four games (97-for-104, 93 percent) 1994: The last time the Thunder franchise won back-to-back games by 30 or more points until victories this week over Chicago and New Orleans. 29: The percent the Bulls shot Sunday night while scoring 72 points against the Thunder Up next: Two-game trip to Denver for Friday and at the Clippers Sunday. The Thunder are home again Tuesday vs. the Lakers. Tower of Power: Well the 3-0 run at home helps erase a three-game losing streak, but the wins didn't really come against the NBA's elite. This next stretch will give us a better indicator. After road games at Denver and the Clippers, the Thunder face the Lakers and then at the Knicks. Follow Andrew Gilman on Twitter @theandrewgilman
Original Story:
http://www.foxsportssouthwest.com/02/...
THE BACKYARD
BEST OF MAXIM
RELATED ARTICLES
NAILED IT
The Denver Nuggets are hosting the Oklahoma City Thunder Friday night and it has started vivaciously thanks to the athletic and run-and-gun style of both teams.  Watch Kevin Durant be, well, Kevin Durant as he threw up this shot that went up and around the rim. Of course it went in.  Why?  K.D. That's why! [...]The post Kevin Durant's Up-and-Under Trick Shot..Whatever. Just...
OKLAHOMA CITY Derek Fisher checked in at the start of the second quarter, and with it ended any debate about what his role will be on this team. Not that we didn't know already. Oklahoma City coach Scott Brooks pretty much said as much when he joked (not something Brooks does with any regularity or success) a few hours before the Thunder worked over New Orleans 119-74 Wednesday...
Is there anything that Oklahoma City Thunder forward Kevin Durant can't do?For those of you who have your doubts, you might want to check out this clip of Durant scoring on an up-and-under circus shot against the Denver Nuggets on Friday night.Watch as KD drives past JaVale McGee and Wilson Chandler for the incredible hoop:(Courtesy of SB Nation)
OKLAHOMA CITY (AP) -- Russell Westbrook scored 29 points, Kevin Durant recorded his third career triple-double and the Oklahoma City Thunder finished a perfect three-game homestand by routing the short-handed New Orleans Hornets 119-74 on Wednesday night. Durant had 18 points, 11 rebounds and 10 assists as Oklahoma City finished a dominant four-game sweep of the season series against...
OKC Thunder superstar Kevin Durant self-proclaims himself 'Inspector gadget' as he goes to Instagram with a chic ensemble before the Nuggets game tonight, leaving his photo with the caption 'Inspector Gadget'.  Kevin was looking suave donned in a khaki trench coat which layers over a spread collar shirt and stripe neck tie combo. Durant completes his ensemble with neutral...
Even after his contract is up with the Oklahoma City Thunder this year (if he makes it to the end of the year), Derek Fisher is not ready to retire.  Sure, the aging guard has "retired" a couple of times now, but there's no reason to think he'll actually retire, right?According to an Associated Press report, Fisher does not plan to retire.  He said his knee was...
The Thunder have reassigned Perry Jones, Jeremy Lamb and DeAndre Liggins to the Tulsa 66ers.
When the Texas Longhorns stormed back on Wednesday night against their rival Oklahoma Sooners...things got a little weird in the Twitterverse. That's because the most popular athlete in the state of Oklahoma decided to go against the grain and take on the most popular school in the state. It started innocent enough...sorta. "Yea my longhorns came back from being down...
Though the Oklahoma City Thunder score more than any other team in the NBA, it might be an improving defense that proves to be the difference in their title chase. Friday night will see that defense face a tough test when the Thunder host the Denver Nuggets, whose high-octane attack has been bolstered by Ty Lawson's emergence as a dynamic scorer. Oklahoma City (42-15) leads...
NBA News

Delivered to your inbox

You'll also receive Yardbarker's daily Top 10, featuring the best sports stories from around the web. Customize your newsletter to get articles on your favorite sports and teams. And the best part? It's free!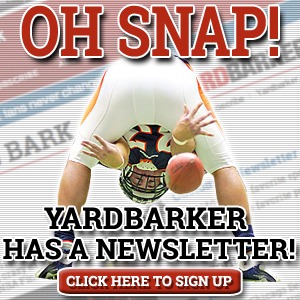 Latest Rumors
The Backyard

Today's Best Stuff

For Bloggers

Join the Yardbarker Network for more promotion, traffic, and money.

Company Info

Help

What is Yardbarker?

Yardbarker is the largest network of sports blogs and pro athlete blogs on the web. This site is the hub of the Yardbarker Network, where our editors and algorithms curate the best sports content from our network and beyond.