Found June 05, 2013 on NESN.com:
Stephen Jackson is a sensitive soul, and just a year ago he admitted that Spurs coach Gregg Popovich was the only coach in the NBA who could "handle" him. The 35-year-old "Captain Jack" is known for his clutch shots and rangy defense, but he has burned bridges throughout the league in his 13-year career. Last season, Jackson seemed to have rediscovered the home he never should have left in San Antonio, helping the Spurs reach the Western Conference finals after a midseason trade with Warriors. This season got off to a promising start, with Jackson regularly playing more than 20 minutes per game, until his playing time began to fall off in January. Then on April 12, five days before the end of the regular season, the Spurs waived him. Popovich has been characteristically tight-lipped on Jackson's situation, and Jackson did not make himself available for interviews. But San Antonio Express-News columnist Buck Harvey finally caught up with Jackson on Tuesday and got the player's side o...
Original Story:
http://nesn.com/2013/06/stephen-jacks...
THE BACKYARD
BEST OF MAXIM
RELATED ARTICLES
Stephen Jackson played on the San Antonio Spurs for 55 games this past season, played his last game on April 6th, and scored 9 points. The following day, Jackson was informed by the Spurs that he was no longer with the team, as they made the shocking decision to waive him, just days away from the start of the playoffs. The team added Tracy McGrady to fill his roster spot. Jackson...
REAL OR FAKE?
These days, fast food companies are pretty much doing just about anything to score some extra visitors and the fine folks over at Burgerfi (Fast Food Chain in Texas/Florida) produced a viral video featuring San Antonio Spurs guard Danny Green. The premise of the viral clip is that Danny is sitting down with a friend to lunch at a BurgerFi chain restaurant as a group of buddies film...
Stephen Jackson, who was released from the Spurs in April after having disagreements with head coach Gregg Popovich about his role, was asked in an interview with Buck Harvey of the San Antonio Express-News if he regretted his departure from the team that is four wins away from an NBA championship. His answer was simple. Any regrets, he was asked? "Nope," he said. "Got my money."
Spurs guard Manu Ginobili is 36 years of age, and next season would be his 12th.  Ginobili will be a free agent this summer, and when asked by Rachel Nichols, said he wasn't sure if he'd return next season. Having battled injuries the past few seasons, and his game clearly not the same as it was years ago, Ginobili was asked if he might hang it up and retire? "I don't know...
Whether he's on or off the court, Danny Green is constantly practicing his three-point shot. Out to lunch at BurgerFi, the Spurs guard had some fun with a group of kids who heckled him for missing the trash can on a garbage toss. Green leaves them dumbfounded as he nonchalantly picks up a napkin and shoots it long distance perfectly into a cup at their table – roughly 20 feet...
SAN ANTONIO (AP) -- The roar begins to build as soon as Gregg Popovich points over to the bench, usually midway through the first quarter. Manu Ginobili rises and so does the excitement level inside the AT&T Center. Of course, the anticipation is ambiguous because no one knows what the San Antonio Spurs' veteran guard will do once he gets on the court. He could miss a wild...
Old? Yes, the Spurs definitely are that. Too old? They don't think so. As Tim Duncan and Manu Ginobili drag their mid-30s bodies into an NBA Finals matchup with LeBron James and the Heat, much of the story has revolve around the Spurs players' ages. Duncan is 37. Ginobili is 35. Tony Parker just turned 31 less than a month ago, although he feels older because he came into the...
Sports Illustrated's most recent cover features Manu Ginobili, Tony Parker and Tim Duncan as The Biggest 3. The Heat can't be thrilled.
The San Antonio Spurs have won four NBA titles in the last 14 years. One important common denominator of each title?   The Spurs have held home-court advantage in each series. The extra home game wasn't usually necessary-- they swept the Cavaliers; the Knicks were ousted in five games; New Jersey was dispatched in six games -- except for in 2005, when they tangled with...
As much as it might seem that the San Antonio Spurs are not aging, Father Time eventually gets everybody. Tim Duncan and Tony Parker still going strong, but Manu Ginobili has been slowing down over the past few years, with numerous injuries piling up. Ginobili was asked last night after the game whether or not [...]
Personally, I'm still trying to figure out how San Antonio Spurs guard Manu Ginobili made this pass to Matt Bonner in the second quarter of the 2013 NBA Finals. He must be some passing wizards of sorts… *** Manu's Nice Pass to Bonner [@BuzzFeed Sports]
MIAMI (AP) -- Manu Ginobili said before the NBA Finals started that Kawhi Leonard was San Antonio's only hope of containing LeBron James. The awesome responsibility of defending the world's best player didn't faze the second-year swingman in the least. Leonard was the point man in San Antonio's defense of James, who scored a playoff-low 18 points in the Spurs'...
Spurs News

Delivered to your inbox

You'll also receive Yardbarker's daily Top 10, featuring the best sports stories from around the web. Customize your newsletter to get articles on your favorite sports and teams. And the best part? It's free!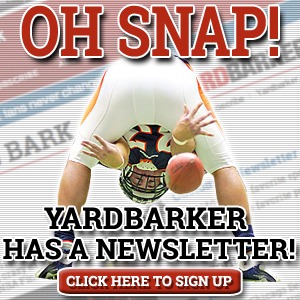 Latest Rumors
Best of Yardbarker

Today's Best Stuff

For Bloggers

Join the Yardbarker Network for more promotion, traffic, and money.

Company Info

Help

What is Yardbarker?

Yardbarker is the largest network of sports blogs and pro athlete blogs on the web. This site is the hub of the Yardbarker Network, where our editors and algorithms curate the best sports content from our network and beyond.