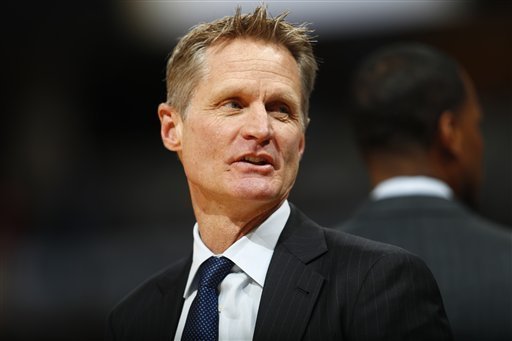 AP Photo/David Zalubowski
Steve Kerr was a five-time NBA champion between his stints as a player with the Chicago Bulls and San Antonio Spurs, during his solid NBA career. And the Golden State Warriors head coach actually had a pretty interesting philosophy that helped him persevere through some of the tough times during his playing days.
Kerr, as relayed in a profile piece from Chris Ballard for Sports Illustrated, would scrawl a short-but-sweet, not to mention vulgar, mantra on his shoes.
"His was a life on the margins. He might go a week without playing, then enter a game in a high-leverage situation, expected to hit a big shot. So, as he related a few years back, he eventually began writing "FI" on the toes of his hightops. F— it. That way, every time he looked down he'd see a reminder. You can only control so much. Let it fly."
The entire piece is an enlightening look at Kerr and what makes him tick and well worth a read. But it is certainly interesting to learn how Kerr, who was considered an extreme long shot at best to forge such a successful NBA playing career after the Cleveland Cavaliers took him in the second round of the 1988 NBA Draft, recognized that some things were beyond his control. Hence the dismissive and crass credo he wrote on his sneakers.
Kerr has been a missed presence on the Warriors bench for most of the team's postseason run due to concerning complications related to his troublesome back. But stories have surfaced indicating he's doing everything he can behind the scenes to help interim head coach Mike Brown navigate the playoffs.
Kerr, who previously skipped a recent Warriors road trip, was present at Sunday's Game 1, come-from-behind, home-court victory over the San Antonio Spurs in the Western Conference Finals. In fact, Kerr delivered a passionate halftime speech to help rally the troops.
There's no reason not to expect, health permitting, to see Kerr to again somewhere inside Oracle Arena for Game 2 on Tuesday night, doing his part to inspire the squad in any way possible.
MORE FROM YARDBARKER:
QUIZ: Name the 13 players that have won NBA titles as player and as coach
In the NBA, there is an elite group of 13 that have won titles as both player and coach.
How many of them can you name?
Clue: Number of titles won as player/Number of titles won as coach
MORE FROM YARDBARKER
NBA News

Delivered to your inbox

You'll also receive Yardbarker's daily Top 10, featuring the best sports stories from around the web. Customize your newsletter to get articles on your favorite sports and teams. And the best part? It's free!