Found March 05, 2014 on TopSportsReport:
 Getty Images William Gonzalez Oklahoma City Thunder Writer Through the first three months of the season Kevin Durant has dominated the NBA. Now all of a sudden Lebron has a few good games and he is considered a lock to win the MVP award again. Why? Durant's numbers haven't slipped as he is averaging 35 points over his last 5 games. Lebron has averaged 37 over his last 8 games. Is that a big enough difference to push him ahead? Absolutely not. Then why has Lebron forged ahead? Its all in the Lebron hype that the NBA keeps pushing. It started ever since Lebron came into the league when he was anointed the King. He couldn't hack it in Cleveland so he left to find his so called big three. He was terrible in the finals against Dallas even though the refs did everything they could to help Miami. We all know that David Stern did not want Mark Cuban to win a title. He finally stepped up against OKC although again the refs bailed Miami out giving him his first title. The championship against the Spurs was all but lost until Ray Allen saved them. Again Miami was outplayed but a missed free throw and a fortunate rebound gave them a title. Fast forward to this year when Russell Westbrook gets hurt in December and KD elevates his game even higher leading OKC to the best record in the west. He clearly was dominating the league while Westbrook was out. Now Westbrook is back and Durant still can't be stopped but Lebron is the golden boy so the media and the NBA wants everyone to believe that Lebron has elevated his game also. Lets put stats aside for a second. OKC has compiled the best record in the Western Confererence. Miami has lost 10 games in the Eastern Conference which until recently resembled a car wreck. Miami has one team standing between them and another finals appearance while the west has seven solid contenders for OKC to deal with. Miami has less competition which means Lebron gets to pad his stats against bad teams. Durant is averaging 5 more points a game than Lebron. He averages more rebounds and blocks per game. He is only one assist per game behind Lebron. So team stats are better and individual stats are better yet we are led to believe that Lebron has surpassed KD in the MVP voting. Its time to stop the hype. The NBA and the media need to recognize that their is a new sheriff in town and his name is Kevin Durant.   The post Stop The Hype – Durant Is The MVP appeared first on TopSportsReport.
Original Story:
http://www.topsportsreport.com/featur...
THE BACKYARD
BEST OF MAXIM
RELATED ARTICLES
Oklahoma City Thunder: Kevin Durant seeks his first MVP award in a contentious raceThis years MVP race is one of the most contentious we've seen in years, and it only involves two players. As it stands now, Kevin Durant of the Oklahoma City Thunder is the favorite to win the award this season, which would be his first time winning. Trailing closely behind him is last years MVP...
Former boxer Muhammad Ali is considered one of the greatest athletes of all time, and still to this day people consider it a great honor to meet the boxer in person. Oklahoma City Thunder All-Star Kevin Durant posted an Instagram photo of him with the famous boxer. The photo features quite a star-studded combo, one of the greatest boxers of all time with one of the best basketball...
Russell Westbrook certainly appears to be all the way back from his knee injury, and he's got the Oklahoma City Thunder rolling along with him. After yet another superlative performance, Westbrook looks to help the visiting Thunder to a fourth consecutive victory overall and 12th in a row over the Phoenix Suns on Thursday night. The Thunder (46-15) dropped their first three contests...
Caron Butler planted himself in the left corner, a bit out of the fray, as a way to ease himself into his first possession with the Oklahoma City Thunder. Not happening. As Kevin Durant drove toward the lane, sucking in the defense, he deftly fired a cross-court line drive, hitting Butler with what should have been an open look. But instead, it drilled an unsuspecting Butler right...
Oklahoma City Thunder point guard Russell Westbrook is all about his brand, and he recently added a heavy hitter to his portfolio. According to Globe Newswire, Zenith Watches has named Westbrook, its new brand ambassador.  Zenith says it chose Westbrook for his "commitment to excellence, skilled technique and innovative style" – values shared by these two visionaries.  ...
One poised with the talent to be one of the greatest and one that already is. Muhammad Ali is in attendance at tonight's Suns/Thunder game and prior to it Kevin Durant got to meet the legend and posted this picture on Instagram. H/T: FTW
Here's a brief list of some of Kevin Durant's defensive assignments during the Thunder's recent six-game homestand: •Blake Griffin, the Clippers' hyper-athletic nightmare of a power forward. •LeBron James, the Heat's do-everything small forward. •Kyrie Irving, the Cavaliers' lightning quick 6-foot point guard. •And Marc Gasol, the Grizzlies' behemoth 7-foot...
The Philadelphia 76ers are just bad right now, and their 15th loss in a row against the Oklahoma City Thunder tells you all that you need to know about the situation. A triple-double is difficult enough to achieve in four quarters of an NBA game, but Thunder point guard Russell Westbrook managed to pull off the feat in only 21 minutes of playing time in a 125-92 win against...
Triple-doubles do not happen every day. Many players will go their entire career without doing it. So when  Oklahoma City Thunder guard Russell Westbrook recorded one in just 20 minutes of action (10 rebounds, 14 assists, and 13 points), well--to call the accomplishment incredible would be an understatement.Here's a clip of his franchise record 11-assists in the first half...
When the worst defensive team in the NBA rolled into town Tuesday, it didn't take long for the Thunder to realize it could do just about anything it wanted offensively. Russell Westbrook then decided to do something that's never been done before. Westbrook set a Thunder record by registering 11 of his game-high 14 assists in the first half as the Thunder pummeled Philadelphia...
In terms of game action, there's not really much to go over. The Thunder started of by getting 3 points the "old-fashioned way", only to be immediately countered by a 3-ball at the other end. Too bad a 3-3 tie was not only the closest the 76ers would get all night, it also marked the game's only tie, as the Thunder would subsequently finish off a 10-3 run that put them firmly...
NBA News

Delivered to your inbox

You'll also receive Yardbarker's daily Top 10, featuring the best sports stories from around the web. Customize your newsletter to get articles on your favorite sports and teams. And the best part? It's free!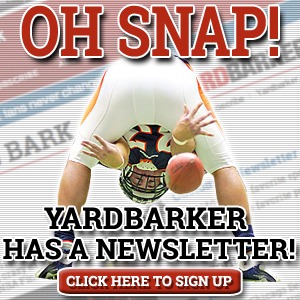 Latest Rumors
Best of Yardbarker

Today's Best Stuff

For Bloggers

Join the Yardbarker Network for more promotion, traffic, and money.

Company Info

Help

What is Yardbarker?

Yardbarker is the largest network of sports blogs and pro athlete blogs on the web. This site is the hub of the Yardbarker Network, where our editors and algorithms curate the best sports content from our network and beyond.