Found December 23, 2012 on Fox Sports Arizona:
PLAYERS:
Alvin Gentry
,
Chris Paul
,
Blake Griffin
,
Jamal Crawford
,
Matt Barnes
,
Jared Dudley
,
Michael Beasley
,
Luis Scola
,
Goran Dragic
,
Shannon Brown
,
Sebastian Telfair
,
Ronny Turiaf
,
Jermaine O`Neal
,
Marcin Gortat
,
DeAndre Jordan
,
Vinny Del Negro
TEAMS:
Los Angeles Clippers
,
Phoenix Suns
PHOENIX Suns coach Alvin Gentry said it point blank beforehand: The Los Angeles Clippers are the best team in the NBA. The Clippers' 103-77 victory over the Suns did nothing to refute that. The Clippers toyed with Phoenix while extending their franchise-best winning streak to 13 games, breaking a tie with Oklahoma City for the longest winning streak in the league this season while improving to 21-6. "We appreciate that, but we're just trying to be as consistent as possible," Clippers point guard Chris Paul said of Gentry's endorsement. "It's a long season. A lot of season left. You never know what is going to happen, but I think right now we're playing hard and we're playing together. "We're going to keep building as much as possible. But it's the regular season. We are still trying to fine-tune things. I don't care if you win 30 games in a row, it's all to get ready for the playoffs." Blake Griffin had 23 points and 11 rebounds, Paul added 17 points and 13 assists and sixth man of the year candidate Jamal Crawford had 22 points in 25 minutes. Paul was especially damaging, working his way through the Suns' defense to set up easy baskets for himself and others. He had five steals, and Griffin had a career-high four. "That's what (Paul) does. Blake, Chris and Jamal have been big catalysts for us all year. They were active. That's what they do. They have the ability to take games over. That's a good luxury to have," Clippers coach Vinny Del Negro said. The Clippers have turned the winning streak into a record-book rewrite. They won in Phoenix for the first time since 2007 none of the current Clippers were on the team in that game and have won a franchise-record six straight road games, breaking a 27-year record set when the team was in Buffalo. Their margin of victory during the streak is 15 points a game, and only five have been decided by single digits. "Ever since I got here last year, we've been trying to break down barriers and do different things like that. It's one of those that while it doesn't mean too much, it sounds nice to have it in the back of your head going into a game," Paul said. "That was then. This is now. Is it great, of course. It feels good. Our goals are set much higher. Our goals are building chemistry," Del Negro said. The Clippers shot 54 percent and made 11-of-21 3-pointers, with Crawford and Matt Barnes (15) making three 3's apiece, but they were more pleased in holding the Suns to 36.3 percent shooting from the field. The Suns, who arrived home at 3 a.m. after a three-point loss in Portland on Saturday night, looked tired, and the Clippers exacerbated that with their disruptive play. "It's defense. It starts on defense. We've had bad offensive games and we've had good defensive games, and that's won it for us. When we get stops and we force turnovers, we get out into transition and that gets easy baskets," Griffin said. Jared Dudley, continuing his good play since replacing Michael Beasley in the starting lineup at small forward, led the Suns with 19 points. Luis Scola had 11. With Paul harassing, Suns' guards Goran Dragic, Shannon Brown and Sebastian Telfair had much more trouble, going 8-for-31 from the field with more turnovers (nine) than assists (five). "We just have to keep building this defensive identity. Every night we are not going to shoot the three like we did tonight, so I think our defense gives us that edge," Paul said. The Clippers have beaten only three teams that currently have a winning record Minnesota, Chicago and Milwaukee in their streak, and it will get immediately more difficult. They play Denver on Christmas and Boston two days later, followed by a home-and-home against Utah in three days. It will not be easy for the Clippers to record their first loss-less month in franchise history, but that did not keep Gentry from his ringing endorsement. "They're probably the best team in the league. They have all the ingredients to be a championship team. The fact that Blake doesn't have to average 25 points a game for them to be really good, or Chris Paul ... obviously Chris has the ability to average as many points as he wants. With their bench there is no reason why they shouldn't be optimistic about having an opportunity to win the championship," Gentry said. The Clippers have not lost since a 105-98 loss to New Orleans on Nov. 26. The game got a little chippy, and six technical fouls were called. Ronny Turiaf and Jermaine ONeal had to be separated and were given double technicals after bumping under the Suns basket midway through the first half, with the Clippers holding a 43-38 lead. Suns center Marcin Gortat and the Clippers' DeAndre Jordan were given technicals a couple of minutes apart in the third quarter. Gentry was hit with two technicals, an automatic ejection, by official Rodney Mott with 2:53 remaining in the second quarter. Believing Dragic was fouled on a 24-footer that drew air, Gentry complained to Mott, drawing the first technical. He was ejected seconds later for leaving the designated coaching box. Assistant coach Elston Turner handled the Suns the rest of the way, but they were never the same. The Clippers finished the half on a 15-5 run for 58-43 halftime lead and extended that to 31, 91-60, when Crawford had eight points in a 14-1 run to close the third quarter. "Chris Paul was a one-man wrecking crew. He took us out of our whole offense we wanted to get done," Dudley said. "Everything they wanted to do, they did it." Follow Jack Magruder on Twitter
Original Story:
http://www.foxsportsarizona.com/12/23...
THE BACKYARD
BEST OF MAXIM
RELATED ARTICLES
LeBron James and Chris Paul were named Eastern and Western Conference Players of the Week, respectively, for games played Monday, Dec. 17, through Sunday, Dec. 23.
HE CAN FLY
Normally, when we post an alley-oop dunk from the Los Angeles Clippers...it usually has Blake Griffin or DeAndre Jordan in it.This time however back-up guard Eric Bledsoe makes an appearance as he soars to collect this alley-oop from teammate Chris Paul:
As a watcher and lover of basketball, I despise few things more than the hack-a-whoever strategy. It bogs down play, it makes a potentially thrilling game a monotonous shuffle to the free throw line and it does not even work most of the time. Yet when the alternative is letting a healthy Dwight Howard completely dominate your post defenders or allowing two-time NBA Most Valuable...
Olympic teammates share the honr.
The NBA is pushing it's Christmas day lineup hard and for good reason (see below for the impressive lineup).  First it was Carol of the Bells performed with bouncing balls, this one was uniquely good.  Now they give us James Harden, Jason Kidd, Chris Paul and Blake Griffin singing their tone def version of Jingle [...]
The Los Angeles Clippers are starting to make easy victories look routine. Blake Griffin scored 23 points, Chris Paul had 17 points and 13 assists and the Clippers extended a franchise record with their 13th consecutive victory, 103-77 over the Phoenix Suns on Sunday night. Reserve Jamal Crawford added 22 points for the Clippers, who won in Phoenix for the first time since April...
PHOENIX (AP) -- The Los Angeles Clippers are starting to make easy victories look routine. Blake Griffin scored 23 points, Chris Paul had 17 points and 13 assists and the Clippers extended a franchise record with their 13th consecutive victory, 103-77 over the Phoenix Suns on Sunday night. Reserve Jamal Crawford added 22 points for the Clippers, who won in Phoenix for the first...
Usually it's Blake Griffin that benefits in lob city from the nice alley-oop skills of Chris Paul, but not this time.  Eric Bledsoe threw down a huge alley-oop from Paul last night against the Sacramento Kings that would rival pretty much any Griffin dunk I've seen this year.  Check out the huge jam below. The Clippers won the game 97-85 over the Kings. Check...
PHOENIX -- The Phoenix Suns got off a plane from Portland at 3 a.m. Sunday after a tough loss to the Trail Blazers. Nine hours later, the Suns found themselves in the path of a runaway train from Los Angeles. Blake Griffin collected 23 points and 11 rebounds, and Chris Paul added 17 points and 13 assists as the Clippers blew open a close game just before halftime and easily handled...
NBA News

Delivered to your inbox

You'll also receive Yardbarker's daily Top 10, featuring the best sports stories from around the web. Customize your newsletter to get articles on your favorite sports and teams. And the best part? It's free!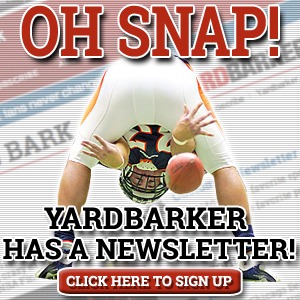 Latest Rumors
The Backyard

Today's Best Stuff

For Bloggers

Join the Yardbarker Network for more promotion, traffic, and money.

Company Info

Help

What is Yardbarker?

Yardbarker is the largest network of sports blogs and pro athlete blogs on the web. This site is the hub of the Yardbarker Network, where our editors and algorithms curate the best sports content from our network and beyond.