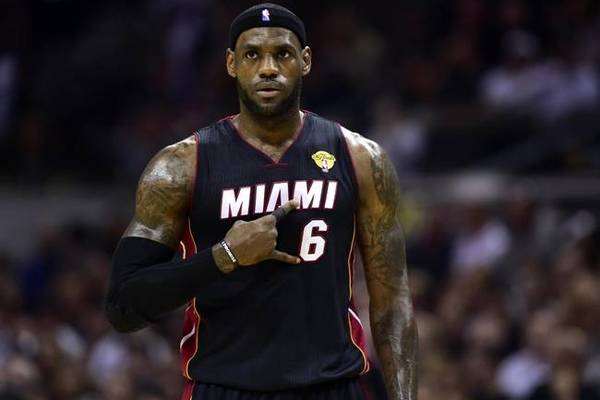 Jun 15, 2014; San Antonio, TX, USA; Miami Heat forward LeBron James (6) calls a play during the first quarter against the San Antonio Spurs in game five of the 2014 NBA Finals at AT&T Center. Mandatory Credit: Bob Donnan-USA TODAY Sports
It's official. The NBA has released its schedule for 2014-15, and there are numerous contests to get excited for. The Miami Heat host LeBron James' Cleveland Cavaliers on Dec. 25, the Kevin Love-less Minnesota Timberwolves host those same Cavs Jan. 31 and the San Antonio Spurs travel to Cleveland on Nov. 19. From a league-wide perspective, there's plenty of anticipation for fans. In Rip City, however, fans should keep their eyes on a few key themes. Check out the full 2014-15 schedule for the Portland Trail Blazers! The Good To start the 2013-14 campaign, the Trail Blazers were arguably the hottest team across the Association. They got off to an unexpected 24-5 start, and while talent and chemistry can't be ignored, neither can a friendly schedule. Luckily for Portland, it has the luxury of playing nine of its first 12 games at home this season, and the hope is that the team can take advantage of such a start as it did last season. If you're Portland, you can also find pleasure in the fact that you have an eight-day break during All-Star Week. That's huge for a team that uses its starters so heavily, as it will give players such as LaMarcus Aldridge and Damian Lillard extra time to rest even though they'll likely be involved in the festivities. Damian Lillard and LaMarcus Aldridge could use some rest this All-Star Week. As good as the Blazers' broadcasters are, it's always nice to watch Portland on national television. The team has been slated to play in 10 more games last season in front of a league-wide audience, totaling 16 games on either ESPN or TNT. The Bad Remember how Portland plays nine of its first 12 at home? That number increases to 11 out of its first 17. That's the good part. The bad part? The competition is stiff. Portland starts out with the Oklahoma City Thunder, then plays the Sacramento Kings, Golden State Warriors, Cavaliers, Dallas Mavericks, Los Angeles Clippers, Denver Nuggets, Charlotte Hornets, Nuggets again, Brooklyn Nets, New Orleans Pelicans and Chicago Bulls in that order. That's a lot to take in just reading it, let alone battling on the hardwood. Another point of concern in the schedule is that 10 of the team's 19 back-to-backs are on the road. Portland's been fine in those situations in the past, but it could potentially tire the roster late in the year. Top Games Oct. 29 @ Oklahoma City Thunder The season opener is always noteworthy, but when you get the Oklahoma City Thunder, it's going to get fans riled up even further. Look for this one to set the tone early before the brutal schedule to start the year. Kevin Durant and Russell Westbrook will be out for blood, but so will LaMarcus Aldridge, Damian Lillard and the rest of the Trail Blazers. Nov. 4 vs. Cleveland Cavaliers Three games into LeBron's reunion tour with the Cavs, he finds himself in Portland. This one should be obvious as to why you need it circled on your calendar, but if you need a reminder, remember the following four words: LeBron James, Kevin Love. Dec. 15 vs. San Antonio Spurs The Trail Blazers made it to the second round of the postseason last year for the first time since the infamous Game 7 against the Los Angeles Lakers in 2000. Unfortunately, they ran into an immovable object (the San Antonio Spurs) that would eventually go on to win the NBA championship. This is their chance for revenge. Dec. 22 @ Houston Rockets Remember when Lillard hit that shot to send the Blazers into the second round? So do Dwight Howard, James Harden and the rest of the Houston Rockets. This will be Houston's first look at Portland, and while it will have a different feel with Chandler Parsons, Jeremy Lin and Omer Asik all playing in different cities, it will be a reminder to all fans involved what happened in the 2014 postseason. April 15 @ Dallas Mavericks There will be plenty of games between Dec. 22 and April 15 worth watching, but the final game of the season will be played against a familiar foe — one that has a tendency to take Portland down to the wire. With the Dallas Mavericks having shown substantial improvements this summer, their odds of climbing the rankings out West have increased. Will they pass Portland? That's debatable. But with the final game of the year taking place between these two, one game could be the difference in standings if the Mavs overachieve and if the Blazers hover around where they were in 2013-14. CLICK HERE TO CHECK OUT THE BLAZERS BLOG IN OUR CLUBHOUSE TODAY AT NWSB!
Read the rest of this story...
PLAYERS:
LeBron James
,
LaMarcus Aldridge
,
Damian Lillard
,
Kevin Durant
,
Russell Westbrook
,
Kevin Love
,
Dwight Howard
,
James Harden
,
Chandler Parsons
,
Jeremy Lin
,
Omer Asik
TEAMS:
Portland Trail Blazers
,
Miami Heat
,
Cleveland Cavaliers
,
Minnesota Timberwolves
,
Sacramento Kings
,
Golden State Warriors
,
Dallas Mavericks
,
Denver Nuggets
,
Brooklyn Nets
,
Chicago Bulls
,
Oklahoma City Thunder
,
Houston Rockets
,
Los Angeles Lakers
,
New Orleans Pelicans
,
San Antonio Spurs
,
Los Angeles Clippers
MORE FROM YARDBARKER
NBA News

Delivered to your inbox

You'll also receive Yardbarker's daily Top 10, featuring the best sports stories from around the web. Customize your newsletter to get articles on your favorite sports and teams. And the best part? It's free!
Best of Yardbarker
NFL News
MLB News

Today's Best Stuff

For Bloggers

Join the Yardbarker Network for more promotion, traffic, and money.

Company Info

Help

What is Yardbarker?

Yardbarker is the largest network of sports blogs and pro athlete blogs on the web. This site is the hub of the Yardbarker Network, where our editors and algorithms curate the best sports content from our network and beyond.