Found February 25, 2013 on Waiting For Next Year:
PLAYERS:
C.J. Miles
,
Byron Scott
,
Tyler Zeller
,
Kyrie Irving
,
Alonzo Gee
,
LeBron James
,
Dwyane Wade
,
Ray Allen
,
Shane Battier
,
Dion Waiters
,
Tristan Thompson
TEAMS:
Cleveland Cavaliers
,
Orlando Magic
,
Miami Heat
,
Los Angeles Clippers
,
New York Knicks
Ask most NBA players when the second night of a back-to-back stint rears its ugly head and they will tell you that it is halftime that opens the floodgates of fatigue and flatness. The legs slowly slip into states of wobble, the mind desires an alternative path rendering the simplest of instinctual motor skills a voluntary chore. Arms raise slower, lateral steps are a process. During a late-December stretch that leaked into the flipped calendar, Cavaliers reserve guard CJ Miles — a veteran presence despite being just 25 years of age — waxed poetic on how he felt a lot of the ankle-knocking and heavy heads were mental; players come equipped with pre-existing thoughts of impending struggles that tend to manifest that into poor play. It's about breaking down those mental barriers and letting God-given talent take over. In Miami, one night after thumping the Orlando Magic, the Cavaliers appeared ready to buck this trend — what with head coach Byron Scott's perennial emphasis on conditioning — with a third-quarter run that resulted in 36 points and a complete erasure of a 22-point deficit. Tyler Zeller and Kyrie Irving meshed jumpers with lay-ins. The Cavaliers attacked, getting to the free throw line  times. Miles erupted for 11 points in the quarter's final two minutes adding in the ever-rare five-point play 1 . Then the bottom fell out. Missed assignments on defense collided, full speed, with lack of execution on offense. In the middle of a timeout amidst the game's crucial minutes, Scott drew up a play that would ultimately result in Miles, as well as teammate Alonzo Gee, being on the wrong side of the floor. Firmly directed to switch on all picks, it would be Gee who would stick alongside Heat small forward LeBron James, allowing an unabated dunk from a rolling Dwyane Wade. The Cavaliers quickly went from leading by one point with the clock ticking down to finding themselves a four-point loser to the world champions — the second such collapse against the Heat this very season. Games like these are a gentle reminder to Cavalier fans that while the Wine and Gold may be able to shock championship contenders as they did a few weeks ago when the Oklahoma City came to town, this young team needs to play flawlessly in order to do so — strong finishes, high levels of execution, and a complete lack of mental miscues. Just as the Cavs allowed Ray Allen to break free and hit a three-pointer earlier this season, they allowed another sharp-shooting veteran 2 in Shane Battier to hit a three-pointer in transition, right on the heels of an otherwise huge 20-footer from the hands of the continually progressing Dion Waiters. "As a basketball player, you've got to be totally focused on everything we're talking about doing," said Scott. "You can't come out there not knowing that we're going to switch, not knowing what we're going to run on the offensive end. Those breakdowns are unacceptable and they can't happen." Its these breakdowns that completely remove the safety net; the ones that allow the more talented teams to shine through when the scrappy, hard-nosed hustle of the opposition evaporates. Its also these breakdowns that Scott says cannot happen against this season. One night earlier, he was a part of a group who called out center Tyler Zeller for his lack of rebounding totals — ideally, this message carries the same weight to the 15 men who let yet another game slip out of their grasp in what has been a 2012-13 season full of almosts and what-could-have-beens. Quietly, the Cavaliers have been one of the better offensive teams in the NBA over the last several weeks. Since trading Jon Leuer to Memphis in what turned out to be one of the best pre-deadline deals in the league this season, the Cavaliers have the fourth-most efficient offense and the second-best assist-to-turnover ratio in the league. For the month of February, they're averaging 112.2 points per 100 possessions 3 . They have one of the best players in the league in Kyrie Irving, a progressing off-guard in Dion Waiters — who is shooting 51 percent during the month of February – and a second-year power forward in Tristan Thompson who has a higher PER (16) that everyone's shoe-in for this season's Rookie of the Year in Portland's Damien Lillard (15.7). If this young core and veteran reserves can in fact limit the mental mistakes as challenged by their head coach, these numbers should remain relatively sustainable — it is, after all, the defensive end that has been the perpetual struggle for this 14-man unit. The loss to the Heat is by no means a benchmark for where this Cavaliers team is as much a sign of what this Cavaliers team could be when the wrinkles become ironed. The schedule does not get any easier with games against Chicago, the Los Angeles Clippers and New York Knicks all in the coming days. This does not even factor in the back-to-back stint that will test their wills again this Tuesday and Wednesday. The gauntlet has been laid down by Byron Scott. It will be up to the team to let talent triumph over tiredness. – (AP Photo/Wilfredo Lee) ___________________________________ Miles sank a 25-footer while being fouled. The Heat were subsequently whistled for a technical foul, leading to two free throws. Who also happens to be bald… High five to Fear the Sword's Conrad Kaczmarek for extracting these bad boys.
Original Story:
http://www.waitingfornextyear.com/201...
THE BACKYARD
BEST OF MAXIM
RELATED ARTICLES
More news on the Omri Casspi front broke yesterday afternoon. Officially, from the Cavaliers, it was announced that the seldom-used forward from Israel would be checked into a hospital from Orlando and miss Saturday night's game against the Magic. Here was the release from the team: "Cavaliers forward Omri Casspi was taken to Orlando Regional Medical Center this afternoon for...
While it was believed that the team would not keep him out of game action, the Cleveland Cavaliers will sit Kyrie Irving on Tuesday night as the All-Star point guard deals with a right knee injury. Dion Waiters will likely be tasked to do a lot more handling of the ball without Irving, while Shaun Livingston and C.J. Miles should each see more minutes than they otherwise would with...
Cleveland Cavaliers point guard Kyrie Irving will miss Tuesday nights game at Chicago with a sorehyperextended right knee, team officials said. Irving reportedly bumped the knee at practice prior to the Cavs 118-94 win on Saturdayin Orlando. He was running gingerly for parts of that game. It also bothered him the next nightin Miami duringa 109-105 loss. Irving is listed as day...
So this video is going viral right now of LeBron James doing a pre-game dunk before last nights game against the Cleveland Cavaliers.  LeBron is too scared to join the damn dunk contest, but I guess if you got to a regular season game you will get to see all you need.  Check out the dunk above where he goes between his legs, then off the backboard, then jams it home with two hands...
  Ever since Lebron James left the Cleveland Cavaliers to go to Miami, the Cavs have been rebuilding and now almost three years later, they have assembled an excellent group of players. Kyrie Irving is a budding superstar and a franchise player, Dion Waiters is a fantastic secondary scoring option, Tristan Thompson is becoming one of the best rebounders in the NBA and has developed...
Cleveland Cavaliers' point guard Kyrie Irving has been bothered by his right knee for a few days. After losing a close game on the road to the Miami Heat, coach Scott Brooks has decided to sideline Irving for today due to a sore/hyperextended right knee according to a report by Mary Boyer of the Cleveland Plain Dealer.Irving first hurt his knee colliding with someone in practice...
Despite Sunday night's last-minute loss to the Miami Heat, the Cleveland Cavs are 13-15 (.464) since Dec. 22. That's a tremendous sign of improvement for a franchise that previously was 45-131 (.256) in the last 2.5 seasons. I've tackled this subject several times before — notably, in The Diff last Wednesday. But again, what are some fun stats around this recent stretch of...
Random thoughts from the Cavaliers 109-105 loss at Miami on Sunday: People say theres no such thing as a moral victory, but when you start two rookies and two second-year players, youd better believe there is. And youd better believe the Cavs got one on Sunday. Got it? Good. We can move on now. The Cavs trailed by 18 points at the half (64-46). A couple minutes later, they trailed...
NBA News

Delivered to your inbox

You'll also receive Yardbarker's daily Top 10, featuring the best sports stories from around the web. Customize your newsletter to get articles on your favorite sports and teams. And the best part? It's free!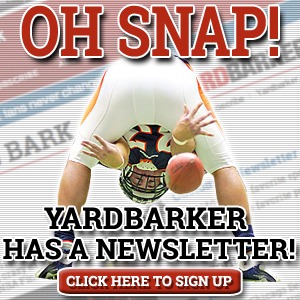 Latest Rumors
Best of Yardbarker

Today's Best Stuff

For Bloggers

Join the Yardbarker Network for more promotion, traffic, and money.

Company Info

Help

What is Yardbarker?

Yardbarker is the largest network of sports blogs and pro athlete blogs on the web. This site is the hub of the Yardbarker Network, where our editors and algorithms curate the best sports content from our network and beyond.