Found May 08, 2013 on Fox Sports:
Maurice Taylor and Louis Bullock are eager to reconnect with Michigan. In their first interviews about the Ed Martin booster scandal, both former players told The Associated Press they hope to re-establish a relationship with the university now that a decade-long dissociation ordered by the NCAA has ended. Taylor and Bullock said they both regret choices they made as young men that ended up staining the school and stunting the basketball program. What about Chris Webber? The public may have to wait for him to publish his book. But as of Wednesday, Webber, Taylor and Bullock all have the option of renewing their relationship with the Wolverines. Athletic director Dave Brandon insisted the door is open for all three former players. Bullock and Taylor, at least, say they plan to take advantage of the invitation. ''This morning, I felt really good about the dissociation being over and having the opportunity to reunite with the University of Michigan,'' Taylor said. ''I'm excited to talk to Mr. Brandon and coach (John) Beilein. While I had some success in the NBA, there was a void in my life because of the circumstances. I had three of the best years of my life there and I love that school and all that it stands for.'' The NCAA forced Michigan to dissociate from Webber, Taylor, Bullock and the late Robert Traylor for a decade because a federal investigation revealed the now-deceased Martin gave them more than $600,000 when they were students. ''When each one of us took money or gifts from Ed, long before we were in college, we were looking through innocent eyes,'' Taylor said in an interview Wednesday. ''We weren't trying to hurt Michigan. I think it was a little harsh that we were punished for such a long period of time for what we did as kids.'' Bullock said he accepted money from Martin because he simply thought everyone was doing it. ''When I was 18, I thought that's just how life was on college campuses,'' Bullock told AP. ''I wish it didn't happen, but my parents taught me to admit it when you do something wrong and accept the consequences.'' Bullock said he simply blocked out the situation while playing professionally in Europe until taking this past season off. While Taylor said one of his aunts was counting down the days until the dissociation ended, Bullock said he had lost track of the time. ''It was easier for me to basically forget about it than it was for C-Webb, Mo and Rob because they were in the NBA,'' said Bullock, who lives in Maryland and is contemplating ending his playing career. ''I was off in Europe and I was the guy who was kind of forgotten about.'' Brandon said he has never spoken to Webber, Taylor or Bullock. He declined to say whether each would have to apologize for what they were accused of doing to be welcomed back. ''I wasn't around when all of this happened,'' Brandon said. ''I've never had an opportunity to interact with them to talk about anything and I am hopeful that opportunity will present itself.'' Martin pleaded guilty to conspiracy to launder money, saying he took gambling money and combined it with other funds in loans to Webber, other players and their families. Martin died in February 2003 on the same day Michigan officials met with the NCAA infractions committee. ''Ed was made out to be something he wasn't, he wasn't a booster who steered you to a school or guy who preyed on kids,'' said Taylor, a retired NBA player who lives in Houston and works for a private equity business. ''He was just a great guy in Detroit, who helped out anybody playing ball of any kind in the city.'' Messages seeking comment were left for Webber, Beilein, former coach Steve Fisher and school president Mary Sue Coleman. Traylor died in 2011; police in San Juan, Puerto Rico, where he was playing professionally, found him dead in his oceanfront apartment. ''I know Lou and Mo would love to come back, but Chris is the wild card,'' said Dugan Fife, who played at Michigan with all four of the formerly dissociated players. ''Some people go to college and never come back and if that happens with Chris, I think that would be sad.'' A decade ago, the NCAA barred the Wolverines from postseason play for one year, took scholarships away and put the school on probation for what the governing body said was ''one of the most egregious violations of NCAA laws in the history of the organization.'' Martin's name surfaced after Taylor lost control of his car on Feb. 17, 1996. He was returning from a party in Detroit with four teammates who were entertaining Mateen Cleaves on his official recruiting visit. Cleaves later signed with Michigan State and led that team to the 2000 NCAA title. The well-publicized crash led to the first of three investigations, the firing of Fisher and a cloud that hovered over Michigan's basketball program until recently. Webber pleaded guilty to a criminal contempt charge in July 2003, a day before jury selection was scheduled to start for his trial on a perjury charge. He was accused of lying about money authorities say the player received from Martin. In his plea, Webber admitted lying to the grand jury in 2000, saying he did not recall giving money to Martin. Webber acknowledged in the plea that in 1994 he gave Martin about $38,000 in cash as partial repayment for expenditures Martin made on his behalf. Webber was ordered to pay a $100,000 fine, completed 330 hours of community service and paid expenses of more than $78,000. Webber rarely has addressed the scandal or its fallout. ''I didn't do anything, so I don't feel sorry for them,'' Webber once said. Jalen Rose, Jimmy King and Ray Jackson, three-fifths of the famed Fab Five, were honored by the school in a bittersweet ceremony Nov. 21, 2010, during halftime of a game at Crisler Arena. Above their heads in the rafters, the 1992 and 1993 Final Four banners they helped the Wolverines earn were missing. The school took them down, rolled them up, wrapped them in plastic and tucked them behind a locked door on the bottom shelf of a narrow cage near other artifacts such as Civil War diaries. Juwan Howard, who plays for the Miami Heat, joined Rose, King and Jackson last month in Atlanta to watch the Wolverines play Louisville in the NCAA final. Webber was there, too, in a suite. Michigan also removed championship banners from the 1997 National Invitational Tournament, when Taylor, Traylor and Bullock were teammates, and the Big Ten tournament in 1998, the year after Taylor entered the NBA draft. ''Now that the program is back to where it was when we were back in school, I hope we're all embraced again,'' Rose told The AP earlier this year. ''I don't think Chris is interested in apologizing and if that is the only criteria, I hope that isn't held against all the guys who put a lot of sweat equity into that school and program.''
Original Story:
http://msn.foxsports.com/cbk/story/Mi...
THE BACKYARD
BEST OF MAXIM
RELATED ARTICLES
Chris Webber took to Twitter on Tuesday night to discuss what he had been up to lately and to say that he was going to have a special announcement coming soon. I'm good! Just writing- writing – writing! — Chris Webber (@realchriswebber) May 8, 2013 Yup! Yup! RT @thehoopexperts: @realchriswebber Are you working on a book now?? if So Please tell me its a biography — Chris...
Rejoice and be glad - if you're a Michigan fan that is. Why? Well, Chris Webber, Maurice Taylor and Louis Bullock's 10 year long exile from any formal association with the University of Michigan is over. They can now be a part of the program again, but let's also not pretend like the welcome mat is just going to be rolled out or a parade in Webber's honor...
Michigan's ten year disassociation period with Chris Webber, Louis Bullock, Maurice Taylor and the late Robert "Tractor" Traylor officially came to a close on Wednesday. While reconciliation between the University of Michigan and the banned players doesn't necessarily seem imminent, there is enough tact involved in all parties' comments to believe something could happen...
Former Fab Five member and Wolverines star Chris Webber is free to return home if he so likes.  According to ESPN.com, the 10 year dissociation that the University of Michigan had with Webber, Maurice Taylor, and Luis Bullock has ended. The three former Wolverines now will have to want to reconnect with the school. And the institution has to welcome them back as after they took...
"OK!!!" With two words and three exclamation points, Chris Webber kicked off what promises to be a fascinating chapter in the history of Michigan athletics -- the reunion between the Wolverines and one of their most controversial stars. Webber's simple tweet landed at exactly midnight -- the precise end of his 10-year punishment by the NCAA for the Ed Martin scandal...
"OK!!!" With two letters and three exclamation points, Chris Webber kicked off what promises to be a fascinating chapter in the history of Michigan athletics -- the reunion between the Wolverines and one of their most controversial stars. Webber's simple tweet landed at exactly midnight -- the precise end of his 10-year punishment by the NCAA for the Ed Martin scandal...
Former Michigan Wolverine Fab 5 member  Chris Webber, Maurice Taylor, and Luis Bullocks have had their 10 year dissociation with the school ended. Per Thacover2, the 3 are now free to have contact with the school and reconnect if they choose to do so. Current Athletic Director Dave Brandon spoke on the former athletes and [...]
Chris Webber's mandated disassociation with the University of Michigan ended today. Players, AD, media sound off ow.ly/kQCeR — Dylan Burkhardt (@umhoops) May 9, 2013 He's currently announcing the Warriors-Spurs game, which features Michigan State Spartan man Draymond Green.
The University of Michigan's 10-year dissociation from Chris Webber, Maurice Taylor and Louis Bullock has ended. Technically. The former Wolverines have to want to reconnect with the school. And, the institution has to welcome them back after they were part of one of the biggest scandals in NCAA history. Michigan athletic director Dave Brandon insisted the door is open. ...
Examiner.com will never be confused with The New York Times or even CNN, and perhaps one could forgive the online outlet for the above snafu - a news story on the Fab Five being allowed to associate with Michigan State again.  Yes, we all remember Chris Webber and Jalen Rose suiting up for Sparty. Har har, good for a laugh right?  But what if I told you that was only the beginning...
Heat News

Delivered to your inbox

You'll also receive Yardbarker's daily Top 10, featuring the best sports stories from around the web. Customize your newsletter to get articles on your favorite sports and teams. And the best part? It's free!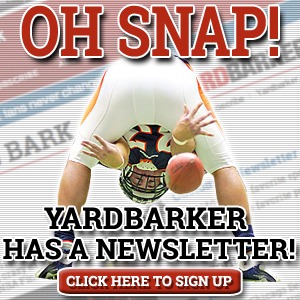 Latest Rumors
The Backyard

Today's Best Stuff

For Bloggers

Join the Yardbarker Network for more promotion, traffic, and money.

Company Info

Help

What is Yardbarker?

Yardbarker is the largest network of sports blogs and pro athlete blogs on the web. This site is the hub of the Yardbarker Network, where our editors and algorithms curate the best sports content from our network and beyond.