Found May 03, 2012 on Halestorm Sports:
PLAYERS:
Scottie Pippen
,
Baron Davis
,
Tracy McGrady
,
Julius Erving
,
Grant Hill
,
Kevin Durant
,
Kobe Bryant
TEAMS:
New York Knicks
,
Atlanta Hawks
,
Phoenix Suns
,
Oklahoma City Thunder
,
Los Angeles Lakers
Via Halestorm Sports:
Everyone loves the NBA playoffs. Even fans who complain about the attitude of the players and whine about their millon dollar salaries find themselves captivated by the intensity of the action. When the action rachets so too does the scrutiny. Legacies are defined and the fate of players are forever sealed during the 16 team tournament.
It is only fitting that some of the greatest assaults on the rim came courtesy of playoff basketball. I tried to factor in the magnitude of the game and contrast that with the caliber of player that was dunked on. So obviously dunking on a great shot blocker is a more noteworthy accomplishment than dunking on a back up small forward. This was a hard list to narrow down, so I know many of you will bring up many other dunks, but once again I could only name the top 11.
To the list:
1. Scottie Pippen over Patrick Ewing:
Scottie Pippen's greatness was overshadowed by that other famous Chicago Bull, but there is no denying that this is one of the greatest plays, let alone dunks in NBA history. Considering the rivalry that had brewed over three seasons of meeting in the playoffs, the physical nature of the games and the Hall of Fame player he dunked over, this had to be number one.
The fact that Pippen finished the dunk by standing over the defeated Ewing and then telling famed filmmaker and resident Knick super fan Spike Lee to sit down and shut up was the perfect bow up on top.
2. Kevin Johnson over Hakeem Olajuwon:
Although he is now the mayor of Sacramento (and doing his best to keep his hometown Kings in Sactown), he was one of the most explosive point guards of his era. You have to put this dunk into context. Olajuwon had up to that point, eight blocked shots and he had changed countless others. So, KJ had enough of the tear drop and double pump attempts, he took the fire to the dragon. It was one of the most memorable dunks in playoff history. Yes, that is current TNT analyst Kenny 'The Jet' Smith with an s-curl whom KJ drives around.
3. Baron Davis over Andrei Kirilenko:

This was the jump up and text all your friends type dunk. Baron went around Deron Williams with ease and exploded to the rim with the vengeance of Nat Turner. The funniest thing about the clip to me is Baron showing off his girdle. That moment to me exemplified his entire career. Such vast athletic brilliance wasted by a beer gut.
4. Dr J over Michael Cooper/Bill Walton:
Your favorite player's favorite player. Dr. Julius Erving, the original arial wizard in NBA history rightfully gets multiple dunks. Look here as he soars over defensive stalwart Michael Cooper and Luke Walton's father, legendary Dead Head Bill Walton. There was another incredible dunk he had against Portland in the finals that I couldn't find.
5. Michael Jordan over Patrick Ewing

This is the only time on any list you will see Scottie Pippen's name above Michael's. Long before MJ was rocking a weird mustache and sporting pleated Jeans, he was the single baddest man on the planet. Look here as he reverse spin dribbles on two Knick defenders and then kiss the rim dunks (with his elbow) all over poor Patrick Ewing. Respect.
6. Shawn Kemp over Alton Lister:

Long before he was a contestant on reality tv, Shawn Kemp defied gravity. Blake Griffin and Amare Stoudimire are just following in the footsteps of the Reign Man. Look how he cups the ball and dunks on his way down, then gives Lister the pointers. Kemp would have been thrown out of the game in todays hyper-sensitive NBA. Chris Mullin smartly never even contemplated trying to take that charge.
7. T Mac over Shawn Bradley:
While he never reached his vast potential, there is no denying T mac's enormous talent. Here he goes baseline and engulfs resident poster victim 7'6 Shawn Bradley. Plays like this make you mad that he never seemingly wanted to be as great as we all thought he could be.
8. John Starks over the Bulls:
The shocking thing about this dunk was Starks was a new player on the scene. Pat Riley is notorious for finding gems from the CBA/D League like Anthony Mason and Bruce Bowen just to name a few. Starks may have been his greatest find. The explosive (in more ways than one) shooting guard from Tulsa, Oklahoma, announced his presence on the scene with a left handed kiss the rim dunk over two Bull players including His Airness (sorta).
9.Clyde Drexler over Bill Cartwright:

Clyde was one of the highest flyers the NBA has ever seen. I would compare him to D Wade in many ways. On this play he took one hop step and exploded over Bill Cartwright in the NBA finals. Portland ultimately went on to lose to the Bulls, but CLyde left his mark. Thankfully for "The Glide" Twitter did not exist in his playing day because his hairline would have been a trending topic for six months.
10. Grant Hill over Alonzo Mourning:
This dunk may shock some people. You see Grant now as the old man jogging up and down the court and can't imagine he ever threw down. But long before his many foot surgeries Grant was one of the five best players in the world. Right before this play, he and the always angry Alonzo Mourning (think Kendrick Perkins's uncle) had to be separated at midcourt after exchanging pleasantries. So this dunk was extra special for Grant as he got the final word on Alonzo.
11. Kevin Durant over Brendan Haywood:
Just last season, the three-time scoring champ took flight over the lead-footed Haywood and threw down all over him and his immediate family. I think this dunk gave Durant confidence in attacking the rim, because this season he has posterized more players than he did in his previous four seasons combined.

Original Story:
http://halestormsports.com/2012/05/02...
THE BACKYARD
BEST OF MAXIM
NBA News

Delivered to your inbox

You'll also receive Yardbarker's daily Top 10, featuring the best sports stories from around the web. Customize your newsletter to get articles on your favorite sports and teams. And the best part? It's free!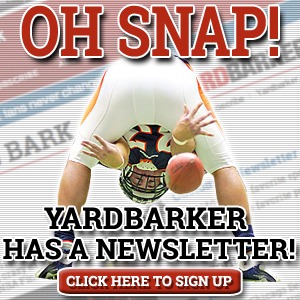 Latest Rumors
Best of Yardbarker

Today's Best Stuff

For Bloggers

Join the Yardbarker Network for more promotion, traffic, and money.

Company Info

Help

What is Yardbarker?

Yardbarker is the largest network of sports blogs and pro athlete blogs on the web. This site is the hub of the Yardbarker Network, where our editors and algorithms curate the best sports content from our network and beyond.