Found October 29, 2012 on CJ Sports NFL Talk:
There are rumors flying here in NYC that Amare Stoudemire will be out for even longer than once expected. I cannot confirm these rumors and I have in fact debunked a few of them, but some of the sources have been reputable. Let us for a second assume these rumors are true and Stat is out until early December at the earliest. Where do the Knicks go from here with Amare and his spot on this team? We must be honest here and I think I have the right solution. Let me lay it out for you and maybe you will all agree with me. These are the facts: 1)Amare is here to stay ladies and gent's. He is not being traded, since his contract is massive and his knees are uninsured- we can put that to bed. 2) Amnesty was used on Chauncey Billups and helped get the Knicks Tyson Chandler, furthermore, even if you had the amnesty, you would never use it on Amare at this stage in his tenure as a Knick. That would be like quitting on a player that still has team value and skill. 3) Doing nothing and waiting for him to return is not a strategy and will most likely backfire, because his injuries have seemed to have become more frequent in the last year or so. What are the answers to this mess that is now known as the "Stoudemire Situation"? NY can wait on Stat like I said, but where will this help either party? It won't, that is why NY and Amare must figure something else out. Stat needs rest or surgery and most likely cannot play 35 minutes a night anymore, His body can't take the pounding, resulting in his knees and back to break down and anyone who say's otherwise is kidding themselves. Here is the solution:     Read More Here!
Original Story:
http://110sportztalk.com/the-amare-st...
THE BACKYARD
BEST OF MAXIM
RELATED ARTICLES
WRATH OF SANDY
Could be a lot worse...
As the east coast continues to recover from the beating it took at the hands of Hurricane Sandy, photos like this one that Amar'e Stoudemire shared give us an idea of how devastating the damage has been for some people. The New Jersey shore line was completely wiped out in some places and many families have lost their cars, possessions and in some cases their entire homes. Millions...
The New York Knicks have confirmed that forward Amar'e Stoudemire will under arthroscopic knee surgery which will sideline him for six to eight weeks.Forward @amareisreal is scheduled to have a left knee debridement and is expected to be out approximately 6-8 weeks. #Knicks— NBA New York Knicks (@nyknicks) October 30, 2012 There have been rumors of the injury and pending procedure...
Knicks forward Amare Stoudemire will have left knee surgery and is expected to miss six to eight weeks. The announcement Tuesday means Stoudemire could miss more than twice as long as the Knicks originally estimated when he was hurt during the preseason. The team says he will have a debridement, which is the removal of tissue. Stoudemire played in one preseason game but was bothered...
For those of you who want to see Hurricane Sandy through the eyes of an NBA player, you need to check out this picture that Amare Stoudemire posted to his Instagram page.It appears to be from his garage/roadway of some sort and it appears that his Range Rover didn't make it:(Courtesy of The Kevin Burke Project)
Yesterday, the New York Knicks announced that Amar'e Stoudemire will miss the first 6 weeks, at least, of the upcoming NBA season after re-examining his left knee. Stoudemire missed significant time last year in a shortened season, and had micro-fracture surgery on the same knee in 2005. So, it begs the questions, how much of an impact can Stoudemire make to the Knicks? Last...
Amare Stoudemire's ailing knee has finally put him on the shelf.  The All-Star forward will miss the first six week of the season after re-injuring his surgically repaired left knee.  The injury, which occurred on October 19th, turned out to be more serious than anyone initially thought.According to Chris Broussard of ESPN New York, Stoudemire ruptured a popliteal cyst in...
Last season was a nightmare for the New York Knicks. First, the Knicks underachieved finishing with the 7th seed in the East. That wasn't the worst part. The Knicks were plagued by the injury bug. In the shorten season Carmelo Anthony missed 11 games and Amar'e Stoudemire missed 19 games. Even Jeremy Lin missed the majority of the second half the season. What was the result...
The New York Knicks will be without power forward Amar'e Stoudemire for at least 6-8 weeks after he re-injured his surgically repaired left knee, according to ESPN. The news comes as a blow to the Knicks, who initially expected Stoudemire to return within two to three weeks after he ruptured a popliteal cyst behind the knee during the Knicks' exhibition game against Toronto...
NBA News

Delivered to your inbox

You'll also receive Yardbarker's daily Top 10, featuring the best sports stories from around the web. Customize your newsletter to get articles on your favorite sports and teams. And the best part? It's free!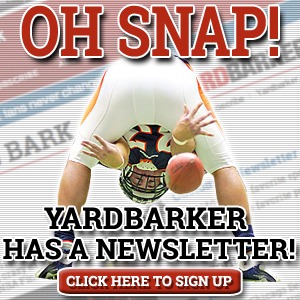 Latest Rumors
Best of Yardbarker

Today's Best Stuff

For Bloggers

Join the Yardbarker Network for more promotion, traffic, and money.

Company Info

Help

What is Yardbarker?

Yardbarker is the largest network of sports blogs and pro athlete blogs on the web. This site is the hub of the Yardbarker Network, where our editors and algorithms curate the best sports content from our network and beyond.