Found October 29, 2012 on Bacon Sports:
You didn't think I could go out for Halloween and not report back on the sports themed costume that I saw did you? Sure I love the slutty "insert anything" costumes that most girls wear but at some point those all just blur together. I'm more of a fan of originality, quality work, and flawless execution. I went to a dope bar called Public House (highly recommend if you are ever in Chicago) where some people definitely stepped their game up. Here's the best, worst, and everything in between that I saw relating to the world of sports. Considering sports takes up about 102% of my life it was a pretty safe bet that I was going to be rocking a sports themed costume. We put together custom Harlem Globetrotters uniforms (which took about 4 hours to make considering we had to cut out each of the letters and then iron/glue them on) fit with 80′s nut huggers. How Kevin McHale could play 30+ minutes a game and post up Tree Rollins in these tiny shorts I have no clue. I felt like I was going to sport sidenut every time I took a step. This guy was rocking a Duncan Keith Chicago Blackhawks jersey but didn't seem to have much else put together. Kinda weak but I am really jonesing for some NHL action right now so I'll let it slide. Duncan Keith embodies everything about why I love hockey. The award for the best costume of the night goes to these four lovely ladies that did the best rendition of WWF wrestlers that I've ever seen. You've got Rowdy Roddy Piper, Hulk Hogan, The Ultimate Warrior, and The Macho Man Randy Savage. Sure it helps that these chicks are hot but look at the quality of the costumes they put together. It's top notch. I'd only expect to see dudes rocking a WWF themed costume so this pretty much blew my mind. Weak attempt at a Derrick Rose costume. Bad costume + not slutty = not good for Halloween. If you were going to just mail in your costume why didn't you just go as DeSean Jackson? I knew someone was going to do it and here's the one guy (yes only one, which was kind of surprising) that did the Lance Armstrong "LiveWrong" getup. What I liked best about the costume was the upside down Nike logo. If you look closely on the bib you'll see that he really parodies this up with the 001, testicle, and "I am the uniballer". You stay classy Lance Armstrong Halloween costume guy. This is the start of my second favorite group costume of the night. These four Hoopsters went as white players from the 1992 Olympic Dream Team. These were sewn on high quality authentic jerseys with shorts so not only was the idea super creative but the execution was flawless. Here's John Stockton working on his pick and roll. Chris Mullin talking about how he loves flat top haircuts, shooting three's, and St John's basketball. Larry Bird talking trash like only Larry the Legend can do. Christian Laettner still being left out of the action. This is how you do a Derrick Rose costume. He nailed it. The obligatory NFL ref costume. Pretty hard to mess up. They would have received some bonus points had they gone specially as Ed Hochuli and Mike Carey. This is probably the most popular costume in Chicago every year and I'm totally OK with it. Who doesn't love them some Mike Ditka? Did you know that Mike Ditka was drafted in the first round in both the NFL and AFL draft in 1961? This is not the first Adam Banks jersey that we've seen but it is the first non-tshirt jersey. This guy had good intentions but poor execution. If you are going to rock a costume that you know people will love then don't half ass it. Do it up like the Dream Team Hoopsters did and go all out. I would sure like to get Adam Banks thoughts on the current NHL lockout as I can't imagine that he's very happy. Quack! Quack! Quack! If you dig random and vintage sports stuff like this then don't forget to follow us on Twitter or Like Us on Facebook. We are running a contest where if you like us on Facebook by Oct 31 then you'll be entered to win a sweet 8×10 photo of Larry Bird rocking some 80s nut huggers, Converse shoes, and showing some sweet shooting form.   
Original Story:
http://www.baconsports.com/sports-the...
THE BACKYARD
BEST OF MAXIM
RELATED ARTICLES
While rehabbing his injured ACL, Derrick Rose continues to maintain a certain status in the Chicago area.  I'm not talking about his superstar status, but rather his philanthropic status.  Rose has a clear understanding of his place in the heart of the Windy City, and he doesn't want to let people down.  Unlike players in the past - like Charles Barkley - who have shied...
Derrick Rose may return to his offseason headquarters in Southern California while the Bulls are on their circus road trip.
The Chicago Bulls will be without Derrick Rose for a good chunk of the season, which segways into the perfect opportunity to ask Chicago Bulls fan, @_BryanCrawford some burning questions. 1. Some would say Chicago had a 'TURRIBLE' off-season, how would you say Chicago did? Considering where they were financially over the summer, I thought [...]The post NBA Inquiry: 6 Questions...
* This post is part of our NBA week series, where we explore all things NBA leading up to opening night on October 30th* This will be an interesting season for the Chicago Bulls. I took a look at the 5 Burning Questions for their offseason. Now I will take a look at the questions for The post 5 Burning Questions: Chicago Bulls 2012 Season appeared first on No Coast Bias.
The Chicago Bulls' drafting of Derrick Rose in 2009 kicked of the beginnings of the all-American sports fairy tale. 2 years of the ragtag, scrappy bunch, with hard-nosed Kirk Hinrich and hot-shooting Ben Gordon teaming with the ROY to lead the upstarts to rollicking back-to-back 1st round exits. In 2011 the script played out perfectly; here comes the defensive genius Coach Tom...
In an effort to stay in top shape for another opportunity, Kyrylo Fesenko had been training in Colorado since being cut by the Bulls on Oct. 18.
While many have been quick to dismiss the Chicago Bulls with Derrick Rose sidelined, coach Tom Thibodeau's team is eager to prove its doubters wrong. After six consecutive losing campaigns, the Sacramento Kings are also looking to surprise. Chicago tries to continue its recent domination of Sacramento as both teams kick off their seasons Wednesday night at the United Center...
Justin Barrasso will be perusing the box scores of the Boston Celtics during the Larry Bird years, starting with Bird's rookie year in 1979-1980. We'll be posting the box score as well as some commentary each game day as we re-visit the '79-'80 season. Enjoy. Celtics (5-2) vs. Hawks (5-4) Saturday, October 27, 1979 Omni Coliseum The Celtics continued their road trip with ...
Celtics vs. Nets October 31, 1979 Wednesday – Rutgers Athletic Center Halloween in Piscataway is normally not described as a "treat," and that was no different in 1979.  The Celtics, however, dished out all the tricks to a New Jersey Nets team already in shambles, arriving at the Rutgers Athletic Center looking to keep pace with the undefeated 76ers in the standings.  The...
Derrick Rose's recovery will be a huge story this season.credit: blogspot.com Ladies and gentlemen, the NBA season is almost here! With tipoff right around the corner, we will have a full 82 game season with no lockout issues. After a turbulent offseason that featured names like Dwight Howard, Andrew Bynum, Andre Iguodala, Joe Johnson, Jeremy Lin, Ray Allen, and James Harden all...
COLUMBIA, Md. — If I told you that only four players have registered at least ten triple doubles in the playoffs, that probably wouldn't surprise you. If I told you that Magic Johnson, Jason Kidd, and Larry Bird are on the list, that probably wouldn't surprise you either. The fourth? No, it's not Oscar Robertson, [...]
Bulls News

Delivered to your inbox

You'll also receive Yardbarker's daily Top 10, featuring the best sports stories from around the web. Customize your newsletter to get articles on your favorite sports and teams. And the best part? It's free!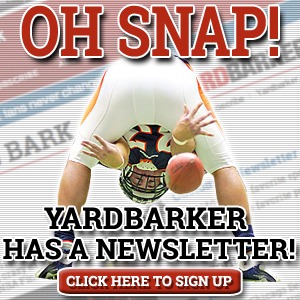 Latest Rumors
The Backyard

Today's Best Stuff

For Bloggers

Join the Yardbarker Network for more promotion, traffic, and money.

Company Info

Help

What is Yardbarker?

Yardbarker is the largest network of sports blogs and pro athlete blogs on the web. This site is the hub of the Yardbarker Network, where our editors and algorithms curate the best sports content from our network and beyond.