Found March 11, 2013 on Wizards Extreme:
Abdullah Sharif, Jamal A. Smith, and Mike Andrews discuss these three topics in this week's 3-on-3 segment: The Wizards resilience after the blowout in Brooklyn; Martell Webster and Trevor Ariza showing the hot hand; and how would you feel about the Wizards finishing one game out of the playoffs despite an 0-12 start? The Wizards suffered a 3-point debacle courtesy of Deron Williams in Brooklyn on Friday night. Less than 24 hours later they had to strap up for another game and granted it was against the Bobcats, the guys won in very easy fashion. How impressed are you by their resilience and amnesic performance? Abdullah: The Bobcats had come in losers of 9 straight by an average of 22 points. Those facts considered, the Centreville Wildcats could have played well against them on Saturday night. No direct knock on the Wizards..well...okay, yeah this is a knock on the Wizards simply because of how awful that Brooklyn game was. To me, Saturday's win vs. Charlotte was more of a relief rather than any sort of impression. Any earned win less than 24 hours following a debacle like the one against the Nets is refreshing. Let's hope the momentum sticks in Cleveland tonight.  Jamal: Honestly, I think the poor road performance against the Nets overshadows the win against the Bobcats.  Charlotte, the league's worst team, was coming off a 20-point home loss the previous night against the Thunder.  They were also in the throes of a 9-game losing streak.  In sum, that game was ideal for an easy Wizards win. The Nets game, however, was a huge embarrassment.  The Wizards had an opportunity to turn around its road woes, but instead never got into gear, falling into a huge first quarter deficit that would ultimately decide the game. Resilience would have been bouncing back after dropping a game to the walking dead Timberwolves.  The Bobcats win wasn't very impressive. Mike: I'm impressed by the win and the overall mesh of the team versus the Bobcats, but I don't think it's as big of a deal given the circumstances. Deron Williams had the first half of his life the other night and no team could have stopped him the way he was going. In addition, the Wizards also had one of their dreaded "off-nights" where nothing would go in the basket no matter how good of a look it was. Surprisingly, I didn't think the Wizards played that bad versus the Nets. They played horribly in the fact that they weren't sinking their shots, but they were giving themselves the opportunities to get back into the game. But with that being said, it feels good to know that the Wizards are not that designated as the "worst team in the NBA" when it comes up in the talk shows. The Bobcats showed their true colors once again in retaking that title. Webster and Ariza have both proven they can score the ball in Bradley Beal's absence. With a tedious schedule approaching that includes 6 of 7 games on the road, how important is it for them to maintain their efficiency on offense so long as Beal is out? Abdullah: Considering Beal is still nursing, the emergence of Webster and Ariza is definitely key. While the big men down low have also shown the ability to put up points, it's simply put that scoring opportunities are a bit more minimal in the absence of Beal. Ariza and Beal have both proven their skills to put the ball in the basket from the perimter as well as at the rim. We saw against the Bobcats Webster opening with the hot hand to put the Wizards up big, and Ariza closing strong to fend off a potential comeback. Jamal: It's important, but there is insurance.  While Okafor is slumping a little, Nene has been playing very well over the last couple months.  I also sense that Kevin Seraphin and Trevor Booker are regaining confidence, which will be a great boost to Ariza and the second unit. Finally, I fully expect Beal back before the brief West coast road swing, which will be timely against Phoenix and Golden State, teams that both rank in the top ten in pace. Mike: If Webster and Ariza aren't scoring, regardless of Bradley Beal, this team is losing. Webster has quietly been one of the main reasons (the other two being Wall and Beal) this team has any wins at all this season. As the leader in four-point plays this season, Webster has been one hell of a spark on the court. When it comes to effort, I don't see many other people on this team who hustle harder and longer than he does.   But enough about Webster. Ariza has been showing up consistently, as well. As someone who spent most of the first half of the season criticizing his play and begging for other teams to make an offer, I've been pleasantly surprised by his progress on both ends of the court. But since the question inquires on his offense, I have to say that his wide range of capabilities is going to need to be utilized that much more without Beal on the court. He can get in the paint, he can sink the 15-footer and he can sink the three. He has the size to get any reasonable basket. The thing with Trevor, though, is that when he gets cold, he gets ice cold. He's got to come out confident and ready to take on some of the offensive load for this team. Speaking of the upcoming schedule, the Wizards are clearly out of any legitimate playoff converation, but are still in position to finish as high as the 9th seed? For you personally, would it be considered a success to finish that well despite an 0-12 start, or just another typical season of misfortune? Abdullah: Just like many other Wizards fans, it's getting quite tiresome having to find reasons to justify another unsuccessful season. Last year the Wizards had starts of 0-8 and 2-15, yet finished the season on a 6-game winning streak which drew some relief and optimism for fans going into the offseason. This year is very similar. An 0-12 start caged the Wizards from becoming any sort of playoff threat, yet can still finish semi-respectable. That may seem okay on paper, but if you were to observe this season in correspondence to Ted and Ernie's "Plan," you'll notice that we are no where close to what was initially presented. Jamal: It's another disappointing season to me, regardless of the outcome.  My expectations for this season were low, but it doesn't lessen the blow of once again being among the lower rungs of the league.  While the team had some nice storylines (Beal, Webster, Okafor), it didn't yield much in the way of player development (Wall, namely). As a devout fan, too, I'm worried about the Wizards performing just well enough to convince Ted Leonsis that the infrastructure in place doesn't deserve an overhaul.  We had our fill of that last year. Mike: For me, it would be considered neither. I really don't care what spot in the conference the Wizards end up in at the end of the season if it is lower than the number eight. The front office said that the rebuild is over, so I've completely switched gears along with them. I believe they said that anything other than playoffs would be a failure. In college, if you get an F, it doesn't matter if you got a 34 or a 64. It's still an F. This is a team that should have made the playoffs if they were fully healthy. I understand that no one can control injuries and you can't blame the players or anyone else for an injury, but let's go back to the same logic: If you spent the night before your final exam with a fever and chills and everything else, and failed the exam--it's still a failure. It is what it is with this team, and at this point, there's no excuses; it's playoffs or bust for the foreseeable future.
Original Story:
http://www.wizardsextreme.com/2013-ar...
THE BACKYARD
BEST OF MAXIM
RELATED ARTICLES
The locker room is such a happier place for Martell Webster when his team wins. I personally love his habit of trolling his fellow teammates during their post-game interivews, just as he did with Bradley Beal a few weeks ago and again last night at the end of Trevor Ariza's piece (shown below). Ariza talked about his successful shooting night, while Wall discussed the ease of...
Only the Bobcats could make Martell Webster look like an unstoppable offensive force. The career journeyman connected on 4-of-8 3-pointers for 20 points, enabling the Wizards to humiliate the Bobcats, 104-87. The loss extended the Bobcats' North American Humiliation Tour to 10-straght games on Saturday, thanks to Webster, as well as Trevor Ariza, who jumped [...]
WASHINGTON (AP) -- The Washington Wizards, one of the few NBA teams who can actually call the Charlotte Bobcats a nemesis, did their bit to rectify that notion Saturday night, with Trevor Ariza scoring a season-high 26 points in a 104-87 victory. The Wizards never trailed and shot 50 percent as they handed the league-worst Bobcats their 10th straight loss, most of which haven'...
The Washington Wizards, one of the few NBA teams who can actually call the Charlotte Bobcats a nemesis, did their bit to rectify that notion Saturday night, with Trevor Ariza scoring a season-high 26 points in a 104-87 victory. The Wizards never trailed and shot 50 percent as they handed the league-worst Bobcats their 10th straight loss, most of which haven't been competitive...
wizards 104 bobcats 87 3/9/2013 - Verizon Center, Washington, DC ESPN Boxscore NBA.com Game Highlights Associated Press The Wizards were on cruise control tonight, enjoying a double digit lead for most of the game and clicking on just about every cylinder on offense. The front court players were the primary source of buckets and they looked poised all night. Nene...
                                            AT                                        Saturday, March 9th, 2013 8:00 PM ET TV: Comcast SportsNet HD Steve Buckhantz and Phil Chenier   Radio: 106.7 FM/1500 AM Dave Johnson and Glenn Consor   Kemba Walker Martell Webster Bobcats...
NBA News

Delivered to your inbox

You'll also receive Yardbarker's daily Top 10, featuring the best sports stories from around the web. Customize your newsletter to get articles on your favorite sports and teams. And the best part? It's free!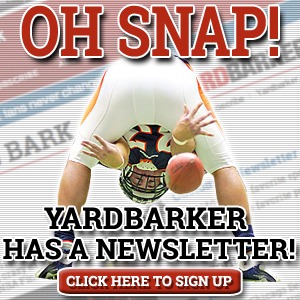 Latest Rumors
The Backyard

Today's Best Stuff

For Bloggers

Join the Yardbarker Network for more promotion, traffic, and money.

Company Info

Help

What is Yardbarker?

Yardbarker is the largest network of sports blogs and pro athlete blogs on the web. This site is the hub of the Yardbarker Network, where our editors and algorithms curate the best sports content from our network and beyond.