The 'Happy birthday to two of the NBA's all-time antagonists' quiz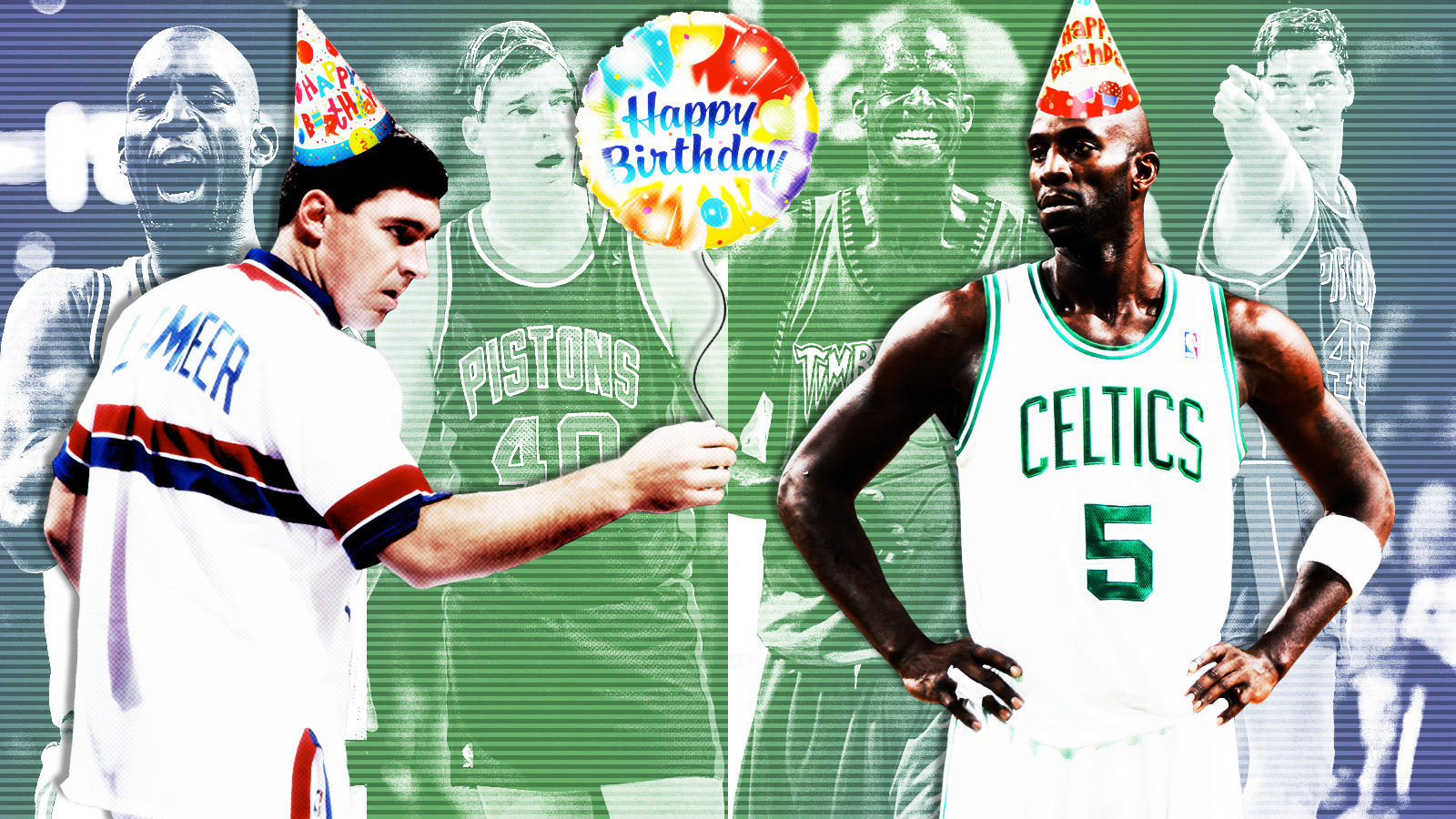 Yardbarker Illustration/Getty Images
Bill Laimbeer, the most notorious of the Bad Boy Pistons, is celebrating the big 6-0 today, while Kevin Garnett turns 41. Garnett was the better player of the two, but Laimbeer was certainly no slouch himself. Sadly, they never got to meet up on the court. Laimbeer hung 'em up two seasons before Garnett would make his debut, but both are linked by being the player that opponents hated the most during their playing days. 
Simply put, Laimbeer was a player from another era, one that would and could not exist in today's NBA. In 2017, Zaza Pachulia is being labeled as the dirtiest player in the NBA for this play on Kawhi Leonard. Laimbeer would routinely do things on the court like this. And this. And this. This one too. Don't forget this one. Simply put, hurting opponents was Bill Laimbeer's brand...literally. Post-NBA, Laimbeer has become one of best coaches in the WNBA, leading the Detroit Shock to three titles, and also winning Coach of the Year twice, most recently with the Liberty in 2015. But even from the sidelines, he still occasionally shows flashes of his old self.
KG, on the other hand, was more of a mental assassin. Sure, the Big Ticket wasn't above getting physical with an opponent when he got out of line, but it was the mind games KG played with foes, sometimes leaving them on the verge of tears. Heck, KG wasn't above making his teammates cry if he felt they weren't playing up to snuff. But all you need to know about Garnett and how his contemporaries felt about him as a human being can be summed thusly: Tim Duncan could not stand him. Yes, the mild-mannered, normally emotionless Duncan hated Garnett's guts more than he hated wearing ties. The relationship can be summed up with this anecdote is from a 2012 Sports Illustrated story:
In fact, Duncan hates Kevin Garnett. Hates him the way liberals hate Sean Hannity. This information comes from very reliable sources, who talk about how KG has made a career of trying to punk Duncan, baiting him and slapping him and whispering really weird smack into his ear.

Duncan is diplomatic about the topic. Asked if perhaps all those years  battling Garnett have softened his feelings for the man, led to a Magic-Larry type of kinship, Duncan leans back on the couch in his hotel  oom and grins. There is a pause. A longer pause. Finally he says, "Define kinship."
And that brings us to today's quiz of the day. There are some surprising and not-so-surprising names on the NBA's all-time personal foul list. How many of the top 25 can you name in six minutes?

Good luck!

CLUE: Total fouls / years played
Name the NBA players with the most career personal fouls
MORE FROM YARDBARKER
NBA News

Delivered to your inbox

You'll also receive Yardbarker's daily Top 10, featuring the best sports stories from around the web. Customize your newsletter to get articles on your favorite sports and teams. And the best part? It's free!