Found May 19, 2012 on NBA 24/7 365:
Lakers 99, Thunder 96: Could you get into this game?  If so, you're a tougher soldier than I.  Mentally, I tuned out after James Harden was called for three fouls he didn't commit in a span of 90 seconds.  I'm not crying conspiracy, but whatever it was that led to a total of 52 fouls and 60 free-throw attempts (42 of which were shot by the home team, who made an incredible 41 of 'em)… it made the game borderline unwatchable.  Was Joey Crawford's involvement coincidental?  I haven't a clue, but I'll repeat the same sh!t I'm always saying about him: when Joey Crawford involved, the officiating is always talked about. That's why, in my humble opinion, he shouldn't be involved. In an attempt to get beyond the overzealous referees and break down a game that was likely interrupted by your slumber, let's take a look at some non-free-throw numbers.  The first one that jumps out at me sits in Ramon Sessions' FG column: 5-9.  Coming into game three, Sessions had made just two baskets in the entire series.  Last night, he scored 6 of his 12 points in the first quarter as he was able to navigate his way to the rim, helping the Lakers get off to a great start.  Not only did Sessions play well, but Steve Blake bounced back from death threats to keep the PG production cranking after Sessions took a seat.  In addition to his surprising total of 8 rebounds (one of which was particularly important, as you'll see in a moment) Blake made 4 of 5 shots as he scored 12 points of his own.  He knocked down a couple big buckets in the middle of the third quarter to tie the game after the Lakers had trailed by five. As for the Thunder, they were once again able to limit their turnovers, committing just nine.  This allowed them to match their game-one total of 83 shot attempts, and they needed each and every one of 'em considering the mere 39.8% that they hit. Finally, if you're anything like me, you probably took a look at the offensive rebounding numbers (vital to Laker success).  You'll notice that OKC actually out-boarded the Lakers 13-12, but… 0:52 94-93 Kobe Bryant misses 19-foot jumper
0:51 94-93 Pau Gasol offensive rebound
0:46 94-93 Kobe Bryant misses jumper
0:44 94-93 Steve Blake offensive rebound
0:33 94-93 Russell Westbrook shooting foul (Kobe Bryant draws the foul)
0:33 94-94 Kobe Bryant makes free throw 1 of 2
0:33 94-95 Kobe Bryant makes free throw 2 of 2 …yeah.  As they so often do, the Lakers were able to secure themselves extra opportunities in a critical situation by preventing that one key rebound the opposition needed. I do have to touch on the refereeing one more time.  Following those Kobe free throws, this happened.  First of all, fantastic f@cking crossover.  Second of all, that should've been a foul on Ron Artest.  They'd been calling little bumps and nudges all night long, and they should've called that one too.  Consistency is key, and last night's contest ended up lacking it. Here I am at the final buzzer and I feel that this recap severely lacks detail.  What more can I say, though?  It was a three-hour foul-shooting contest (for a recap that makes it out to be something more, click here).  It really did last three hours, too.  I took a glance at my clock in the final minute of the fourth and it was 1:28 in the goddamned morning. No one saw your fourth-quarter performance, Joey.  The entire East Coast fell asleep.
Original Story:
http://nba247365.com/?p=6585
THE BACKYARD
BEST OF MAXIM
RELATED ARTICLES
Growing up, Pau Gasol came to a crossroads at which he had to decide whether to pursue a medical career or play professional basketball. He soon chose the latter, but the Lakers forward has still tapped into his interest in medicine. His involvement has become so wide-ranging that Gasol won this year's J. Walter Kennedy Citizenship Award. Gasol won for his efforts supporting...
As he sat at the podium, Coach Mike Brown's infectious smile and enthusiasm suddenly evaporated. It had nothing to do with the Lakers' 2-0 deficit to the Oklahoma City Thunder in the Western Conference semifinals. It had nothing to do with basketball. It had everything to do with fans issuing profantiy-laced death threats to the Twitter account of Lakers guard Steve Blake...
While it wasn't the same impact James Harden returned favor to Metta World Peace by elbowing him in the face. Of course we all remember the vicious elbow to the jaw World Peace gave to Harden, just before the regular season ended. For that World Peace was suspended for 7 games, with many of those coming in the playoffs. Now the Lakers and the Thunder are in the...
Kevin Durant hits the three pointer from the top of the key in the closing seconds of game 4 against the LA Lakers at Staples Center to give the Thunder a three point lead and the win, moving them 1... Full story at Bob's Blitz ~ http://www.bobsblitz.com
Kevin Durant is making clutch shot after clutch shot in these 2012 playoffs. Last night was no different as Durant's last second three gave the Thunder the win. Durant is making his case that he is the best player NBA . With the game tied at 98 Durant intercepted a bad pass from Pau Gasol. Then it was time for Durant to do his thing on the offensive end. Durant...
Watch as Kobe Bryant and Mike Brown talk about the Lakers' Game 3 victory.
Kobe Bryant didn't miss on 18 free throws and scored 14 of his 36 points in the fourth quarter, and the Los Angeles Lakers rallied late for a 99-96 victory over Oklahoma City in Game 3 on Friday night, cutting the Thunder's second-round series lead to 2-1. Metta World Peace swiped the ball from Kevin Durant and hit two free throws with 12.9 seconds left for the third-seeded...
Snoop Dogg was recently spotted courtside at a Lakers playoff game wearing a Rasta hat with funky sunglasses. We wanted to know what the caption should be. Here's a look at Saturday's #NESNCaption Caption Contest winners: Mike Tilden: "Look, there's Jack Nicholson. Let's go see if he wants to get baked." Adrian Jones: "What this hat ya I got it over...
Saturday night the Lakers lost a second heartbreaker to the Oklahoma City Thunder. The Lakers were up until the final minutes of the fourth quarter.  With the game tied at 98,  Kevin Durant; guarded by Metta World Peace, drains a three but the Thunder up in the final seconds.   This was an intense game. [...]
The Los Angles Lakers traded a first round draft pick to the Cleveland Cavaliers for Ramon Sessions at the trade deadline in order to improve their play at the point guard position. By improving that position, the Lakers essentially wanted somebody who could come in and do better than Steve Blake. There's no denying that even at his worst, Ramon Sessions is still an upgrade over...
This game was awesome.  Laker fans are so quick to turn on their own team. Kobe makes a shot and he's the best player in the league. Kobe turns it over and they want him amnestied. I sure slept well last night. A blow out win for my Celtics and then a soul crushing come from behind win by my Thunder. And a good game by Perk to boot. I think my favorite comment was the...
NBA News

Delivered to your inbox

You'll also receive Yardbarker's daily Top 10, featuring the best sports stories from around the web. Customize your newsletter to get articles on your favorite sports and teams. And the best part? It's free!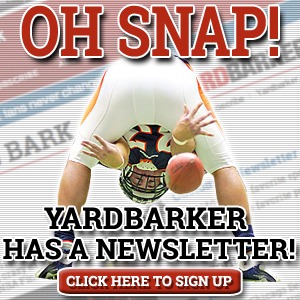 Latest Rumors
Best of Yardbarker

Today's Best Stuff

For Bloggers

Join the Yardbarker Network for more promotion, traffic, and money.

Company Info

Help

What is Yardbarker?

Yardbarker is the largest network of sports blogs and pro athlete blogs on the web. This site is the hub of the Yardbarker Network, where our editors and algorithms curate the best sports content from our network and beyond.