Found July 18, 2012 on CJ Sports NFL Talk:
PLAYERS:
Grant Hill
,
Ray Allen
,
Chauncey Billups
,
Tracy McGrady
,
Steve Nash
,
Rey Mysterio
,
Jason Kidd
,
Latrell Sprewell
TEAMS:
Los Angeles Clippers
,
Phoenix Suns
,
Miami Heat
,
Detroit Pistons
,
Atlanta Hawks
,
Los Angeles Lakers
,
New York Knicks
    , American basketball player for the Phoenix Suns (at time of photo) (Photo credit: Wikipedia) Yesterday I sat down at work, eating lunch like any normal day. Its funny seeing people smile at me as they walk; my lunch routine is exactly the same. I clock out, warm up my food, and turn on NBA  TV. Even during off-season, I'm locked in. Yesterday was the perfect day to do so. There was a nice replay of the USA vs Brazil game, as well as some nice free agent information. Free agency is like Christmas in July to me. The silent (and sometimes obnoxious) excitement is the greatest feeling to me. It just so happened that as I'm turning on the TV, Grant Hill's name runs by. Apparently, Grant Hill is supposed to be heading to the Los Angeles Clippers; news that sounded like sweet music to my ear. If this deal goes through, the merger of one of my all time favorite players and on of my all time favorite teams would happen. Grant Hill's career has been a love/hate career. Most people love the fact that he's lasted so long in the league. However, his legacy being robbed from him, most people hate the possibility of Hill going away without ever winning a championship. Personally, I expect Grant Hill to go away without winning a championship. Honestly, I believe that if Hill doesn't pull a Ray Allen and sell out to Miami (yea I said that), there will be no chance for him to win a championship. As good as the Clippers have been this past year, it will be years before they are truly considered title contenders, much less championship material. Don't get me wrong, Grant Hill brings a nice offensive set to the Clippers. Grant still has one of the best perimeter games in the league, and that will merge nicely in LA, especially with the absence of Mo Williams. Also, consider the fact that Chauncey Billups will be back,  and this team will be able to score with the best, lob city or not. Now, hold your thoughts for a minute. Walk with me down memory lane. Grant Hill earned his name in college. Known mostly as the notorious enemy of Michigan's Fab Five, Grant spent his days at Duke as one of their premier scorers. Coming from a sports family, Hill was primed for success in the League. Eventually selected by my Detroit Pistons in 1994, Hill went on to become a rookie sensation. Hill is accredited for being one of the pioneers to the unwritten "point forward" position. Hill could handle the ball as good as any point guard, and at the same time score inside as good as any small forward. Hill nearly single handily carried the Pistons in their teal uniforms to a couple of playoff appearances while becoming a media sensation. Hill made you like him. He spoke with class, but at the same time he's down to earth, making it easy to laugh with him. One of my favorite of Grant Hill at this time was his Sprite commercials. It felt so cool to live in the same city as such a phenomenon. Sadly, Hill's time at the top was cut short with a career, and life threatening ankle injury. The injury escalated during the last year of Hill's contract in Detroit, thus making him an injured free agent. Still, people knew the talent that Hill possessed, and Orlando offered him a deal. Grant Hill was supposed to team up with Tracy McGrady in Orlando and create the most devastating tandem in the NBA since Jordan and Pippen. However, it never really happened. Hill would nearly miss two seasons with his ankle injuries, and eventually found himself heading to a new city. This time he would team up with Steve Nash in Phoenix under Mike D'Antoni's infamous "12 seconds or less" offense style. This worked perfectly for Hill. Even though he was no longer in his prime, Hill could still run as good as most of his counterparts. The Suns offense primarily focused on pick and rolls between Nash and Amare' Stoudemire. However, this left most defenders to double team Amare', leaving Hill wide open in his sweet spot. Hill resurrected his career in Phoenix, proving that hard work and determination would pay off. Hill reminds me of Rey Mysterio from the WWE. While Mysterio may be the underdog, he always finds a way to win. There were so many people who doubted the Hill would ever manage in the NBA again. However, proving haters wrong in a way that only Grant can, he managed to silence haters without asking for media attention. Hill never made an ESPN special, he never blamed anyone for his downfall. The weird thing about that Hill actually did have people to blame. The Pistons organization knew of the seriousness of Hill's injury. However, the most they did was numb it long enough for Hill to score more points. Hill literally became a work horse for Detroit, and while I love my Pistons, I am the first to admit that the organization made a huge mistake by letting Hill continue in his despair. It nearly cost him his career, and his life. We look at Grant Hill now. Career wise tied to Jason Kidd (both were named co-ROY in 1995), Hill will always be in the same echelon as Kidd as far as HOF is concerned. While he missed out on a true historical career, Hill still has been one of the most respected personalities in the NBA. Sometimes, that means a lot more than the numbers. I would love for Hill to end his career with a championship. However, even if that doesn't happened, Hill and all of his colleagues should certainly be proud of Hill. As a child that looked up to him I was, and as a journalist, I am today. Related articles
5 Players that should have retired this season(110sportztalk.com)
Is Kobe the REAL NBA G.O.A.T?(110sportztalk.com)
The fall of Latrell Sprewell(110sportztalk.com)
Original Story:
http://110sportztalk.com/the-lovehate...
THE BACKYARD
BEST OF MAXIM
RELATED ARTICLES
The Clippers haveapparently added another important piece to their roster for next season,reportedly agreeing with small forward Grant Hill on a deal. Yahoo! Sports reportedthat Hill, 39, will sign a two-year contract. The Clippers haveseveral options to acquire Hill, either through a sign-and-trade with thePhoenix Suns or by using its bi-annual exception, according to reports...
At one time, Grant Hill was the next Michael Jordan. The acclaim started early for Grant. Hill was a McDolands High School All-American. The son of two well-educated parents, he had his pick of schools when it came time to choice a college. His mother wanted him to attend Georgetown. His father wanted Grant at North Carolina. Hill chose Duke. This would be the beginning of my early...
Grant Hill is following former Phoenix Suns teammate Steve Nash to Los Angeles. Only the seven-time All-Star forward has signed with the Clippers. Nash signed with the Lakers last week and he tweeted word of Hill's signing with the other team in Staples Center earlier this week via a photo of him frowning on Twitter. Hill signed a two-year deal on Wednesday. He turns 40 in...
Grant Hill is following former Phoenix Suns teammate Steve Nash to Los Angeles. Only the seven-time All-Star forward has signed with the Clippers. Nash signed with the Lakers last week and he tweeted word of Hill's signing with the other team in Staples Center earlier this week via a photo of him frowning on Twitter. Hill signed a two-year deal on Wednesday. He turns 40 in...
Grant Hill is the second oldest player in the NBA, but that has not stopped teams from pursing the free agent. The Los Angeles Clippers are the latest team interested in signing Hill to be a backup small forward.  Clippers coach Vinny Del Negro met with Hill on Sunday in Las Vegas to gauge his interest in playing in Los Angeles. According to Broderick Turner of the Los Angeles Times...
Lot's of buzz in the cyberworld today. We'll start with this: Grant Hill is joining Steve Nash in Los Angeles, according to Adrian Wojnarowski of Yahoo!Sports. But not with the Lakers. Hill is in the process of signing with the Clippers. We get the feeling that Suns' fans will be able to swallow that one a lot easier than the alternative.
Continuing the trend of players hopping around the NBA's Pacific Division, it looks like Phoenix Suns veteran guard Grant Hill will be signing with the Los Angeles Clippers. The terms of the contract are still being worked out but it looks like Hill will sign a two-year deal with the Clips. Hill will be turning 40 before next season starts but he can still be a big help off the...
Veteran free agent forward Grant Hill has reportedly agreed to terms to join the Los Angeles Clippers, according to reports from Y! Sports. Terms of the agreement are still being finalized. Hill, who will be 40 in October, revived his career with the Phoenix Suns after foot injuries cost him the better portion of four of [...]
LOS ANGELES- The moment that it surfaced that Clippers forward Blake Griffin injured his knee during a Team USA basketball scrimmage, most of our thoughts left how he would contribute to the Olympic team and questioned how this would impact his NBA season. Please click the link below to read this article.
DirecTV and Viacom are in the middle of a dispute that has kept Viacom channels from appearing in the DirecTV lineup for eight days and counting. The dispute has been a hassle for anyone who enjoys watching shows on Comedy Central, MTV, Nick, or any of the other Viacom channels. That even means Blake Griffin, who has extra time on his couch now that he's rehabbing a knee injury...
LOS ANGELES (AP) -- The Los Angeles Clippers have waived forward Ryan Gomes using the NBA's amnesty provision. He averaged 2.3 points and 13.3 minutes in 32 games last season in a diminished role on the team. Gomes was in his second season with the Clippers after previously playing for Minnesota and Boston.
The Clippers and free-agent center Ryan Hollins agreed to a one-year deal on Thursday. Hollins is expected to sign a one-year contract for the veteran minimum of 1.065 million. Ryan is happy to be a Clipper, Hollins agent, Todd Ramasar, said. Hes happy to be back in L.A. and hes looking forward to helping the Clippers. Hollins, a seven-foot center who attended UCLA, played for...
NBA News

Delivered to your inbox

You'll also receive Yardbarker's daily Top 10, featuring the best sports stories from around the web. Customize your newsletter to get articles on your favorite sports and teams. And the best part? It's free!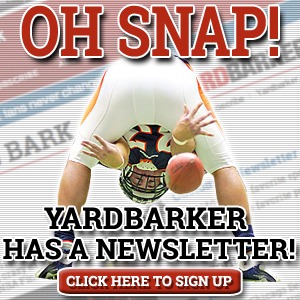 Latest Rumors
Best of Yardbarker

Today's Best Stuff

For Bloggers

Join the Yardbarker Network for more promotion, traffic, and money.

Company Info

Help

What is Yardbarker?

Yardbarker is the largest network of sports blogs and pro athlete blogs on the web. This site is the hub of the Yardbarker Network, where our editors and algorithms curate the best sports content from our network and beyond.