The Mulligan: Why Vlade Divac deserves another chance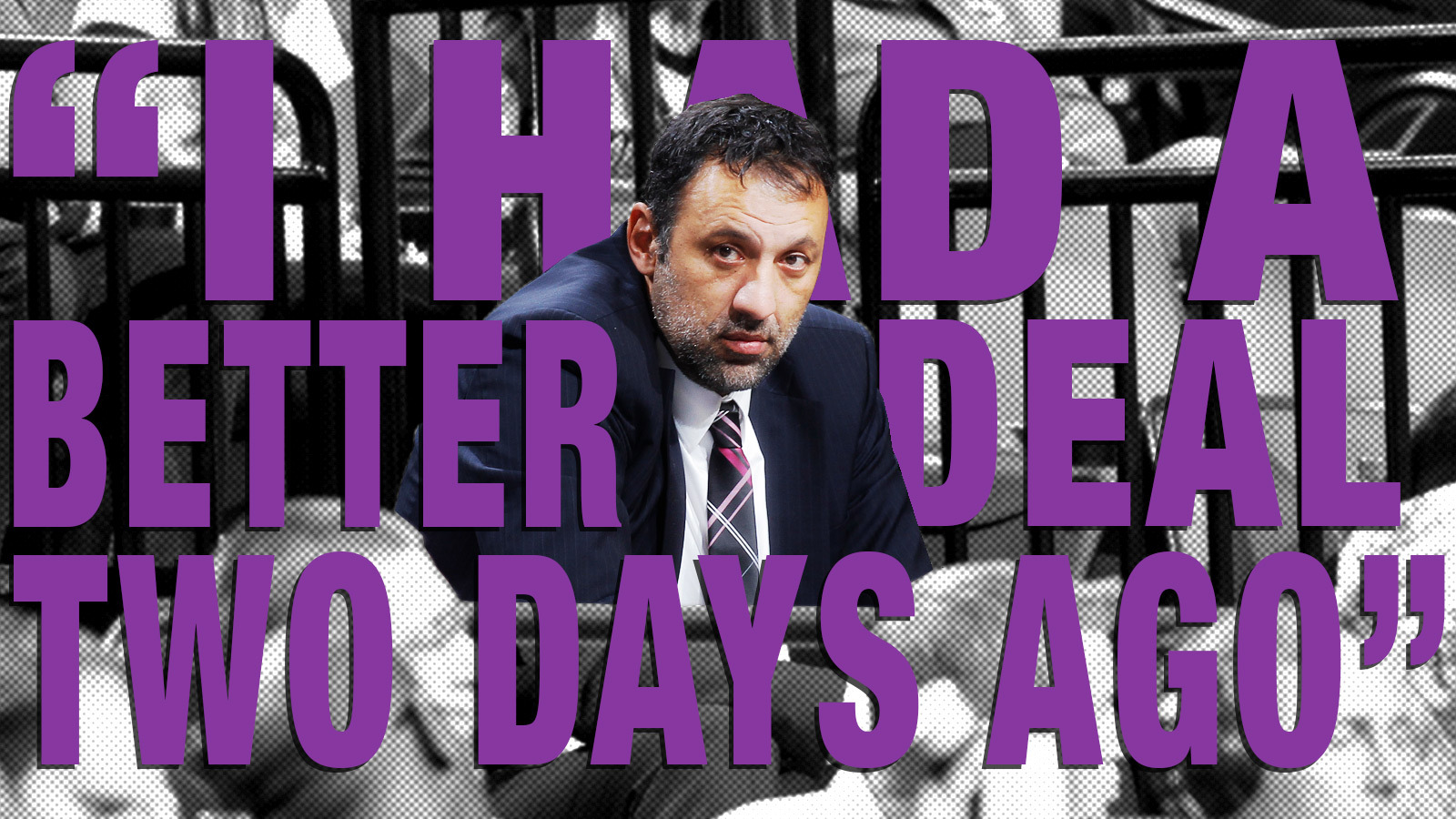 Yardbarker Illustration/Getty Images
This past month will either go down as the worse month of Vlade Divac's tenure as general manager of the Sacramento Kings, or we will look at it as some kind of turning point. After repeatedly saying his team was not interested in trading DeMarcus Cousins, the Kings traded their superstar in the most Kings way possible, with trade rumors picking up during All-Star weekend, and after Sunday's All-Star game, Cousins was traded to the New Orleans Pelicans in exchange for a package of draft picks and rookie guard Buddy Hield.
After years of trade speculation, the package the Kings received in return for Cousins was underwhelming, but more curious was the sudden change of heart by the organization to part with Cousins, who was reportedly interested in committing to the franchise this summer by signing a long-term extension. There was also the timing of it all: Why, suddenly, was Sacramento so rushed, just days before the deadline, to trade its star. It was almost like the Kings put themselves on the clock for no reason in making one of the biggest decisions in franchise history.
The whole ordeal made more sense in the aftermath, when we found out that owner Vivek Ranadive saw Hield as the next Steph Curry, which about explains why the Kings went with this trade package for Cousins. In this way, Divac was painted into a corner. Being the general manager with a meddling owner is one of the most thankless jobs in the industry. You take the brunt of the criticism for the decisions you make, and yet a lot of control is out of your hands. Worst, you're seen in public as a puppet doing the work for someone else.
Divac sounded helpless in discussing the trade, even revealing that he had a better trade offer on the table two days before as his explanation of why the Kings didn't wait a few more days until the trade deadline for more competitive offers to come in. If Divac sounded like someone who had no choice but to please his boss, he was also defiant, and again, he has no choice — I mean, you're the general manager who just traded your superstar away, didn't get a huge return, and don't have a particular clear path to rebuilding thanks to a bunch of poor decisions made before you got there.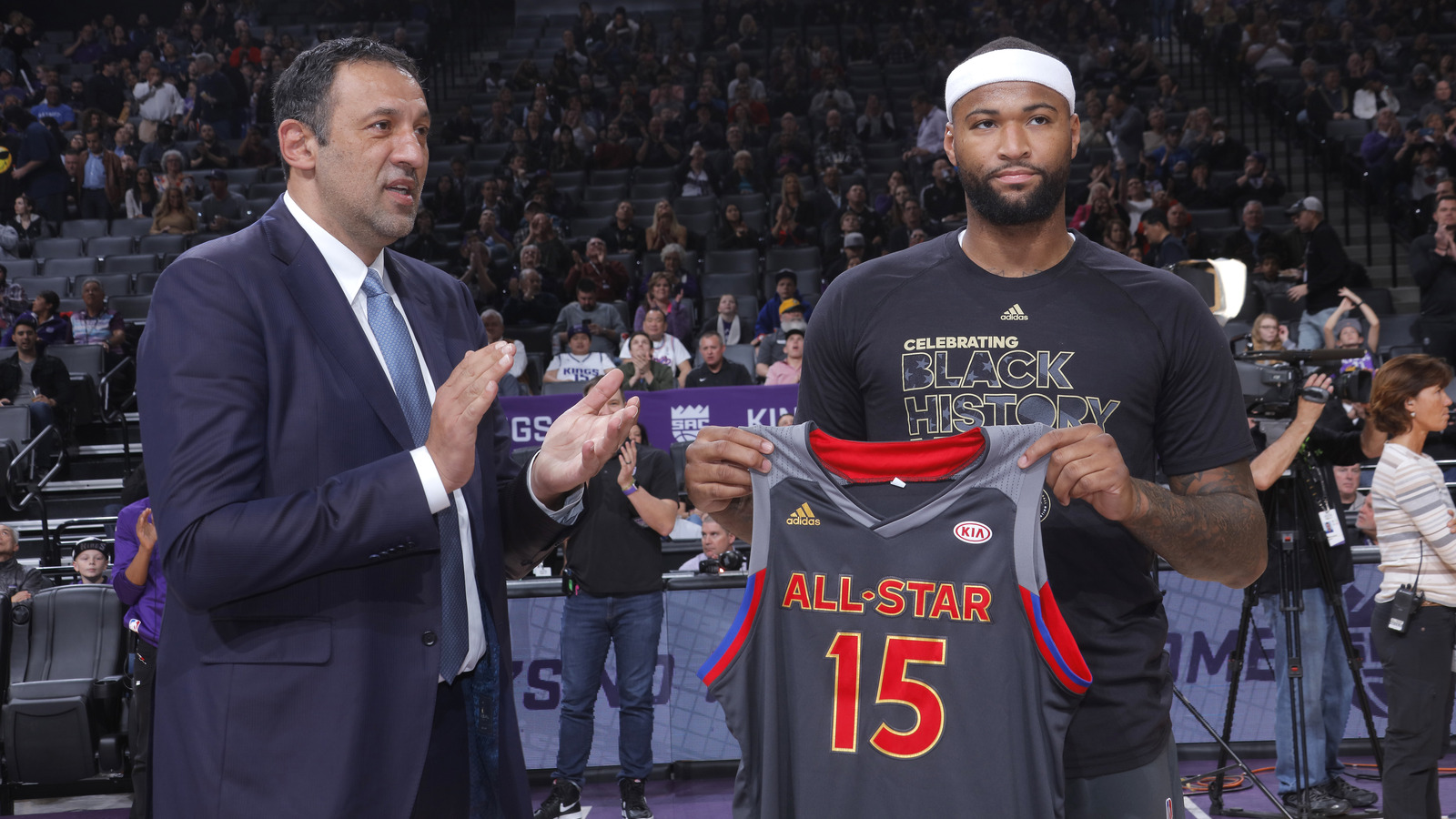 Vice president and general manager Vlade Divac of the Sacramento Kings announces DeMarcus Cousins as an All-Star prior to the game against the New Orleans Pelicans on February 12, 2017.
Rocky Widner/NBAE via Getty Images
In an interview with the Sacramento Bee's Ailene Voisin, Divac said, "I totally understand why some fans would be upset. They supported DeMarcus, and I like DeMarcus a lot. But I believe we are going to be in a better position in two years. I want to hear again from these same people in two years. If I'm right, great. If I'm wrong, I'll step down. But if I go down, I'm going down my way." A part of me likes to think that while Divac was servicing his Vivek by trading Cousins for Hield, he also said to himself, "you know what, f---- it, I'm clearing this will we or won't we trade Cousins thing off my plate, and I'm going to do my own thing now."
I hope the next thing Divac did after that interview was go to Vivek's office and say, "Listen. You wanted your superstar gone, you wanted the next Steph Curry, I got you the next Steph Curry. Now let me do my job, and figure this mess out for the next two years."
If there's a bright side to this, there's literally nowhere to go but up for Divac. The Kings haven't made the playoffs since the 2005-06 season. They haven't won a playoff round since the 2003-04 season. If Divac can make one good free agency signing or unearth a gem in the upcoming draft, he could be hailed as a savior. The bar is so low right now in Sacramento, and there's so much criticism being tossed in Vivek's direction, there's an opening here for Divac to make good on his promise.
Divac was brought in during the 2014-15 season after the Kings had gotten a lot of backlash for firing head coach Mike Malone after an 11-13 start. Malone and Cousins had developed a close relationship and it was again Vivek's meddling that resulted in the sudden firing of the team's coach. Divac was a goodwill hire, since he was a critical part of those early-2000 Kings teams who went toe-to-toe with the Shaq-Kobe Lakers. Originally brought in as a vice president and adviser, Divac was promoted to general manager in September of 2015, and has not put together a stellar body of work, including a salary dump trade with the Philadelphia 76ers which now leaves them owing the 76ers a pick swap in this year's draft, and an unprotected 2019 first round pick.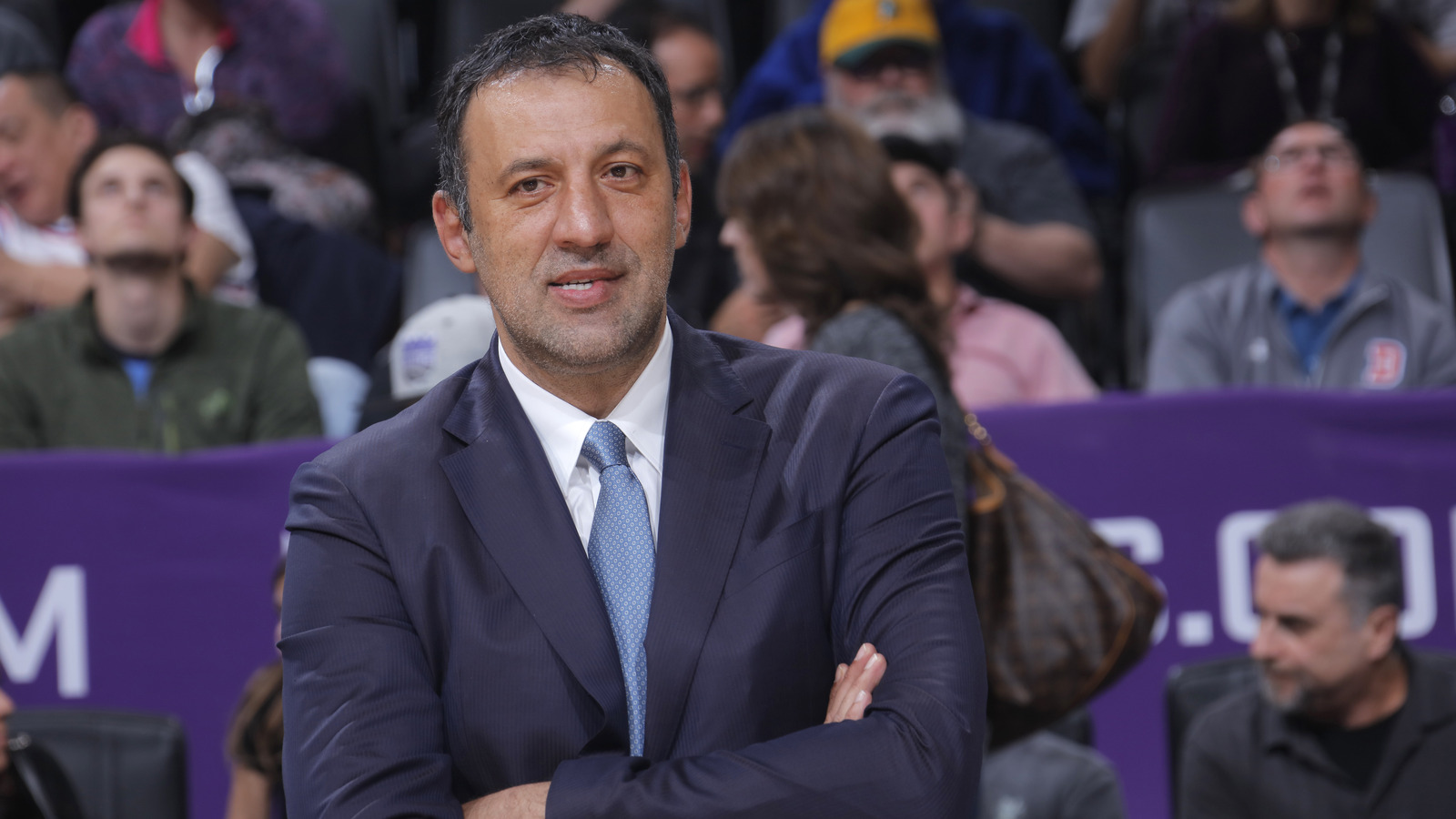 Rocky Widner/NBAE via Getty Images
So, why does Divac deserve a mulligan despite his mediocre track record so far?
Because the Kings have been a mess long before they hired an inexperienced general manager to run their team, and because everything to date has been about cleaning up a mess and pandering to his owner. Since drafting Cousins in 2010, they've taken Thomas Robinson, Ben McLemore and Nik Stauskas in the lottery. It's always easy to play what-if with the draft, but it's difficult not to when the Kings have been leading the clubhouse with their draft day ineptitude for so long. Among the players the Kings could have chosen include Damian Lillard, Andre Drummond, Harrison Barnes, C.J. McCollum, Steven Adams and Zach LaVine. Even hitting one of those drafts could have steered the franchise in the right direction.
While the Cousins trade was terrible from a talent exchange standpoint, we also have to understand the bind that Divac was in. He essentially had enough of the back-and-forth by Vivek on whether to trade his superstar and decided to make a move before he changed his mind. Divac chose to wipe the slate clean rather than being stuck without knowing how to move his team forward and in the process he lost Cousins and got a not great return, but it also represents a refresh for him. Trading your superstar for next to nothing is never the right move, but when you consider the years of losing, and how hamstrung Divac was by his owner, this actually feels like the most logical ending to the DeMarcus Cousins era in Sacramento.
Now that Cousins is gone, one can only hope that Divac can at least get a fair shot to be the general manager in its full capacity, make the moves that he wants, and execute the vision that he has for the team. The trade also served the purpose of helping the Kings start their rebuild. Sacramento owes a first round pick to the Chicago Bulls that is top-10 protected, and trading Cousins means the Kings – who are 25-37 heading into Monday night and three games out of a playoff spot – are more likely to have that draft pick fall in the top 10, which means they will have a lottery pick to start the rebuilding process this summer. After this season, the first round pick owed to the Bulls becomes two first round picks.
The Kings don't have a lot of (any?) blue chippers on their team. They've had a disastrous record of drafting players. They made a bunch of win-now moves that will come back to cost them in draft picks anyways. The future is murky. But like Divac says: give him two years, let's see what he can figure out. I have no idea how he's going to pull the Kings out of this mess, but watching him try will be fun. Divac could just go down as a forgettable general manager, but at least now, he's taken personal responsibility of where this team is going. So let's spend the remainder of this season getting over the DeMarcus Cousins era in Sacramento, and then let Divac go on his self-imposed two year plan, and see if he can actually be the person to finally bring some respectability back to the current laughingstock of the NBA. Let's press the reset button, hand Divac the biggest of mulligans, and start the evaluation starting now.
MORE FROM YARDBARKER:
QUIZ: Name every Sacramento King elected to the Hall of Fame
The Sacramento Kings franchise has had 16 people elected to the NBA Hall of Fame, both players and coaches. How many can you name?
NOTE: Clue is the year they were inducted.
MORE FROM YARDBARKER
NBA News

Delivered to your inbox

You'll also receive Yardbarker's daily Top 10, featuring the best sports stories from around the web. Customize your newsletter to get articles on your favorite sports and teams. And the best part? It's free!