Found March 15, 2013 on With Leather:
Keep your eye on the guy in the middle. He celebrates his cameo appearance on the NBA on TNT by going knuckle-deep in his own skull, then … well, I don't want to spoil it for you. If you're gonna pick your nose on television, pick it with all your heart, I guess. Kudos, nose picker. (h/t to Scotty Reynolds)- Follow us on Twitter @withleather - Follow me personally @MrBrandonStroud and Burnsy @MayorBurnsy - Like us on Facebook.LinksThe WWE Wake |The Mandible Claw|15 Other Classic Albums Recorded At Sound City Studios |UPROXX|Sports On TV: Freaks And Geeks' 10 Greatest Sports Moments |With Leather|Of Course Kevin Smith Ate A 21,000 Calorie Sandwich |Warming Glow|Spring Breakers Review: Many f*cks spoken, few given |Film Drunk|See How Jurassic Park's T-Rex Was Made Then Watch Him In Action In Two New 'Jurassic Park 3D' TV Ads |Gamma Squad|10 Rappers You Should Stop Hating |Smoking Section|Enter Scrapendola |Kissing Suzy Kolber|10 International Pizza Toppings |Mental Floss|West Coast ...
Original Story:
http://feedproxy.google.com/~r/uproxx...
THE BACKYARD
BEST OF MAXIM
RELATED ARTICLES
While TNT commentators Chris Webber and Kevin Harlan were doing work before the broadcast of the Knicks-Trail Blazers game Thursday night, a fan seated directly behind them was doing some work of his own, namely burying his finger knuckle deep into a nostril mining for nose gold, and all of it was captured on live television in a videobomb for the ages… Dude totally owns his...
During Thursday's Trail Blazers-Knicks game on TNT, this fan sitting behind TNT's broadcast crew of Chris Webber and Kevin Harlan was bold. So bold in fact, that he decided to pick his nose on live TV. And just in case you thought he wasn't aware that he was on camera...the fan turned towards the camera after picking a winner, and gave the viewers at home a nice wink...
This guy, 1. All of us suckers, 0. He got us, America. Here we are thinking, "AHA! Look at this man who has no idea he's on camera! He's picking his nose while perfectly placed between Kevin Harlan and Chris Webber for our viewing pleasure! What are the odds that this man would decide to pick his nose, in public, at the exact time that he's being captured by TNT...
A fan at the New York Knicks vs Portland Trail Blazers game decided to drop a photobomb on Chris Webber, complete with a nose pick and a wink.
It seems as though this guy new just exactly what he was doing and wanted to provide a bit of humor to those at home watching the broadcast.  During the pregame discussion for the New York Knicks-Portland Trail Blazers game, a man was sitting behind Chris Webber and Kevin Harlan picking his nose.  When he got done, he turned to the camera, smirked a little and winked.  Nothing...
During Thursday night's TNT broadcast of the Portland Trail Blazers-New York Knicks Game at the Rose Garden, Kevin Harlan and Chris Webber were doing their little bit where basketball announcers are afforded the rare opportunity for some face time. Usually, the folks seated behind the broadcasters either go over the top, waving at the camera and acting the fool, or they don't...
Top 10 Memorable March Madness Moments in the History of College Hoops That time is upon us college basketball fans-time for Selection Sunday and the beginning of the NCAA tournament otherwise known as March Madness. If these two are hooking up it must be crazy! Why 'madness' instead of something else? Easy—because with the crazy stuff that tends to happen...
For those of you with a keen eye while watching the intro to TNT's Thursday night coverage of the Portland Trail Blazers/New York Knicks game last night, might have already seen the moment.The rest of you can now watch in joy as a fan sitting behind Kevin Harlan/Chris Webber digs for nose gold during the pair's intro:
If you don't know, now you know. Check out this awesome highlight reel of Damian Lillard's rookie season: It's time to crown future Rookie of the Year Damian Lillard. As if you need to know that the kid is nice- he's been selected Rookie of the Month 4 times, leads all rookies in PER (player efficiency rating), win shares, usage rate, and is near the top of the leader board...
NBA News

Delivered to your inbox

You'll also receive Yardbarker's daily Top 10, featuring the best sports stories from around the web. Customize your newsletter to get articles on your favorite sports and teams. And the best part? It's free!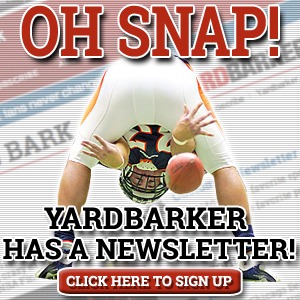 Latest Rumors
The Backyard

Today's Best Stuff

For Bloggers

Join the Yardbarker Network for more promotion, traffic, and money.

Company Info

Help

What is Yardbarker?

Yardbarker is the largest network of sports blogs and pro athlete blogs on the web. This site is the hub of the Yardbarker Network, where our editors and algorithms curate the best sports content from our network and beyond.