Found April 11, 2013 on Celtics Life:
Brooklyn Nets guard Joe Johnson has some fond memories of his brief career in Boston. Johnson was drafted 10th overall by the Celtics in 2001 and dealt to the Suns later that season in a five-player deal. He took time after the game Wednesday to reflect on his brief stay. Johnson spoke to CSNNE's Jessica Camerato. It was brief, but every time I walk in this arena I've got a vivid imagination about how I used to walk through this tunnel and the locker room was right over there," he told CSNNE.com. "It's nothing like going back to Phoenix or Atlanta, but don't get me wrong, me playing my short time here in Boston was a great one." Johnson is still confused as to why he was traded after starting 33 games in Boston. He said he didn't see the trade coming and thought he was playing well. According to Basketball Reference, Johnson averaged 6.3 ppg, 2.9 rpg and 1.5 apg in almost 21 minutes in Boston. His favorite memory was facing off against the grea...
Original Story:
http://www.celticslife.com/2013/04/ne...
THE BACKYARD
BEST OF MAXIM
RELATED ARTICLES
Jeff Green has been polarizing player for many Celtics fans. Some love him; love the potential, and the flashes of greatness. Some hate him simply because he was the piece we got back for Perkins, and others can't stand him, think he's overrated, not that good etc. Coming out of college he was hearing much of the same stuff, even from the NBA coaching circle. Before last night's...
The post season is right around the corner and the only thing standing between it and the Boston Celtics is a five game stretch. The first of five will be played tonight in Boston when the Brooklyn Nets roll into town. The Nets are coming in following a contest that saw Brook Lopez and Reggie Evans combine for a total of 35 rebounds. With rebounding being anything but Boston'...
Boston Celtics center Kevin Garnett, disappointed in his last two games since his return from a foot injury that sidelined him for two weeks, says he will get better. Garnett had 11 points, eight rebounds and four assists in the Celtics' 101-93 loss to the Brooklyn Nets Wednesday night.
LOOK OUT, young fella! Dunkers in the building! You know how you were always taught to force your man middle? This is a great example of how that fails to work. Brandon Bass blows by Reggie Evans and into the lane, which generally isn't a bad thing for the defense, but a late rotation by Brook Lopez, who looked as if he had no idea that Bass could dunk, results in Brook paying...
  Boston Globe Avery Bradley must tone it down - Bradley has to be smarter in picking up fouls from defending sharp-shooters on the court. Kevin Garnett still shaking off rust - Kevin Garnett is still trying to find his rhythm after returning from an ankle surgery. ESPN Boston Garnett shaking the rust Ainge quick hits: Face big-time challenge - Greg Payne recaps Danny Ainge...
One of the few good moments for the C's for last night, and it was a really good one. Super Bass!
Paul Pierce and Doc Rivers talk after the Celtics loss to the Nets Wednesday night. Videos courtesy of Mike Petraglia.
Nets 101, Celtics 93 The Celtics are playing better as the regular season winds down, but are they playing well enough to legitimately intimidate playoff-caliber teams? Or just blowing smoke? All grit and balls? Or all bluster? Kevin Garnett, and his trash-talking antics, are back in the Celtics lineup, and his presence has brought immediate results on the defensive end. While K...
The trade deadline has long since passed, and the Celtics are about to embark on their 6th consecutive playoff run. You would think that the team could concentrate on that—rather than yet another round of trade rumors—but you'd be wrong. Of course now the rumors have shifted from the trade deadline, to the summer. But the names remain the same—mainly future Hall of Famers Paul...
You stay around long enough, your bound to get dunked on
The whole video is worth a watch (If only for the amazing 80's Italian disco), but the money dunk is at the 2:16 mark. I know we have a ton of Celtics fans in Italy. Anyone remember this 1985 Nike exhibition game? And here's another angle of the dunk via HoopMixTape.com: Credit Busted Coverage for the find.
NBA News

Delivered to your inbox

You'll also receive Yardbarker's daily Top 10, featuring the best sports stories from around the web. Customize your newsletter to get articles on your favorite sports and teams. And the best part? It's free!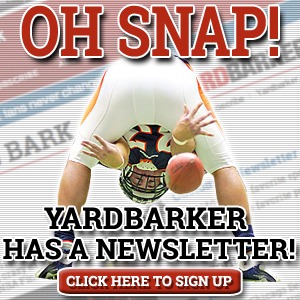 Latest Rumors
Best of Yardbarker

Today's Best Stuff

For Bloggers

Join the Yardbarker Network for more promotion, traffic, and money.

Company Info

Help

What is Yardbarker?

Yardbarker is the largest network of sports blogs and pro athlete blogs on the web. This site is the hub of the Yardbarker Network, where our editors and algorithms curate the best sports content from our network and beyond.