Found November 05, 2012 on Celtics Green ...a boston celtics blog.:
Back when Rondo was charged with that frustration flagrant foul on Dwyane Wade, I mentioned that it reminded me of the Dave Cowens foul on the Rockets' Mike Newlin back in 1976. Grampa Celtic had a piece in Sunday's Globe recalling that very play and relating how it could be used to deal with the flopping problem in the NBA. Here is Bob Ryan's description of the play: For those of you who weren't avid followers of the NBA on Feb. 25, 1976, here is a brief summary. It was the third quarter. Enraged because Houston guard Mike Newlin, a sturdy 6-foot-4-inch guard, had just pulled off a second successful "phony flop" on him, Cowens decided to enact some vigilante justice. Newlin was running down the right side of the court on the ensuing Rockets possession. Cowens ran diagonally, catching up to Newlin as the latter reached a spot in front of the Boston bench. Cowens delivered what could best be described as a double forearm shiver, knocking Newlin to the floor. He then ran over to referee Bill Jones and screamed, "Now that's a foul!" There were any number of interesting postscripts emanating from Cowens's act of violence, but expulsion from the game was not one of them. Today, of course, it would be as "flagrant" a foul as one could possibly imagine. Cowens would be ejected and, undoubtedly, suspended. Newlin's lawyer might also seek criminal prosecution. But times were different in 1976. In fact, the only person who wound up being ejected was Celtics coach Tom Heinsohn. The immediate ramification was that the Celtics, who were then trailing in the game by 11, got the benefit of just about every call and non-call from then on. Boston wound up winning, 103-102. A second piece of fallout was Newlin's need to wear a Thomas collar for several days. I just love that story and Grampa Celtic tells it so much better than I did. Dave Cowens was a true original. Now, the whole purpose of Mr Ryan's story is that a better way to deal with flopping than the fine structure that the NBA has set up would be, in the words of Dave Cowens, to show them "the replay of the Newlin thing." Cowens hated flopping and wrote a letter to the Globe explaining why he disliked it and why it needed to be stopped. Here is part of his letter as told by Bob Ryan in his article: He went on to say that in his view phony flopping "makes players think they can achieve their goal without putting in the work or effort that it takes to develop any skill or talent," and "arouses the ignorant fans who react vehemently to violent gestures." Cowens also warned that "if this practice continues unrestrained or the actor is allowed to utilize this fraudulent exercise successfully, it will gradually become an accepted strategy and will be taught to kids more enthusiastically by their coaches." Well, I think we are there. Players have made flopping into an art form. It has yet to be seen whether or not David Stern's idea of assessing fines after the foul is reviewed by the league office will work. I kind of like Bob Ryan's suggestion better. Better still, allow Cowens to suit up and spend a night with each team in the league. He may be 64, but he's still in pretty good shape. A couple of "Now that's a fouls!" and Stu Jackson can tend to other matters. But then, I always did love old school basketball. If you haven't read Bob Ryan's story, you should. It's a good one. [Discuss on CG Forums!]
Original Story:
http://celticsgreen.blogspot.com/2012...
THE BACKYARD
BEST OF MAXIM
RELATED ARTICLES
MIAMI -- LeBron James didn't think anybody would be talking about defense after the offensive show his Miami Heat put on Monday night. The Heat scored their most points since the fifth game of last season in a 124-99 rout of Phoenix at AmericanAirlines Arena. They had a team-record eight different players make a 3-pointer while shooting 57.1 percent from beyond the arc. But...
Yep, Ray Allen can still hit monstrous, clutch shots. Allen showed Saturday night that wearing a Heat jersey won't do a thing to his ability to come through down the stretch, nailing a 3-pointer from the corner in the closing seconds to help the Heat hold off the Nuggets for a win at home. But it wasn't just Allen's big 3 that was so impressive. Allen...
LeBron James had 23 points and 11 rebounds, Dwyane Wade scored 22 points and the Miami Heat beat the Phoenix Suns 124-99 on Monday night. Chris Bosh finished with 18 points and Ray Allen had 15 for Miami (3-1), which is averaging 111.8 points to open the season. Allen became the 24th player in NBA history to eclipse the 23,000-point mark when he made a free throw with 1:01 left...
Ray Allen is already having an impact with the Miami Heat, while Chris Bosh is trying to continue making his own. The Heat, though, are looking for an improved defensive effort all around. Allen and Bosh are seeking to build on strong performances in order to help Miami to its fifth straight victory over the Phoenix Suns on Monday night. Allen came up big in just his third game...
Chris Bosh and his wife Adrienne know how to plan a party. So, it's no wonder that the Princess theme for Chris's four-year-old daughter Trinity came out so adorable. Of course all the Disney Princesses were on hand to help Trinity celebrate. And naturally cameras as well… Trinity wasn't the only NBA tyke with a [...]
MIAMI -- The Heat's philosophy so far this season has been simple: Catch us if you can. Miami's defense was better Monday night than it had been earlier, but it still hasn't been as sharp as it was during last season's championship run. But when a team can score as the Heat can, who needs defensive stops? The Heat gave up 53 first-half points and still cruised...
MIAMI - The Heat's philosophy this season is simple: Catch us if you can. Miami's defense was better Monday night than it had been in earlier game, but still hasn't been as sharp as it was during last season's championship run. But when you can score like the Heat can, who needs stops? The Heat gave up 53 first-half points Monday night and still cruised to a 124...
Dwyane Wade met with the Nets in 2010 when he was a free agent.
The Miami Heat have good reason to believe they'll keep their momentum going into an upcoming two-week road swing. They have yet to lose a home game and their final one before that trip comes Wednesday night against a Brooklyn Nets team they've beaten 10 straight times. Two days after needing Ray Allen's late 4-point play for a narrow win over Denver, Miami's victory...
NBA News

Delivered to your inbox

You'll also receive Yardbarker's daily Top 10, featuring the best sports stories from around the web. Customize your newsletter to get articles on your favorite sports and teams. And the best part? It's free!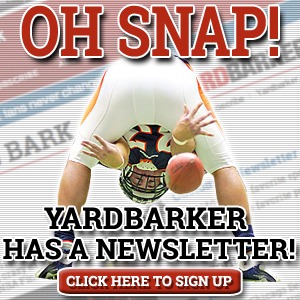 Latest Rumors
Best of Yardbarker

Today's Best Stuff

For Bloggers

Join the Yardbarker Network for more promotion, traffic, and money.

Company Info

Help

What is Yardbarker?

Yardbarker is the largest network of sports blogs and pro athlete blogs on the web. This site is the hub of the Yardbarker Network, where our editors and algorithms curate the best sports content from our network and beyond.