Found June 13, 2012 on NorthWest Sports Beat:
That's a good thing! A short while ago some interesting tweets came down from former UW Husky and Seattle Supersonics star Detlef Schrempf.
big news coming out today about the Sonics! We are on our way! — Detlef Schrempf (@Dschrempf) June 13, 2012
This time it is legit! Sonics will be back! Stay tuned — Detlef Schrempf (@Dschrempf) June 13, 2012
Now I have no idea what to make of this, but it appears Chris Hansen is going to be on Sports Radio KJR with Mitch in the Morning at 8:30 this morning. Seattle SuperSonics Mitch has gone on the record as saying that Chris Hansen knew all about Seattle Mayor Mike McGinn's visit with David Stern in New York. When this news originally came down most people assumed Chris Hansen knew nothing about this visit, and that McGinn had possibly gone rogue. All we'd heard thus far from the Hansen camp was to do the following. 1. Contact your elected officials - Let them know you support a new Arena in Seattle's Stadium District. 2. Follow Sonics Arena on Twitter (Here) 3. Like them on facebook (Here) 4. Sign the petition Read the Memorandum of Understanding (Here) Here's the message from Chris Hansen on SonicsArena.com regarding Mayor McGinn's meeting with the NBA.
I just wanted to personally thank Mayor McGinn for taking the time to meet with Commissioner Stern yesterday and discuss the details of our plan and the merits of our fine city. Bringing the NBA back to Seattle is a community effort, and having our local officials and business leaders come forward like they have is critical to our success. I also just wanted to share that both the Mayor and Commissioner Stern had appraised me of the meeting weeks in advance, and that this was not the surprise that some have tried to portray. As I am sure all of you can appreciate, it's not my responsibility to share all of the intimate details of this process with the press, or even my own PR firm (which was the case here). I'm not sure why people try to create drama where it doesn't exist, but I'm just here to let you all know McGinn and I are 100% on the same page on this. — Chris Hansen
We'll know more details shortly. I'll update this post when we do. Hansen quotes from today on KJR.
"The rally will be an opportunity for Seattle to be Sonics fans again. Payton, Kemp, Watts will all be there"
"It's not my job to tell counsels when to vote."
"Next week I'll be meeting with both the city and the county consels. This will be the first time with me in front of the entire counsel."
"I was aware 3 weeks ago that McGinn was going to meet Stern. It's a sensitive issue, lots of details that should not be discussed in the press."
"A newspaper reporter took a comment from our PR firm and that's what people were hearing."
"The meeting went well. You'd have to ask McGinn for more details. The NBA is excited about the prospect of us building a new arena. Very supportive"
"I don't know if anyone at the NBA will give specific insights (into when a franchise could come to Seattle). It's on us to find an NBA team willing to relocate"
"A couple of our investors have asked to come forward early. Steve Balmer and Erik and Pete Nordstrom"
"The investor group will be less than ten people. I want them to share my vision"
"I"m going to be the largest partner in the group, I will safely be a majority owner"
My Thoughts Not a huge surprise. We all know Microsoft CEO Ballmer is a huge hoops fans who regularly sat courtside at Sonics games before SonicsGate went down in 2008. He was also a big part of the last-ditch effort to keep the team in Seattle. The Nordstroms. Folks that do things the right way. The name is synonomous in Seattle. Great members of the Seattle community. Just hearing the Nortstrom name is deja-vu all over again. The Nordstroms family owned the Seahawks from 76-88 in case you are to young to remember the name. This is very very good news today. Hansen's investment group seems ROCK SOLID now. What we do know RALLY TO BRING BACK THE SONICS There is a RALLY TO BRING BACK OUR SONICS! When: June 14th, 4pm Where: Occidental Park, Seattle WA https://twitter.com/sonicsarena/statuses/212698402964770817/photo/1 © NWSports "Q" for North West Sports Beat, 2012. | Permalink | No comment | Follow NWSB on Twitter or join US on Facebook for real-time updates OR... | Share This on Twitter | Share NWSportsBeat.com on Facebook Post tags: Arena Update, Chris Hansen, King County Council, KJR, KJR Radio, Mike McGinn, Mitch In The Morning, NBA, NBA in Seattle, Occidental Park, Oklahoma City, RALLY TO BRING BACK THE SONICS, seattle, Seattle Arena Proposal, Seattle NBA, Seattle Supersonics, Seattle Supersonics News, Sonics, Sonics Arena, Sonics blog, Sonics Rally, Sonicsgate, Sports radio Seattle, Supersonics Blogs, Thunder, Washington
Original Story:
http://www.nwsportsbeat.com/sonics/se...
THE BACKYARD
BEST OF MAXIM
RELATED ARTICLES
Maybe the two most marketable basketball players on the planet will square off starting tonight. This is your 2012 NBA Finals. Well, it's more David Stern's 2012 NBA Finals. No, that's not Stern in between a shirtless Durant and James. But I bet he wishes he was at that pool on that day. Stern has his feet up somewhere as I write this. I just know it. When he and his referee...
Like all of the other years before it, the 2011-2012 NBA season was loaded with Academy Award-winning flopping. The art of the flop has been perfected by a number of players throughout the league, and it has often affected the outcome of games. Fans are calling for a rule that would discourage players from flopping, and David Stern insists the NBA is planning to look into it during...
Emperor David Stern got a bit sassy today with the egomaniacal Jim Rome. In his typical douchebag tone, Rome asked Stern if the lottery was rigged. Stern fired back: DS: I have two answers for that. I'll give you the easy one – No. And the statement – shame on you for asking. JR: I understand why you would say that to me and I wanted to preface it by asking respectfully, but...
The TPBT staff is back with another round table discussion about the NBA Playoffs. Today we discuss Game 7 of the Eastern Conference Finals between the Miami Heat and the Boston Celtics. Who is to blame for the collapse of the Boston Celtics in Game 7 of the ECF? Jacob Noble - Old age, fatigue and injury.  The Celtics loss in game seven brought back memories of the...
NBA commissioner David Stern went postal and acted like a clown pocket on Wednesday when radio host Jim Rome asked him if the Draft Lottery on May 30 was rigged. "I know that you appreciate a good conspiracy theory as … Continue reading →
SCOTT JACOBS The NBA lottery is not fixed and Commissioner David Stern is offended by the idea that anyone would think so. Just a day after the first game of the NBA Finals, Stern went on Jim Rome's radio show, The Jungle and what was supposed to be a friendly conversation turned into a heated back and forth debate [LISTEN TO ENTIRE CONVERSATION HERE]. By the time the 12 minutes...
Twitter figuratively exploded this afternoon when Jim Rome had NBA commissioner David Stern on. Rome asked the commissioner if the NBA lottery was fixed. Stern tried to make Rome feel shameful for even asking, but Jim Rome defended his question. Then Stern unleashed the question that would set the world abuzz. "Have you stopped beating your wife yet?" Admittedly the reference...
The draft lottery tussle begins at the 7:45 mark and for the rest of the interview you hear a combative Stern rarely heard publicly. Stern's response to whether the draft was rigged was no. He goes on to ask Rome, "Have you stopped beating your wife yet?" Not because Rome has a history there, but to show it's hard to prove something that's not true. I would...
So by now you have heard of the redonk conversation Jime Rome and NBA Commissioner David Stern had on the radio today. It went something like this……. Jim Rome: Was The NBA Lottery rigged? David Stern: Have you stopped beating your wife yet? Ahhhhhhhhhhhhhh hell no! It's time for some David Stern vs. Jim Rome NBA Meme action!                      ...
Uh...a professional sports commissioner should know better than to get into a silly argument/debate with a talk radio host. Especially when that host is trying to take the high road and ask a question that quite a few people want to know the answer to. This afternoon on Jim Rome's radio show, NBA commissioner David Stern was Romie's guest. And Rome asked him...very...
I was a mere child when the Dream Team changed the basketball landscape.  My good friend Joe Ruiz suggested live tweeting the documentary, but I needed more than 140 characters.  With that in mind, here's a running diary on the documentary about greatest team ever assembled.  Spoiler alert: Charles Barkley is entertaining. 7:30: Hey look, Matt Winer. I wish Turner Sports used...
Heat News

Delivered to your inbox

You'll also receive Yardbarker's daily Top 10, featuring the best sports stories from around the web. Customize your newsletter to get articles on your favorite sports and teams. And the best part? It's free!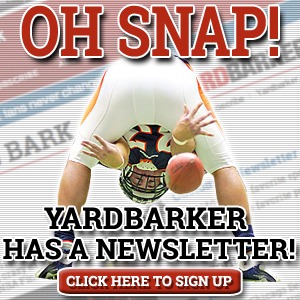 Latest Rumors
Best of Yardbarker

Today's Best Stuff

For Bloggers

Join the Yardbarker Network for more promotion, traffic, and money.

Company Info

Help

What is Yardbarker?

Yardbarker is the largest network of sports blogs and pro athlete blogs on the web. This site is the hub of the Yardbarker Network, where our editors and algorithms curate the best sports content from our network and beyond.