Found February 18, 2012 on NBA 24/7 365:
PLAYERS:
Bismack Biyombo
,
Tobias Harris
,
J.R. Smith
,
Gustavo Ayon
,
Amare Stoudemire
,
Jared Jeffries
,
Jeremy Lin
,
Greivis Vasquez
,
Monty Williams
,
Corey Brewer
,
George Karl
,
Nikola Pekovic
,
Kevin Garnett
,
Dwight Howard
,
Rodney Stuckey
,
Tyrone Corbin
,
Ricky Rubio
TEAMS:
Charlotte Hornets
,
Milwaukee Bucks
,
New York Knicks
,
New Orleans Pelicans
,
Denver Nuggets
,
Minnesota Timberwolves
,
Boston Celtics
,
Houston Rockets
,
Orlando Magic
,
Detroit Pistons
Amir Johnson's gonna see Bismack Biyombo in his nightmares. Charlotte's 19-year-old project, for whom they made a draft-day trade with the Bucks and Kings, payed his first major dividends last night as the 'Cats snapped a 16-game losing streak in large part because of Biyombo's inside play.  Bismack made his presence felt early as he denied a two-handed Amir Johnson dunk attempt on the first possession of the game, and by the end of the first quarter he'd already racked up three swats.  He finished the 98-91 victory with 7 rejections to go along with 8 points and 13 rebounds.  Biyombo's got those unteachable shot-blocking instincts, and while I believe that Milwaukee's Tobias Harris (the young big man Charlotte traded to get Biyombo) could become a good NBA player, I love me some Bismack!  Pair him with a power forward who can put the ball in the basket and you've got yourself one hell of a frontcourt tandem for the future.  As for right now… well, at least they can win a game for MJ's birthday!
As I'm sure you've heard by now, the Knicks have won the battle for JR Smith. While many are salivating over the thought of JR's scoring/shooting ability in Mike D'Antoni's system, others feel that there aren't going to be enough basketballs to go around.  What do I think?  Well, honestly, I like the signing.  I'm not going to sit here and tell you JR Smith has the right attitude, 'cause that would make me a liar… but what I will tell you is that he's more than just a three-point gunner.  He's a pretty good (and willing) slasher, and he's actually a capable playmaker.  He can even play solid man-to-man defense if he wants to.  Is his shot selection perfect?  No… but if Mike D'Antoni utilizes him correctly it shouldn't be a big problem.  What you do here, Mike, is bring Smith off the bench as an injection of energy and firepower.  It's not working on a particular night?  Pull the plug on him, simple as that.  It's on JR to accept this role.  He's immature about it?  It's a two-year, $5 million deal with a player option for '12/13.  Let him opt out next year.  The fact of the matter is that the Knicks are still a disappointing team that needs a lot of work, and in this case I believe that the risk is worth the potential reward.
Speaking of the Knicks, their seven-game win streak came to and end at the hands of the New Orleans Hornets last night.  The Hornets have actually won three games in a row, and seeing as they won this game I think it's only right that I talk about them first.  So… remember how I said I was gonna take a closer look at Gustavo Ayon a few days ago?  Yeah, well, I decided to kill two birds with one stone: Gustavo Ayon, and the 8th game of Linsanity.  While Ayon was one of the opposing bigs who allowed Amare Stoudemire to go for 26 points and 12 rebounds, I thought he played an excellent all-around game.  The first thing I noticed is how well he moves without the ball; he scored at least three of his six buckets off of cuts.  I also took note of how strong his awareness seems to be despite the fact that he doesn't really speak English.  He makes good passes, shows aggressively on screens, and just generally seems to have a strong feel for exactly what's going on at both ends of the floor.  His most impressive play came about midway through the fourth quarter.  The Knicks had cut New Orleans' lead to two, and as–I think it was Amare Stoudemire, but don't quote me on that–crowded Ayon around the top on the key, the rookie put the ball on the floor, blew by his defender, and finished the layup despite the best efforts of Jared Jeffries, who fouled him.  Ayon also scored another bucket later in the fourth that once again took it from a one to a two possession game.  He finished with 13 points and 11 boards (3 of which were offensive) on 6-9, his second consecutive double-double.  Like I said, he was one of the guys who guarded Amare as he dropped 26, but he did have his moments on the defensive end.  On one possession where STAT tried to put the ball on the floor, Ayon stayed with him, forced him to pick up the dribble far from the basket, and ultimately shoot an airball.
As for Jeremy Lin… you've all heard about his 9 turnovers, and how they cost the Knicks so dearly.  While this is true, I didn't think he played that badly.  He put 26 points on the board and forced 4 turnovers himself.  He had 5 of NY's 13 assists.  One of his TOs was Amare Stoudemire's fault–it should've been assist #6 and a slam dunk.  I suppose 8 is still about twice as many as is acceptable, but at least the kid continued to try to make things happen.  I loved his persistence, and if he allows his mistakes to get to him and becomes a spectator then the Knicks don't make the run they made in this game.  Yes, Jeremy Lin did try to make a lot of things happen when the opportunity simply wasn't there, but you can chalk that up to his lack of experience against this level of competition.  I think you've got to love the kid's aggressiveness.  It'll be a process, but he'll learn to pick his spots.  He went to f@cking Harvard; he's obviously a smart young man.
In summation, the Hornets won the game because they controlled the tempo. When the Knicks got the game moving up and down they made runs, but as soon as the game slowed back down, they fell behind.  Credit Greivis Vasquez (15 points, 11 assists) and Monty Williams.  New Orleans clogged the paint, forced the Knicks to take jumpers they didn't make, and that was that.  Hey, you know who can make jumpers?  JR Smith.  See, I like the signing.
Kenneth Farried didn't start for the Nuggets, but he played 24 minutes and 40 seconds of great basketball off the bench (career-high 18 points, 10 rebounds).  The only problem?  He played 24 minutes and 50 seconds in the game, and his 10 seconds of bad basketball cost the Nuggets a win.  It's alright, though… the rookie made a mistake, and it's one he can certainly learn from.  I suppose I should explain exactly what happened.  After Corey Brewer (26 points) came up with what should've been the game-winning steal/putback dunk, Farried had the sole responsibility of putting a body on somebody.  That somebody should've been Dante Cunningham, who ended up winning the game for Memphis with a tip shot at the buzzer.  Observe…
As you can see, Farried became a spectator, allowing his man to sneak right by him for the easy stick back.  It's a predictable miscue from a young, athletic big man.  Sometimes they tend to stand around and wait when a shot goes up, relying strictly on their leaping ability to secure a rebound.  That can work out alright at times, but rebounding is ultimately about positioning.  Farried doesn't allow Cunningham to make his way to the rim, the Nuggets win the game.  Simple as that.  I'm sure George Karl will point this out to Kenneth in the next film session, and he'll be sure to box the f@ck out next time.
Nikola Pekovic now shares a T-Wolves franchise record with Kevin Garnett. As he scored a career-high 30 points in a win over the Houston Rockets, Pekovic made his first eight shots.  He connected on his last five attempts in his previous game, making it 13 in a row.  Apparently only KG and one other T-Wolf (who's name I forgot) had done that before.  The Montenegrin Bulldozer plows on (12 boards made it four consecutive double-doubles).
Box Score Observations: Dwight Howard notched another 20/20 (+6 on the points) as the Magic beat the Bucks by 9.  Rodney Stuckey dropped 36 in a win over the Kings.  Apparently the Pistons have won six of eight?  Damn, who knew?  Uh… let's see… oh, Al Jefferson had 34 points in 30 minutes in a blowout win over the Wizards.  Despite the 14-point Utah victory, Jeremy Evans got a DNPCD.  Not sure what's up Tyrone Corbin's ass.  Dallas trailed by 14 at the break, but they came back and beat the Sixers 82-75.  Philly scored just 24 points in the second half.
Highlight Recap, Ricky Rubio Edition:
Original Story:
http://nba247365.com/?p=5070
THE BACKYARD
BEST OF MAXIM
RELATED ARTICLES
Yesterday, Chasing 23 contributor Lochpster wrote that Tyson Chandler was the backbone of the New York Knicks. If that's the case, perhaps we can fill out the rest of the Knicks' body parts: Carmelo Anthony, the large intestine: the part of the body that completes the digestive process and whose primary output is waste, without returning anything really productive back to the...
After bouncing around the NBA and the NBA Development League with no steady paycheck, Jeremy Lin of the New York Knickerbockers finally has a guaranteed job and a steady flow of income for his own place.  Previously, Jeremy Lin lived with his brother on the couch.  Perhaps that is the most popular way of living for most college graduates that move back home with family. Now that...
In the two weeks that New York Knicks point guard Jeremy Lin has gone from a fringe NBA player to an international phenomenon and foundation for bad puns, the league's first American-born player of Taiwanese descent has served as an inspiration to Asian Americans, Ivy Leaguers with hoop dreams, those who believe in the power of faith in a higher power and underdogs in general....
NEW YORK (AP) - MSG Network won't say why it decided to air a fan's sign that depicted Jeremy Lin's face above a fortune cookie during Wednesday's Knicks game.The image with the words "The Knicks Good Fortune" immediately caused a stir on social media. Lin is the NBA's first American-born ...
Jeremy Lin has ignited a nationwide craze over the past two weeks, as "Linsanity" has spread like wildfire, and the NBA front-office has certainly taken notice. Lin was invited by the league to take part in next weekend's Sprite slam-dunk competition during NBA All-Star weekend in Orlando, according to league sources. The second-year point guard is expected to assist...
Well for the first time since opening the season at 2-0 the New Orleans Hornets have come out victorious in their past two games to match that win streak.  Monday night they stormed to a huge lead then were able to hold off the Utah Jazz late for an 86-80 win.  They followed that with a close 92-89 thriller over the Milwaukee Bucks to improve to a mere 6-23 on the season. Against...
ESPN announced Sunday that it had suspended one person and fired another for using an ethnic slur last week in reference to New York Knicks point guard Jeremy Lin.
NBA News

Delivered to your inbox

You'll also receive Yardbarker's daily Top 10, featuring the best sports stories from around the web. Customize your newsletter to get articles on your favorite sports and teams. And the best part? It's free!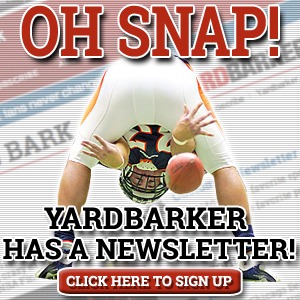 Latest Rumors
Best of Yardbarker

Today's Best Stuff

For Bloggers

Join the Yardbarker Network for more promotion, traffic, and money.

Company Info

Help

What is Yardbarker?

Yardbarker is the largest network of sports blogs and pro athlete blogs on the web. This site is the hub of the Yardbarker Network, where our editors and algorithms curate the best sports content from our network and beyond.