Found December 08, 2012 on NBA 24/7 365:
PLAYERS:
Evan Turner
,
Paul Pierce
,
Doc Rivers
,
George Karl
,
Andre Miller
,
JaVale McGee
,
Corey Brewer
,
George Hill
,
Drew Gooden
,
Scott Skiles
,
Ersan Ilyasova
,
DeSagana Diop
,
Thomas Robinson
,
Jimmer Fredette
,
Jameer Nelson
,
J.J. Redick
,
Bill Walton
,
Paul Millsap
,
David Lee
,
Reggie Evans
,
Andray Blatche
,
Brook Lopez
,
Joe Johnson
,
Anderson Varejao
,
Kevin Love
,
Joakim Noah
,
DeShawn Stevenson
,
Zach Randolph
,
James Harden
,
Matt Bonner
,
Alonzo Gee
TEAMS:
Philadelphia 76ers
,
Boston Celtics
,
Denver Nuggets
,
Indiana Pacers
,
Milwaukee Bucks
,
Charlotte Hornets
,
Sacramento Kings
,
Orlando Magic
,
Utah Jazz
,
Golden State Warriors
,
Brooklyn Nets
,
Cleveland Cavaliers
,
Minnesota Timberwolves
,
Chicago Bulls
,
Atlanta Hawks
,
Memphis Grizzlies
,
Houston Rockets
,
San Antonio Spurs
In a world where the 76ers play the Celtics 82 times a year, Evan Turner is the NBA MVP. Continuing his tradition of playing way better against Boston than he does against other teams, ET put up 26/10/5 to lead Philadelphia to a 95-94 victory in overtime. It did take him 26 shots to reach 26 points, and he went just 2-11 in the fourth quarter and overtime… but he made up for that by scoring all the big buckets. With 49 seconds to go in regulation Turner had his jump shot blocked by Paul Pierce, but he stuck with it, recovered the ball, and dropped it in the hoop to put the Sixers up 89-87. KG tied the game with one of his patented mid-range jumpers, but Evan had an answer in the extra period. It was actually Turner who lost track of Rondo on that final possession, but the decal on the floor appears to have bailed him out. From a Celtics perspective, it was a disappointingly-fitting way for this game to conclude. Boston failed to capitalize on a lot of opportunities down the stretch, including point-blank layups (Pierce, Garnett) and wide-open threes (Terry, Lee). They also hurt themselves by turning the ball over twice as much as Philadelphia (18-9). Rondo had a triple-double (16/13/14), but I'm not sure why Doc Rivers put him in position to take two jump shots at the end of the fourth quarter and overtime. One would think the ball ought to have found it's way into the hands of Paul Pierce, who led all scorers with 27. The Nuggets got off to an awful start against the Pacers, scoring just 10 points to Indiana's 18 in the game's first seven minutes.  George Karl's starters would never really get it going, but his bench most certainly did — Andre Miller, JaVale McGee, and Corey Brewer racked up a total of 50 points (and on just 36 shot attempts).  McGee was a perfect 9-9, Brewer knocked down a pair of triples, and Miller pitched in 8 assists.  While McGee did most of his scoring early (16 first-half points), Miller came in looking to set up his teammates.  Six of his dimes came during the first half, helping Denver to bounce back from their poor start to take a 51-50 halftime lead.  Miller took a different approach in the fourth quarter, though, when his Nuggets found themselves trailing by three with as many minutes to play.  That's when 'Dre began to look for his own offense, scoring six consecutive points.  Unfortunately, the first two came courtesy of a bailout from the referees… but the rest were earned on driving layups and mid-range jump shots. Miller ended up involved in each of Denver's last four buckets, scoring three and assisting on the other.  George Hill made a spectacular defensive play to keep Indiana's hopes alive with about 10 seconds to go, but his brain malfunctioned and the Nuggets hung on 92-89. Miller, Brewer, and McGee ended up outscoring the starters 50-42 on 11 fewer shots.  Denver destroyed Indiana in the paint, 54-28.  Oh, and there was this… Drew Gooden sighting! With the Bucks up 25 in the fourth quarter, Scott Skiles asked Gooden if he'd like to get a little run against the Bobcats.  Drew obliged, replacing Ersan Ilyasova with 8:22 to go.  Gooden missed all four of his shots as Milwaukee's lead was sliced to nine, but he did score his first points of the season at the free-throw line.  For the Bobcats, DeSagana Diop scored his own first points.  As a matter of fact, Diop kind of had a mini explosion — he went for six points on 3-4, and all three of his scores came from beyond the painted area.  Don't believe me?  Well, I guess I don't blame you… but take a look at his shot chart: That right there is what Bobcat fans like to call a thirty-million-dollar jump shot. Thomas Robinson didn't score until he split a pair of free throws with 38 seconds to go in Sacramento's 91-82 victory over Orlando, but don't get it twisted — the young man from Kansas impacted this game, and in a major way. As the Kings came back from down four in the fourth quarter, Robinson simply seemed to pop up wherever the ball was. He blocked shots, grabbed rebounds, and hounded people on defense. He helped out on the perimeter, assisted on a go-ahead jumper by Jimmer Fredette, and dove on the floor to fight Big Baby for a loose ball. He moved his feet with Jameer Nelson on a switch, and even tried to chase JJ Redick off of a screen. Simply put, Thomas Robinson did absolutely everything but make a basket on Friday evening, and it worked out perfectly as the Kings got all the offense they needed from other sources (Jimmer and Isaiah combined for 32 off the bench). Bill Walton, who delighted us all with his fantastic call of the game, couldn't stop gushing about the fifth-overall pick, who hasn't really made much noise thus far. His single point in 16 and a half minutes certainly doesn't indicate it, but this was Robinson's best NBA game to date. He finished with 7 rebounds, 3 assists, and 2 steals. Mysteriously, he wasn't credited for a single block, but you best believe he had a couple. Was the statkeeper taking a bathroom break or something? How the hell do you not see that?! In a tape-recorded interview that was shown during a timeout, Robinson mentioned that he's been watching a lot of film. He explained that he's trying to emulate Paul Millsap, an undersized power forward who has achieved borderline-All-Star status. I think Millsap is a fantastic player for Robinson to watch, as he's made himself into an extremely versatile offensive and defensive player. The more of Paul Millsap that rubs off on Thomas Robinson, the better for the Sacramento Kings. David Lee went for 30 and 15 to lead the Warriors to an impressive 109-102 victory in Brooklyn.  Golden State has swept their season series with the Nets and improved to 12-7 on the campaign.  They outscored Brooklyn 28-2 on the fast break yesterday, helping to make up for their lack of free-throw attempts (10).  Lee found the majority of his individual offensive success in the paint, which seems pretty impressive considering that the Nets probably sent Reggie Evans after him.  I wish I'd paid more attention to this game, but I figured the Nets would take care of business at home.  Looks like I'm not giving the Warriors enough credit for their 9-3 record over the last 12 games.  They're just a half game out of the lead in the Pacific. Andray Blatche took a moment to ponder life's greatest mysteries prior to beating the halftime buzzer. Inspired by the depth of his thoughts, Blatche went on to score 22 points and grab 15 rebounds.  Averaging 18.75 PPG as a starter, 'Dray has been more than effective in the stead of Brook Lopez. Against the Lakers, Russell Westbrook knocked down a career-high five three-pointers on his way to 27 points.  That was in the first half.  Westbrook scored just six more points the rest of the way as Oklahoma City fell back to earth, but the 67 points they posted in the first 24 minutes provided enough of a cushion to help them withstand a 33-point fourth quarter from the Lakers.  Kevin Durant led all scorers with 36. Box Score Observations: Joe Johnson dropped 32 in Brooklyn's loss to Golden State.  Anderson Varejao's double-double/15-rebound streaks ended at 10 games.  Kevin Love (36 and 13) showed Floppy V who's boss of the statistics as the Wolves beat the Cavs 91-73.  Joakim Noah had 30 points and 23 rebounds — I repeat, THIRTY POINTS and TWENTY-THREE REBOUNDS as the Bulls beat… oh, the Pistons.  Never mind.  DeShawn Stevenson exploded for 15 points on 5-11 from downtown to help the Hawks beat the Wizards (former team) 104-95.  Zach Randolph failed to record a double-double for just the third time this season, but the Grizzlies still beat the Hornets 96-89.  San Antonio's entire active roster scored at least one field goal as the Spurs destroyed the Rockets 114-92.  James Harden had 29 in the losing effort.  Matt Bonner dunked.  Seven Jazz musicians made it to double figures in Utah's 32-point win over Toronto.  The Jazz dropped 131 on the Craptors, who totally suck and have lost 9 of their last 10. Highlight Recap, Alonzo Gee Edition: The Cavaliers lost to the Timberwolves, but Alonzo Gee was the real winner in my book… For more, refer to the Top 10 Plays.
Original Story:
http://nba247365.com/?p=8810
THE BACKYARD
BEST OF MAXIM
RELATED ARTICLES
Doug Collins said he's willing to discuss trading for a bench scorer to boost the team's struggling second unit. "Would I?" Collins said. "Yeah. I would. Can I? I don't know." Collins said he and Sixers management talk regularly about personnel. Of course, if Andrew Bynum doesn't play at all this season, a bigger priority before the Feb. 21 trade deadline might be...
Evan Turner had 26 points and 10 rebounds and Thaddeus Young added 17 points and 12 rebounds to lead the Philadelphia 76ers to a 95-94 overtime win over the Boston Celtics on Friday night. Turner drove past Courtney Lee and tossed up an off-balance, right-handed shot for a 95-94 lead with 3.9 seconds left. Boston guard Rajon Rondo slipped and his ankles buckled on the last possession...
For those of you wondering what Philadelphia 76ers center Andrew Bynum has been up to, he's still rehabbing from that injured knee.Some 76ers fans spotted the big fella at a local Dave & Busters working on his shot at a Pop-and-Shot arcade game:(Courtesy of Ball Don't Lie)
PHILADELPHIA -- Rajon Rondo picked up another triple-double, but the Philadelphia 76ers picked up the win. Evan Turner, despite missing nine of his previous 10 shots, swished a 13-foot jumper with 3.9 seconds left in overtime to lift the Sixers past the Boston Celtics, 95-94, Friday night at the Wells Fargo Center. "I was just trying to get to my sweet spot on the court...
The Boston Celtics came up short against the Philadelphia 76ers last night 95-94 after Evan Turner sealed the deal with a 10-foot jumper with three seconds left in overtime. This time around Doc Rivers' team is home. Boston needs a lot to go right to get a victory against Doug Collins and company. Here is the match-ups to keep an eye on: Photo by Elise Amendola Paul Pierce vs...
The Celtics came up with a big win tonight, 92-79 over the Philadelphia 76ers. The teams have played 3 times in the first 20 games, and Boston is definitely starting to get under the 76ers fans' skin. After giving up a huge early lead, Philly fans quickly begin hating on the Celtics and ripping the referees. They grew particularly frustrated with KG. If I've learned...
The Sixers are starting to cool off. After last night's road loss in Boston, the Sixers look doomed during their upcoming stretch: eight games in 13 days, many against projected playoff teams (Lakers, Nets, Hawks, Mavs, Pacers, and Bulls). After that they've got an even tougher west coast trip. If the Sixers want to remain within striking distance of home court advantage...
Doug Collins would like to add a scorer off the bench.
Collin Klein of Kansas State brought a hot blonde to the Home Depot College Football Awards – Throw The Flag Tennessee Wanted Signs – Southern Gameday Big East: New TV Deal Reportedly Could Be Worth $60 Million Per Year, Less Than Half ESPN's Initial Offer – The Big Lead Andrew Bynum keeping his shooting skills sharp while rehabbing knee – Larry Brown Sports Legal marijuana...
The Philadelphia 76ers' offense mostly has sputtered since the beginning of the month, leading to their worst stretch of the season. No single shooting performance has been worse than the last time they faced the Detroit Pistons, though. Philadelphia looks to snap out of its funk when it hosts Detroit on Monday night. The 76ers (11-9) entered this month on a three-game winning...
Rajon Rondo and Jrue Holiday lead the Eastern Conference in assists and had no trouble racking them up the last time they met. The point guards will match up twice this weekend when Rondo's Boston Celtics and Holiday's 76ers begin a home-and-home set at the Wells Fargo Center on Friday night. Boston's Rondo leads the NBA with 12.8 assists per game while Holiday is averaging...
Boston Celtics (10-8, 4-4 Road) @  Philadelphia 76ers(10-8, 6-5 Home) Wells Fargo Center, 7:00 pm on ESPN/CSNNE/WEEI Officials: Tony Brothers, Curtis Blair, and Eric Lewis Line: Boston by 1.5 The Celtics travel to Philadelphia to play against the Sixers after a 10-point win Wednesday night over the Minnesota Timberwolves. The Sixers are coming off of a 17-point [...]
NBA News

Delivered to your inbox

You'll also receive Yardbarker's daily Top 10, featuring the best sports stories from around the web. Customize your newsletter to get articles on your favorite sports and teams. And the best part? It's free!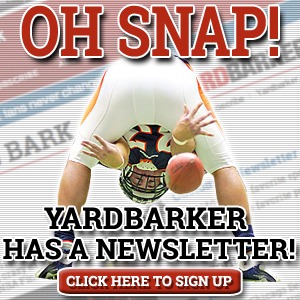 Latest Rumors
Best of Yardbarker

Today's Best Stuff

For Bloggers

Join the Yardbarker Network for more promotion, traffic, and money.

Company Info

Help

What is Yardbarker?

Yardbarker is the largest network of sports blogs and pro athlete blogs on the web. This site is the hub of the Yardbarker Network, where our editors and algorithms curate the best sports content from our network and beyond.