Found January 31, 2013 on NBA 24/7 365:
PLAYERS:
Michael Beasley
,
Metta World Peace
,
Pau Gasol
,
Nikola Pekovic
,
DeAndre Jordan
,
Blake Griffin
,
Matt Barnes
,
LeBron James
,
Reggie Evans
,
Andray Blatche
,
Joe Johnson
,
Carmelo Anthony
,
J.J. Redick
,
Jameer Nelson
,
Tayshaun Prince
,
Stromile Swift
,
Lance Stephenson
,
Danilo Gallinari
,
Nate Robinson
,
Joakim Noah
,
Ricky Rubio
TEAMS:
Los Angeles Lakers
,
Phoenix Suns
,
Minnesota Timberwolves
,
Los Angeles Clippers
,
Miami Heat
,
Brooklyn Nets
,
New York Knicks
,
Orlando Magic
,
Detroit Pistons
,
Indiana Pacers
,
Denver Nuggets
,
Chicago Bulls
Super cool Lakers game, huh? On a serious note, this game kind of reminded me of their win over the Hornets, except of course they lost.  As they did against the Hornets, the Lakers moved the ball extremely well with Kobe (nine assists) being the primary facilitator.  Like the Hornets, the Suns struggled through some extensive field-goal droughts during which they simply couldn't buy a bucket.  Meanwhile, the Lakers maintained a comfortable lead, but again, they failed to drop the hammer, thus allowing the Suns to hang around and make a run.  Unlike New Orleans, Phoenix made the big shots at the end.  Wherein lies the difference?  Michael ******* Beasley. Like I said, Michael ******* Beasley. Michael ******* Beasley scored 10 of his game-high 27 points in the fourth quarter, including a — this really happened — RIGHT-HANDED layup between Ron Artest and Pau Gasol to give the Suns an 88-86 lead with 45 seconds to go.  Being that the Lakers never scored again, I suppose it was a game-winner.  A Michael Beasley game-winner — who'd have thought that would be the score to bring about yet another restart of the Lakers' season?  Nobody, of course, but it actually historically kind of makes sense.  If you take a look at Beas' game logs you'll find that Mike  has always been a Laker killer.  For his career, he averages 16 points per game against them compared to just 14.5 against everybody else. Also of note: Beasley has posted three 20-point games since January 12th and is dropping 16 and change over his last eight.  Most indicative of his improved play is, shockingly, his field goal percentage — .479 on the month.  Beasley has been so efficient of late that he's actually on the verge of having more points (439) than shot attempts (440) this season.  For now, though, Michael Beasley is still pulling a Michael Beasley. Last thing about Michael Beasley: He did all of this with Jordan IVs on his feet and a samurai knot on his head.  Can you say, "SWAG?!" That's not even to mention those Suns throwback unis, which are hotter than the actual sun itself, or the fact that he was probably high as a kite. Nikola Pekovic returned to action for the Wolves and looked mighty spry in a six-point loss to the Clippers.  Maybe Minnesota could've picked up a W if they'd fed the beast more frequently — despite his borderline dominance (17 points, 12 rebounds), he only took 15 shots, which is like half as many as he'd get if I coached the Love-less Wolves.  Also, Pekovic debuted a new tattoo covering his left forearm.  He'd been concealing it with an arm sleeve prior to his injury, but the training staff apparently forgot the sleeve.  You can't see it very well here, but it's a bear.  Because "everybody's scared of bears." DeAndre Jordan scored 16 points in this game, which basically means there's a highlight reel which calls for your attention. Actually, Jim Peterson, he said "OH ****!" You can view the rest of his slam-dunking exploits here.  Statistically, this was DJ's best game in ages — possibly of the entire season.  He's not a guy whose impact can always be judged by the numbers, of course, but still… it's encouraging to see.  Speaking of numbers, Blake Griffin: 26 and 13. For those of you who enjoy a good skirmish, Matt Barnes spontaneously combusted after just six minutes of Greg Stiemsma.  I figure he'll get a game or two for that, as his actions seem to have been unsolicited. LeBron James stuffed 24 points, 9 rebounds, and 7 assists down Reggie Evans' throat as the Heat ripped the Nets 105-85.  James, who is "no different than Andray Blatche or Joe Johnson," basically equaled their combined stat line of 28/9/6 in about half the minutes on two fewer shots with two less turnovers.  What say you, Reginald?  Dost this not count for reasons only an internet message board troll would cite?  I love ya, Reg, I really do… but you were all sorts of out of line here, and it's reflected by the final score. Carmelo Anthony set a Knickerbocker franchise record by scoring 20 points for a 30th time in a row as New York defeated Orlando 113-97.  Whilst the Knicks shot an incredible 14-34 from beyond the arc, Magic members not named JJ Redick went 3-17.  Even considering Redick's 4-9 they only shot 29%.  Maybe they should've resorted to bounce shots.  Jameer Nelson appears to have mastered the tactic… A technical, Clyde?  He made the ******* shot.  What he should've been given is two points. Three months ago, a bro from Indiana bought two tickets to see the Pistons take on the Pacers.  This bro is not a Pacers fan, nor is he a Pistons fan — he's a Tayshaun Prince fan, and very possibly the #1 Tayshaun Prince fan.  With perfect seats right next to the entry tunnel, our bro arrived hours early in order to establish his position along the railing and see his hero up close.  As the Pistons appeared from the locker room, however, Prince was nowhere to be found.  Confused, the bro looked around the arena, shrugging anxiously.  Finally, he pulled out his smart phone.  Moments later, he realized what had happened, and called a friend to confirm.  Overcome by epic fail and indescribable disappointment, he peeled off his #22 jersey to reveal a Kentucky t-shirt (Prince's alma mater) and watched Detroit get creamed 98-79.  No, seriously, this happened.  From guyism.com… Man, I feel for this bro.  Really, I do.  I know what it's like to be a #1 fan, and I can't imagine how I'd have felt had Stromile Swift not played in one of the many Grizzlies games I saw in Boston.  That said, this bro does need to step his game up.  A replica jersey?  Nah, son — real stans only rock authentics. Shout-out to knucklehead turned Pacers shooting guard Lance Stephenson.  Lance has really been ballin' lately — he had 12 points, 11 boards, and 5 assists in this one, and a season-high 20 points in that sketchy loss to the Nuggets on Monday. Have the Raptors been shafted AGAIN?! While on first glance it certainly appears that they have, I'm going to say they have not.  It's hard to tell for sure, but it appears to me that Horford hit the ball before he ever made contact with DeRoZaN's arms, warranting a non-call.  I highly doubt that the league will be issuing yet another apology to Toronto, and to be honest they kind of deserve some bad basketball karma with that god-awful trade they just made.  In other news, awesome move by Jeff Teague. Danilo Gallinari had himself a night in Denver, dropping a third of his 30 in the fourth quarter to lead the Nuggets past the Rockets in a 118-110 shootout.  The Rooster nailed four of nine triples, including two back-to-back in the fourth, threw down a monster dunk, and hit a ridiculous circus shot.  Like I said, he had himself a night. As the Bulls beat the Bucks 104-88, Nate Robinson threw down his first dunk of the season.  Afterwards, he turned to his own bench and taunted his teammates. Apparently they'd been talking smack, saying he wasn't going to get any dunks this year. Joakim Noah actually owes Nate money now, according to SportsCenter. Box Score Observations: 6 AM?  It's my bedtime.  Knock yourself out. Highlight Recap, Ricky Rubio Edition: "On the fly, congested passing lanes, three defenders… meh, I'll just put this one through the wickets!" –Ricky Rubio, translated.
Original Story:
http://nba247365.com/?p=10059
THE BACKYARD
BEST OF MAXIM
RELATED ARTICLES
DEAR MAMA
Tweet On Antawn Jamison's official website, his mother authored the "About Antawn" section that serves as a mini-biography of the Lakers forward. The bio covers Antawn's life and career in three sections that go from growing up to his days at UNC Chapel Hill to his NBA career with several different teams. It also talks [...]
The Lakers announced on Friday that Dwight Howard will travel back to Los Angeles on Friday to undergo a "PRP procedure" on Saturday. PRP is short for "platelet rich plasma." Howard will first have some of his own blood removed and spun in a centrifuge. The resulting plasma, which contains a high dose of Howard's own platelets to promote healing, will be...
MINNEAPOLIS Ricky Rubio got his wish: Pau Gasol has been reinserted into the Lakers' starting lineup for Friday's game against the Timberwolves, replacing Dwight Howard, who's out with the same right shoulder injury that has troubled him for much of the season.Just 24 hours after the Timberwolves point guard, who considers the Lakers big man a close friend, spoke out...
MINNEAPOLIS -- Without even knowing it, Dwight Howard was doing a modern-day impression of that famous Rodin statue, resting his chin on his hand as he hunched over in his chair. He had his back turned to reporters at his locker Wednesday night and was lost in his thinking. Finally he rose, had an ice wrap removed from his right shoulder and showered. The latest snag in the Lakers...
Dwight Howard has aggravated his right shoulder injury again. D12 left in the fourth quarter and didn't return. And the Lakers got beat by the Phoenix Suns. Howard will be evaluated Thursday and his status for Friday at Minnesota is up in the air, ESPN reported. If Howard can't go, Pau Gasol gets a boost. Howard, icing his shoulder and applying kinesiology tape to...
LOS ANGELES -- The Lakers won their third in a row, beating the New Orleans Hornets, 111-106. There's no arguing that this a much better Laker team than it was just six days ago, with Kobe Bryant and Steve Nash switching roles and Dwight Howard playing with a renewed enthusiasm. However, it also can't be argued that this team still has quite a ways to go in order to turn...
We all know Kobe Bryant is arguably the most competitive and passionate player the game of basketball has ever seen. To him, success is only measured in championships, and there's no such thing as 2nd best. In the past 2 games, Bryant reminded everyone just how much he puts winning above everything. The Lakers had lost 3 straight games on the road catapulted by a disappointing...
Midway through his 17th season, has Lakers All-Star Kobe Bryant reinvented himself as a point guard? Over the past three games, Bryant has led to the Lakers to a three-game winning streak, dishing 39 assists while averaging just 16.3 points a game. Bryant's new style of play is the key to turning may help his team's dismal 20-25 start to the season. Is this pass-first...
Los Angeles Lakers center Dwight Howard reaggravated a shoulder injury that kept him out of three games in January and is listed as day to day after being evaluated Thursday by the training staff. Howard left the Lakers' 92-86 loss on Wednesday night to Phoenix with 6:56 to play and never returned after his shot was blocked by Shannon Brown. The All-Star said he felt numbness...
Photo Credit: Arash MarkasiAfter Aggravating his torn labrum in Wednesday Night's loss to the Phoenix Suns, Dwight Howard will miss the Lakers game with the Timberwolves tonight.Dwight Howard will not play tonight vs. Minnesota because of a sore right shoulder. #Lakers— Mike Bresnahan (@Mike_Bresnahan) February 1, 2013Following inspection by Lakers trainer Gary Vitti, Dwight...
Los Angeles Lakers center Dwight Howard will sit out Friday night's game against the Minnesota Timberwolves with a shoulder injury. Howard reaggravated a torn labrum in his right shoulder on Wednesday night in the Lakers' loss to Phoenix. He originally suffered the injury in an Jan. 4 game against the Los Angeles Clippers and missed three games before returning. The...
Today Rubio was asked if Gasol was being treated fairly. "I don't' think so," Rubio said. "He proved in the league that he is one of the best. He can pass, he can shoot, he can rebound. He can do a lot of things. I think if you use him in the right way, he is a top player in this league. If they don't want him, we are more than welcome to get him." At this Rubio laughed...
NBA News

Delivered to your inbox

You'll also receive Yardbarker's daily Top 10, featuring the best sports stories from around the web. Customize your newsletter to get articles on your favorite sports and teams. And the best part? It's free!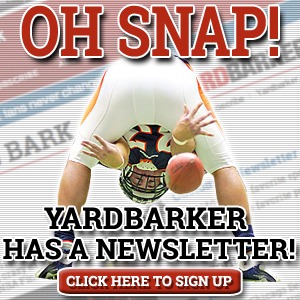 Latest Rumors
Best of Yardbarker

Today's Best Stuff

For Bloggers

Join the Yardbarker Network for more promotion, traffic, and money.

Company Info

Help

What is Yardbarker?

Yardbarker is the largest network of sports blogs and pro athlete blogs on the web. This site is the hub of the Yardbarker Network, where our editors and algorithms curate the best sports content from our network and beyond.