Found December 26, 2011 on Chasing 23:
Please give a warm welcome to new Chasing 23 contributor, Tony Maglio. Tony is a long-suffering New Jersey Nets fan who also doubles as a comedy writer for Saturday Night Live. Tony will contribute a weekly column throughout the 2011-2012 NBA season.
10. By The Time You Read This, The Giants Season May Be Over
 So due to the holiday schedule, I'm submitting this on Friday to be published Sunday/Monday. I'm hoping that in the interim my beloved New York Giants beat the Jets on the "road" and are still alive in the playoff hunt – but if they don't, I need a substitute. So welcome back NBA, and thanks for providing me with an excuse to avoid watching What Not To Wear with my girlfriend.
 9. Avoiding Family on Christmas
 Basketball returns just in time for the big day.  Christmastime with family is great, don't get me wrong – but we could all use a TV timeout from the drunk uncles and screaming kids. Thankfully Santa is bringing us a pretty good lineup highlighted by Miami back at Dallas at 2:30 – which actually could provide more drama than your family Christmas.
 8.  My Team, the New Jersey Nets ' (no, seriously) Center Position
 It looks like we might trade for Dwight Howard! Scratch that, not gonna happen because we met with him illegally.  Well at least we still have a healthy, able-bodied Brook Lopez. What's that you say? Broken foot, out three-four months? Crap. Forget number Eight.
 7. Charles Barkley
 Sir Charles is great, and the more we get of him the merrier – unless it happens to be in those bad T Mobile commercials. Speaking of those ads, he takes an awful lot of crap from D. Wade in them. But everyone loves Chuck and he's hosting Saturday Night Live in January, which could be a must-watch – though I'm not sure where that leaves Kenan Thompson for that episode. Anyway Barkley's analysis is much better than his golf swing, and I'm happy to watch both.
 6. Chris Paul to Blake Griffin
 How exciting is this duo gonna be? I want to see Blake Griffin posterizing a Kia every single night. The way this trade went down is shady at best, but it makes the Clippers real contenders in the West. In the meantime, Paul and Griffinare going the make every game look like NBA Jam.
 5. Metta World Peace
 Actually, on second thought – go away Ron Artest. Somehow I liked you more when you were beating up innocent paying customers. And while you're leaving, take Chad Johnson and every other bad name changer with you. "His mama named him Clay, I'm gonna call him Clay"!
 4. It's Still Where Amazing Happens
 Though I guess "Amazing" will happen fewer times in a shortened season. But fewer games does add an element of drama and a sense of urgency, and each game counts for that much more. Hot and cold streaks could mean the difference between making the playoffs and making June tee times. It's gonna be an interesting season.
 3. Fantasy Not-Football
 I got DESTROYED in Fantasy Football this year. I made my usual mistake of getting too drunk at the draft and not exactly helping myself. A few injuries later and I was cooked early. Now I need something to wash that taste out of my mouth – something like getting destroyed in Fantasy Basketball. But at least we all start undefeated.
 2. Chances Kobe Snaps
 Between him nearly losing one of his last seasons to a silly holdout that seemingly benefitted no one, the constant LeBron questions, Shaq becoming an analyst, his frustration with the Odom trade, his wife filing for divorce amidst more cheating rumors, and an early-injury already – I'm placing the Vegas odds on Kobe Bryant losing his mind at 5:2. This could manifest itself in several ways – either he'll go for 81 again or he flips out like Nucky Thompson.
 1.  This Gig
 OK, shameless. But I am very excited to join Chasing 23 this season. And it's my list, so back off. So who am I? I'm a comedy writer for television and the web who happens to be one of seven remaining New Jersey Nets fans. I also may be the only guy who wants to keep them right here in the great Garden State. I'm thrilled pro basketball is back and happy to be here covering it for a website that I've been a fan of. Merry Christmas, Happy Holidays and I'll see you in 2012!
Original Story:
http://chasing23.com/the-top-ten-reas...
THE BACKYARD
BEST OF MAXIM
RELATED ARTICLES
For Boston sports fans, it's impossible not to realize how lucky we are to have some of the great sports franchises in the world. In the last decade, we've been able to wipe the slate clean in all four of the major sports, raising banners for each team and witness some of the greatest players and coaches in each of those sports history. Boston has undeniably become Titletown...
When it comes to dealing its most valuable commodity, Rich De Vos, the Magic's owner, seems more interested in the short-term bottom line than the long-term health of his team.
It's only been two games, but the Mavericks are already showing signs that not re-signing Tyson Chandler and J.J. Barea might be a decision that haunts Mark Cuban for a long time. After all, if Vince Carter, Lamar Odom and Delonte West don't meet expectations, Cuban will receive the bulk of the blame. Then again, if you believe in what former NBA superstar Tracy McGrady...
Dwight Howard insists his trade request still stands, but it isn't deterring him from helping out his current team. His Orlando Magic seek their ninth consecutive victory over the Charlotte Bobcats when the teams meet Friday night at Time Warner Cable Arena. The offseason drama surrounding Howard and his on-again, off-again trade demand has carried into the regular season,...
The Nets are believed to be Dwight Howard's preferred trade destination.
Orlando's first round exit has the Magic fan's self-esteem pretty low. The Dwight Howard trade rumors remain rampant and the franchise's future remains unsettled. This is a team that still has championship aspirations and championship expectations, even if the talent level on the roster, last year's results and the experts say they do not. The Magic are caught between...
Ryan Anderson scored 22 points, Dwight Howard had 16 points and 24 rebounds and the Orlando Magic cruised to a 94-78 win over the New Jersey Nets on Thursday night. Jason Richardson added 16 points for the Magic -- including 15 in the first half -- and J.J. Redick scored 15 points off the bench. It was the 49th career 20-rebound game for Howard, who neared his career high of 26 rebounds.
When Chris Paul was untraded back from the Lakers to the Hornets, the procession of horribles was so obvious that cataloging them was almost a delight. Los Angeles suffered a compromised foundation, the untraded Pau Gasol and Lamar Odom. Houston's careful planning was exposed and burned to the ground. Boston alienated its future by marginalizing Rajon Rondo and lost out on David...
"Listen, I don't know anything you don't know. I'm checking Paul's Twitter every 30 seconds just like you." The Boston Celtics' 0-3 start seems to have turned coach Doc Rivers into a captive social media audience, just like the rest of us. (Speaking of, maybe follow? Please RT!) Then again, maybe Rivers isn't just throwing his arms up at the question...
Orlando, Fla. (1-1) vs. (1-1)   Time/TV: 7 p.m./FSFloridaLine: Orlando by 11.5Tickets: $39-$500 on TiqIQSeason Series: Tonight in Orlando; Feb. 22 in Newark; March 16 in Orlando Pace Off. Rtg. Def. Rtg. eFG% O.Reb.% TO% FTR New Jersey 92.1 86.8 103.1 39.2 29.4 16.1 29.3 Orlando 94.4 102.2 104.8 50.3 23.3 13.9 22.0 Video Vault: ...
NBA News

Delivered to your inbox

You'll also receive Yardbarker's daily Top 10, featuring the best sports stories from around the web. Customize your newsletter to get articles on your favorite sports and teams. And the best part? It's free!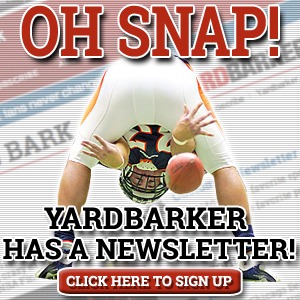 Latest Rumors
Best of Yardbarker

Today's Best Stuff

For Bloggers

Join the Yardbarker Network for more promotion, traffic, and money.

Company Info

Help

What is Yardbarker?

Yardbarker is the largest network of sports blogs and pro athlete blogs on the web. This site is the hub of the Yardbarker Network, where our editors and algorithms curate the best sports content from our network and beyond.