Found January 24, 2013 on Pass The Pill:
The NBA is loaded with young talent right now and some of them are developing faster than ever. Take Kyrie Irving, Cleveland's sophomore phenom who right now, at age 20, is averaging 23.7 PPG and 5.6 AST. The dude has everything you look for in a starting point guard. He possesses the hairline and fourth quarter "take-over" gene that many would argue a former Cleveland Cavalier lacked. Then there is Brook Lopez who, despite his snub as an all-star starter, is averaging 18.6 PPG and 2.1 BLK per game averaging less than 30 MINs a night! The NBA has a bright future and these are the players at each position who will be the faces of the association for a long time. My under 25 All-NBA Team (click their name for their basketball-reference page): PG: Derrick Rose (24) Yes, Irving has been nothing short of incredible this season and Westbrook is his usual freakish athlete self but we shouldn't forget how dominant Derrick Rose is. I mean, he won MVP honors after his 2010-11 campaign that saw him average 25 PPG and dish out 7.7 AST. Everyone assumes Chris Paul is the best point guard in the NBA, and he probably is, but a healthy Derrick Rose at least starts the debate. The NBA is loaded with quality young point guards but Derrick Rose the cream of the crop. Image courtesy of bleacherreport.com  Honorable Mention: Irving, Westbrook SG: James Harden (23) Harden is by far the best shooting guard under 25…unless you're Skip Bayless and consider Russell Westbrook a shooting guard. But we aren't Skip Bayless, thank goodness, so for our sake it's Harden. Since being traded to Houston, basketball's Brian Wilson has flourished in his first starting gig. He is currently fifth in the NBA in scoring at 25.8 PPG doing much of his damage at the foul line where he averages 10 attempts, 8.5 makes, per game. His footwork while driving is so unusual people are tricked into swatting the ball and almost always hit his arms. The crowd falls off fast in the SG discussion with the next best candidates being Eric Gordon (24) or Klay Thompson (22). SF: Kevin Durant (24) Durant was awesome last year when his team made the NBA Finals and somehow KD keeps getting better. He has career highs in FG%, 3PT%, FT%, AST, STL, and BLK. He is somehow averaging 29.6 PPG on 18.5 FG attempts. To put that efficiency into perspective, Kobe "Bean" Bryant averaged 30 PPG when he was twenty-four years young but he needed 23.5 attempts on which he shot 45%, an impressive figure but not even close to KD's 52%. People are starting to say Kevin Durant may go down as "one of" the greatest scorers of all time. They are wrong because barring injury, KD will go down as the most prolific scorer we've seen since Wilt Chamberlain. Image courtesy of bleacherreport.com PF: Blake Griffin (23) Griffin had a rough start to his career when he suffered a stress fracture in his left patella in a preseason game. He missed that entire season from the injury but responded with a vengeance in his rookie year that saw him post 22.5 PPG and 12.1 TRB. Everyone knows he can dunk now and are forcing him to take jumpers. He will make a few but still needs to improve his mid-range jump shot so defenders can't afford to sag off him into the lane. His back to the basket post moves are still raw but his incredible athleticism usually bails him out. He gets the nod over Kevin Love because he is a much better off the ball offensive player and a good one on one defender. Love is a better shooter and arguably a better rebounder but his durability puts him below Griffin for me. C: Brook Lopez (24) I have to say that I think DeMarcus Cousins has the most potential of any center in the NBA and could very well end up being the best of this bunch. I also think Greg Monroe is a nice center in this age range but this season has been great for Brook Lopez. His biggest weakness, rebounding, has improved up to 7.4 per 36 minutes and he's averaging over 2 blocks per game! It is a joke that KG, and not this guy, is the starting center for the Eastern Conference in the upcoming All-Star Game. Lopez has been the best and most consistent Brooklyn Net this season despite drastic changes within the organization. Right now, Brook Lopez is the best center in the NBA under age 25. 2nd Team Under 25: PG: Kyrie Irving SG: Eric Gordon SF: Paul George PF: Kevin Love C: DeMarcus Cousins 3rd Team Under 25: PG: Russell Westbrook SG: Klay Thompson SF: Nicolas Batum PF: Kenneth Faried C: Greg Monroe On Saturday, I will introduce the All-NBA 25-29 Teams Discuss these teams with me on Twitter (CoJoK22) The post The Under 25 All-NBA Team appeared first on Pass The Pill.
Original Story:
http://sports-kings.com/passthepill/u...
THE BACKYARD
BEST OF MAXIM
RELATED ARTICLES
If the goal was to get a lot of media attention it is working for the Hornets errrr Pelicans. Everyone has an opinion even the former face of the franchise Chris Paul. Cold world.
Eric Bledsoe once again drew fill-in duty for Chris Paul. After a bad game Monday (4 points on 1-for-7 shooting), CP3 missed Tuesday night's loss to the Oklahoma City Thunder with his nagging kneecap injury. Bledsoe started but struggled with his shot, hitting just 5-of-16 shots for 12 points. The third-year guard out of Kentucky added two rebounds, four assists, a steal...
After the Clippers lost to the Oklahoma City Thunder on Tuesday night with Chris Paul sitting out because of a bruised right kneecap, Coach Vinny Del Negro didn't offer encouragement about his All-Star point guard. "Chris is going to be out," Del Negro said. "Hopefully we get him back soon, but other guys have got to step up." That most likely means that...
The Los Angeles Clippers are unsure if Chris Paul can play in their upcoming games, most of which will take place on the road. A visit to the Phoenix Suns might help if Paul has to sit out and could aid the Clippers' attempt to avoid a third straight defeat Thursday night. Paul missed the Clippers' sweep of a three-game road trip last week because of a bruised right kneecap...
After the Clippers lost to the Oklahoma City Thunder on Tuesday night with Chris Paul sitting out because of a bruised right kneecap, Coach Vinny Del Negro didn't offer encouragement about his All-Star point guard. "Chris is going to be out," Del Negro said. "Hopefully we get him back soon, but other guys have got to step up." That most likely means that Paul won't...
It's uncertain when Chris Paul will return. That leaves plenty of questions about how the Los Angeles Clippers are going to improve their offense. Paul is likely to miss a third consecutive game Saturday night when the Pacific Division leaders begin a home-and-home set with the Portland Trail Blazers at the Rose Garden. Paul played last Saturday and Monday after missing Los...
Chris Paul won't be playing for the Los Angeles Clippers Saturday against Portland. CP3 hasn't played since aggravating his kneecap injury on January 21. Eric Bledsoe will start, and he's been an excellent understudy. In five starts, he's averaging 12.4 points, 5 rebounds, 3.6 assists, 2.4 steals and 1 block in 30.4 minutes. He's also made two 3-pointers in...
Like most people, when news broke that the New Orleans Hornets were changing their name to the Pelicans, I was all like, "Pelicans? That's a stupid mascot," as I hid my Magic gear from plain sight. But thankfully I follow some diehard New Orleansonians on the Tweeters, including our good friend Chris Trew, and I now believe that with the bird's actual legacy to the city combined...
No rest for the weary The Portland Trail Blazers finally broke their six-game losing streak with a win against the Indiana Pacers, but things aren't getting any easier. Matchup: Portland (21-21) vs. Los Angeles Clippers (32-13) Venue: Rose Garden Time: 7:00 PM PT Date: Saturday, Jan. 26, 2013 The Los Angeles Clippers, one of the top teams in the entire NBA, are set to begin a home...
Eric Bledsoe bounced back from a rough night with a full stat line in a 93-88 loss to the Phoenix Suns. The Clippers point guard had 15 points (5-10 FG, 4-4 FT) to go with a 3-pointer, seven rebounds, three assists, three steals and a block in 30 minutes before fouling out. Bledsoe is a must-own player with Chris Paul sidelined with a kneecap injury and a must-stash player for...
The other day the starters were released for the 2013 All Star game, and now the rest of the rosters were released. The 2013 All Star game will be held on Sunday, February 17th in Houston. The reverses for the Eastern Conference will be Kyrie Irving, Paul George, Jrue holiday, Tyson Chandler, Joakim Noah, Chris Bosh and Luol Deng. Of course the starters were voted in by the fans...
NBA News

Delivered to your inbox

You'll also receive Yardbarker's daily Top 10, featuring the best sports stories from around the web. Customize your newsletter to get articles on your favorite sports and teams. And the best part? It's free!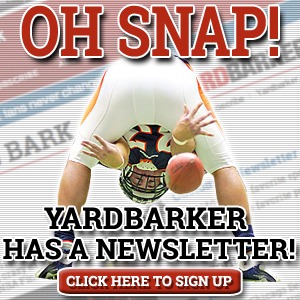 Latest Rumors
The Backyard

Today's Best Stuff

For Bloggers

Join the Yardbarker Network for more promotion, traffic, and money.

Company Info

Help

What is Yardbarker?

Yardbarker is the largest network of sports blogs and pro athlete blogs on the web. This site is the hub of the Yardbarker Network, where our editors and algorithms curate the best sports content from our network and beyond.