Found November 13, 2012 on Wizards Extreme:
When looking at the NBA standings, that glaring donut in the Wizards' win column will certainly draw a bit of unwanted déjà vu. The Wizards, just one season removed from an atrocious 0-8 start in 2011, find themselves spiraling down a similar funnel of misfortune but somehow seem to be avoiding the panic button. How so? Well, in contrast to last season, the Wizards of present day have actually managed to remain competitive for a vast portion of games up until the closing stretch, before maxing out just a few minutes before the final buzzer. Last season's tumbling start was highlighted by a barrage of incompetence, embarrassment, unpreparedness, and confusion. I mean, we all knew we were screwed the moment Andray Blatche strolled towards half court holding a mic, set to announce his self-appointment as the team's captain, right? RIGHT, because what commenced following that speech was forgettable for Wizards fans all over. A blown lead to the Nets that same night, followed by a handful of blowouts, including the infamous Milwaukee game where Roger Mason, Jr. was pulled in the first half because his name wasn't penciled in the official game roster. To make matters even more turbulent, the Wizards were enduring all this with the uncertainty of their head coach's employment status (which eventually became certain after starting 2-15). Yeah, it sucked. This season, the Wizards face a similar state of disorder. There is uncertainty, along with a bit of confusion, but the glaring difference that separates this team from last year's lies primarily within effort and will. Since the atrocious start last season that ran Flip Saunders out of town and eventually landed him behind an ESPN newsroom desk, the Wizards have done a fair job of cleansing the locker room of underachieving nuisance. The reflection of these results was observed in the strong finish to the season, and the rollover in hope for this season. With the Wizards forced to open the season without their star point guard and center, along with a blur of new faces and a promising rookie, the expectations are at floor level once again. A winless start has done nothing but justify those expectations. However, a legitimate observer of the game, such as myself, can sense the change in culture, aura, and approach. Games have actually been watchable through four quarters and opposing players have actually been earning their paychecks against Wizards and not just treating it like a slow night at the office. The Wizards have shown they have the ingredients that make for a team that can win consistently. They just need to mold those ingredients correctly to make it happen by getting off to faster starts, attacking the rim and earning free throw attempts, staying poised through the final stretch of ball games and avoiding self-destruction, setting up plays where the offense can exploit their strengths and not waste possessions. That along with any other fundamental standards of basketball you can think of.An opportunity for a win and shift in momentum couldn't have come at a better time for the Wizards. Tonight they face their red-headed stepchild -- the Charlotte Bobcats – a team they beat by an average of 19 points last season. One statistic that positively stands out for the Wizards despite the slow start is their top five ranking in team assists per game. You don't think that offers an example of improvement? I'm sure we all remember the endless fit we threw at the Wizards' atrocious habit of one-on-one ball in the half court offense before this season. Although what's on paper is ultimately all that matters, and this may certainly be an aimless attempt to sugarcoat another dismal start to a long season, there actually is an underlying reason for hope that things may be looking up.
Original Story:
http://www.wizardsextreme.com/2012-ar...
THE BACKYARD
BEST OF MAXIM
RELATED ARTICLES
Wednesday Wizards Report Image courtesy @KevinHineWoA with Wiz of Awes _________________________________________    Wizards Need Changes….NOW! After last night's blowout at the hands of the Bobcats (one of the worst statements a NBA fan can mutter), I can't tell if this is 2011 or 2012. Last year the Washington Wizards started out 0-8 and with upcoming games against the...
Earlier today we tweeted a John Wall GIF that summed up these winless, feckless Wizards rather nicely, but this one from the halftime show of last night's loss to the Bobcats (via @HouseFromDC) really takes the cake. Your 2012-13 Washington Wizards, like a karate stick to the nuts.
Click here to view the embedded video. The Washington Wizards played the Charlotte Bobcats Tuesday night in a game that made all 6 viewers at home say "can't we just contract one of these teams and combine the rosters?" The game was so unappealing that even the referees appeared to tune out at one point. The Set-Up: with just over three minutes left in the 3rd quarter, Jan...
Washington Wizards still have a zero in the win column. This photo pretty much sums up what it is like to be a present day Wizards fan.
"Men Lie, Women Lie, Numbers Don't" – Jay Z Jay was not lying (pun intended). 0-6. Ladies and gentlemen, that right there is the record for your Washington Wizards. You can't make this up. Time and time again, I come up with excuses on why Wizards fans need more patience.  But it's very hard when I'm trying to explain it year in and year out.  Excuses have ranged...
CHARLOTTE, N.C. -- The Washington Wizards are a mess without injured stars Nene and John Wall. They were at their ugliest Tuesday night in a woeful 92-76 loss to the Charlotte Bobcats. The numbers told the whole story for Washington: 29.8 percent shooting from the field (25-for-84); 16.1 percent shooting from 3-point range (5-for- 31); 17 turnovers; outscored 46-24 in the paint...
After opening a franchise-worst 0-8 last season, the Washington Wizards find themselves in the midst of another brutal start. While the Wizards would appear to have a good shot at finally breaking through Tuesday night given their recent success against the Charlotte Bobcats, they could have their hands full with rookie sensation Michael Kidd-Gilchrist. Washington tries for a sixth...
After last night's loss to the deplorable Charlotte Bobcats, many fans of the Washington Wizards find themselves at a loss (most notably our own DJ Saam). The frustration is kicking in. Before long, the Phone Booth is going to be more of a ghost town than it already is. But Wizards fans: Just remember, it could always be worse. Let's go back to March 30, 2007. The Wizards...
NBA News

Delivered to your inbox

You'll also receive Yardbarker's daily Top 10, featuring the best sports stories from around the web. Customize your newsletter to get articles on your favorite sports and teams. And the best part? It's free!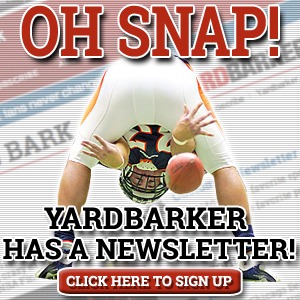 Latest Rumors
Best of Yardbarker

Today's Best Stuff

For Bloggers

Join the Yardbarker Network for more promotion, traffic, and money.

Company Info

Help

What is Yardbarker?

Yardbarker is the largest network of sports blogs and pro athlete blogs on the web. This site is the hub of the Yardbarker Network, where our editors and algorithms curate the best sports content from our network and beyond.