Found October 22, 2012 on Bacon Sports:
This past weekend I was in Orlando for one of my girlfriends friends wedding. Lebron must not have been the only one to take his talents to Florida because there were enough honeys there for Wilt Chamberlain to get his, have seconds, and everyone else get a taste too (note: I do not partake in these sort of shenanigans since I have a wonderful and loving girlfriend but instead relay this information on to you for the sake of being a man). This gave me a great opportunity to take the temperature of the Magic fan base that just lost their star center to the Los Angeles Lakers in a manner that was salacious enough for a Lifetime made for TV movie starting DJ Tanner from Full House and Rob Lowe. Right now the fans optimism for the team hovers around zero, they aren't looking forward to this season, and they detest Dwight Howard like he just called DirecTV and had them eliminate the Red Zone channel only in their market. This Dwight Coward jersey (below) pretty much sums up the entire city's feelings towards him right now.
I want have to give major props to this guy for the exceptional craftsmanship that he had in turning this Dwight Howard jersey into a Dwight Coward jersey. When a player who's jersey you own gets traded or leaves for free agency (or in the case of Dwight Howard throw a fit like a 13 year old girl that just found out that her Mom forgot to record the season finale to One Tree Hill) you have a few options. Which option you choose will depend on how long the player was there, his success (or a lack there of) while on the team, how he exited (did he leave for free agency and go to your hated rival or was he traded because the team was going in a different direction), and did he put anything in the newspaper thanking the fans for his time there. From there you can narrow down your choice for what to do with his jersey. For Orlando Magic fans with a Dwight Howard jersey there are a few options that each have their own plus/minus.
1. Burn the jersey. Nothing says "we've been screwed over and we wish ill harm to this player" like burning the jersey of your ex-superstar. Cleveland fans did it with Lebron, Chicago Bears fans did it with Jay Cutler (which makes zero sense), New Jersey Devils fans did it with Zach Parise, and this New York Yankees fan did it last year with Alex Rodriguez (yes, last year. talk about seeing through a crystal ball like Miss Cleo. way to be ahead of the curve dude). Burning a players jersey is very deep rooted and is a cousin of the oh so popular "burn everything from that you have from your cheating hoe of an ex-girlfriend that is now dating a dude that drives a Mitsubishi Eclipse". You've been down this road before but just in a different form.
2. Keep the jersey and just tape over the name (or in this case one letter) to create a whole new jersey. The most creative form of this was done by a Cleveland Browns fan who decided to list all of the QB's that Cleveland has had. That list takes gross to a whole new level and really drives home why the Browns have struggled so much over the last 20 years. What was also gross was the craftsmanship of the jersey the Browns fan created. Sure that's part of what makes the jersey funny but it looks like it was made in Cleveland. This Magic fan took more than one minute to craft together a pretty good "C" and then glue/sew it onto his jersey. This allows for extra dap points and doesn't make you look like a trashball. I bestow upon this jersey a 10 out of 10 and put it into consideration for jersey hall of fame status. It's cleaver, timely, and passes the Bob Vila eye test.
3. Cut it up and use it as hand towels that sit on the handle of your oven. I don't know much about politics but I think that the economy is in a recession so that means that every penny needs to be saved and you can't just be so reckless as to throw something away. What better way to save a few bucks and create something cool than by using your now worthless jersey as a way to get gross stuff off your hands or to dry them off. I'm not sure if it gets any lower than saying to an athlete "I dislike you so much that after I touch chicken I wipe my hands off with your old jersey".
While on my way to the bar to watch the early NFL games I walked through a farmers market and was lucky enough to find the one guy in Orlando who didn't realize that Steve Francis wasn't still on the Magic. Rocking a Steve Francis jersey in Orlando is teetering close to a very fine line between ironic cool and bringing up a bad memory that would rather be forgotten. The Franchise played well for about a minute and a half in Orlando until the Magic traded Cuttino Mobley (who was Francis best friend) and from there it went from bad to worse to being considered in a trade for Earl Watson. Ya, that bad. After the trade Francis production continued to slide and three years later he was out of the league and making rap videos. Most NBA fans remember the days of Francis pouring in 20 a game for the Rockets and being the number one overall pick, not when he was a dumpster fire. What makes this jersey interesting is that if this Hoopster wasn't in Orlando the jersey would be way cooler. If you don't actually root for that team and have no ill will against the player then seeing a Stevey Franchise Magic jersey is sweet.
Raise your hand if you know who Jordan Shipley is (hand raised)? He was a white wide receiver for the Cincinnati Bengals that was a one year poor mans of Kevin Walter. Bet you don't hear many poor man's Kevin Walter references. He had a decent rookie year and was on his way towards being the token white guy wide receiver that fan bases love to latch on to. Unfortunately a knee injury cost him his second season and since he was just a white guy that was really fast and hustled a lot he wasn't able to rehab and be as good so the Bengals cut him. What's it say about you as a fan when you continue to wear the jersey of a guy that in his prime for only one season was a third receiver and you've got one of the top three receivers in the NFL on your team in AJ Green but you don't upgrade your jersey? It says you are an idiot. I don't know if Jordan Shipley has a nickname but I'm really hoping that it's "The Ship" as in (using an announcers voice) "The Ship catches the ball over the middle to set up a 3rd down and 6 for the Bengals". It just rolls off the tongue nicely and lends itself to plenty of catchphrases for when he scores a TD or makes a big play. Two random facts that you'd probably like to know about Jordan Shipley: he was Colt McCoy's roommate at Texas and he is married to a country singer named Sunny Helms.
If you dig random and vintage sports stuff like this then don't forget to follow us on Twitter or Like Us on Facebook. 
Original Story:
http://www.baconsports.com/this-weeke...
THE BACKYARD
BEST OF MAXIM
RELATED ARTICLES
They may have lost to the Sacramento Kings, but the Los Angeles Lakers pulled out a win in one respect on Sunday.   Please Click Here To Read This Story
After a back and forth week of will he or won't he, today is the day we all find out.  Dwight Howard has been cleared and is available for today's preseason game against the Sacramento Kings.  Howard said a couple days ago he felt ready to play, then coach Mike Brown told reporters that it was no guarantee Howard would play.  But the fact is, he is ready.According to...
In the building Dwight Howard's exploits helped build it's hard to find even the smallest remnant of the former Orlando center these days. The photographs, murals and other likenesses that once adorned virtually every other crevice inside the Magic's Amway Center have been scraped away, now just painful reminders of championship aspirations never realized. After taking...
Latest Dwight Howard musings, Howard feels he should've won "Defensive Player of the Year" last season. "I thought I should have won it last year, to be honest with you," Howard told reporters after practice Monday. "I was a little bit upset about that." [...] "I felt like I did my job to win it. [...]
LeBron James has traversed the rockiest terrain of stardom and ambition: From beloved prodigy to betrayer of the place that drafted him and loved him most to uncomfortable villain to brutal failure to, now, NBA champion. Two years. One long journey. And, in transitioning from The Decision to The Debacle to The Champion, a rewriting of the zeitgeist and the very functioning of...
Wow. So Dwight Howard, the player I can't stand, the man who makes me sick to my stomach, played his first game in LA. Unfortunately he looked great. It was sickening. He played focused and hard and tried to put on a show. It's not surprising that he played hard cause he plays every game [...]
Dwight Howard played his first NBA minutes during Sunday's preseason game between the Lakers and the Kings. Howard had a decent Lakers debut scoring 19 points, pulling down 12 rebounds and blocking 4 shots. But as expected, all of his game isn't completely there yet. Namely, the part of his rebounding game where he can effectively box-out his man. Kings rookie Thomas Robinson...
In an industry in which DUI arrests are more rampant than the common cold, Dwight Howard apparently lays off the sauce completely. Dave McMenamin, who covers the Lakers' beat for ESPN.com, sent out a tweet Monday that revealed some things he didn't know about Howard before training camp. Among the interesting facts: Howard wears glasses only because he has...
The news of this NBA off season has no doubt been the trade of Dwight Howard to the Lakers. Howard, who was recovering from back surgery, played his first preseason for the Lakers over the weekend against the Kings. In that game Kings rookie, Thomas Robinson welcomed Howard back to action. Off a Kings three pointer missed shot Robinson took the rebound and threw down a one handed...
Yes, the Los Angeles Lakers may have lost — 99-92 — to the Sacramento Kings in a preseason game Sunday evening, but Lakers fans' appetites were finally satiated when Dwight Howard donned a Lakers uni.  Dwight Howard looked particularly fetching in this play as Kobe Bryant dished to him for a spectacular alley-oop. H/T EyeOnBasketballThe post Kobe Bryant-to-Dwight Howard Alley...
On one side of the Los Angeles Lakers' practice court, Dwight Howard is shooting free throws and talking defense with Pau Gasol. On the other end, Kobe Bryant and Steve Nash are plotting out a pick-and-roll play with step-by-step precision. And somewhere in the middle, Metta World Peace's mind is blowing. ''Everybody on the starting five has led their own team and...
Every October, while you are trying to figure out a quirky name for you fantasy football team (the name of my historically bad team is "Ochostinko"), NBA GM's are filling out their annual survey. And very often, these surveys follow the lines of conventional thought. Which makes me wonder if (a) these GMs are actually filling these things out or (b) they are just putting...
NBA News

Delivered to your inbox

You'll also receive Yardbarker's daily Top 10, featuring the best sports stories from around the web. Customize your newsletter to get articles on your favorite sports and teams. And the best part? It's free!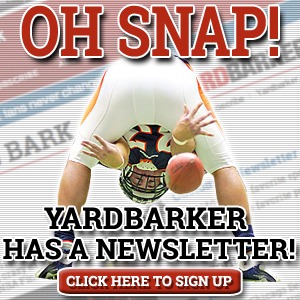 Latest Rumors
The Backyard

Today's Best Stuff

For Bloggers

Join the Yardbarker Network for more promotion, traffic, and money.

Company Info

Help

What is Yardbarker?

Yardbarker is the largest network of sports blogs and pro athlete blogs on the web. This site is the hub of the Yardbarker Network, where our editors and algorithms curate the best sports content from our network and beyond.