Found July 24, 2013 on Fox Sports Southwest:
The Miami Heat showed us a center is not a necessity to win an NBA championship. For that matter, neither is offensive rebounding. The Heat had no center and ranked No. 28 in the league, getting just 8.2 offensive rebounds per game. We all know what happened in June, too. Now we have all this concern about the Oklahoma City Thunder not getting enough production from center Kendrick Perkins. So why the heck would the Thunder have four centers on their roster when maybe they could get by with one or even none? Well, seems excessive, and by the time training camp gets going in October, there's no doubt the position will be thinned out, as OKC won't carry all four into the regular season. We know Perkins is the starter and we know Steven Adams will be on the team, as he was the Thunder's first pick in the June draft, but past that, there are no guarantees for either Hasheem Thabeet or Daniel Orton. The Thunder hold the team option on both Orton and Thabeet heading into the season. Thabeet will earn 1.2 million. Orton is signed at 916,099, but salary won't be the determining factor for either. It's apparent coach Scott Brooks is not all that comfortable with his back-up center situation, which is why Adams may get more of a chance this upcoming season. Brooks clearly was hesitant to play Thabeet and Orton when he had the chance a year ago. Thabeet played a total of 5 playoff minutes and none against Memphis in the second round. Orton didn't play at all in the postseason. So, if Perkins and Adams are remaining, is it worth taking a chance on another? It is, but only if it's Orton. And here's why: Because we just don't know, at this point. Orton has been in the league for two seasons and has played a total of 29 games, getting just 10 minutes per game on average. Now, obviously if he was a pure talent, he would have gotten a lot more playing time, but plenty of players take time to develop. Orton could be that guy. And here's why: He can score. So while Brooks is always quick to come to the defense of Perkins, suggesting the Thunder don't need a center who can put up points, wouldn't it be a bonus if a center actually did? Orton has the potential, Thabeet does not. As seen in the small sample size that is the Summer League, Orton can play. Yeah, it came against first and second year players and not the elite of the league, but Orton did what he was supposed to do, and when he was supposed to do it. Thabeet has never done that. In three games, Orton averaged 12 points on 67 percent shooting in just 16 minutes per game. He also averaged five rebounds and a 1.7 blocks per outing, too. Not great numbers, but not that bad either. Figure if Orton could play 10-12 minutes per game for the Thunder in the regular season and contribute eight points, it would be a huge offensive upgrade from Perkins who averaged just 2.2 points per game in 11 playoff games last year. And the case for Thabeet? His best season was his rookie season when he started 13 games and played in 68, averaging 3.1 points and 3.6 rebounds for Memphis. Since then, he has started only seven games and has never averaged more than he did last year in Oklahoma City when he played 11.7 minutes per game. In the five seasons since his rookie year, Thabeet has averaged more than two points per game only once. Oklahoma City and the league don't know what Orton can do. At this point, everyone has a pretty good handle on Thabeet. The good news is, regardless of whether the Thunder keep one or both centers, they will still be a team picked to win about 60 games and be at the top of the Western Conference. They don't need a center to be successful. But if they have to choose, the best bet is Orton. Follow Andrew Gilman on Twitter: @andrewgilmanOK
Original Story:
http://www.foxsportssouthwest.com/sto...
THE BACKYARD
BEST OF MAXIM
RELATED ARTICLES
Derek Fisher will play a third-consecutive season in Oklahoma City. The Thunder have signed Fisher to a one-year deal for the league veteran minimum of about 1.4 million, according to The Oklahoman. The move leaves the Thunder in better shape at the guard position. Now they will have Russell Westbrook, Reggie Jackson and Fisher at the point guard spot. Fisher will be 39 when...
Oklahoma City guard Russell Westbrook has been spending this offseason recovering from knee surgery. Instead of showing his progress of getting his moves back on the basketball court, Westbrook is doing it on the dance floor as seen in this recent Instagram video. Westbrook suffered a torn meniscus against the Houston Rockets in Game 2 of the first round of the NBA playoffs...
Oklahoma City Thunder: Best and Worst Moves of the Off Season By Jordan Van Beek: Hoopstuff Writer Needs: C, Bench Scoring Need Analysis: The Thunder were the number one seed last season, but couldn't make it to the Finals, due to Russell Westbrook's season ending injury. The only thing the Thunder really need this off season is a center who can have more of an impact in games...
In all likelihood, Oklahoma City Thunder point guard Russell Westbrook is spending a majority of the offseason rehabbing after undergoing surgery to repair a torn meniscus in his right knee that he suffered during Game 2 of the team's first-round playoff series against the Houston Rockets. But that does not mean he doesn't have time [...]The post Here's Russell Westbrook dancing...
Daniel Buerge of LakersNation.com sent out this tweet a few days ago, and nobody believed him — well, nobody wanted to believe him, is probably a more accurate statement. Apparently, the Oklahoma City Thunder are actually re-signing Derek Fisher to a one-year deal. However, the good news is the Thunder will have his services for the entire season. The bad news? The Thunder will...
When asked his opinion about Oklahoma City's offseason activity, Kevin Durant offered a three-word response: "I love it." Durant then walked away from the media, seemingly upset, while taking in the action at the Team USA minicamp in Las Vegas. The Thunder let Kevin Martin go in free agency and lost out to the Memphis Grizzlies in the race to Mike Miller. Miller was personally...
Thanks to the world of Instagram video, we know what Oklahoma City Thunder guard Russell Westbrook is doing in his spare time. He is working on his awesome dance moves….
Derek Fisher is re-signing with the Thunder on a 1 year, $1.4M deal worth the veteran's minimum according to Darnell Mayberry of The Oklahoman. After losing out on the Mike Miller sweepstakes, re-signing Fisher is a good move for the Thunder and also a good move for Fisher, who is still on his quest for a 6th NBA championship ring. The Thunder don't have a lot help off the bench...
We've posted some pretty hilarious t-shirts here at That NBA Lottery Pick but this one featuring the Oklahoma City Thunder and Houston guard James Harden is pretty classic. Check out the full t-shirt below with the Taylor Swift song title listed on it:   *** Best T-Shirt Ever [Reddit NBA]
It looks like Kevin Durant and James Harden could get back together. Not for the Thunder. Not for the Rockets, either, but for Team USA. Durant and Harden both expressed interest in playing for the national team when it travels to Spain next year for the World Cup. Russell Westbrook and Kevin Love of the Minnesota Timberwolves have also said they wanted to play. All four were...
This team led the league in blocked shots per game in three of the last four seasons, and was second in the one that it didn't. This team also finished in the Top 6 in rebounding in the last four years. Who is this team? Without cheating and looking at a stats site you'd have to guess the Lakers, with Dwight Howard, or a defensively minded team like the Spurs, with Tim Duncan...
Oklahoma City Thunder forward Kevin Durant and Minnesota Timberwolves center Kevin Love say Wednesday they will be returning to play for Team USA.
NBA News

Delivered to your inbox

You'll also receive Yardbarker's daily Top 10, featuring the best sports stories from around the web. Customize your newsletter to get articles on your favorite sports and teams. And the best part? It's free!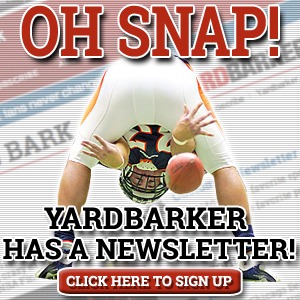 Latest Rumors
The Backyard

Today's Best Stuff

For Bloggers

Join the Yardbarker Network for more promotion, traffic, and money.

Company Info

Help

What is Yardbarker?

Yardbarker is the largest network of sports blogs and pro athlete blogs on the web. This site is the hub of the Yardbarker Network, where our editors and algorithms curate the best sports content from our network and beyond.