Found February 05, 2013 on Fox Sports Southwest:
OKLAHOMA CITY-- Even the post-game crowd at the arena bar was light. Usually the line wraps past the velvet ropes just outside the court at Chesapeake Arena and usually the music is loud and thumping with folks ready to talk about what they just saw. Guess there was no reason to stick around on a Monday and celebrate. On a night that had makings of fascinating, the Mavericks brought the dull and the Thunder did what they were supposed to do, sucking the drama from the building with a big second quarter and going on to an easy win. But the story from Monday could have been Dallas and could have been a number of different plot twists and storylines. None of those came to be and the 112-91 Oklahoma City victory was boring, dull and routine. And just in time, because the Thunder needed a big dose of Monday. Recently it's been too many losses, not enough wins and not near enough fire in the past nine games as the Thunder have won five times and lost four since Jan 18, trading off wins and losses like a team trying to just make the playoffs, not win the whole thing. So, it had to be somewhat of an exhale on Oklahoma City's part that Kevin Durant, Russell Westbrook and the rest of the Thunder starters got to sit out the fourth quarter for a change, win easily for a change and not worry about anything tangential for a change. "It's just good to get a win," said Durant. "We're not focused on saving ourselves. This team plays us tough every time, so we wanted to just play a a good game." The best thing that can possibly happen in the near home future is the Thunder continue onward on this melba toast trend because the uninteresting isn't going to last long. It shouldn't have even been the case Monday. After all, the Thunder were playing a Dallas team it needed overtime to beat twice in the two previous meetings this season. Meanwhile, Durant was dealing with a minor rib injury he suffered a game ago, adding a bit more of a surprise element to the game, not knowing how he would feel. None of those storylines were an issue. Durant scored 19 points on just 11 shots, had 10 rebounds, a block and a pair of steals, to go along with four assists and said he felt fine doing it. Up next are home games against Golden State (Wednesday) and Phoenix (Friday) before road games at Phoenix and Utah. Then comes the drama as the Thunder get Miami on Valentine's Day and play at James Harden and Houston six days later. "It's been a little choppy at times," coach Scott Brooks said. "But we just work every night. We work every day. It's not always pretty and not always perfect." It wasn't even choppy Monday. The Thunder scored 29 points in the first quarter and then 39 in the second quarter the most they have scored in the first half this season. Dirk Nowitzki had just 10 points on 3-of-11 shooting and the Mavs fell behind by as many as 33 points. Obviously, that meant no drama from Dallas, but the better thing was there was no excitement from Westbrook. The wildly moody one was calm Monday. He scored 24 points on 8-of-16 shooting and did it with some icy stoicism, usually reserved for poker players and tax attorneys. Last Thursday against Memphis, Westbrook blew up on the court then blew up on the bench before storming off the court and into the tunnel. That earned him a thorough dissection of not only his game, but his personality and all its conceivable disorders by pretty much anyone who has ever heard of the NBA. But none of that was in play Monday. Same, old Russ, Durant said. Well, not exactly, but it was a same-old kind of win against the Mavs the same team they swept out of the first round of the playoffs a season ago. But back to the turmoil that the Thunder have created for themselves. A 5-4 stretch over the past two weeks has looked like a grind. Monday didn't. Instead of struggling, the Thunder looked like the team that crushed the Western Conference in the playoffs a season ago, not the team that lost to Cleveland Saturday. "Yeah," said guard Kevin Martin, agreeing it has been a bit rough. "You go through stretches. It's the middle of winter, the holidays are over and everyone's a little angry. We just have to get through the All-Star break and focus on the second half of the season." Well, the second half of the season is upon us. The Thunder are 36-12 and on pace to be one of the top seeds in the Western Conference. No one was talking about any of that on Monday. It was just another win at home against another team they were supposed to beat. Nothing more. And that's a good thing. Follow Andrew Gilman on Twitter @theandrewgilman
Original Story:
http://www.foxsportssouthwest.com/02/...
THE BACKYARD
BEST OF MAXIM
RELATED ARTICLES
Kevin Durant has been uncharacteristically loose-lipped with the Oklahoma City Thunder this season, and as a result he is tied for the league lead with technical fouls. During Monday night's win over the Dallas Mavericks, Durant picked up his ninth technical of the season. With slightly less than half of the regular season remaining, he is on pace to hit the 16 technical foul-mark...
In honor of Black History Month, the fine folks over at Nike teamed up with Oklahoma City Thunder star Kevin Durant to produce a short film called "Be Bold Be True".Below is the teaser trailer for the film that features KD for a short period of time:
On Saturday night, Kyrie Irving dropped 35 points.  Against Kevin Durant.  And the Thunder.  In a five-point Cleveland victory.  Impressed?  I'm just getting started. Of Kyrie's 35, 13 were recorded in just three minutes — those three minutes being the final three minutes of the game.  During that three-minute stretch (2:52, technically), Irving made two free-throws,...
THREAD THAT NEEDLE
It wouldn't be a week here at That NBA Lottery Pick without a nice play by Oklahoma City Thunder forward Kevin Durant.During last night's Thunder/Mavericks game, KD was able to thread the needle to Kevin Martin for an easy slam dunk.Check out the nice no-look pass that Durant went by nearly three Mavericks defenders:
Kevin Durant said his back is fine after he appeared to injure it in the Oklahoma City Thunder's last game. Dirk Nowitzki looks set to return after missing the last two contests for the Dallas Mavericks. Durant has been simply brilliant in two overtime victories over the Mavericks this season, and both superstars should be eager to meet in Monday night's matchup in Oklahoma...
A fog-delayed arrival in Oklahoma City made Golden State's task tough enough. Then the Warriors made the mistake of getting on Kevin Martin's bad side. Kevin Durant scored 25 points and Martin roared to life with 10 points during a fourth-quarter run that put away the Thunder's 119-98 win on Wednesday night. Martin hit a pair of 3-pointers, a runner and slammed home...
OKLAHOMA CITY (AP) -- Russell Westbrook scored 24 points, Kevin Durant had 19 points and 10 rebounds, and the Oklahoma City Thunder blew out the Dallas Mavericks 112-91 Monday night while avoiding a third straight overtime game between the teams. The Mavericks had tied the first two meetings this season with 3-pointers at the very end, but there was no such drama the third time...
OKLAHOMA CITY -- When Dallas has taken on Oklahoma City this year, the Mavericks haven't looked like a team fighting to reach .500. In the two previous matchups, the Mavericks lost both, but the Thunder had to go into overtime each time. However, the Mavs reverted back to form of sorts Monday in the teams' third meeting. The Thunder dominated from the opening tap and rolled...
The Oklahoma City Thunder haven't lost more than two in a row this season, but they also haven't won two straight in nearly three weeks. The Northwest Division-leading Thunder will try to change that Wednesday night when they go for an eighth consecutive victory with the Golden State Warriors in town. After posting 10 wins during a stretch of 12 of 15 on the road, Oklahoma...
NBA News

Delivered to your inbox

You'll also receive Yardbarker's daily Top 10, featuring the best sports stories from around the web. Customize your newsletter to get articles on your favorite sports and teams. And the best part? It's free!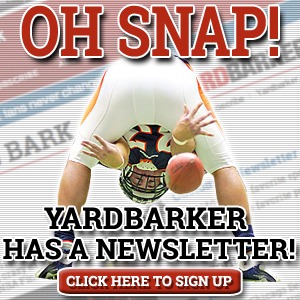 Latest Rumors
The Backyard

Today's Best Stuff

For Bloggers

Join the Yardbarker Network for more promotion, traffic, and money.

Company Info

Help

What is Yardbarker?

Yardbarker is the largest network of sports blogs and pro athlete blogs on the web. This site is the hub of the Yardbarker Network, where our editors and algorithms curate the best sports content from our network and beyond.