Found April 11, 2013 on Fox Sports North:
PLAYERS:
Ricky Rubio
,
Kevin Love
,
Rick Adelman
,
Malcolm Lee
,
Luke Ridnour
,
Brandon Roy
,
Alexey Shved
,
Greg Stiemsma
,
Nikola Pekovic
,
Derrick Williams
,
Dante Cunningham
,
Chase Budinger
,
Andrei Kirilenko
,
Mickael Gelabale
,
Chris Johnson
TEAMS:
Minnesota Timberwolves
Call it the season that went wrong, the season that failed, the season that never was. Wonder what could have been. Wonder how all of those injuries happened to one team. But ask Ricky Rubio, as has been the occasion several times this spring, and he'll offer a correction. It's not about what could have been, he's wont to say, but what can be. It's in that earnest, Spanish-tinged voice of his that he'll issue the directive, and it's impossible not to want to believe him. At this point, Rubio is right. The fleeting chance of Kevin Love this spring is gone by way of a surprise knee problem, and even so, this season was over in February. Now that Rick Adelman logged his 1,000th career win on Saturday, that goal is past, too, and so right now, the Timberwolves' sole focus is to finish out the season strong, to get some idea where they stand going into the offseason. In that vein, here's a look at who will be back, who could be back and who should be back in Minnesota come training camp: WILL BE BACK, BARRING A TRADE J.J. Barea. He is under contract through 2014-15 and has been a perfectly serviceable if inherently frustrating backup point guard and scoring threat off the bench. The Timberwolves do have a preponderance of point guards, one might say, but Barea's scoring touch might make him a more desirable option to keep around rather than to trade. He'll make 4.7 million next season and 4.5 million in the final year of his contract. Malcolm Lee. He had season-ending surgeries on his right knee and right hip in January and has played in just 35 games over the course of his two-season career. That said, the Timberwolves signed the backup guard to a four-year guaranteed contract despite his being a second-round pick. He'll be back around for cheap, making just 884,000 next season. Lee is a solid defender if still a bit of an unknown, but with that price tag he's worth waiting on a bit to see how he develops. Kevin Love. The power forward and team leader will be back to the tune of 14.7 million, and if his knee progresses as it's expected to, Love will be cleared to practice fully by June and can take advantage of this offseason. Luke Ridnour. Next season, Ridnour will be in the final year of a four-year contract, making 4.3 million. The second-best point guard on the team, he's been put into a somewhat uncomfortable position the past two years, starting at shooting guard beside Rubio. It's hard not to wonder how murky Ridnour's future might be with the Timberwolves. The team will need a properly sized shooting guard if it wants to make any noise Brandon Roy was supposed to be that this year and consequently, Ridnour will likely be forced to the bench or onto the trading block. He's the kind of player every coach wants around, though, as hard-working as he is talented and seemingly unable to complain, so if I'm the Timberwolves, I'm looking for a way to keep Ridnour at the expense of someone else if it comes to that. Ricky Rubio. He will begin the third year of his four-year rookie deal next season, and he'll be eligible for a max contract if that's the direction the team decides to go after the 2013-14 season. He'll be back, to the tune of 4.0 million, next year, and he'll likely be the player the team builds around going forward. Alexey Shved. The first-year guard signed a four-year deal when he joined the team last summer, and next season should, in an ideal world, more approximate a rookie year. He's been playing far fewer minutes of late averaging just 17.8 since March 1 compared to 27.1 before that and slipping more into the role Adelman would have liked to play him in before the injury onslaught began. Shved, who will make 3.2 million next season, needs time to regroup and to grow, and Year 2 should provide that. Greg Stiemsma. He will make 2.7 million next year in the second and final season of his deal, and if the Timberwolves can retain starting center Nikola Pekovic, Stiemsma will be able to slide into the same role he's filled well this season. He's not the kind of guy who's going to play more than 10 or 15 minutes per game, but in that limited role, he's been successful with Minnesota. Derrick Williams. He will enter the third year of his rookie deal, making 5.0 million that is, if he's not traded this offseason. The forward has seen his name mentioned in trade rumors almost since Day 1, and it's hard not to wonder if a trade might be better for him than remaining with the Timberwolves. It's not a matter of a lack of talent on Williams' part he's taken decent strides this season but rather of there being no place for him when Love is healthy. The team is going to have to seriously evaluate its long-term goals and the likelihood of keeping Love past 2014-15 when it makes its decision on Williams. TOTAL SALARY CAP HIT: 39.48 million SHOULD BE BACK Dante Cunningham. The team has an option on Cunningham's contract for next season, worth 2.2 million. He's cheap, productive, hard-working and tough and there's absolutely no good reason why Minnesota shouldn't pick up that final year. Chase Budinger. The swingman will be an unrestricted free agent after this season. He hasn't exactly had much of a chance to prove himself to the league this season, though, having played in just 19 games due to a torn meniscus in November. That works in Minnesota's favor. Budinger is a favorite of Adelman's and exactly what the team needs, and it's hard to imagine a scenario in which the Timberwolves don't re-sign him or at least make a valiant attempt to do so. Andrei Kirilenko. He has a player option worth 10.2 million next season, and he's said he'd like to remain in the NBA. Kirilenko hasn't, however, said whether the Timberwolves are his ideal destination, though he's admitted to being happy in Minnesota at times despite the frustrating season. Whether the small forward remains with the Timberwolves will come down to whether he thinks he can test the market and make more than 10.2 million, which after a somewhat injury-plagued second-half of the season might not happen. He's a big enough name around the league, but at 32 he's somewhat past his prime, and a return to the Timberwolves at that 10.2 million price seems decently likely. Nikola Pekovic. The center is a restricted free agent at the end of the season. I've written extensively as to why the team should re-sign him, and I stand by that. TOTAL SALARY CAP HIT: 14.4 million, plus whatever Pekovic and Budinger will command COULD BE BACK Mickael Gelabale and Chris Johnson. There were rumors when the team signed the two this winter after two 10-day contracts apiece that one or both was actually under contract for more than just the rest of the season, but nothing has been substantiated. Both the swingman (Gelabale) and the big man (Johnson) have been serviceable in terms of being the last player on the bench, but whether they return will depend largely on the team's personnel needs. WON'T BE BACK Brandon Roy. After this season's failed attempt at a comeback from knee issues that forced his early retirement, Roy's career is likely over, and the Timberwolves won't owe him anything. Anyone with a rudimentary grasp on math and the NBA collective bargaining agreement will notice one thing after reading this: Before adding in the contracts of Pekovic and Budinger, the Timberwolves are already on the hook for 53.88 million. That's not too far from the current salary cap of 58.044 million (next year's number has not yet been released), so in order to keep who they want to keep, the team will have to do some finagling and likely make a trade or two to deal players currently under contract. Keeping Pekovic will likely involve the most hours of checkbook balancing, but it's doable if the team can manage to settle on the right cuts and sacrifices. Follow Joan Niesen on Twitter.
Original Story:
http://www.foxsportsnorth.com/nba/min...
THE BACKYARD
BEST OF MAXIM
RELATED ARTICLES
MINNEAPOLIS The Timberwolves announced Wednesday evening that Kevin Love underwent successful arthroscopy on his left knee earlier in the day. The surgery, performed by Dr. David Altchek at the Hospital for Special Surgery in New York, was to remove a buildup of scar tissue in the joint, and a typical recovery time is between four and six weeks. Doctors also removed the metal plate...
There were some highlights for the Minnesota Timberwolves this year, as Ricky Rubio came back and proved that he still has his magic, Nikola Pekovic has become a true franchise center and Derrick Williams proved that he is no bust and could be excellent trade fodder, but when it comes to Kevin Love, it was a total failure. Their franchise player, only played in 18 contests, broke...
The basketball gods have dealt Brandon Roy a terrible hand.  While you have some guys in the league who don't truly appreciate the privilege they've been blessed with, Roy has had his all-star career interrupted by chronic knee issues. Roy who signed a free agent deal with the Timberwolves in the off-season, was hoping to resume his high level of play. Roy played in the first...
Minnesota Timberwolves veteran Brandon Roy told Ric Bucherof CSN Bay Area that he hopes to play in one more game this season.Roy didn't expect to suit up last night against the Los Angeles Clipper, and the veteran also doesn't figure on seeing the floor Friday in Utah against the Jazz. However, Roy does want to get on the court again this season, and he's hoping it will be...
Brandon Roy has played just five games this season, but despite saying he was at a "crossroads in his career" earlier this season after a setback in his knee rehab, the injury plagued sixth-year guard reportedly hopes to continue his career, whether it's in Minnesota or elsewhere. Roy hopes to play in one of the team's remaining home games, either April 13 or April 15 –...
If my coach trained me to practice and read minds like Ricky Rubio's did. I would probably be a flamboyant Spanish point guard playing in the league, possessing great facial hair with [...]
NORTHRIDGE, Calif. -- Whatever you think you know about Cal State Northridge basketball, new head coach Reggie Theus wants you to forget about it. The commuter campus in the Valley that has never been known as a sports powerhouse is getting a makeover by one of the areas homegrown basketball talents. Theus, the Inglewood native who played 12 seasons in the NBA, is tasked with bringing...
Brandon Roy is traveling with the Timberwolves and still hopes to play at least one game this season.
I talk about this all the time but I really feel sports fans have a tendency to forget history. The Portland Trail Blazers had the potential to be great had the potential to be great had injuries not cut short the careers of Brandon Roy and Greg Oden. Remember this? Portland had a potential trio [...]
Timberwolves News

Delivered to your inbox

You'll also receive Yardbarker's daily Top 10, featuring the best sports stories from around the web. Customize your newsletter to get articles on your favorite sports and teams. And the best part? It's free!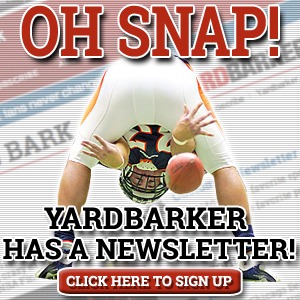 Latest Rumors
The Backyard

Today's Best Stuff

For Bloggers

Join the Yardbarker Network for more promotion, traffic, and money.

Company Info

Help

What is Yardbarker?

Yardbarker is the largest network of sports blogs and pro athlete blogs on the web. This site is the hub of the Yardbarker Network, where our editors and algorithms curate the best sports content from our network and beyond.