Found September 13, 2012 on Fox Sports North:
MINNEAPOLIS Beads of sweat. Gym shorts. A basketball and some teammates.All of this, Brandon Roy for years took for granted. All of this was once the mainstay of his daily routine, but now, just nine months after the shooting guard was amnestied by the Trail Blazers, it's once again novel.Look how he runs! Look how he shoots! Look how he simply exists, here, in a Timberwolves uniform of all things!The excitement is the easy part, but even it is complex. Tied up in the excitement are too many questions, too many doubts and hypotheses, and the worst part is that none will be resolved anytime soon.The Brandon Roy era has dawned in Minnesota he worked out in front of reporters Thursday -- and in its early days, it's looking more and more like a case of he said, he said.There's Roy, confident and excited, never once mentioning the word "retirement." It's as if he's coming back from an injury, not a lack of cartilage in his knees that was widely accepted as career-ending just months ago."I have confidence that I'm going to be ready to go," he said. "Like I said, I've been working really hard this summer. I've had stretches where I would go twice a day for a week just for some pounding on my body, (to) see how it feels. And every time I've responded well. No, I'm not cautious about anything."And then there's Shawn Respert, the Timberwolves player development coach who's been working the most with Roy since he arrived in Minneapolis several weeks ago. Respert knows about trying to defy the body's physical limits he battled stomach cancer during his short NBA career and a decade and a half later, it's his job to pace the eager Roy.Respert said he absolutely has to hold Roy back. He has to assure the 28-year-old three-time All-Star that there's no need to prove the things he could do in Portland to the Timberwolves. They've seen his talent firsthand, and though they'd love a return to that state more than anything, they're realistic. Right now, Roy does not need to show he's a superstar. He just needs to get into fighting shape."He still has that pop in his step," Respert said. "The idea now is to build on the endurance of that pop. Maybe it lasts about five or 10 minutes, and ideally we'd like to get him through training camp where he can go a good 20 minutes Then we know we've got him in a healthy enough situation where he can go out there and play without overdoing it." For the next few weeks and even months, Roy will insist he's great. He'll sweat and run and lift. He'll keep insisting, like he did Thursday, that he doesn't want restrictions, that he should be allowed to go all out, every second, as if the past few years never happened. The Timberwolves, for their part, will push back. They'll quietly restrict as much as they see fit. They'll temper both the expectations and the intensity. They want the best Brandon Roy can offer, a competent wing player who can shoot well and close out games. He wants the best he's ever been, the player who averaged 22.6 points and 4.7 rebounds per game in 2008-09. The difference between those two desires is where things get tough, and where along that spectrum Roy will fall remains to be seen.But in the midst of so much uncertainty, truths remain. All are encouraging. There are the details of Roy's workouts, the fact that he's back in the weight room for the first time in months, strengthening his quads and calves to lessen the wear on those two infamous knees. There's his adjustment to the Timberwolves, the fact that he arrived in Minnesota early and is acclimating once again to playing with teammates rather than simply working out.And, most important of all, there's his attitude.Roy's individual outlook, the same dogged persistence that can sometimes cause coaches to hold him back, is still one of his greatest upsides. No matter that it might come across as overenthusiasm; Respert said he's grateful Roy has that ability to be a self-starter. That's the kind of attitude the team must hope will carry over in the locker room, especially after last season, when motivation was such an issue.That attitude goes beyond just Roy's treatment of his own play. It colors his relationship with teammates and his perception of the game. Health aside, this is the kind of player every team covets, with a level head and a team-first view.On Tuesday, Roy met Ricky Rubio before the point guard traveled to Vail, Colo., for a doctor's appointment. They chatted, and Roy offered some advice. He remembered his past teammates in Portland whom he felt had rushed back too quickly from injuries, and he told Rubio not to push himself too hard."I told him to, you know, take his time getting healthy," Roy said. "We'll do our best to hold the fort down. We don't want him feeling like he has to rush."Roy is already invested in this new team, already dispensing sound advice and transitioning into some kind of a leader. Now, the trick will be for Roy to take his own advice. It's so easy to see the risks for others, but the competitiveness and ambition that are implicitly a part of sport can blind players to their own well-being. There's no doubt Roy is mature, intelligent, experienced. Now, he has to treat his own transition with the same care and neutrality as he would his teammates' issues.Free agent forward-center Anthony Tolliver was also present at Roy's Thursday workout, and he's been training with him since he arrived in Minneapolis. It's finally normal to see Roy in a Timberwolves uniform, Tolliver said, and he's had an up-close look at the shooting guard's progress."Brandon's Brandon," Tolliver said. "He's a heck of a player. It's a good risk to take, whenever you're dealing with somebody at that level, that talent. A lot of teams were shying away from (him), but I think they made a good decision taking a risk on him."Brandon's Brandon. It's vague, maybe frustrating, but perfect. There's no use calling Brandon Roy anything yet, not until the he and his new team get some grasp on what kind of player he can be. At some point, Roy can be a sure thing rather than a risk. But not now. Not yet.Follow Joan Niesen on Twitter.
Original Story:
http://www.foxsportsnorth.com/09/13/1...
THE BACKYARD
BEST OF MAXIM
RELATED ARTICLES
Brandon Roy says he has not had any setbacks with his troublesome knees as he starts ramping up workouts to prepare for Minnesota Timberwolves training camp. Roy worked out with several of his new teammates Thursday and says his body feels better than it has in years. The former Portland Trail Blazers All-Star had his contract cleared through the amnesty clause before last season...
When Brandon Roy and the Minnesota Timberwolves reached a verbal agreement back in early July that the all-star guard would return to the game after spending last season in retirement mode, many pundits around the league wondered what Roy would look like once he got back on the court. After five seasons in the league and the chronic knee problems, there still are a lot...
It's been more than a year since Ricky Rubio signed with the Minnesota Timberwolves and began the evolution from European teen sensation to NBA star. After his abbreviated season in which he established himself as one of the best rookies in the league, it's easy to forget that across the Atlantic, the 21-year-old Rubio is still something more than a basketball player. He...
Andrei Kirilenko and Alexey Shved have been basking in the success of Russia's bronze medal in the Olympics just about long enough. They both say they're ready to come to Minnesota to join the Timberwolves. Kirilenko and Shved both signed with the Wolves in the offseason. They teamed up on the Russian team that captured bronze in London and will be headed to Minnesota in...
MINNEAPOLIS Seven pounds looked like a lot more on Nikola Pekovic.You wouldn't think that losing so little weight off a 300-pound frame would amount to much, but the Pekovic who worked out at the Timberwolves' practice facility on Thursday boasted a dramatically altered frame. It likely appeared to be more weight than it was because of the amount of muscle the center added...
GAME WITHIN A GAME
Minnesota Timberwolves PG Ricky Rubio tore the anterior cruciate ligament in his left knee back in March, causing the onslaught of out-of-nowhere T-Wolves viral videos to slow to a crawl. The good news today is twofold — Rubio is targeting a December return from injury, and he's already started working on those viral videos. His first effort: playing the classic vertical...
Everyone's favorite Spanish superstar, Ricky Rubio, played 'Connect Four' with basketballs on the Spanish talk show El Hormiguero. Check out the video in all its awesomeness below: The video is in Spanish and I can't understand a lick of what they are saying, but it speaks for itself. And lol at the host's terrible strategy with his second...
Over the years, we posted some pretty classic videos featuring NBA players but this one featuring Minnesota Timberwolves guard Ricky Rubio might be one of the best.Ricky was recently on a Spanish talk show and got the chance to play a game of Connect Four basketball with the host.Check it out all the amazing Connect Four action in the below video:(Courtesy of Slam Online)
William Buford most recently played for the Minnesota Timberwolves at the Las Vegas summer league.
I hate to put an NBA offseason review up right when football is starting and the baseball playoffs are right around the corner. The fact of the matter is; not many people give a rat's ass about the NBA right now. However, as well-rounded sports aficionados it's important to be well-versed in all arenas. This morning we're going to take a 20-second timeout and look at the five...
Herald  Wolves' Brandon Roy: 'So far I haven't had any setbacks' Lakers say Dwight Howard won't be ready for start of camp Globe  Roster focus: Jason Collins Celtics Green  Celtics Invite Rob Kurz to Training Camp NBA Interview with Bill Russell on His Health, the Olympics and Today's NBA Player Profiles - Fab Melo Celtics Life Video: Rajon Rondo "Glad You...
NBA News

Delivered to your inbox

You'll also receive Yardbarker's daily Top 10, featuring the best sports stories from around the web. Customize your newsletter to get articles on your favorite sports and teams. And the best part? It's free!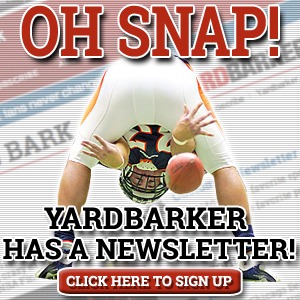 Latest Rumors
The Backyard

Today's Best Stuff

For Bloggers

Join the Yardbarker Network for more promotion, traffic, and money.

Company Info

Help

What is Yardbarker?

Yardbarker is the largest network of sports blogs and pro athlete blogs on the web. This site is the hub of the Yardbarker Network, where our editors and algorithms curate the best sports content from our network and beyond.