Found April 02, 2012 on Project Spurs:
Recently retired San Antonio Spurs point guard T.J. Ford is always going to have his list of "what if's." What if he hadn't gotten badly injured in his rookie season? What if he had been able to play out his full career without the constant fear of permanent paralysis? What if he had reached his full potential? What would that have looked like for Ford? If you ask him, he'll tell you he wouldn't have disappointed. "If not for injuries, of course I felt like I would have been one of the dominant guys in the NBA, one of the elite point guards," Ford said. "I never actually got to the full potential." Of course, we'll never know, but I like to think he's right. Watching him play at Texas, I knew T.J. was something special. He had a determination and knack for the game that was undeniable. I really think he would have matured into one of the best in the game if he hadn't been almost paralyzed during a collision his rookie year. He tried as hard as he could to play with his injuries, but it was clear he never made it to the level he was capable of. Defying the odds and going against doctors' orders, he continued to give his best, but it was only good enough to be a backup in this league. Even with all the "what if's," I Ford made the right decision to retire. He has other things to worry about besides his legacy as a basketball player. Rather than risk paralysis and continue to play in the NBA, he can play with his son and start training him to be the next great point guard instead.
Original Story:
http://www.projectspurs.com/2012-arti...
THE BACKYARD
BEST OF MAXIM
RELATED ARTICLES
After he won his second consecutive MVP, people started talking about where San Antonio Spurs' Tim Duncan stood in the pantheon of greatest power forwards ever.  Then a lot of people started calling him the greatest power forward ever after he won his third NBA title and third Finals MVP trophy in 2005 by taking down then Detroit Pistons' Ben and Rasheed Wallace at the peak...
Leading the Spurs to a 12-3 record in March, which includes the San Antonio Spurs' current seven-game win streak, will definitely get you some recognition. Today, the NBA named Spurs coach Gregg Popovich the Western Conference Coach of the Month for the second consecutive month. During the month, the Spurs ranked first with 107.1 points per game, nearly six points above their...
Picking up a player this late in the season to help with the playoffs seems kind of pointless. No matter how talented, you can't just stick a guy on the court, point him to the hoop and say "go!" Luckily, the San Antonio Spurs know what they're doing. When they signed Australian point guard Patrick Mills, they got someone who could fit right in. One of the Spurs' assistant...
When you talk about San Antonio Spurs forward Tim Duncan, you automatically think of the greatest power forward to ever play the game. You think of the guy who has never been about the spotlight, never been the flashiest player, and is even sometimes regarded as "boring."  Duncan is called the selfless superstar who will think "team" before "individual" in all cases...
As every hardcore Patty Mills fan knows, the speedy Aussie point guard has joined the San Antonio Spurs on a two year deal, after some visa wranglings were eschewed out of the way. Project Spurs, the best place to go for all news related to Mr Robinson's Neighbourhood, today has a short piece with video news footage of Patty settling in to San An.
Against the Indiana Pacers, the San Antonio Spurs worse their throwback Dallas Chaparrals jerseys and thanks to Tim Duncan, the team took the retro look a step further. Duncan got the entire team to wear knee high socks against the Pacers and while some players enjoyed the look, Popovich thought the look was ridiculous and Stephen Jackson felt it added to team unity but it was his...
If you look at most NBA teams, you might find a connection to the San Antonio Spurs. New Orleans has Monty Williams who played and served as a coach for the Spurs, Oklahoma has Sam Presti as GM, who also served time with the Spurs' front office, and Avery Johnson, who played for San Antonio, is now leading the ship for New Jersey. The list seems to go on-and-on and according...
Saturday evening was a normally scheduled game for the San Antonio Spurs, as they would face and defeat the Indiana Pacers. But before the game, there was an underlying story apart from the game itself. In what was one of the most difficult moves in franchise history, the Spurs traded guard George Hill to his home state of Indiana for the rights to rookie Kawhi Leonard and euro...
There's no easy way to say this, but the San Antonio Spurs are just better. The execution is unbelievable. The Pacers should take a page or two out of their book because it's the type of team they should be aiming to be. Shame Geoge Hill didn't explode in his return. I still wonder what might have happened had the Pacers drafted Tony Parker instead of Jamal Tinsley (who...
Tomorrow night, the San Antonio Spurs will face the Cleveland Cavaliers and could face a Cavs team without star rookie Kyrie Irving. Irving did not take part in any contact drills in a Cavs' practice recently, due to a sprained shoulder. Irving wore an elastic brace Monday on his right shoulder, which he injured in Friday's loss to Milwaukee. The NBA's presumptive...
I've got good news and bad news. The good news is that Kyrie Irving will be back in the starting lineup for the Cleveland Cavaliers (17-33, 12th in the East) tonight. The bad news is the Cavaliers are playing the San Antonio Spurs (36-14, 2nd in the East). It's funny that the Spurs can continue to fly under everyone's radar. Hardly anyone seems to be talking about them or taking...
"We shot a good percentage, but we couldn't stop their offense." Said Danny Granger of the Indiana Pacers after the Pacers were defeated 112-103 by the San Antonio Spurs in San Antonio on Saturday evening. "We would get a stop," said Granger (23 points) after the game, "then they would execute and get a good look, that's why they're so good at home." Granger...
Spurs News

Delivered to your inbox

You'll also receive Yardbarker's daily Top 10, featuring the best sports stories from around the web. Customize your newsletter to get articles on your favorite sports and teams. And the best part? It's free!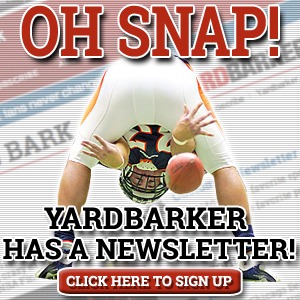 Latest Rumors
Best of Yardbarker

Today's Best Stuff

For Bloggers

Join the Yardbarker Network for more promotion, traffic, and money.

Company Info

Help

What is Yardbarker?

Yardbarker is the largest network of sports blogs and pro athlete blogs on the web. This site is the hub of the Yardbarker Network, where our editors and algorithms curate the best sports content from our network and beyond.