Found April 18, 2012 on PWS Entertainment:
– TNA has announced the following special through ImpactWrestling.com, giving fans a way to save on tickets to events this weekend…
SPECIAL TICKET OFFICER JUST ANNOUNCED: To quote Lebron James, this weekend TNA takes our talent to the South Beach area with huge live events on Friday in Ft. Lauderdale, Florida and Saturday in Estero, Florida! As a SPECIAL OFFER to our South Florida sports fans, GET $10 OFF select tickets to both events by wearing a Dolphins, Marlins or Heat jersey/shirt! (Anytime before each event, just show up to the arena box office wearing a Dolphins, Marlins or Heat team jersey or shirt and get $10 OFF your tickets! Offer does not apply to previously purchased tickets)
– TNA announced today that they have made a deal with Orange Sport, which will bring TNA IMPACT Wrestling to Poland for the first time ever. Here is the official announcement…
TNA IMPACT WRESTLING is proud to announce a deal with Orange Sport that sees the world's most innovative experience in professional wrestling broadcast in Poland for the first time ever.
Flagship show "IMPACT WRESTLING" premieres every Tuesday night at 21:10 on the channel, with reruns on Wednesdays at 23:00, Thursdays at 10:15 and Fridays at 18:15. The move brings superstars including Hulk Hogan, Ric Flair, Sting, Kurt Angle, Jeff Hardy and TNA World Heavyweight Champion Bobby Roode into 4.5 million Polish homes.
TNA IMPACT WRESTLING joins other first class properties on Orange Sport, including premium football, boxing and MMA events.
TNA Executive Vice President Andy Barton said: "We are delighted to bring TNA IMPACT WRESTLING to Poland for the first time in the 10 year history of our company.
"Orange Sport is one of the major networks in the country and the perfect partner for our continued expansion."
Orange Sport Chief Director Maja Porczyńska added: "Orange Sport strives to meet the expectations of our viewers, who demand content of the very highest level.
"That is why we are excited about the co-operation with TNA IMPACT WRESTLING.
"Wrestling fans in Poland are already very positive about TNA and we can't wait for our viewers to tune in and have the same response."
TNA IMPACT WRESTLING is broadcast in more than 120 countries worldwide, including Britain, Ireland, Germany, France, Australia, New Zealand, South Africa and Israel.
Orange Sport can be found on satellite (Cyfra+ ch 125; n ch 120; cyfrowy polsat ch 20; TP ch 5) and cable (Multimedia ch 313; toya ch 415; inea ch 168; Vectra ch 219) across Poland.
For more information, visit www.orange.pl/Orange-sport.phtml
Original Story:
http://www.wzronline.com/wrestling-ne...
THE BACKYARD
BEST OF MAXIM
RELATED ARTICLES
Lebron James had the pleasure to meet Jay-Z's nephew Monday night before the Miami Heat-New Jersey Nets match-up in New Jersey.After his commanding win over the Nets, James gave Jay-Z's nephew -- Julez -- headband, wristband, pads and sneakers. James basically left the court half naked.
Last night, Miami Heat star Lebron James scored the last 17 points to beat the New Jersey Nets and after the game, he helped introduce Heat guard Norris Cole to rapper Jay-Z.After introducing the two, James gave a high-five to Jay Z's nephew and also decided to give him his headband.Lebron decided to put it on his head but accidentally placed the sweaty band over his eyes:(Courtesy...
LeBron James scored Miami's final 17 points in a furious one-man rally, finishing with 37 as the Heat pulled out a 101-98 victory over the New Jersey Nets on Monday night. In a game the Heat never led until the final 51 seconds, James willed them to their 10th straight victory over the Nets. With Dwyane Wade resting, James scored those 17 points over the last 4:48. Chris Bosh...
As we quickly approach the NBA playoffs, it's about time to focus on what's really important. Of course we're talking about the Cheerleaders of the NBA Playoffs. And as much as people hate Lebron James & Co., there is no doubt that the Miami Heat Dancers are some of hottest cheerleaders in all of professional sports. Drawing off the immense talent walking around South...
Tune into Sun Sports at 7 p.m. to watch the Miami Heat take on the Toronto Raptors. NBA Heat territory. Despite the constant uncertainty of Dwyane Wade's health, LeBron James has helped the Miami Heat remain in contention for the Eastern Conference's top seed. The Heat haven't had much trouble with the Toronto Raptors in recent years no matter who has been in the lineup...
MIAMI-- Erik Spoesltra obviously has nothing against Miami fans. Not even the guy who shows up every game dressed as a banana. The Heat coach loves the homecourt advantage his team has at AmericanAirlines Arena, where it is 26-4 this season. But Spoelstra would rather not be in Miami on Thursday night. "We would probably prefer this one was on the road again and have that...
LeBron James scored the Miami Heat's final 17 points giving his team a 101-98 victory over the New Jersey Nets as the entire arena serenaded the forward with chats of 'Let's Go Heat' and 'MVP.' Only problem was . . . the game was being played on the Nets home court. While James had his way with the Nets down the stretch, the home town crowd at Prudential...
LeBron James led the way with 27 points and 11 rebounds as the host Miami Heat pulled to within a game and a half of Chicago for the top spot in the Eastern Conference with an 83-72 victory over the Bulls. Dwyane Wade returned to the lineup and put up 18 points and five assists while Mario Chalmers scored 16 points for the Heat, who were without Chris Bosh. Derrick Rose did not...
The NBA MVP debate has heated up, then cooled down. Then it heated up again, and then it cooled down, again. It seems that the MVP has come down to two players: Miami Heat forward LeBron James and Oklahoma City Thunder forward Kevin Durant. Durant also has an argument for the award. He is averaging 27.8 ppg and 8 rpg. While he doesn't boast the same assists per game like LeBron...
By Payton Wales Jumping right into the news today. *** Lebron James says winning a third MVP would "mean a lot." It would also mean nothing. As a matter of fact, it would almost be detrimental to his legacy at this point if he won but didn't get a title. It would be more detrimental to the shine of his present-day legacy to get that third MVP. He needs a title...
Heat News

Delivered to your inbox

You'll also receive Yardbarker's daily Top 10, featuring the best sports stories from around the web. Customize your newsletter to get articles on your favorite sports and teams. And the best part? It's free!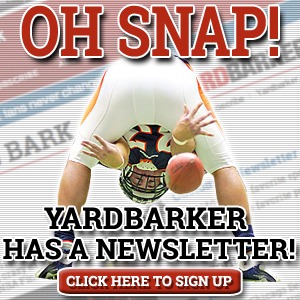 Latest Rumors
The Backyard

Today's Best Stuff

For Bloggers

Join the Yardbarker Network for more promotion, traffic, and money.

Company Info

Help

What is Yardbarker?

Yardbarker is the largest network of sports blogs and pro athlete blogs on the web. This site is the hub of the Yardbarker Network, where our editors and algorithms curate the best sports content from our network and beyond.