Found October 22, 2012 on Give Me The Rock:
PLAYERS:
Kevin Love
,
LaMarcus Aldridge
,
Brandon Roy
,
Greg Oden
,
Josh Smith
,
Al Horford
,
Pau Gasol
,
Serge Ibaka
,
Dwight Howard
,
Andrew Bynum
,
Scott Brooks
,
Nick Collison
,
Paul Millsap
,
Derrick Favors
,
Ryan Anderson
,
Al-Farouq Aminu
,
David Lee
,
Andrew Bogut
,
Blake Griffin
,
Dirk Nowitzki
,
Elton Brand
,
Chris Bosh
,
Anthony Davis
,
Zach Randolph
,
Andrea Bargnani
,
Brook Lopez
,
Kenneth Faried
,
Carlos Boozer
,
Ersan Ilyasova
,
Drew Gooden
,
Samuel Dalembert
,
Amare Stoudemire
,
Carmelo Anthony
,
Steve Nash
,
Tyson Chandler
,
Tim Duncan
,
Kris Humphries
,
Wilt Chamberlain
,
Thaddeus Young
,
David West
,
Luis Scola
,
Spencer Hawes
,
Tristan Thompson
,
Al Harrington
,
Jason Thompson
,
Glen Davis
,
Taj Gibson
,
Byron Mullens
,
Andray Blatche
,
Brandon Bass
,
Markieff Morris
TEAMS:
Minnesota Timberwolves
,
Portland Trail Blazers
,
Atlanta Hawks
,
Los Angeles Lakers
,
Oklahoma City Thunder
,
Philadelphia 76ers
,
Utah Jazz
,
New Orleans Pelicans
,
Golden State Warriors
,
Los Angeles Clippers
,
Dallas Mavericks
,
Miami Heat
,
Memphis Grizzlies
,
Toronto Raptors
,
Brooklyn Nets
,
Denver Nuggets
,
Chicago Bulls
,
Milwaukee Bucks
,
New York Knicks
,
San Antonio Spurs
,
Indiana Pacers
,
Phoenix Suns
,
Cleveland Cavaliers
,
Orlando Magic
,
Sacramento Kings
,
Charlotte Hornets
,
Boston Celtics
Power forward is arguably the deepest position in the league. This year, 35 power forwards might actually get drafted in many leagues. But don't take my word for it, let's jump right in… Tier 1: Give Them a Hand 1. Kevin Love (4), Minnesota Timberwolves We assumed that Love was an unstoppable force in fantasy leagues, turns out all it took was a few pushups to set him back. Yes, Love is expected to miss the first 4 to 6 weeks of the season after breaking a bone in his hand while doing knuckle pushups this past week. Still, I've argued that even with that setback, Love is still worth the fourth pick in most drafts simply because he is so much better than just about every other player in the league. Love's unique combination of points, boards and nearly 2 threes per game makes him an ideal candidate for just about any fantasy team really, but especially anchoring a small ball team still interested in winning the rebounding category or a team simply looking to ignore blocks. His one (significant) downside is that he hasn't exactly been the most durable guy over his career so far, missing 32 games combined over the last three seasons and with more missed games to come once the season starts. *** 2. LaMarcus Aldridge (7), Portland Trail Blazers There is no shame in being the second best power forward in the league, especially when your the one who still has two good hands. Given the unfortunate history of Brandon Roy and Greg Oden, at least Aldridge worked out for Portland. Now he's the foundation of the Blazers, averaging 22 points and 8 boards a game last season with great percentages for a big man. Yeah, it'd be nice to see the blocks over 1 a game again, but Aldridge strikes a nice balance between established performance and potential upside that is missing from a lot of the other first round picks this year. 3. Josh Smith (9), Atlanta Hawks Wait, didn't I already talk about Smith in the Small Forward tier? Isn't that cheating? Based on what we've seen in the preseason, it appears that the Hawks are going to use Smith at PF and Al Horford at center, which really isn't a surprise and is something we should have assumed from the beginning. Honestly, I just wanted to get out of writing about another player. Tier 2: Size in the Second 4. Pau Gasol (14), Los Angeles Lakers It's easy to forget about the 32-year old in drafts because we've all pretty much taken a spin with Gasol at this point, and while you can count on him to deliver 18 and 10 with 1.5 blocks a game, he definitely lacks the drool inducing upside of someone like Serge Ibaka. The effect that Dwight Howard will have on Gasol is also unknown, although both he and Andrew Bynum averaged almost exactly the same number of FGA last season (13.4 to 13.3), so he might just have no effect on Gasol offensively. In fact, you could argue that Gasol and Nash are actually the team's best offensive paring for their ability to run the pick and roll. Although with Kobe and Howard, Gasol will probably end up as the team's third option on offense. One final word of warning: Howard also averaged 14.5 boards last season to Bynum's 11.8, so it's likely that Gasol's rebounding numbers are pushed below 10 a game. 5. Serge Ibaka (16), Oklahoma City Thunder No one in drafts is riding higher off the "what could be" factor than Ibaka. Despite averaging only 27 minutes a game last season, Ibaka lead the league with an insane 3.7 blocks per game, adding a somewhat less impressive 9.1 points and 7.5 rebounds. What could Ibaka do in 32 or 35 minutes a game rather than 27? Well, that is in the hands of Thunder Coach Scott Brooks, who seems content to give significant minutes to Mr. Intangibles Nick Collison while keeping Ibaka under 30 a game. Either way, count on Ibaka being the best shot blocker in the league this year. 6. Paul Millsap (23), Utah Jazz Millsap is the Rodney Dangerfield of fantasy basketball, he seems to get no respect. Despite finishing last season #9 overall on the GMTR Player Rater by averaging 16.6 points, 8.8 rebounds, 1.8 steals, low turnovers and good percentages, he's been dropping into the fourth round of the drafts I've been participating in. I know that everyone loves Derrick Favors this year and he could end up taking the starting job away from Millsap either at the beginning of the season or during the year, but Millsap is simply too talented to let slide in drafts. Best case scenario, Millsap keeps his starting job and you can get a first round talent in the 4th; worst case he should at least come off the bench for 25-28 minutes a game and do just enough to be worth a fourth or fifth round pick. Tier 3: One Attractive Tier 7. Ryan Anderson (33), New Orleans Hornets Speaking of no respect, Anderson is currently going an average of #42 overall in Yahoo drafts after finishing last season #7 on the GMTR player rater and leading the league in three pointers made. While we can count all the reasons why Anderson probably won't be quite as good this season: 1) he'll no longer gain the benefits of being Dwight Howard wingman, 2) players who switch teams tend to have their fantasy decline slightly in general, and 3) he's been coming off the bench during the preseason behind Al-Farouq Aminu. If that keeps up during the season, he'll average less than last season's 32 minutes a game for sure. All of that said, Anderson is still going to hit a ton of threes whether starting or off the bench and will be a nice big man for a small ball team. If you can't (or don't want to) own Kevin Love this season, you can always take a ride with the poor man's version in Anderson. He should be off the board by the end of the fourth round. 8. David Lee (37), Golden State Warriors David Lee is basically a slightly less uber Kevin Love without the threes, but with two good hands, so that's a plus. Also a plus, Lee's girlfriend Sabina Gadecki, who can be in my binder any day of the week. Lee could flirt with 20 and 10 again this season – and always brings great percentages – making him a solid big man to build a good percentages team around. On the downside, he won't block many shots, plus a healthy Andrew Bogut could… ok, I'm going to stop myself right there. 9. Blake Griffin (40), Los Angeles Clippers It's important to separate out Blake Griffin the fantasy player from Griffin the NBA player. The latter is at the top of the list of guys who make your insides tingle with excitement when you watch them play (you have such a list, right?). That excitement carries over to fantasy leagues for many people, which is fine if you are a casual player, just know that he still has a few major flaws in his fantasy game. The most egregious of which being his free throw shooting. While not quite Dwight Howard-level bad, Griffin's 52% from the line on 7.1 attempts last season puts him second to only Howard in terms of EFG% futility. He also has tiny, dinosaur like arms, which prevent him from blocking as many shots as similar players. 20+ points and 11-12 rebounds a game has a lot of value even taking into account the negatives, but Griffin is one of those guys whose ADP tends to outpace his actual fantasy value. Tier 4: Upside and Downside 10. Dirk Nowitzki (46), Dallas Mavericks Dirk had a down year statistically last season, scoring the fewest PPG (21.6) since his second year in the league in 1999-00. His minutes were also down to 33 a game from his peak of around 37-38. And I still came in ready to defend him for fantasy purposes this year until his recent knee issues popped up during camp. Due to a buildup of fluid in his right knee, Dirk recently underwent arthroscopic surgery, which is expected to sideline him for the next 6 weeks. According to the Dallas Morning News, "If Nowitzki is out for the full six weeks, he would miss 16 regular-season games, returning on Dec. 1 at home against Detroit." That's good news primarily for Elton Brand, who should start at PF while Dirk is out. 11. Chris Bosh (49), Miami Heat I may have the nearly uncontrollable urge to slap Chris Bosh every time I see a picture of him, but that doesn't mean I can't also accept the fact that he's also a good basketball player. Yes, gone are the glory days in Toronto where Bosh could be counted on to average 24 and 10; he's now settled into his third banana role on the Heat, where he's more likely to average 18 and 8. But his percentages are still very good, which makes Bosh another good big man to build upon if you're hunting for percentages and makes a solid pick (although with lower upside than the next guy on the list) in the mid rounds. 12. Anthony Davis (53), New Orleans Hornets Here is what Nels wrote about Davis in our rookie analysis: "Anthony Davis will be thrust to the fore of New Orleans' lineup. But, even with big hunks of playing time coming his way, be careful with Davis for fantasy drafts. He's a shot-blocker and rebounder first and a scorer second. You'll probably get high single-digit rebounds and maybe two blocks a game, but Anthony only scored 14.2 points for Kentucky, so low double-digit scoring is probably where his potential tops out – at least for his rookie season." Davis has been slowly creeping up our ratings as other guys in the league start going down with injuries, to the point where we've got him as an early fifth round pick in non-keeper leagues. Best news of all for Davis is that reports from the preseason have been good, especially his offense which has been better than advertised and includes recent 22 and 19 point games. [Disclaimer - the preseason doesn't matter]. 13. Zach Randolph (54), Memphis Grizzlies Randolph is another guy who missed a huge chunk of time lasts season (due to an MCL tear). He was not the same after coming back last season, as the Grizzlies limited his minutes off the bench, resulting in a disappointing 11.6 points and 8 rebounds in 26 minutes a game. But now 10 months removed from his injury, Randolph has been looking good in camp and posed to go back to his 20 and 12 double-double ways. He's another one of the power forwards on this list who rebounds big and yet doesn't block shots. Still, make a point to try and grab Randolph in the mid rounds if he fits your team, as he could easily jump back to being a top 40 player and end up as one of the steals of the draft. 14. Andrea Bargnani (58), Toronto Raptors We haven't even made it through training camp yet and Bargnani already has a bruised calf. it's the same calf he injured multiple times last season, causing him to miss a total of 35 games. But don't worry, the Raptors say that it's not serious. Makes you feel better, right? Honestly, it doesn't appear to be serious. With all those missed games, it's easy to forget how good Bargnani can be when he's healthy – provided you don't want something silly out of the center position like rebounds. Yes, Bargnani has been the worst rebounding center in the league over the last few years (slightly worse than Brook Lopez) which the Raptors are remedying in a way by moving him to PF. That's actually a better fit for him, so it's easy to see him gong back to averaging 20 points and 1.5 threes a game again. The health is always a concern for Bargnani, which makes him a potential bargain (or bust) in the mid-rounds this season. Tier 5: When Manimals Attack 15. Kenneth Faried (63), Denver Nuggets It's easy to get excited about the Manimal after his strong rookie season in which he took over the starting PF spot after Nene was traded away from the Nuggets and averaged 10.2 points, 7.7 rebounds and 1.1 blocks in less than 23 minutes a game. It was good for #107 on the GMTR Player Rater overall for the season. And while the Nuggets are a deep team and Faried will likely have to complete for minutes alongside a number of the Nuggets big men, he enters complete beast mode when you project out his stats at 30 minutes a game: 14-15 points, 10 rebounds and 1.5 blocks per game. Faried has even more value in a league that counts double-doubles; and if you are looking for a PF in the mid rounds with true breakout potential this season, Faried is your man. 16. Carlos Boozer (67), Chicago Bulls Boozer has regressed each of his two seasons on the Bulls, to the point where he averaged a mere 15 points and 8.5 rebounds in 29.5 minutes a game last season. Not exactly the offensive machine the Bulls thought they were signing. But on the bright side, at least he didn't miss a game. With Rose out for an extended period, Boozer should be one of the major players in the Bulls offense; provided he's not amnestied first. We're projecting a slight improvement for Boozer over last season, but the days of 20 and 10 appear to be behind him at this point. 17. Ersan Ilyasova (68), Milwaukee Bucks Ilyasova was one of the big fantasy surprises last season, seemingly coming out of nowhere to average 8.8 rebounds in only 27.5 minutes a game (or about 11.5 rebounds per 36 minutes) and finish #46 on the GMTR Player Rater for the season. He comes from the long line of PFs who are going to hit more threes than block shots despite grabbing a lot of boards. Ilyasova will have to prove that last season wasn't a fluke while now competing for minutes against Drew Gooden (as the team traded for Samuel Dalembert during the offseason), but he'll be the starter and should have a strong follow-up season even if his rebounding rate declines a little bit this year. 18. Amare Stoudemire (70), New York Knicks News recently broke that Amare is going to miss 2-3 weeks and the start of the regular season because a benign cyst ruptured in his left knee; this drops him down a couple spots in our rankings. As noted in the SF tier, Stoudemire and Carmelo Anthony don't play well together on the basketball court. Stoudemire works best off the pick and roll, as seen from his days with Steve Nash in Phoenix. Melo on the other hand, is the most iso of the isolation guys. Adding Tyson Chandler to the mix didn't help Amare either, as it pushed him even further away from the basket and forced him to take more jump shots, not exactly what you want Amare Stoudemire to be doing in your offense. But Felton and Kidd should help this year, in that they are both veteran (and in Kidd's case extremely veteran) PGs who know how to run and offense and make sure Amare gets his. I think Amare owners would be happy with 20 and 8 with a block a game and a FG% that is on the good side of 50% again. Oh, and a set of knees that can make it through the entire season. 19. Tim Duncan (73), San Antonio Spurs "Do not go gentle into that good night / Old age should burn and rage at close of day / Rage, rage against the dying of the light." I am sorry to have to bring literature into this, but Duncan has been raging against the dying of the light late in his career. Yes, he's a long way off his peak, but last season Duncan actually had his stats improve ever so slightly to 15.4 points, 9.0 rebounds and 1.5 blocks a game. He's also been pretty damn healthy over the last few years as well. The now 36-year old Duncan still projects out at 14 points and over 8 rebounds a game assuming he has a normal age-related decline this season. We all know Duncan is old, but nothing in his recent history says not to give him a spin at least one more time. 20. Kris Humphries (77), Brooklyn Nets The return of Brook Lopez could have a negative impact on Humphries… well if Lopez actually rebounded basketballs. The Nets are a much different team heading into this season than they were last, and Humphries will likely find himself the fifth option on offense instead of second or third like he was most of last season. So expect his scoring to dip below the 13.8 he averaged last season, potentially into the single digits. But people don't draft Humphries expecting the second coming of Wilt Chamberlain (I assume), so as long as he can average over 10 boards a game, block shots and keep his turnovers low, fantasy owners will be happy and accept the low scoring numbers. Tier 5: Don't get too excited now 21. Thaddeus Young (83), Philadelphia 76ers 22. David West (91), Indiana Pacers 23. Luis Scola (99), Phoenix Suns Tier 6: It's all about the PT 24. Spencer Hawes (104), Philadelphia 76ers 25. Drew Gooden (116), Milwaukee Bucks 26. Derrick Favors (125), Utah Jazz Tier 7: One of these guys will be amazing this season 27. Tristan Thompson (137), Cleveland Cavaliers 28. Al Harrington (141), Orlando Magic 29. Jason Thompson (145), Sacramento Kings 30. Glen Davis (147), Orlando Magic 31. Taj Gibson (149), Chicago Bulls Tier 8: Where the Byron Mullens fan club will write GMTR some strongly worded letters 32. Andray Blatche (156), Brooklyn Nets 33. Brandon Bass (158), Boston Celtics 34. Byron Mullens (164), Charlotte Bobcats 35. Markieff Morris (169), Phoenix Suns Want to see your ad in the GMTR RSS feed? Contact: givemetherock@gmail.com
Original Story:
http://feedproxy.google.com/~r/GiveMe...
THE BACKYARD
BEST OF MAXIM
RELATED ARTICLES
  Here we all are looking at one of the glass half whatever moments.  Depending on what you've read, heard and seen on the Internet and beyond this past week, the Timberwolves are either facing utter disaster or a simple setback as a result of Kevin Love's injury.  But no matter which –ist you claim yourself to be there's no debating the impact of losing an All-Star...
MINNEAPOLIS Tomorrow marks a week, and we're still talking about it. Kevin's points. Kevin's rebounds. Replacing Kevin. We'll probably be talking about it for the next five to seven weeks, until Kevin Love returns. The Timberwolves aren't going to replace Love, not in a true sense. They're going to compensate as best they can without their star player,...
NBA News

Delivered to your inbox

You'll also receive Yardbarker's daily Top 10, featuring the best sports stories from around the web. Customize your newsletter to get articles on your favorite sports and teams. And the best part? It's free!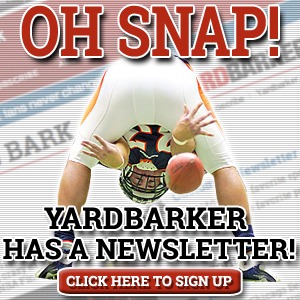 Latest Rumors
The Backyard

Today's Best Stuff

For Bloggers

Join the Yardbarker Network for more promotion, traffic, and money.

Company Info

Help

What is Yardbarker?

Yardbarker is the largest network of sports blogs and pro athlete blogs on the web. This site is the hub of the Yardbarker Network, where our editors and algorithms curate the best sports content from our network and beyond.