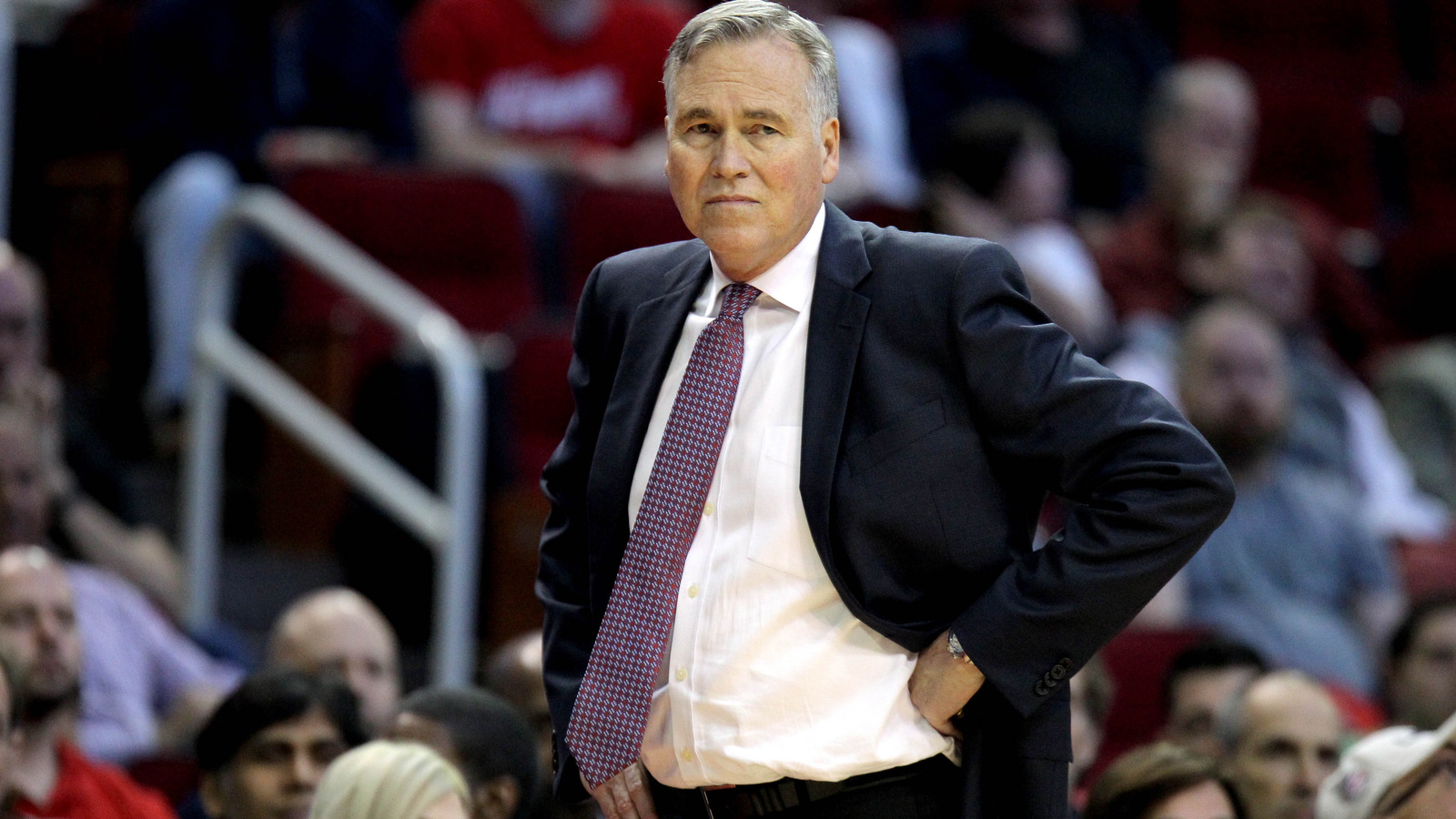 Mar 4, 2017; Houston, TX, USA; Houston Rockets head coach Mike D'Antoni observes action from the sidelines against the Memphis Grizzlies during the fourth quarter at Toyota Center
Erik Williams-USA TODAY Sports
Head coaches are probably the most criminally underappreciated component of the NBA experience.
Fail to make the playoffs and half your fanbase will be calling for you to be burned at the stake — guilty until proven innocent in the kangaroo court of public opinion. Be lucky enough to sip the sweet broth of the postseason, lead your team to a deep run, heck, even successfully steer them into Championship Lane, and still your triumphs will be discredited as a categorical byproduct of the talent on your depth chart. Job security is also notoriously poor (consider that Milwaukee Bucks coach Jason Kidd, a 43-year-old at his second head coaching stop, is already the second-longest tenured head coach in his division), and head coaches' values are too often reduced to some unholy amalgam of win-loss record, roster strength, effectiveness of late-game out-of-bounds plays, and overall ability to produce entertaining 140-character sound bites.
All of this is why the Coach of the Year Award is of the utmost importance. It's one of the precious few times that we, as a basketball society, acknowledge excellence from the suits and ties who somehow manage to sculpt a collection of dozen-plus sweaty, muscular alpha males into a cohesive hardwood stud.
Here's to power ranking the five who are most deserving of it this year.
5. David Fizdale, Memphis Grizzlies
Fizdale recently told his haters to kiss his asphalt, and the same goes for anybody who doubts the former Miami Heat assistant's candidacy for COTY honors this year. Just when we thought that the burly Memphis Dinosaurs were never going to modernize, out popped a Fizdale-shaped genie from the bottle of available head coaches, and the Grizz haven't looked back since.
Granted, Fizdale has still made it a point to uphold the undying zeitgeist of Grit 'N Grind in the state of Tennessee. But dare we say he's developed it into a more postmodern form of being? Suddenly, Marc Gasol is hoisting up 3.7 three-point attempts per game, Mike "Mad Money" Conley is zipping right past him with a borderline-reckless exemplar of the "shoot your shot" theorem at 5.8 attempts from deep a night, and Zach Randolph has morphed into the most intimidating sixth man in the history of Western society.
The tributes to the old regime remain detectable, whether it's defensive mercenaries like Andrew Harrison and Deyonta Davis training under the tutelage of Papa Tony Allen or a net pace that still ranks amongst the slowest in the Association (28th this season to be exact, per ESPN). But for a first-year head coach like Fizdale who has been shafted by Chandler Parsons' knees and the overall age of the roster, a 36-30 record and the seventh seed in the West is more than enough to at least merit consideration for top coaching honors.
4. Quin Snyder, Utah Jazz
He may be capable of to melting a quarter-sized hole through the very depths of your soul with the searing heat of his demented glare, but underneath Snyder's fearsome exterior lies quite a head coaching performance this season.
Not only are the Jazz on the verge of making the playoffs for just the second time in the post-Jerry Sloan era, but Snyder is presiding over a top-three unit on the year in terms of defensive rating (per NBA.com). Making a more concerted effort to funnel opposing ball-handlers into the waiting wings of the majestic French pterodactyl known as Rudy Gobert has been a recipe for supremacy on that side of the basketball. Ditto for increasing Dante Exum's workload as a perimeter defender in his second full NBA season.
Sailing hasn't always been smooth in the Beehive State as a number of starters and key rotation players (namely, George Hill, Rodney Hood, Alec Burks, and Derrick Favors) have combined to miss a titanic 101 games on the season so far. But by blowing pixie dust onto NBA afterthoughts like Joe Ingles and Shelvin Mack and by giving Gordon Hayward even more freedom to Rampage Jackson all over the league (Hayward's 27.4 percent usage rate this season is easily a career-high, per Basketball Reference), Snyder is cooking up a serious contender in the Jazz kitchen and should be thoroughly commended.
3. Scott Brooks, Washington Wizards
It was a cold spring night in late April when a hunched-over Rubeus Hagrid arrived at the Brooks family residence and declared to their bleary-eyed, pajama-laden patriarch, "You're a Wizard, Scotty." From that moment on, Scott Brooks made it his personal mission to rescue the Washington professional basketball team from countless years of toiling away alongside Muggles and return their names to the Goblet of Fire using the witchcraft of his in-game management and the wizardry of his player development skills.
At least that's what I'd like for Brooks' origin story as Wizards head coach to sound like. But either way, he's definitely been doing something right in his first season at the helm in the nation's capital.
Brooks' impact on Washington's young core has been quite tangible: Otto Porter Jr. finally looks like the mouth-watering 3-and-D talent who was selected No. 3 overall once upon a time, while Bradley Beal and John Wall are both shooting career-best percentages from the field. Meanwhile, Markieff Morris and Marcin Gortat have found enough real estate to peacefully co-exist in Brooks' spread pick-and-roll-based attack, and Washington's second unit upgrades at the deadline have helped Brooks piece together the third-highest scoring offense in the league since the All-Star break (per NBA.com).
As it stands right now, Washington is arguably the team best-equipped to go mano-a-mano with the defending champion Cleveland Cavaliers for a seven-game slugfest in the month of May. While Brooks has his shortcomings when it comes to postseason coaching (though he does have one NBA Finals appearance under his belt from his time in Oklahoma City), there's something to be said about getting the Wizards' arses to that point after they spent so many seasons imprisoned in the doldrums of Eastern Conference mediocrity.
2. Erik Spoelstra, Miami Heat
Simply put, no coach has done more with less since Patches O'Houlihan got the Average Joes to qualify for the Las Vegas Dodgeball Tournament of 2004.
The exit of franchise superhero Dwyane Wade, the unprecedented health situation of fellow Heatle Chris Bosh, and the less buzzed about but still impactful departures of Luol Deng and Joe Johnson in free agency left Heat management no choice but to whip up a roster mostly centered around rejected journeymen and memes (anybody still leasing property on Waiters Island?). "Give me your tired, your poor, your Luke Babbitts, and your James Johnsons," said an open-armed Pat Riley, leaving Spoelstra to figure out how to make due with this makeshift assemblage.
While the first half of the season went just about how you would expect (the Heat were 11-30 through their first 41 games and appeared to be shamelessly jockeying for pole position in the "Take The Fall For Lonzo Ball" movement), what Spoelstra has pulled off since then has been nothing short of a Festivus miracle.
Winners of 21 of their 26 games since, the Miami Mafia sits just one game out of the playoff picture in the Eastern Conference. Coach Spo has them taking and making threes at a franchise-record rate, moving the ball like the San Antonio Spurs on acid, and clawing out every defensive possession like their very survival as a species depended on it. He's turned Dion Waiters into literal Michael Jordan, has Goran Dragic looking like our Slovenian lord and savior once again, and affirmed once and for all that you don't need the Big Three when you have once-in-a-generation talents like Rodney McGruder and Wayne Ellington. Oh, and did I mention that he's done it without the team's top one-on-one defender in Justise Winslow (who was leading the team in minutes when he went down with a season-ending shoulder injury), as well as their starting power forward in (well Bosh but also) Josh McRoberts?
Build this man a statue outside of American Airlines Arena already.
1. Mike D'Antoni, Houston Rockets
If you're trying to pinpoint the exact moment that James Harden and Co. went from the Houston Rockets to the Houston Rocket Launchers, look no further than when they hired Mike D'Antoni as their head coach. The Pringles mustache may be history, but the gung-ho tempo and the three-point carpet bombings which have become D'Antoni's signature offensive features remain — only this time they've consumed all of the metaphorical steroids.
D'Antoni found perhaps the only general manager in the league crazy enough to let him turn his fever dream into a reality in Daryl Morey. Then, the pièce de résistance came when he found the perfect player to sit at the controls of his creation underneath the same roof in Harden. D'Antoni quickly christened The Bearded One as his full-time point guard, surrounded him with shooters on top of shooters, and, as they say, the rest was history.
The numbers are staggering: per ESPN, the Rockets are fourth in the NBA in pace, second in offensive efficiency, second in true shooting percentage, and are set to obliterate their own record set in 2014-15 for three-point attempts per game (32.7) by nearly 25 percent with an average of 40.6 (!!!) per game this season. It's half-playground, half-mad science experiment, but whatever the case, D'Antoni is determined to fire away until his clip is empty and then keep firing some more.
The result of all those strewn-about shell casings? The league's third-best record, a rock-solid MVP candidacy for Harden, and a remarkable, seemingly overnight turnaround from the Houston team that stumbled their way into the eighth seed on the final day of the regular season last year.
Will D'Antoni also have his second career Coach of the Year Award to show for it when it's all over, thus completing the greatest redemption story of our time after the copycat NBA hijacked all his offensive principles before throwing him to the curb? The basketball gods at least owe us that much.
PLAYERS:
Jason Kidd
,
David Fizdale
,
Marc Gasol
,
Zach Randolph
,
Deyonta Davis
,
Tony Allen
,
Chandler Parsons
,
Jerry Sloan
,
Rudy Gobert
,
Dante Exum
,
Joe Ingles
,
Rampage Jackson
,
Marcin Gortat
,
Erik Spoelstra
,
Dwyane Wade
,
Chris Bosh
,
Luol Deng
,
Goran Dragic
TEAMS:
Milwaukee Bucks
,
Memphis Grizzlies
,
Utah Jazz
,
Washington Wizards
,
Miami Heat
,
Chicago Bulls
,
Los Angeles Lakers
,
Cleveland Cavaliers
,
Houston Rockets
,
San Antonio Spurs
MORE FROM YARDBARKER
NBA News

Delivered to your inbox

You'll also receive Yardbarker's daily Top 10, featuring the best sports stories from around the web. Customize your newsletter to get articles on your favorite sports and teams. And the best part? It's free!