Found June 05, 2013 on Pass The Pill:
PLAYERS:
LeBron James
,
Carmelo Anthony
,
Dwyane Wade
,
Chris Bosh
,
Joe Dumars
,
Yao Ming
,
Caron Butler
,
Dajuan Wagner
,
Nikoloz Tskitishvili
,
Marcus Haislip
,
Brandon Roy
,
Tyrus Thomas
,
Andrea Bargnani
,
Rudy Gay
,
Kwame Brown
,
Eddy Curry
,
Eddie Griffin
,
DeSagana Diop
,
Pau Gasol
,
Richard Jefferson
,
Jonas Valanciunas
,
Jimmer Fredette
,
Bismack Biyombo
,
Jimmy Butler
,
Kenyon Martin
,
Jamal Crawford
,
Stromile Swift
,
Darius Miles
,
Marcus Fizer
,
Chris Mihm
,
Mark Madsen
,
Elton Brand
,
Kirk Hinrich
,
Ben Gordon
,
Derrick Rose
,
Joakim Noah
TEAMS:
Miami Heat
,
New York Knicks
,
Detroit Pistons
,
Houston Rockets
,
Los Angeles Clippers
,
Charlotte Hornets
,
Toronto Raptors
,
Philadelphia 76ers
,
Los Angeles Lakers
,
Golden State Warriors
,
Sacramento Kings
,
Chicago Bulls
,
Dallas Mavericks
The NBA lottery, otherwise known as the first 14 selections of the NBA Draft, can be feast or famine. Some years you can get lucky and have LeBron James, Carmelo Anthony, Dwyane Wade and Chris Bosh to choose from, while other years you may have a bunch of question marks and busts. But that's what makes the NBA draft lottery so interesting. The weight and pressure on a general manager's shoulders is extreme because if you fail to nail your lottery draft pick, you probably will be looking for a new job. Well, unless your name is Joe Dumars (see 2003 NBA Draft). Let's get to the list!   5.) 2002 NBA Draft (Lottery) The 2002 NBA Draft class was an unfortunate lottery class.  Yao Ming and Jay Williams were the top two picks and appeared to both be destined for great careers. However, a tragic motorcycle accident derailed Williams' career, and almost ended his life. Yao Ming on the other hand, had several productive seasons but ultimately had to retire early. Ming averaged 19ppg and 9.1rpg, but had several injury depleted seasons. In fact, after his third year in the league, Yao averaged 48 games a year before retiring after the 2010-2011 season due to a foot injury. Amar'e Stoudemire and Caron Butler both had successful careers, but the rest of the lottery class is filled with role players and busts. Dajuan Wagner, Nikoloz Tskitishvili, Melvin Eli, Marcus Haislip and Fred Jones are probably bagging groceries and Mike Dunleavy never lived up to his third overall draft selection. Nearly every player selected in this lottery has bounced around from team to team. Had Ming had not been injury prone and Williams  played a full career, this draft would have been pretty solid. Unfortunately this did not happen, thus this draft was among the worst of the 2000s.   4.) 2006 NBA Draft (Lottery) Recognize that guy holding the ball? The 2006 class showed promise when Brandon Roy appeared to be on his way to great career after a stellar first NBA season that saw him win Rookie of the Year. Then injures hit Roy hard, ultimately ending any chance of Roy becoming a great player. As for the man holding the ball in the picture, that would be two-time NBA champion Adam Morrison. Tyrus Thomas and Sheldon Williams were big-time busts as well. I suppose the jury is still out on Andrea Bargnani, although the bust-clock is ticking on him as well. The rest of the draft class is filled with role players and a overpaid swing man by the name of Rudy Gay. Oh, why did the injury bug have to hit Brandon Roy… 3.) 2001 NBA Draft (Lottery) When you think of the 2001 NBA Draft class, you think Kwame Brown. Then probably Eddy Curry. The class was filled with big men that didn't pan out. Eddie Griffin and DeSagana Diop can be added to the list. Pau Gasol and Tyson Chandler have had nice careers but the five other power forwards and centers selected certainly didn't live up to expectations. Joe Johnson, Jason Richardson and Richard Jefferson has solid careers but have bounced around the league. The rest of the lottery picks were role players and busts. Kwame Brown and Eddy Curry were two of the top four picks, that is never a good thing. With the way these lottery picks were paid, could this class have been a major reason for the last NBA lockout? 2.) 2011 NBA Draft (Lottery) The verdict is still out for the 2011 lottery draft class, but it's looking like it may be one of the biggest busts of the 2000s. Kyrie Irving is a stud, but still can't put together a full season without being injured. Derrick Williams appears to be a bust and Enes Kanter can't break 15 minutes a game. The wild card of the draft could be Jonas Valanciunas, who started to show promise this year.  The rest of the draft looks like role players, except for Klay Thompson. Players like Jimmer Fredette, Kemba Walker, Brandon Knight and Bismack Biyombo will never make an all-star team and the Morris brothers (Marcus, Markieff) will be rotation players at best. This is one of the few drafts that you could argue the second half of the draft (15-30) was better than the lottery picks. Players like Iman Shumpert, Kawhi Leonard, Nikola Vucevic, Tobias Harris, Kenneth Faried, MarShon Brooks, Jimmy Butler, Reggie Jackson and Norris Cole all appear to be heading to better careers than most of the lottery picks. 1.) 2000 NBA Draft (Lottery) The 2000 NBA Draft lottery class was absolutely terrible. Kenyon Martin has a solid career, as did Jamal Crawford. Outside of those two, the draft is littered with busts. Mike Miller has had an injury plagued career, but will probably go down as the third best lottery pick, which tells you all you need to know about the 2000 lottery class, which featured such forgettable players as Stromile Swift, Darius Miles, Marcus Fizer and Chris Mihm. On the bright side, this draft produced Mark Madsen, otherwise known as "The Mad Dog."  And that's pretty much where the good news ends. The Chicago Bulls had two picks in the top 10 (Fizer and Mihm), neither of whom has played since 2009. Talk about a terrible year to have multiple lottery picks. The Bulls seem to be blessed with acquiring lottery picks and finishing high in the NBA Draft since the end of the Michael Jordan era. Elton Brand, Eddy Curry, Tyson Chandler, Jay Williams, Kirk Hinrich, Ben Gordon, Tyrus Thomas, Derrick Rose, Marcus Fizer, Jamal Crawford (traded for Mihm) and Joakim Noah were all top 10 picks for Chicago. Holy smokes! One last note- I once did a "Top 10 NBA Draft busts of the 2000s" article. After scrolling up and down this putrid draft class, I could have saved time and just grabbed 10 of the 14 lottery selections of this draft class. The 2000 NBA draft class was truly awful and arguably the worst class in the modern NBA Draft history.     The post Top 5 worst NBA lottery draft classes of the 2000s appeared first on Pass The Pill - Kings of Hoops.
Original Story:
http://sports-kings.com/passthepill/t...
THE BACKYARD
BEST OF MAXIM
NBA News

Delivered to your inbox

You'll also receive Yardbarker's daily Top 10, featuring the best sports stories from around the web. Customize your newsletter to get articles on your favorite sports and teams. And the best part? It's free!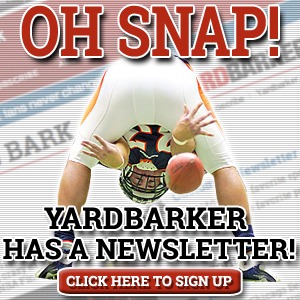 Latest Rumors
The Backyard

Today's Best Stuff

For Bloggers

Join the Yardbarker Network for more promotion, traffic, and money.

Company Info

Help

What is Yardbarker?

Yardbarker is the largest network of sports blogs and pro athlete blogs on the web. This site is the hub of the Yardbarker Network, where our editors and algorithms curate the best sports content from our network and beyond.