Posted January 11, 2012 on AP on Fox
PLAYERS:
Gerald Wallace
,
LaMarcus Aldridge
,
Chris Paul
,
Chauncey Billups
,
Caron Butler
,
Blake Griffin
,
Marcus Camby
,
Maurice Williams
,
Nicolas Batum
,
Raymond Felton
,
Vinny Del Negro
TEAMS:
Portland Trail Blazers
,
Los Angeles Clippers
,
Milwaukee Bucks
Gerald Wallace, whose nickname ''Crash'' usually defines his on-court demeanor, managed to crack a smile when fans at the Rose Garden began chanting his name in the third quarter of Portland's victory over the Los Angeles Clippers on Tuesday night. Wallace scored 20 points, making a key 3-pointer with two minutes left, and the Blazers won 105-97 to avenge a loss to the Clippers in Los Angeles on New Year's Day. Wallace was held scoreless in that game. ''I think we were more mentally ready for them'' he said. ''We felt like we just let the game in L.A. get away, so we wanted to come out and jump on them from the start.'' When the fans' chant was mentioned after the game, Wallace smiled again. ''They keep me amped,'' he said. LaMarcus Aldridge added 18 points and seven rebounds for the Blazers, who have not lost in six games at home this season. Wallace's 3-pointer put the Blazers ahead 99-90, but the Clippers narrowed it to 100-97 after Chris Paul made a layup and Chauncey Billups hit a jumper and a free throw with 25 seconds left. Portland made free throws the rest of the way to preserve the win. Portland has just two losses this season, including one to the Clippers at the Staples Center on Jan. 1. Caron Butler had 20 points for Los Angeles, which had its three-game winning streak snapped. Paul was limited by foul trouble, after collecting his fourth early in the third quarter, and finished with 11 points. ''It started with me,'' Paul said. ''I came out and wasn't aggressive enough and got some unfortunate calls that didn't go our way, got in foul trouble. ''But in the end we still had a chance, but we came up short.'' Blake Griffin, who had just four points after the first half, finished with 18 points and 12 rebounds for Los Angeles, which was coming off a 92-86 victory at home over the Milwaukee Bucks on Saturday. Veteran Marcus Camby had 12 points and 11 rebounds for the Blazers, which defeated Cleveland 98-78 at the Rose Garden on Sunday night. It was his first double-double of the season. Wallace got off to a quick start with nine points in the first quarter. His jumper at the halfway point gave Portland a 19-11 lead, but the Clippers closed the gap and went up 26-24 after Mo Williams hit a pair of jumpers. Paul and Aldridge each got two early fouls and played limited minutes in the first half. Paul wound up with only 11 minutes after getting his third foul and was 0 for 3 from the field. The Blazers took a 46-39 lead when Wesley Matthews robbed Griffin and lobbed the ball to Nicolas Batum for the jam. Portland was up 54-47 at the half. The Blazers maintained the lead into the third quarter, but the Clippers kept it close. When Wallace hit a 3-pointer that put Portland ahead 67-60, Butler answered with one for the Clippers. Griffin's hook and Billups' 3-pointer closed the Clippers within 82-80 midway through the fourth quarter, but the Blazers made four straight free throws and Billups missed a 3-point attempt. Raymond Felton, who was 3 for 26 from 3-point range this season, hit one with 5:54 left to extend Portland's lead to 89-80. The Blazers looked as if they had finally put it away with Wallace's 3-pointer, but the Clippers rallied again. Coach Vinny Del Negro said the Clippers simply couldn't get ahead of Portland when it mattered. ''We would cut it (the lead) back, and then we would miss a couple of free throws, or we'd turn it over, or they'd get an easy one or a tip in,'' Del Negro said. ''We gave up a couple of 3s in that left corner; we gave Wallace a 3 in front of our bench.'' Billups finished with 19 points for the Clippers, while Matthews added 18 for the Blazers. Earlier in the night, The Oregonian newspaper reported that Wallace is not currently seeking an extension for next season with the Blazers. But after the game, Wallace said he hasn't ruled out a return. Notes: Earlier Tuesday, the Blazers recalled forward Luke Babbitt from the team's D-League affiliate, the Idaho Stampede. ... University of Oregon athletic director Rob Mullens attended the game. ... It was the first time this season that Griffin did not lead the Clippers in points. ... The Blazers are undefeated this season when Wallace scores 10 points or more. ... Paul suggested the fouls weren't all his fault: ''There was some bogus stuff that was going on out there but it's part of the game. I know those guys and they flop on you, but it goes like that sometimes.''
Original Story:
http://msn.foxsports.com/nba/story/Tr...
THE BACKYARD
BEST OF MAXIM
RELATED ARTICLES
The rugged forward has been a pace-setter at home but has struggled to get his engine started on the road.
That was Gerald Wallace's assessment of the Magic's first-quarter shooting on Wednesday. Orlando held off a Blazers rally as Portland suffered its first home loss.
Gerald Wallace led five players in double- figures with 20 points as the Portland Trail Blazers edged the Los Angeles Clippers, 105-97, at Rose Garden.
Portland Trailblazers blogger Matt Martz weighs in with his Love'Em & Hate'Em column for the Los Angeles Clippers vs. Blazers game on Tuesday night. Gerald Wallace scored 20 points and LaMarcus Aldridge had 18 to help the Portland Trail Blazers remain unbeaten at home with a 105-97 victory. For LA Caron Butler scored 20 points and Chauncey Billups chipped in 19.
Last year when the Trail Blazers traded for Gerald Wallace, I was not a happy camper.  The trade sent one of my all-time favorite blazers, Joel Przybilla, away from Rip City and I felt that the Blazers didn't get nearly enough in return. I remember telling one of my friends that we gave up a solid center and some other pieces for a guy who could back up at three positions but...
State of the Portland Trail Blazers. Steve Lee our man with his pulse on the Trailblazers NBA Hoops beat is back with another edition of the Notebook. The December 31st, 2011 edition. For the 11th straight year the Blazers walked off the Rose Garden court with their hands raised in victory on opening night. LaMarcus Aldridge had 25, Gerald Wallace had 21, Jamal Crawford finished...
Gerald Wallace scored 20 points, making a key 3-pointer with two minutes left, and the Portland Trail Blazers avenged a loss to the Los Angeles Clippers on New Year's Day with a 105-97 victory on Tuesday night. LaMarcus Aldridge added 18 points and seven rebounds for the Blazers, who have not lost in six games at home this season.
Gerald Wallace scored 20 points, making a key 3-pointer with two minutes left, and the Portland Trail Blazers avenged a loss to the Los Angeles Clippers on New Year's Day with a 105-97 victory on Tuesday night.
The Blazers shot 51.4% from the floor last night and it helped them upset the Clippers last night. Gerald Wallace (20 points, 4 rebounds, 4 assists and 1 steal), LaMarcus Aldridge (18 points, 7 rebounds, 3 assists and 1 blocked shot) and Wes Matthews (18 points, 3 rebounds, 1 assist and 1 steal) led the way for the Blazers in this game. Raymond Felton (17 points, 1 rebound, 8 assists...
Defense, a second wind and a steady second half lifted Portland to the win against Cleveland on Sunday.
The Trailblazers showed a lot of heart last night as they outscored the Magic 36-22 in the 4th quarter, but it wasn't enough to win. The Magic shot 58.6% from the floor and they outrebounded the Blazers 42-32, so it's no surprise that the Blazers lost this game. Jamal Crawford (24 points, 3 rebounds and 5 assists) and LaMarcus Aldridge (23 points, 8 rebounds, 2 assists and...
NBA News

Delivered to your inbox

You'll also receive Yardbarker's daily Top 10, featuring the best sports stories from around the web. Customize your newsletter to get articles on your favorite sports and teams. And the best part? It's free!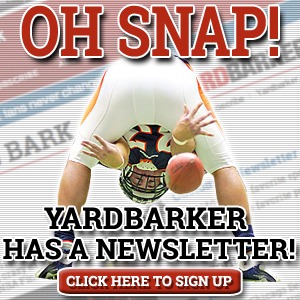 Latest Rumors
The Backyard

Today's Best Stuff

For Bloggers

Join the Yardbarker Network for more promotion, traffic, and money.

Company Info

Help

What is Yardbarker?

Yardbarker is the largest network of sports blogs and pro athlete blogs on the web. This site is the hub of the Yardbarker Network, where our editors and algorithms curate the best sports content from our network and beyond.