Found April 20, 2012 on isportsweb.com:
Can I officially state that I hate overtime games for the Dallas Mavericks? It doesn't bode well for them and now they have two overtime games back to back and this one was a triple overtime and still didn't get the win.
Dallas came into tonight's game in the #6 spot while Utah was hanging by a thread and hoping for some help in a win against Dallas and losses against teams around them in the standings as they sat in the #10 spot, but still having a slim chance of pulling of a miracle to get back to #8. Well with the win over Dallas, that knocks Dallas down to #7 and Utah is still breathing a breath of life in the running.
Dirk led the Mavericks tonight with 40 points, 9 rebounds, 6 assists and was 12 of 12 from the line, while JET added 27 points which included going 4 of 9 from downtown. Now both of those numbers are great for the team, but the other big number is 52:57 and 53:49, that is the number of minutes each player played respectively for the game; that's a lot of minutes especially since they had just played an overtime game in Los Angeles the night before and logged a lot of minutes in that one as well.
Now not to be overlooked, Vince Carter had 18 points and 12 rebounds for the night, while Delonte "Wet Willy" West had 16 and Jason Kidd added 10. Carter also logged a lot of minutes in tonight's game as well as he played 44:36 and Kidd was on the court for 45:20, again that's a  lot of time to play.
The Utah Jazz was led by big man Al Jefferson who had 28 points to go with his 26 rebounds, Gordon Hayward, the recipient of West's wet willy, scored 24 points which also included going 4 of 6 from the three-point line, while ex-Mav Devin Harris scored 23 points and also was 5 of 12 from the three as well and the hero of the night, Paul Millsap had 16 and DeMarre Carroll added 15 points of his own. Now not to be outdone by the Dallas players, these guys averaged over 50 minutes as well in tonight's game since they had a lot of guys out with injuries.
In tonight's game, Dirk and JET not only worked well together and led the Mavs in scoring, but with Dirk's points, he surpassed the 24,000 career points margin while JET ended the night by tieing Chauncy Billups on the All-Time Three-Point List at #3 with 1,783 three-pointers and is only third place to fellow Maverick player Jason Kidd who is #2 on that same list. Congratulations to both guys; I know they don't care about the personal accolades, they just want to win games and win another championship before they hang their sneakers up for good. Oh by the way Mr. Barkley, Dirk still isn't done.
Yes he tried to again defend himself in saying that yes Dirk has had some good games, but they will only come in spurts, but he is done. There is nothing you can do about Father Time. Mr. Barkley, you might be right, but Dirk at his age is in better shape than what you were at that same age and he takes better care of himself because he knows he doesn't have that much more time left and he can accept it, but just not right now and quit trying to write him off.
At the beginning of this game, Dallas did look slow to respond to the ball and let the Jazz get a 22-18 early lead on them before they began to wake up and decided to play ball, but you know they had to have been tired from the game from the night before and then factor in the altitude, it can be grueling on the body. But this is a team that relies on their bench to come through for them and in most cases they do. Dallas averages around 103 minutes of bench play per game which is 2nd in the league and it's always good that you can pull someone from the bench that keeps you team going or makes them better.
To lighten the spirit of the game, Delonte West, during the 2nd quarter looked as if he and Gordon Hayward had exchanged some words during a play that resulted in West fouling him. It was bad enough that we  fouled them which stops the clock and the game, but as Hayward moved away, West followed him a little and poked his finger in Hayward's ear and then walked away. Of course the whistle blew and the referees congregated  to discuss as to figure out what to do; decision, they assessed a technical foul on him and Hayward missed the shot, kind of fitting if you ask me! It just so happens that Dallas has recently completed a 9-1 run on the Jazz.
But it doesn't matter, what West did was childish and was totally uncalled for and all it did was to help fire up the Jazz team and fans and Dallas has enough of a hard time in Utah as it is since they despise Dallas and hate Dirk with a passion and it never fails that every time he gets the ball, the boos come out,; talk about childish!
Dallas should have had this win, they had them at the throat and let them take this game away from them and let Utah take the lead all the way from 16-15 in the first quarter and Dallas was in a dogfight all the way to the end. They think that it's ok for slow starts because they are a 4th quarter team, but with some of the losses this season, the 4th quarter was not their saviour and they should know that by now. You can't wait and depend on a victory in the 4th quarter every time you get in a bind.
Tonight though was a little different as Dallas was down 85-83 in the 4th with 45.1 seconds to go when Hayward deflected a pass from Kidd and got the steal, then got fouled by Kidd, then made 2 free throws to give Utah a 87-83 lead. But Dallas was not done yet, the fat lady had not sung yet when Dirk got the next possession and found Carter for a three and got Dallas within 1, 87-86, with 15.7 seconds left.
Devin Harris airballed a three when Dallas got the ball again; from Kidd to Dirk to again Carter for another three and now Dallas has a 89-87 lead with 8.5 seconds left in the game. Dallas was on a roll as they had a 9-2 run in less than one minute of play. Utah got the ball in the front court and brought the ball in when Hayward tried to make a basket, ball bounced off the goal, when Paul Millsap came in from behind and did a sneak in dunk to tie the game with 2.2 seconds and Dirk could not make the three-point attempt go in so we go to overtime.
JET started the first overtime off right by hitting the first basket a three pointer to give Dallas the lead again, but we still had too much time to play. Both teams swapped baskets back and forth till there was 3.9 seconds left in the first overtime, when Dirk hit a three-pointer to again tie the game at 105 and Utah didn't convert the next basket, so now we go to the second overtime.
After watching the second overtime, I can see why Mark Cuban wants some calls and ways of the game to be looked at. Kidd was called for a blocking fouled which was clearly a charge, but also before the call, Millsap had traveled, but then to top it all off, they called it a shooting foul which gave Millsap two free throw attempts when he never attempted to shoot the ball, he still had the ball in his hand, so now here we go again with home team advantage.
So after another 5 minutes of play, we are tied again and now we go into the third overtime. Actually the third overtime was as exciting as the fourth quarter was because during the first and second overtime, you could tell the guys were tired, their legs were dragging, but it seemed that the third overtime, they were ready to play and get this game over with.
Unfortunately Dallas didn't do enough defensive plays and let Utah again get that breath of life that they didn't need to give them and left Harris open for a three pointer which I feel was the key to the Jazz getting this game and keeping their hopes alive for a playoff spot. That's the thing, teams that have nothing to lose, play harder sometimes against teams that have everything to lose and play for and that was the case tonight. 
Dallas had found themselves slipping in the playoff hunt from third to sixth and if they lost tonight, could very well wind up in 7th and maybe 8th by the next game and with only a few more games left, could very well play themselves out of the playoffs completely.
Well with Dallas' loss and Denver's win, Dallas is .5 game behind Denver for the 7th seed and just ahead of Phoenix, Houston and now Utah has a spitting chance and Dallas goes home to play Houston on Wednesday.
So where do we  go from here, well if we don't  play good, home for good until training camp in the fall and we can be the one and done champions. With that, I will bid you a good night and say good luck and let's go Mavs!  
Original Story:
http://isportsweb.com/2012/04/20/trip...
THE BACKYARD
BEST OF MAXIM
RELATED ARTICLES
<a href="http://www.mogreet.com/moshare/it/" class="moshare-hoz-counter" data-channel="wordpress-1.2.7" data-message="Vince Carter is a journeyman of sorts, and after having spent time on five different teams since 1998 he has accumulated numerous awards and highlights. We felt it necessary to show the other side of the coin, as Vince has also...
Mavericks guard Delonte West has been fined $25,000 by the NBA for jabbing his finger into the ear of Jazz swingman Gordon Hayward during the second quarter of Utah's 123-121 triple-overtime win over Dallas on Monday. The NBA issued the fine Wednesday, calling it a ''physical taunt.'' West had been called for fouling Hayward away from the ball then walked after...
The Dallas Mavericks clinched a playoff spot for the 12th consecutive year on Thursday night by virtue of the Houston Rocket's loss in New Orleans to the lowly Hornets. While seeding hasn't yet been decided, qualifying for the playoffs this season has been nothing short of a chore for the Mavs. That may be acceptable for most teams in the league, but it's not exactly how the...
The Utah Jazz will re-sign sharpshooter Blake Ahearn for the remainder of the season after his 10-day contract expires. The 6-foot-2 guard has played sparingly in three games since being signed April 10. He has hit 1 of 5 from 3-point range and 1 of 6 overall, with two rebounds and an assist. With guards Earl Watson and Raja Bell still out with knee injuries, the Jazz need more...
Dallas Mavericks guard Delonte West was fined $25,000 by the NBA for a physical taunt against Utah Jazz forward Gordon Hayward. West was punished for his actions during Monday's game, when he stuck in finger in the ear of Hayward. A technical foul was assessed against West, but he was not ejected from the contest.
He was booed on draft day, still gets teased about his Justin Bieber hair and recently endured the strangest, most expensive ''Wet Willy'' ever. Utah Jazz swingman Gordon Hayward, however, has managed to rise above it all, finally living up to the expectations Jazz brass had when they made him a lottery pick in 2010. His emergence this year, after being benched...
Vince Carter had 19 points, including eight straight for Dallas early in the fourth quarter, and the playoff-bound Mavericks finally pulled away from the young Golden State Warriors for a 104-94 victory Friday night. Carter's personal streak ended when he had an assist on Jason Terry's breakaway 3-pointer that stretched the Dallas lead to 87-75 with 9 minutes left. It was...
There isn't much time for the Dallas Mavericks to get on track this regular season. The goal is obviously to find some momentum and consistency before the playoffs hit, but this season is different in Dallas as the postseason isn't yet assured with just a few games remaining.
Dallas Mavericks guard Delonte West has been fined $25,000 for giving Utah Jazz forward Gordon Hayward a "wet willie" in the second quarter of Utah's 123-121 triple-overtime win on Monday. West will not be suspended and will play tonight against the visiting Houston Rockets. West, 28 is in his eighth NBA season is making the veteran's minimum of $1.5 million.
Devin Harris had 27 points, including a career-high six 3-pointers, and the Utah Jazz continued to jockey for a playoff spot with a 112-91 victory over the Portland Trail Blazers on Wednesday night. The Jazz, with just three games to play, are locked in a battle for the remaining playoff spots in the Western Conference with Houston, Phoenix, Dallas and Denver. Gordon Hayward added...
There have been a number of surprises over the course of this abbreviated 66-game season in the NBA. Perhaps one of the biggest has been the emergence of the Utah Jazz into the Western Conference playoff picture.
Blake Ahearn has appeared in three games with the Jazz while filling in for the injured Earl Watson.
NBA News

Delivered to your inbox

You'll also receive Yardbarker's daily Top 10, featuring the best sports stories from around the web. Customize your newsletter to get articles on your favorite sports and teams. And the best part? It's free!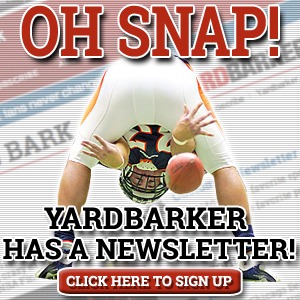 Latest Rumors
The Backyard

Today's Best Stuff

For Bloggers

Join the Yardbarker Network for more promotion, traffic, and money.

Company Info

Help

What is Yardbarker?

Yardbarker is the largest network of sports blogs and pro athlete blogs on the web. This site is the hub of the Yardbarker Network, where our editors and algorithms curate the best sports content from our network and beyond.