Found May 21, 2013 on Fox Sports Florida:
MIAMI When Udonis Haslem was in high school, his team had a take-charge drill in which one player would barrel into another at full speed. For some, it was grueling. For Haslem, it was entertainment. You would just stand there in the lane and let a guy run you over, the Miami Heat forward remembers about those days at Miami High School. It was crazy. You just got to take it in the chest and a guy just knocks you down and runs you over . It was fun. It was nothing personal, but it was real competitive . I was about 260 (pounds), and guys bounced off me. Halsem wouldnt mind if todays NBA game offered more similarities to those drills. If basketball were like bumper cars, that would be just fine with him. Haslem is the Heat henchman. With his physical play, he considers himself a throwback to some two decades ago when the Bad Boys ruled Detroit and when Pat Riley assembled a rugged gang in New York. Thats what I grew up watching, Haslem said of that era. I grew up admiring those lunch-pail guys, how hard they played and being able to dish it out. Back in those guys, those guys could dish out hard fouls, but they could take hard fouls too. Its not the same any more. Haslem sure found that out in last years Eastern Conference semifinal against Indiana. Shortly after Pacers forward Tyler Hansbrough had a flagrant foul 1 against Heat guard Dwyane Wade, Haslem plowed into Hansbrough. Haslem was assessed a flagrant foul 1. He later was suspended for Game 6, which the Heat were able to win to close out the series 4-2. It probably would have been just a regular foul, Haslem said about how his hit on Hanbrough might have been handled during the NBAs rough-and-tumble era. Ive seen a lot worse . It was just a hard play on the basketball. I still stand by the fact that I didnt feel like I should have been suspended, and I didnt feel like I had tried to hurt anybody. It was a hard foul. Haslem will run into the Pacers again in the East finals, which start Wednesday at AmericanAirlines Arena. There has plenty of talk about how this will be a physical series, much like the one last year. Then again, every series is like that as far as Haslem is concerned. Thats the way I play the game, said Haslem, 32, a former University of Florida star. I compete. I get hit and I take hits. So to me, its just another series. But if anybody thinks Haslems only role in this series will be to serve as an enforcer, they would be mistaken. As Miamis starting power forward, Haslem is providing some unexpected offense this postseason. Haslem is averaging 6.2 points and 3.9 rebounds while shooting 63.4 percent. While that might not seem like oodles of points, Haslem is averaging just 17.7 minutes per game. And he averaged just 3.9 points in 18.9 minutes during the regular season. The 10-year veteran has reached double figures in scoring in three of nine playoff games. He also got there in two of his final three regular-season outings after going 52 straight games without reaching double figures. Prorated over 36 minutes, Haslems playoff scoring average is 12.7. That's higher than hes ever had in the playoffs and equal to his best effort over a regular season. It took me 2 years to figure out my place and my role and where to be aggressive and where Im going to get my shots from, Haslem said about adjusting to playing alongside the Big Three of LeBron James, Wade and Chris Bosh, who joined forces in the summer of 2010. It was a work in progress. It wasnt easy, getting comfortable, getting in a rhythm and also be aggressive and staying out of those guys way. Haslem said it didnt help with adjusting missing most of the 2010-11 season due to a foot injury. He said hes now the most comfortable hes ever been on this star-studded Miami team. Haslem shot 5 of 6 for 10 points in last Wednesdays 94-91 win over Chicago in Game 5 of an East semifinal. He scored eight of Miamis first 12 points, making a jumper, a dunk and a pair of layups. Meanwhile, Haslem also provided his usual amount of grit as the Heat closed out a physical series. His plus-10 rating that night was the highest of any Miami player. Hes proven himself as a tough warrior, Heat coach Erik Spoelstra said. Hell make every single tough play you need to make in a physical manner without losing his mind. Hes not out there to fight. Hes not out there to go over the top. Hes out there to provide a physical presence and he has great focus and discipline of the mind. He doesnt lose his cool but he can straddle that fine line of fierce competitor and disciplined toughness. Haslem admits he sometimes lost his cool when he was a young player. So what changed? All the fines that I had in the league and I got a couple of ejections, Haslem said. I started looking at my check. I got older and wiser. When I was younger, being a hot head and a real competitor, I did a lot of silly things. Haslem's hit on Hansbrough last spring cost him about 34,000 in lost salary. But nobody on the Heat believed it was silly. In a series that already had been contentious, Hansbrough clocked Wade on a second-quarter drive to the basket. Less than a minute later, Haslem walloped Hansbrough when he went up for a shot. Obviously, he thought I took a shot that was uncalled for and he got his opportunity to get one back, said Wade, who broke into the NBA along with Haslem on the Heat in 2003-04 and has had him as a bodyguard ever since. Its unfortunate that he had to miss (one) game. But (Haslems) done it our whole career. We dont want him to miss a game, but he stands up for his teammates, he believes in team and he shows it all the time. Hes a real-life tough guy. Hes not an in-between-the-lines tough guy. Haslem is a throwback. He said NBA enforcers he admired when he was young included Charles Oakley, Anthony Mason, Horace Grant, Grant Long and Brian Grant. Haslem sought to emulate those guys on the court while growing up in Miami. He said pickup games at the park often got so rough that players waiting for the next game were called in to serve as referees. He understands toughness on the court and so hes got a great style, Heat forward Shane Battier said of Haslem. Hes got an old soul for a basketball player. Haslem wouldnt mind turning the clock back to a more rugged time in the NBA or to his days at Miami High School. If any Indiana players want to engage in a take-charge drill with Haslem, he sounds quite ready. Chris Tomasson can be reached at christomasson@hotmail.com or on Twitter @christomasson.
Original Story:
http://www.foxsportsflorida.com/nba/m...
THE BACKYARD
BEST OF MAXIM
RELATED ARTICLES
Here we go again……..more LeBron vs. Jordan talk. The other day at a Windows store at a location unknown at the time I'm writing this. Former Miami Heat big man, Alonzo Mourning was speaking in front of what looked to be a small crowd of Window Store employees. Mourning told a story of a conversation that supposedly took place between him and Former Chicago Bulls great, Scottie...
MIAMI What happened: The Game 1 blues almost got Miami again. The Heat, who suffered an unexpected loss to Chicago in the opener of their previous series, nearly met the same fate Wednesday night at AmericanAirlines Arena. But they came back from three points down in overtime to defeat Indiana 103-102 in Game 1 of the Eastern Conference finals. Forward LeBron James made a driving...
LeBron James went untouched for the game winning layup as time expired during Game 1 of the Eastern Conference Finals. LeBron and the Heat were put into the position after refs probably incorrectly gave Pacers' Paul George three free throws with a little under three seconds left in overtime. George calmly sank all three free throws, which set up James' game winner. Game 2 is Friday.   
Paul George not only battling the Miami Heat on the court, but off the court as well? George outdid Dwyane Wade's capri-look from the semi-finals when he showed up to Game 1 for the Eastern Conference Finals in Miami decked out in this bright green outfit:
Around these parts, where the youngest of our four major professional sports teams is more than a half-century old, it is easy to forget that not every region is as steeped in pro sports history. If Celtics fans were asked for their favorite moments, for instance, they would have 17 championships, featuring 16 Hall of Famers (so far), to choose from. The pickings are slimmer in Memphis...
First, we had Shane Battier kicking Roy Hibbert in the groin during a dunk attempt and now, we have video of Heat guard Norris Cole getting handsy with David West. Watch as Cole tries to turn the corner in the 4th quarter of game one as delivers a very subtle groin punch:   *** Cole cops a feel on West [@CJZero]
The Miami Heat are so confident that they'll romp through the Eastern Conference that Dwyane Wade felt he had enough time to spend a night off with a high school chick at her prom.  In a move that has become extremely too commonplace, a Miami teenager, Nicole Muxo, created a video asking the Heat guard to prom and posted it to YouTube. Wade revealed Friday on his Twitter account...
Late in the first quarter, as Miami Heat forward Shane Battier drove to the hoop, Indiana Pacers center Roy Hibbert stepped in to defend the shot. Unfortunately, as Battier went to shoot, he jumped and hit Roy Hibbert in a place a man never wants to be hit or as the announcer would say the "midsection". Hibbert falls to the ground and obviously takes a while to get back up. Check...
For those of you who thought that the Indiana Pacers/Miami Heat Eastern Conference Finals series would be physical, you wee 100% correct. During the first quarter of play, Miami's Shane Battier attempted to throw down a slam dunk on Pacers center Roy Hibbert that didn't convert. Instead Shane's knee went right into Roy's groin region and as you'll see from the video, it...
After a month of some of the most compelling playoff action basketball fans have seen in a while, the fight card for the Eastern Conference Finals is in. While the two clubs vying for the ticket to the big show have each proven themselves over the course of the postseason, the reigning champion Miami Heat are still wildly regarded as NBA betting favorites. That's not to say, however...
LeBron James ripped the hearts out of the Indiana Pacers in Game 1, hitting this game-winning buzzer-beater layup.
NBA News

Delivered to your inbox

You'll also receive Yardbarker's daily Top 10, featuring the best sports stories from around the web. Customize your newsletter to get articles on your favorite sports and teams. And the best part? It's free!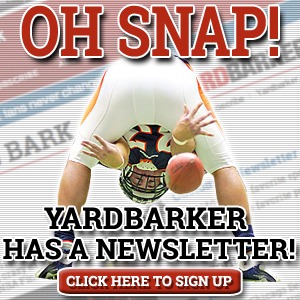 Latest Rumors
The Backyard

Today's Best Stuff

For Bloggers

Join the Yardbarker Network for more promotion, traffic, and money.

Company Info

Help

What is Yardbarker?

Yardbarker is the largest network of sports blogs and pro athlete blogs on the web. This site is the hub of the Yardbarker Network, where our editors and algorithms curate the best sports content from our network and beyond.