Found August 20, 2012 on Eye On Sports with Eric Williams:
New York Knocks selfish scorer Carmelo
Anthony has never seen a shot he doesn't like!
Hey Eye On Sports NBA fanatics, would someone please tell me what New York Knicks often-enigmatic forward Carmelo Anthony is talking about!
Just over a week ago, Anthony came out with some head-scratching comments about how he's been viewed as 'selfish' ever since coming back from an injury to destroy the momentum of the then, revitalized, 'Linsanity-led' New York Knicks last season.
"Let's be frank about it," he said. "When it comes to the Knicks, we're talking about one particular point in time. We're talking about the whole 'Linsanity' thing. That's when it started. That's when it started to escalate as far as people saying I was selfish.
"Lin came and we started winning games and then we started losing games, and they could only point to one thing, which is me, the leader of the team. They're not going to point to Amar'e.
They're not going to point to (guard) Iman Shumpert. They're going to point to me. I accept that. It doesn't bother me."
Well, apparently, for Melo to still be talking about last season's events, it does bother him. Second, Carmelo, you do know that talk about you being a ball-hogging selfish gunner started a long time ago, like, let's say by your third year with the Denver Nuggets.
Maybe it's me Eye On Sports NBA fans, but I'm a bit amazed that Anthony either doesn't know – or more likely – doesn't want to believe that he's been viewed as a selfish gunner for the majority of his career.
No doubt, the man can score the ball like few others on the face of the planet, but Anthony has also never seen a pass he'd like to throw – and the word defense – is just some whimsical fairy tale in his world. 
I'm sorry, but guess what Carmelo?
The talk about you being selfish, started long before Jeremy Lin turned around a team that had been floundering the minute you got injured – and one that quickly reverted back to its mediocre ways upon your return.
You can try to blame that on 'Linsanity' all you want 'Melo, but the fact of the matter is that the whole world, not just NBA fans, saw that fact for themselves firsthand. 
Original Story:
http://eye-onsports.blogspot.com/2012...
THE BACKYARD
BEST OF MAXIM
RELATED ARTICLES
Coming off an underwhelming season that came to a close in the form of a first round playoff exit, the Knicks have revamped their roster with an array of veteran role players in hopes of competing for a championship next season.Nevertheless, with a roster spot or two still open, New York has opted to sign a couple of potential uncovered gems (Chris Copeland and J.R. Smith's younger...
Somewhat known around the Big Apple as "The $100 Million Man," Amar'e Stoudemire displayed great potential of bringing the Knicks back to greatness during his first season donning orange and blue.Developing a great understanding on the hardwood with then point guard Raymond Felton, Stoudemire, thrived, playing like an M.V.P. candidate in 2010-11. Having played with...
Previously on That NBA Lottery Pick, we featured a couple of posts showing off some brand new commercials from the ad wizards over at Foot Locker.In this new commercial featuring New York Knicks star Carmelo Anthony, we learn about Carmelo's clones including one that just doesn't look like him:
It's safe to say that Amar'e Stoudemire's first two seasons with the New York Knicks have been filled with their share of ups and downs.After displaying M.V.P. like dominance during his first season in the Big Apple, a mix of personal issues and injuries led to Stoudemire facing much adversity during the 2011-12 campaign.What's more, after having played with steady...
As we enter the dog days of summer, the NBA's free agency period has slowed down, as now more players have found teams and may already be beginning to look towards training camp.For the latest word on what the likes of Amar'e Stoudemire, Carmelo Anthony, and their Knickerbocker teammates have been up to, we here at KnicksJournal.com have decided to search the blogosphere...
You cannot help but cringe when watching Baron Davis' knee injury from last season's playoffs (Disclaimer: not for the squeamish). The 33-year old tore his ACL and MCL while driving to the basket in a playoff game against the Miami Heat. The recovery time for this type of injury is supposed to be a full year, but Davis thinks he can make it back sooner than that. "I'm...
Baron Davis has had an impressive career since being selected third overall in the 1999 NBA Draft. Since then he's played for the Charlotte/New Orleans Hornets, Golden State Warriors, Los Angeles Clippers, Cleveland Cavaliers and New York Knicks. Most people believed his career came to an end last season when he ripped his ACL and MCL. However, now Davis is planning a comeback...
Future Hall-of-Famer Jason Kidd is speaking exclusively to DallasBasketball.com to respond to Mavs owner Mark Cuban's incendiary quotes about betrayal and about the potential of Kidd's jersey someday being retired in Dallas. 'No chance,' Cuban says. What does Kidd say in response? You can read that only here on DB.com:
Jason Kidd thinks Rajon Rondo is the league's premier point guard.
Congratulations, Foot Locker.  Your ad campaign is so good right now, that everyone in the blog world is giving you free ad space. This is a lesson to every marketing agency everywhere trying to sell basketball products. Step 1:  Get big stars to do goofy things. Step 2:  Launch your campaign in August when blogs are all desperate for content Step 3:  Watch your extended YouTube...
NBA News

Delivered to your inbox

You'll also receive Yardbarker's daily Top 10, featuring the best sports stories from around the web. Customize your newsletter to get articles on your favorite sports and teams. And the best part? It's free!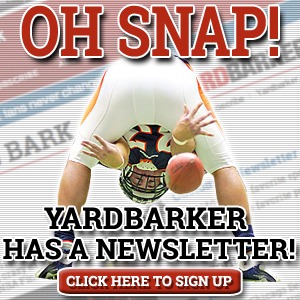 Latest Rumors
The Backyard

Today's Best Stuff

For Bloggers

Join the Yardbarker Network for more promotion, traffic, and money.

Company Info

Help

What is Yardbarker?

Yardbarker is the largest network of sports blogs and pro athlete blogs on the web. This site is the hub of the Yardbarker Network, where our editors and algorithms curate the best sports content from our network and beyond.