Found December 07, 2012 on Fox Sports North:
MINNEAPOLIS We live in an age of league sources, of team sources and just plain old sources. Its as vague as vague can be. There are human mouthpieces and long-standing relationships all hiding behind a shroud of anonymity, and information filters through at will. Couple that with Twitter and blogs and the big bad Internet, and really, there isnt a trade rumor these days that doesnt have legs. Joe Fan in his basement, with little more than a rudimentary knowledge of the NBA collective bargaining agreement and barely a clue as to teams needs and relationships, can, with a few clicks, test the viability of any trade he could imagine. No, online trade machines will spit out, youre over the salary cap. No, youre over this provision, or that provision, for some reason or another. No, no, no, and so another swap is conjured out of cyberspace. Its not bad, not good, but merely the reality. Rumors flourish. Theyre more available to the masses, and therefore, its easier even for players who dont read a word of news about themselves to get phone calls, tweets, emails asking them whether theyre going to be shipped to goodness knows where. The answer is usually no, but that doesnt make it any less aggravating. And so its no wonder David Kahn felt the need for a talking-to with reporters Friday after rumors surfaced that his team was in talks to trade Nikola Pekovic and Derrick Williams to the Lakers for Pau Gasol. It was all untrue, Kahn said, and further, he hasnt talked to the Lakers since June. That could have been it. Rumors, gone or at least quelled and Kahn walks away. But the Timberwolves president of basketball operations went further, criticizing the media outlets that ran stories about the supposed trade for not calling to confirm it with the team. (As if theyd have gotten a straight answer; thats not how this works.) Moreover, Kahn seemed agitated by the simple fact that his players, especially Pekovic and Williams, might have heard the rumors, that they might have caused some sort of disturbance below the surface of a season thats progressing better than one might expect. "What bothers me is it has an impact on a team and its players and its family members, and its not appropriate for that reason," Kahn said of the recent trade rumors, and really all such chatter. "And so I think you can tell by the tone of my voice, Im not upset. But its something that I dont want to see spiral any further." Ill give it to Kahn: He came out and said what he felt, and at the root of his frustration was a genuine concern for his players. Its not that teams arent culpable in all this, too, with the way they leak information read: they are culpable in their own ways but theyre also the ones who must deal with the fallout. They have to wonder how much of Williams lack of confidence is a result of the fact that hes heard his name being mentioned in trade rumors at nearly every turn since he entered the league last season. They feel guilty when Pekovics friends call him and ask if hes heading to Los Angeles, when he has to answer no and then wonder if he hasnt done enough, when really hes done more than anyone could have hoped. So yes, theres more information today. Its not necessarily that players are so much more likely to hear that theyre being dealt but rather that everyone seems to think they know whos being traded and that theyre qualified to offer their opinion. Timberwolves forward Andrei Kirilenko, whos been in the league since 2001, admitted that though "its still the same NBA," the information today is a little more open. Its not that whats circulating is any more correct than it was 10 years ago, but its flowing freer. Kirilenko, though, takes the situation lightly, looking at trade rumors as humorous diversions rather than any threat to confidence. "For all my career, for the duration of my career, Ive been traded like 20 times," Kirilenko joked. "But I played 10 years in the same team." Thats easy for the 31-year-old to say, to laugh and shrug when hes past the point in his career where he needs to foster confidence or prove himself. Hes not going anywhere, so he can laugh. But for others, like Williams, the rumors can be a bother. Hes all over Twitter. Of course he is; hes 21 and in the NBA. Hes no doubt getting questions and rumors thrown at him from strangers, as well as from the media. All last winter, hed comment: No, the rumors werent getting to him. He just cant think about them. Its not something hes worried about. He said everything he was supposed to say, with as much conviction as he could muster. And now the rumors are back and Kahn is fed up, and so he did something he never did last season, when maybe the rumors had a bit more teeth: He shut them down. Because this time, it was worth it, at least for now. This time, he said, the team isnt working on anything imminent, and to let players like Williams and Pekovic wonder and wait would be unfair. But thats the lot theyre dealt in the NBA today, where, as Kahn pointed out, you can count on two hands the number of players in the league right now who will go their whole careers without being traded. Thats why theyll take Kahns words as true for now, but theyll remember what he said, about waiting for the team to jell and going from there. Because going from there doesnt rule out future trades, and the rumors will be back. Thats just how this works. "Personally, me, I never, I didnt read nowhere," Pekovic said. "I didnt even pay attention. But just a few of my friends, they just asked me, Is there anything about these rumors? I just never think of it. Its just no way." And Pekovics voice trailed off. Its just no way. Thats a lot of faith in a league where so many words and rumors and insidious questions can tell you to have none. Follow Joan Niesen on Twitter.
Original Story:
http://www.foxsportsnorth.com/12/07/1...
THE BACKYARD
BEST OF MAXIM
RELATED ARTICLES
MINNEAPOLIS Brandon Roy will be present at the Timberwolves' Sunday practice after spending the majority of his time on the West Coast since his Nov. 19 knee surgery.Roy underwent an arthroscopic procedure on his ailing right knee, which the team deemed "a success." Due to the vagueness surrounding the procedure, it's uncertain where Roy stands in his recovery...
Ricky Rubio has not had much time to bond with his teammates on the court.  He has had a lot of time to bond with them on the bench.  Rubio has played one shortened season since leaving his Spanish team to play for the Minnesota Timberwolves.  He blew out his knee toward the end of last season and is still rehabbing from the injury.  Despite all this, Rubio is pretty happy in...
MINNEAPOLIS Timberwolves president of basketball operations David Kahn made a rare speaking appearance at shootaround Friday morning, his intent being to quash trade rumors involving a reported deal that would send Nikola Pekovic and Derrick Williams to the Los Angeles Lakers for Pau Gasol. Reports of the deal, Kahn said, are completely false.Since almost the moment that Mike D...
MINNEAPOLIS Kevin Love sat. The lead was 19, the clock was ticking down, and the power forward had his 36 points, his 13 rebounds, as much as he could have asked for. And so they clapped as Love settled into his chair, maybe a bit sweatier than he would have been last year, maybe a bit more relieved, but so far from ready to admit that this could be the norm. Oh, was he ready...
MINNEAPOLIS I don't remember the first time I spoke with Ricky Rubio, but it was likely on New Year's Day after the Timberwolves' improbable win over the Mavericks, and I was probably too busy reveling in the fact that all these nice new people who I was about to work alongside seemed to be crediting me for the win. (It was my first day of work.) So no, I don't...
Ricky Rubio is the final stage of his ACL rehabilitation program since being cleared for full contact practice November 28.  According to KSTP-TV Sports Director, Joe Schmit, Rubio is targeting the home game on December 15 vs. Dallas as his return since the injury happened on March 9. We've got video of Ricky Rubio workout today at 6.Source tells me he wants 1st game to be at...
Ricky Rubio knows that there are a lot of expectations being put on his return to the Minnesota Timberwolves. He knows he is being cast as the missing piece that will magically make everything better as soon as he hits the court. Rubio says he welcomes that pressure, but he's also cautioning eager Wolves fans that it will take some time before he's back to the being the...
MINNEAPOLIS (AP) -- Kevin Love had 36 points and 13 rebounds to lead the Minnesota Timberwolves to a 91-73 victory over the Cleveland Cavaliers on Friday night. Luke Ridnour had 12 points, seven assists and five rebounds for the Timberwolves, and Andrei Kirilenko had eight points, seven rebounds and six assists after missing the previous four games with back spasms. Alonzo Gee...
Kevin Love's shooting stroke returned, and Andrei Kirilenko also was back for the Minnesota Timberwolves. The timing couldn't have been worse for the reeling Cleveland Cavaliers. Love had 36 points and 13 rebounds and Kirilenko delivered another solid all-around performance in the Timberwolves' 91-73 victory over the Cavaliers on Friday night. Love missed most of the...
The Cavs fell behind on a Kevin Love jump hook in the first minute and never could quite catch up to the Timberwolves on Friday night. Scoring continues to be the Cavaliers' glaring weekness, which is the worst weakness to have in a game where you try to outscore your opponent. The Wine and Gold shot just 34.5% from the field and scored a season low 73 points.   Alonzo Gee led...
Jim Mone, Associated Press Tonight the Cleveland Cavaliers (4-15, 13th in the East) travel to Minnesota to take on the Timberwolves (8-9, 11th in the West). Once again this is another battle of two teams without their starting PGs. This is getting to be a theme for this season with the Cavaliers recently playing Memphis without Mike Conley and Chicago without Derrick Rose. Tonight...
NBA News

Delivered to your inbox

You'll also receive Yardbarker's daily Top 10, featuring the best sports stories from around the web. Customize your newsletter to get articles on your favorite sports and teams. And the best part? It's free!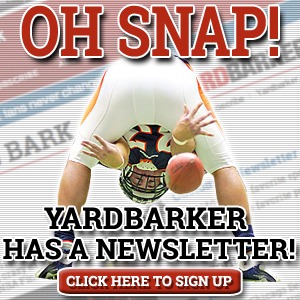 Latest Rumors
The Backyard

Today's Best Stuff

For Bloggers

Join the Yardbarker Network for more promotion, traffic, and money.

Company Info

Help

What is Yardbarker?

Yardbarker is the largest network of sports blogs and pro athlete blogs on the web. This site is the hub of the Yardbarker Network, where our editors and algorithms curate the best sports content from our network and beyond.