Found April 16, 2012 on Awful Announcing:
I think we're beginning to see mounting empirical evidence that the packed NBA schedule is beginning to take its toll on the league's broadcasters.  First there was the now infamous tirade launched by Ian Eagle against Mike Fratello.  Then, there was Jeff Van Gundy flipping out on flopping and challenging the league office to act.  But, perhaps the craziest NBA announcing clip of the weekend comes from Utah Jazz radio play-by-play man David Locke.  
The Jazz, on the outside of the playoffs at the moment, were trailing Memphis by 3 in the final seconds.  Derrick Favors had a chance to tie the game as he was fouled attempting a layup.  But, instead of making the basket and having a chance to tie on an old-fashioned three-point play, Favors missed a bunny.  This caused Locke, in his third year with the Jazz, to lose his mind.
It's amazing the emotional roller coaster one feels when listening to this, well... gobbledygook.  There's anger, frustration, exasperation, despair, and then a hint of a return to normalcy at the very end.  All in all though, it's fantastic that Locke let loose with exactly what he was feeling, even if he couldn't quite put it into words.  And, Locke seemed to be a good sport about it on his personal Twitter page.  Maybe Locke can use his now relevant gibberishing skills to appear on this famous game show.  Or maybe, he really is slowly going insane from a stressful NBA season.  Safe to say NBA broadcasters like Ian Eagle, Jeff Van Gundy, and now David Locke deserve a nice long vacation at the end of the year.  Start counting down the days.
Original Story:
http://www.awfulannouncing.com/2012-a...
THE BACKYARD
BEST OF MAXIM
RELATED ARTICLES
Nothing irks me more than refs REWARDING flopping, especially when it deals with the offensive variety. It's easy to blame the superstars, we are all guilty of this, but it falls squarely on the shoulders of the NBA refs. Without them compensating athletes for their acting and theatrics, would flopping be as abundant as it [...]
MAD AS HECK
Yesterday during the Knicks/Heat game, a rather routine play in today's NBA game set Jeff Van Gundy off on a tirade Ian Eagle would be proud to hear. James Jones of the Heat flopped to earn an offensive foul on the Knicks' Iman Shumpert, a play that happens seemingly a dozen times a game. However, it must have been one too many times for Van Gundy, who erupted on flopping...
If you're looking for the NBA announcer meltdown of the week, it comes to us courtesy of David Locke from the Utah Jazz radio network.Nearing the end of Saturday's Grizzlies/Jazz game, Utah forward Derrick Favors missed an easy lay-up attempt which could have turned into a three-point play.After the ball rimmed out, Locke decided to speak in tongues for a few seconds:(Courtesy...
The subject of flopping in basketball has become much more talked about in the last couple years.  It started in soccer, but has quickly invaded other sports.  Some college teams (Duke and Wisconsin come to mind) have turned it into an art form.  But, flopping is not just for amateurs.   It is quickly becoming an epidemic in the NBA too. The argument in my mind is whether it's...
Flopping. Say what you will about the "tactic" NBA players use to get the refs to make a call in their favor, it sure does draw the ire of many fans, players and in particular Jeff Van Gundy. What's that? How much does flopping get to Van Gundy you ask? Well I am glad you did. In a recent game between the Miami Heat and New York Knicks, James Jones of the Heat went...
Is flopping an epidemic in the NBA? ESPN/ABC analyst Jeff Van Gundy certainly thinks so. During Sunday's Heat vs. Knicks match-up, Van Gundy went on a rant stating the league needs to do something about flops and also pointed out that Commissioner David Stern is pulling in something in the neighborhood of $25 million a [...]
During the Miami Heat vs New York Knicks game, commentator Jeff Van Gundy started a nearly 3 minute long rant about flopping, stating that David Stern needs to do something about flopping in the NBA. He suggests instituting some sort of fine for flopping, and perhaps a system similar to technical fouls where after a certain number of offenses, a flopper could be suspended. What...
We all know that Jeff Van Gundy has been known to speak his mind whenever he feels the need. Well during the Heat-Knicks game yesterday after Iman Shumpert was called for an offensive foul, Van Gundy went off.
JVG hates flopping and he isn't scarred to tell you.. in this 2 minute rant, he goes as far as saying that the NBA condones the act of "flopping." He blasts David Stern by saying,"were paying the commissioner like 25 million dollars, he can come up with a solution." I don't think the little big man is going to take too kindly to those words.
Jeff Van Gundy, anti-flopper. They are the problem, and a $25 million dollar per year commish should be able to fix flopping. Just ask JVG. He told us during the Knicks / Heat game... Full story at Bob's Blitz ~ http://www.bobsblitz.com
The NBA has an epidemic going on, according to Jeff Van Gundy, and it is flopping.  He wants the NBA to get it together and start handing out fines and suspensions because it has gotten out of hand.  Listen to him go off for about 2 minutes straight after James Jones of the Miami Heat [...]
I'm not a fan of Jeff Van Gundy — the only time he comes up in conversation is when I need someone to compare to Stevie from 'Eastbound & Down' — but I appreciate the thorough, somewhat obnoxious lengths he goes to to condemn flopping during Sunday's game between the Miami Heat and New York Knicks. He's right (he's completely, 100% right), but at some point...
Jazz News

Delivered to your inbox

You'll also receive Yardbarker's daily Top 10, featuring the best sports stories from around the web. Customize your newsletter to get articles on your favorite sports and teams. And the best part? It's free!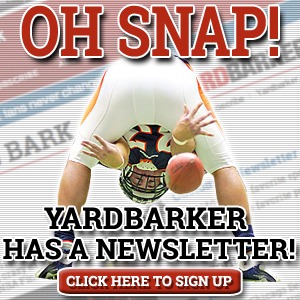 Latest Rumors
The Backyard

Today's Best Stuff

For Bloggers

Join the Yardbarker Network for more promotion, traffic, and money.

Company Info

Help

What is Yardbarker?

Yardbarker is the largest network of sports blogs and pro athlete blogs on the web. This site is the hub of the Yardbarker Network, where our editors and algorithms curate the best sports content from our network and beyond.