Found January 04, 2012 on Fox Sports Southwest:
Royal Ivey and Kevin Ollie don't have a ton of things in common. Between them, they have logged two decades of service in the NBA and are what some might call the epitome of league journeymen as guys who have bounced around the Association a bit. However, there is one pretty major similarity between these two league vets-they have both played an integral role in the development of Oklahoma City star forward Kevin Durant. Ollie was a teammate of KD's for just one season, the 2009-10 campaign, and the Dallas native only saw the floor for 25 games that year, but his impact on the young superstar was immeasurable. That season proved to be the former Maverick's last in the league as he called it quits and is now an assistant coach at his alma mater, Connecticut. But for Durant, the impact of playing alongside someone like Ollie is not an experience he will soon forget. "It having veteran teammates like him is very valuable. I didn't know how valuable having vets just around for a young team like us helps," he said. "Kevin Ollie changed the whole perception of our team and the whole outlook of our team. We owe him a lot, just the attitude that he brought every single day, the professionalism he brought every day." He added: "He's just the ultimate professional. It's tough to be around a guy like that and have him leave the next year. But Kevin Ollie was a guy that kind of helped build that foundation here in Oklahoma City, just him being here for a year. I'm happy for him. I wish I could have played alongside him a little bit more." However, not all that long after Ollie retired from the Association the Thunder signed another veteran who would also have a huge impact on Durant in fellow University of Texas product Royal Ivey. Ivey is now in his eighth NBA season and just talking to the two-time league scoring champ and a guy who is universally regarded as one of the top young stars in the league that he's also impacted his fellow Longhorn. "That's my brother, man. I want him on the team for the rest of my career to be honest. As long as he wants to play, I hope he's my teammate," Durant said. "I enjoy playing and talking to him every single day, not just about basketball but about everything. We have a close bond. Everybody on the team says it's because we're both Longhorns and we come from the same program, but I really look at him as family, as my brother." And a big part of that relationship centers around Ivey being something of a sounding board for his younger teammate whenever necessary. "If I have something to talk about or if I want to vent to somebody, I go talk to Royal. It's far more than just coming in, practicing together and being on the court together. It's a brotherhood," Durant said. "I'm really blessed that I have a person like that who I can talk to outside of my family every day. Hopefully he's here for the long haul with us because he's such a great teammate and a great person." His veteran teammate and fellow UT product remembers the first time he met Durant and being immensely impressed with him from the start. "First time I met Kevin was when I would come down to UT every summer. When he was entering the draft, we kind of hit it off," Ivey recalled. "I just sat him down, told him what the league was about and said the sky is the limit for him. When he was in Seattle, we hung out and it just went from there. Ever since then, we just became tight. We'd talk on the phone, text and just try to keep up with him before I got to Oklahoma." Now that he's been around him on a daily basis for the last year plus, he not only sees an immensely talented basketball player who brings it every night on the hardwood, but also someone who definitely gets it off the court. "He's a great person. I think that's a bond that we both share, just being personable to people outside of basketball," Ivey said. "I kind of was attracted to that. Besides being one of the best basketball players in the world, he's probably one of the better people to be around. That's what I really like about him. And he's a hard worker, probably one of the hardest-working people I've ever been around." Before coming to OKC, the 6-foot-4 veteran played for the Hawks and Sixers along with a pair of stints with the Bucks and during his time in the NBA, he's played with a number of superstars but admits he's never quite seen one like Durant. "All-around person, all-around player, he can do everything on the court. Off the court, if you didn't know who Kevin Durant was, you would never know how humble he is-his humility and how he treats people when he's around people, how he treats his mom, his brothers and everybody," Ivey said. "He's a happy go lucky guy and really just loves basketball. He loves being personable and being good to people. That's uncommon for superstars," he said. "You get that label and you get that egocentric vibe from many superstars and he doesn't give off any of that. It's just a blessing to be around somebody like that. I'm just glad I got a chance to meet Kevin and we grew as friends. It's a lifelong friendship that I have with this guy. I'm thankful for that." Thunder head coach Scott Brooks has witnessed firsthand how much Durant has benefited from being around such seasoned veterans like Ivey and Ollie among others and realizes that has been crucial to his continuing development as a player. "I think he's maturing as a player," Brooks said. "Kevin's 22 years old and what he's done is pretty amazing. He's getting better and he's learning the game. He's still understanding how he can get open and utilize his skills." And that's part of the immense appeal surrounding this young superstar. On the court, Durant is as fiery as they come, a polar opposite of his laid back and easygoing off-court demeanor. "Just growing up and having that love for the game, I just hate losing. I hate losing and I hate playing bad," Durant said. "I always want to play well. I know that's impossible but I always want to play well." But there is one part of being on the court he loves above all else and the answer won't surprise anyone who knows him or has ever talked to him about his immense love for the game even for just a few minutes. "I just try to do my best to win for my teammates. I think the best thing about playing this game is celebrating with your teammates," Durant said. "I think that's the most fun thing for me in this game, is being around your teammates and celebrating after every made shot, after every basket, after every game-winning shot. That I enjoy. I just try to do everything for my teammates and try to put my heart and soul into it. It's more than just going out there and throwing a basketball at the rim. It's more than that. It's all about putting your everything into it and hopefully getting some good things out of it."
Original Story:
http://www.foxsportssouthwest.com/01/...
THE BACKYARD
BEST OF MAXIM
RELATED ARTICLES
Kevin Durant, Thunder have poor second half in loss to Trail Blazers.
So close, but as the saying goes, so far away. The Dallas Mavericks have won their fair share of buzzer beaters over time, but you really hate to lose one, especially when it feels and looks like your team if finally coming together and you can shut the nay sayers up for a while; but then as Dirk has saved Dallas many times, Kevin Durant did the same for Oklahoma City with a 3 at...
For a team that's gone 130-90 since starting out 3-29 three seasons ago, and has been at worst, the third-best team in the league this year, Oklahoma City sure does get a lot of questions about their chemistry. For all those who admire them as a model of how to build a contender, the Thunder [...]
Despite each suffering the first loss of the season in their most recent game, the Oklahoma City Thunder and Portland Trail Blazers seem poised to take the Northwest Division race down to the wire. After uncharacteristic performances, each look to bounce back Tuesday night when Oklahoma City hosts Portland in the first of four meetings. Kevin Durant said the Thunder (5-1) came...
The chemistry between Thunder stars Kevin Durant and Russell Westbrook has been questioned, but Durant says there's no reason to worry.
BY JOHN ROHDE, Staff Writer, jrohde@opubco.comPortland's game plan against the Thunder on Tuesday night wasn't solely to try and contain Kevin Durant.The Trail Blazers wanted to make the two-time scoring champ and his teammates work hard at the defensive end.Read more on NewsOK.com
Jason Green weighs in with his Portland Trailblazers vs. Oklahoma City Thunder Tuesday NBA basketball Preview and a free nba prediction to boot. NBA odds favor the Thunder by 5. Jason points out the Blazers have covered the spread in 4 of their last 5 games facing the Thunder in Oklahoma City. Gerald Wallace, LaMarcus Aldridge, Kevin Durant, Russell Westbrook lock horns.
The Oklahoma City Thunder have gotten a couple of much-needed days off following one of the most hectic opening schedules in the league. They won't get any more rest this weekend. They'll play three games in three days beginning with a home-and-home series against the Houston Rockets that starts Friday night at Chesapeake Energy Arena. Oklahoma City was one of two teams...
Thunder News

Delivered to your inbox

You'll also receive Yardbarker's daily Top 10, featuring the best sports stories from around the web. Customize your newsletter to get articles on your favorite sports and teams. And the best part? It's free!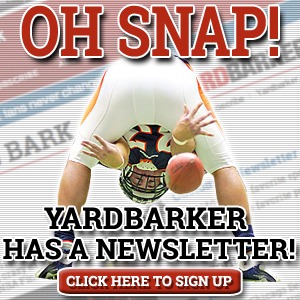 Latest Rumors
The Backyard

Today's Best Stuff

For Bloggers

Join the Yardbarker Network for more promotion, traffic, and money.

Company Info

Help

What is Yardbarker?

Yardbarker is the largest network of sports blogs and pro athlete blogs on the web. This site is the hub of the Yardbarker Network, where our editors and algorithms curate the best sports content from our network and beyond.