Found March 19, 2012 on Awful Announcing:
Charles Barkley currently leads the standings for the 2012 Billy Packer Chronicles.  And, judging by this clip, it's a safe bet that he'll continue to lead those standings heading into the Sweet 16.  But, it's up to you to decide that.  Charles' thoughts on Hardcore porn Pawn and the rest of the best quotes from the weekend have been collected for your voting pleasure.  Remember, you can vote for up to five.  We'll be back again on Thursday with the updated standings and the Sweet 16 Open Thread.  Here are your second round of Billies nominees...
1) "He once ate the entire turkey at Christmas, not this year, he's svelt." - Tim Brando on MSU's Derrick Nix. (via AA)
2) "Kendall Marshall is the Central Nervous System of the Tar Heels" - Steve Lavin (via verdint)
3) "Victor Rudd broke out the crank!" - Ian Eagle (via Irish1one)
4) "It's weird that when you challenge shots, the shooting percentage goes down." - Clark Kellogg (via ryan_balke)
5) "3 point lead and a timeout!  No, excuse me, foul." - Tim Brando (via crippenstation)
6) "I absolutely guarantee that I'm right.  Unless I'm wrong." - Seth Davis (via crippenstation)
7) "Even inspector gadget couldn't stop this one" - Jim Nantz (via jordangreene87)
8) "And yet, only a 2 possession, actually a 3 possession game, 5 point deficit" - Clark Kellogg (via RYbbc34)
9) "You want a sandwich, Verne? Pickles, burger, Mayo!!" - Bill Raftery (via LochNessMunchys)
10) "And Norfolk State, shocking victors over Duke yesterday." - Verne Lundquist (via AA)
11) "David Stockton, really has changed the complexity by his hustle & determination." - Reggie Miller (via AA)
12) "The rim looks as wide as the Pacific Ocean" - Bob Wenzel (via RyanECU)
13) "There's a block charge" - Reggie Miller (via Michael Necci)
14) "This Kentucky team sure has raised a lot of eyebrow lately" - Ernie Johnson (via arineliza)
15) "To me the pink elephant in the room was not their zone" - Kenny Smith (via The Notorious SK)
16) "I like the loosies..." - Bill Raftery (via LochNessMunchys)
17) "That's just a gangster move right there" - Len Elmore (via jackhammer619)
18) "I know what I'm gonna watch tonight!  Oh, sorry, wrong spelling... I saw four letters and got excited!" - Charles Barkley on Hardcore Pawn (via AA)
Vote for Your Round of 32 Billies Nominees (vote for up to five)
Vote For Your Round 2 Billies Nominees 
Original Story:
http://www.awfulannouncing.com/2012-a...
THE BACKYARD
BEST OF MAXIM
RELATED ARTICLES
What took you so long, Chuck? As you know, truTV has been hosting much of the NCAA tournament action this year for a second year straight. Charles Barkley has also returned as an analyst. As you may or may not know, there is a show on truTV that is called "Hardcore Pawn." Much like the show "Pawn Stars" on the History Channel, we understand the play on words. On Sunday night...
DIRTY WORK
With the NCAA Tournament being televised on truTV, it's been hilarious to watch seasoned basketball announcers like Marv Albert and Jim Nantz read ads for ridiculous reality shows like Lizard Lick Towing and Hardcore Pawn.  On Sunday night, the Xavier/Lehigh game ran into the originally scheduled broadcast time for Hardcore Pawn.  As Ernie Johnson was reading an ad for the...
One of the more popular show on the television channel TruTV is "Hardcore Pawn" which details the day-to-day business of a Detroit pawn shop. Back on Sunday, TNT analyst Charles Barkley decided to make a joke about a different spelling of the show's name: (Courtesy of Sports Grid)
Hardcore pawn. What one is stuck doing after a big gambling loss. Charles Barkley ladies and gentlemen. Every time you check your email, think -- gotta check Bob's Blitz. Follow us on Twitter.... Full story at Bob's Blitz ~ http://www.bobsblitz.com
CBS is dreadful, except for How I Met Your Mother. In an attempt to bring humor to a shameless plug, Sir Charles Barkley most likely angered his "people" with this joke from Sunday's broadcast during the NCAA tournament: "I thought it said another four letters at the end." Let me remind you, Arizona blow jobs. [Follow me @TravisHouser]
Charles Barkley is a pretty good NBA analyst and a pretty awful college basketball analyst, but either way he's always good for a cheap laugh or two.
I only recently realized that the whole cast doing March Madness analysis/recap in the CBS Studios are working really long hours. That realization came when last night, Charles Barkley was asked to... [[ Read More ]]
Two Billy Packer Chronicles votes are in the books and Charles Barkley takes home the top spot yet again for this amazing clip revolving around his excitement for Hardcore Pawn.  However, in spite of taking home the first two votes, Sir Charles doesn't lead our standings because of the overall body of work and valutility of one of CBS's game analysts.  The envelope please...
• Blake Griffin destroys this lady's nachos & beer • Hank Haney: Tiger pulls porn prank on golfer • Charles Barkley cracks 'Hardcore Porn' joke • Owen Wilson tapping Brad Penny's sloppy seconds • St. Patrick's Day Twitpic Roundup; Rick Ross, Irish? • Behati Prinsloo bra/undies extravaganza for your Monday • Best Bikini Ass You'll See Today, Maybe All...
Norfolk State center Kyle O'Quinn has been the breakout star of the NCAA Tournament in the first week. The senior from Jamaica, New York posted 26 points and 14 rebounds in an upset win over Missouri Friday, his 20th double-double of the season. He did an interview with CBS that played during halftime of one of the games Saturday and was asked how he was so overlooked by colleges...
We can always count on Sir Charles to make a clever play on words, so when Ernie Johnson did a promo for the TV show Hardcore Pawn of course Chuck chimed in.
Tar Heels News

Delivered to your inbox

You'll also receive Yardbarker's daily Top 10, featuring the best sports stories from around the web. Customize your newsletter to get articles on your favorite sports and teams. And the best part? It's free!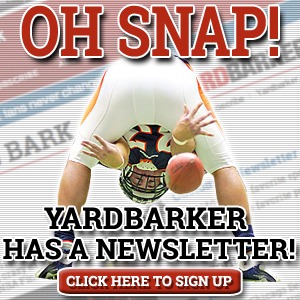 Latest Rumors
The Backyard

Today's Best Stuff

For Bloggers

Join the Yardbarker Network for more promotion, traffic, and money.

Company Info

Help

What is Yardbarker?

Yardbarker is the largest network of sports blogs and pro athlete blogs on the web. This site is the hub of the Yardbarker Network, where our editors and algorithms curate the best sports content from our network and beyond.