Found March 26, 2012 on Awful Announcing:
With the second weekend of the tournament featuring both the Sweet 16 and Elite 8, we've brought both polls into one place for your voting pleasure!  Clark Kellogg holds the lead after the first weekend over Charles Barkley and Reggie Miller and Bill Raftery.  Miller and Raftery are departing the television broadcasts (Raft will still be working radio though), so they'll need as many points as they can get from these two votes.  Remember, these are two separate votes, so there are plenty of BP points up for grabs.  This week, with the number of nominees limited, you can vote for up to three quotes in each poll.  For both the Sweet 16 and Elite 8, we'll still award the Top 10 quotes from each round.  Whose going to lead going to New Orleans?  That's for you to decide!
Sweet 16 Nominees (vote for up to three)
1) "People say he can run and jump. So can a deer. And you wouldn't put a deer in the game." - Charles Barkley (via AA)
2) "You're hot." - Lesley Visser (via AA)
3) "Nail. In. The. Coffin." - Reggie Miller as Louisville goes up by FIFTEEN with 58 sec. left (via SeahawkSanders)
4) "The teacher vs. the mentor" - Len Elmore (via swampdavid1)
5) "Big time Snatch!" - Bill Raftery (via JasonShubnell)
6) "Good call there by Ted Valentine" - Reggie Miller (via RYbbc34)
7) "if you look at the score you will know who is winning the game" - Charles Barkley (via tec6062)
8) "Thomas I think got the slap from the rear." - Bill Raftery (via AA)
9) "Terrence jones showing you his full package" - Clark Kellogg (via zacdefran)
10) "You just got Dieng'ad" - Reggie Miller (via Josh_Batelli)
11) "Indiana leavin a little cheese at the free throw line." - Clark Kellogg (via AA)
12) "It shouldnt matter if the elbow was inadvertent or advertent" - Len Elmore (via xavmcd)
  Your Sweet 16 Billies Nominees!
Elite 8 Nominees (vote for up to three)
1) "Florida is gonna focus on 2 big areas. Long rebounds, 50/50 balls, and no turnovers." - Reggie Miller (via socialmiscondct)
2) "Beal for the lead... Boynton for the lead..." - Kevin Harlan (via everyone)
3) "Winner advances to the Elite 8 in New Orleans." - Marv Albert (via revafriedel). The Final Four is in New Orleans, but we kinda knew what Marv meant.
4) "If they would have thrown a funnel cake in there it would have been heavenly." - Clark Kellogg (via AA)
5) "Still got a little gitch in his hiddy-up" - Clark Kellogg (via ClintHedges)
6) "Get the towel out, cause that baby was wet when it came down" - Bill Raftery (via jtylercampbell)
7) "I'm an analyzer." - Kenny Smith (via ACJoeyJones)
8) "They let them bang, then on the third blow called a foul" - Dave Sims (via mmenniger)
9) "Every rule ain't a rule" - Charles Barkley (via Jthethird)
10) "Dribble trenepation" - Charles Barkley (via jtylercampbell)
11) "You used to get it up prematurely" - Bill Raftery (via Anthony_Broome)
Vote for your Elite 8 Billies nominees! 
Original Story:
http://www.awfulannouncing.com/2012-a...
THE BACKYARD
BEST OF MAXIM
RELATED ARTICLES
Although Charles Barkley is currently doing work for Turner Sports on the NCAA Tournament, that didn't stop him from making an interesting statement about the University of Kentucky.During the postgame show for Kentucky's win over Baylor, Sir Charles said this about their chances of winning the title:"Nobody can beat this team. The Toronto Raptors can't, the Bobcats maybe...
Charles Barkley isn't exactly a college basketball expert, but he's trying to play one on TV. Sir Charles has been providing studio analysis after games on the CBS/TNT/TruTV network throughout March Madness. After Kentucky beat Baylor 82-70 to win the South Region and advance to the Final Four Sunday, Barkley called them the best team in the country. "Nobody can beat this...
Here is the schedule on CBS for the Elite Eight match-ups for the NCAA Men's Division I Basketball Championship: SATURDAY, MARCH 24th PHOENIX, AZ 4:30p.m. Louisville vs. Florida (Kevin Harlan, Len Elmore, Reggie Miller, Marty Snider) CBS BOSTON, MA 7:05p.m. Ohio State vs. Syracuse (Verne Lundquist, Bill Raftery, Lesley Visser) CBS SUNDAY, MARCH 25th ATLANTA, GA 2:20p.m. Baylor...
*** In early 1991, Larry Bird and his Boston Celtics squared off against Reggie Miller and the Indiana Pacers. This was before Bird's heroic game 5, of the 1st round of playoffs, that same year. Larry-Legend, suffering from the back pain that ended his career, launched SEVEN three pointers in this game and his all [...]
Chuck is at it again. Sir Charles Tweeted today that the Kentucky Wildcats could beat the Toronto Raptors and the Charlotte Bobcats. This isn't the first time I've heard somebody come out and say that the Wildcats could beat an NBA team, however, I do not share this opinion. But hey, if Chuck believe it to be true, then who am I to disagree… Charles Barkley says Kentucky could...
Nothing like dragging the game out into overtime! The Dallas Mavericks get a much-needed win over the Houston Rockets, 101-99 in overtime in Houston. The Mavericks were led by Dirk Nowitzki who scored 31 points and had 7 rebounds; it was just enough points to put Dirk on the #19 spot in NBA All-Time scoring just ahead of Sir Charles Barkley, the man who just said  about a month...
We've reached the final step before the Final Four next week in New Orleans.  Before we get to the details for the open thread, here's your Elite 8 announcing schedule... Saturday March 24 West Regional Final: #4 Louisville vs #7 Florida (4:30 ET CBS) - Kevin Harlan, Len Elmore, Reggie Miller East Regional Final: #1 Syracuse vs #2 Ohio State (7:05 CBS) - Verne Lundquist...
NBA News

Delivered to your inbox

You'll also receive Yardbarker's daily Top 10, featuring the best sports stories from around the web. Customize your newsletter to get articles on your favorite sports and teams. And the best part? It's free!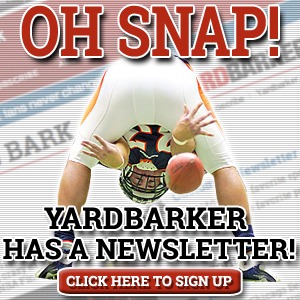 Latest Rumors
Best of Yardbarker

Today's Best Stuff

For Bloggers

Join the Yardbarker Network for more promotion, traffic, and money.

Company Info

Help

What is Yardbarker?

Yardbarker is the largest network of sports blogs and pro athlete blogs on the web. This site is the hub of the Yardbarker Network, where our editors and algorithms curate the best sports content from our network and beyond.