Found September 21, 2012 on Pass The Pill:
Former Knicks' guard and current TV analyst for MSG, Walt "Clyde" Frazier, had some opinions to lend about the current state of the New York Knicks and one of those opinions involves Carmelo Anthony becoming more like LeBron James. The belief is that Carmelo needs to become more of a two-way player, or a jack of all trades, much like LeBron James has been in Miami, or even back to his days with the Cleveland Cavaliers. LeBron simply does it all. He's a threat from various spots on the offensive end and he also gets it done on defense, something Carmelo Anthony has been publicly crucified for not doing his entire NBA career. "They better forget last year and do whatever it takes," Frazier said of Anthony and Stoudemire. "They have to look at Miami and what LeBron James was able to do, Carmelo especially because James became the consummate player — defense, passing and whatever else it took for that team to get a championship." Walt has an interesting point about Anthony and expanding his game to become an impact player on both ends, but let's be realistic here. Not every player has what it takes to play both ends with the same tenacity as players like LeBron James, or Kobe Bryant. Carmelo has the tools to play offense with the best of them, but I'm not sure how his game would react if he attempts to change things enough to completely reinvent his defensive prowess. It's clear that the Knicks need to become a better defensive team, and the additions of Jason Kidd and Ramon Felton should help, along with Tyson Chandler's presence, set a new pace for defensive basketball in the Big Apple. We saw how things changed when Mike Woodson took the helm, but not enough to realistically compete for the NBA crown. "He's a communicator, and he can relate to the players," speaking of Woodson. "What I noticed right away when he came in last year was that players were listening to him, especially Carmelo. He seemed to turn around his whole game." The Knickerbockers biggest issue may lie with Amar'e Stoudemire. He has to produce on both ends, even more so that Carmelo, because the Knicks faithful saw what Stoudemire is capable of during his first season with the Knicks in 2010. The fans want that, the franchise needs that type of play from their $90 man. Amar'e needs to step it up and do what's best for the Knicks moving forward. "What if Amar'e is better coming off the bench?" Frazier said. "Will he accept that role?" Many analysts have dabbled in the theory of Amar'e coming off the bench, but nothing really seems to point in the direction of that actually coming into fruition on the court. The post Walt Frazier says Carmelo Anthony needs to be more like LeBron James appeared first on Pass The Pill.
Original Story:
http://sports-kings.com/passthepill/w...
THE BACKYARD
BEST OF MAXIM
RELATED ARTICLES
In case you forgot, LeBron James used to play high school football before dedicating himself to the craft of basketball.The University of Oregon recently sent LeBron the brand new Nike "Liquid Lightning helmet" and Nike "Vapor Jet "gloves as a gift.Check out the below photo of LeBron decked on in them that he posted on his Twitter/Instagram account:(Courtesy of Examiner)
Previously on That NBA Lottery Pick, we mentioned that New York Knicks star Carmelo Anthony was in Thailand with his wife, LaLa.Well, Carmelo has continued his jet-setting ways in the past week. Check out this picture from the folks over at Beyond The Buzzer of Melo chillin' in a cabana in Puerto Rico:For the third straight year, Anthony was on the island to do press for his...
Well Lebron James did win a title. But the better question is does anyone see them beating the LA Lakers and Dwight Howard/Kobe Bryant/Steve Nash trio?
VALUED OPINION
Stephon Marbury says he doesn't believe Amar'e Stoudemire and Carmelo Anthony can win together. He also had some interesting things to say about the Knicks' ownership.
He was supposed to be the next Dirk, but Dark Milicic was the next big bust instead. The #2 overall pick of the 2003 NBA Draft, sandwiched between LeBron James and Carmelo Anthony, has bounced around the league for the majority of his career, and amnestied most recently by the Timberwolves. Now, the Boston Celtics [...]
Apple iPhone 5 just released! New York Knicks' Iman Shumpert shatters a new iPhone 5 in an attempt to see how it performs as a basketball. At the end of the video Shumpert says tune in for his iPad 4 review. Carmelo Anthony
The New York Knicks have their fair share of critics and you can count amongs them former All Star Stephon Marbury who does not like what he sees in his former team. Please Click Here To Read This Story
The visions that Knicks fans had of the Larry O'Brien trophy over a year ago when the team signed Amar'e Stoudemire and then acquired Carmelo Anthony have all but disappeared. After more than a season of sub-.500 ball together, it's starting to look like the Knicks need more than just 'Melo and Amar'e to contend for a title. In fact, many wonder if they will have to get...
Arkansas locked up one of the nation's top power forwards in Bobby Portis. Here's a highlight reel of him at LeBron James Skills Academy.
Columbia, Md. – The point-forward. LeBron James — with the size to play tight end in the NFL — is a dominant force down low, but he's just as good in transition. He ran Cleveland's offense and is the primary facilitator for Miami. The shoot-first point guard. Russell Westbrook might be more inclined to drop [...]
Miami Heat superstar Dwayne Wade was one of several members of the Miami Heat's World Championship team to get fitted for their rings Tuesday at American Airlines Arena. The 8-time All-Star and the rest of the members of that title team are slated to receive their new jewelry on October 30th during Miami's home opener against the Boston Celtics.It will mark the second championship...
NBA News

Delivered to your inbox

You'll also receive Yardbarker's daily Top 10, featuring the best sports stories from around the web. Customize your newsletter to get articles on your favorite sports and teams. And the best part? It's free!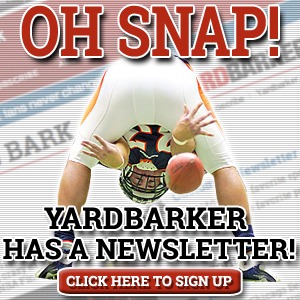 Latest Rumors
Best of Yardbarker

Today's Best Stuff

For Bloggers

Join the Yardbarker Network for more promotion, traffic, and money.

Company Info

Help

What is Yardbarker?

Yardbarker is the largest network of sports blogs and pro athlete blogs on the web. This site is the hub of the Yardbarker Network, where our editors and algorithms curate the best sports content from our network and beyond.