Found February 15, 2013 on Bacon Sports:
PLAYERS:
Vince Carter
,
LeBron James
,
Kobe Bryant
,
Harold Miner
,
Tracy McGrady
,
Steve Francis
TEAMS:
Dallas Mavericks
,
Miami Heat
,
Los Angeles Lakers
,
Atlanta Hawks
,
Orlando Magic
,
Chicago Bulls
,
Toronto Raptors
Yesterday NBA TV was running an NBA Slam Dunk Contest marathon, which is pretty much porn for a sports degenerate like myself. They showed the 1988 MJ vs Dominique dunk contest directly after the 2000 Vinansity dunk contest. I have no doubt that these are the best two dunk contests ever. In 1988 Michael Jordan vs Dominique Wilkins was the most epic back and forth battle in slam dunk history. In 2000 Vince Carter put on the most unbelievable display of dunks that the world has ever seen. So the real question is which year was the greatest in NBA Slam Dunk Contest history? I've included a video of each so that you can judge for yourself. At the end of the article I'd love to hear which one you think is greater and why. 1988 – Michael Jordan vs Dominique Wilkins in Chicago Stadium  I was raised in Pittsburgh, was seven years old at the time, and the 1988 Slam Dunk Contest was the most influential basketball moment of my life and molded me into who I am today (no joke). I created Bacon Sports on my love for late 80′s/90′s sports nostalgia and this is the greatest event of that era. Like many of kids my age Michael Jordan was my idol and this dunk contest further cemented him as the greatest ever. Now onto the dunk contest itself. One thing that the 1988 Slam Dunk Contest has in its favor is the format. I love how it was three rounds. The first round was only two dunks (top four dunkers advance) but the semi's and finals were both three dunks. This is like getting extra Christmas presents compared to the 2000 format (two rounds, three dunks in round one, three dunkers advance to the finals where it's only two dunks). Advantage 1988. The fact that Clyde Drexler was also a participant in the 1988 Slam Dunk Contest is an afterthought. He was always the bridesmaid to Jordan and couldn't hold Dominique's jock strap when it came to dunking. This year was all about MJ and Nique. In terms of dunking the 1988 Finals was the greatest display of dunking by two contestants ever. Of the six dunks in the finals there were four perfect scores of 50. As if that wasn't good enough the winner was decided on the last dunk as Michael Jordan needed a 49 to win the title (talk about drama). Not to let his home crowd down he catapulted from the free throw line, soared through the air, and jammed one home that blew the roof off of Chicago Stadium. That is definitely the most iconic dunk ever and helped build the Jordan brand to where it is today. I believe that the 1988 Slam Dunk Contest is one of the reasons why Lebron James will never be thought of as a greater basketball player than Michael Jordan. The greatest have all won the dunk contest (Kobe Bryant, Jordan, Dominique, Dr. J) and while it doesn't make you a better player on the court (see Harold Miner, JR Rider) it does add a different aura of awesomeness to a players legacy that will never be forgotten by fans. 2000 – Vinsanity Vince Carter's arsenal of dunks in the 2000 Slam Dunk Contest were the greatest display of dunks ever. Yes, that includes anything that Michael Jordan or Dominique Wilkins did in the 1988 contest. He did things that we didn't think were humanly possible and it left us all with our jaws dropped and jumping out of our seats. Think of the last time that you saw something and it caused you to get up out of your seat and run around. Vince Carter did that numerous times in this contest. In 88′ Michael Jordan and Dominique Wilkins back and forth battle had more drama than all the seasons of the Real World combined. In 2000 there was no drama as Vince Carter left no doubt in anyones mind as to who was going to win. After each dunk we all couldn't wait to see what he'd do next. No way that he could top what we believe was the greatest dunk that we've ever seen…and then he did. Overlooked in the 2000 Slam Dunk Contest because of Vinsanity was the overall quality of dunks by the other participants, most notably Tracy McGrady and Steve Francis. In between all of us losing our **** the Franchise and T-Mac were throwing down monster jams that in any other year would have won them the title. Unfortunately for them they just so happened to be doing this the one year that unless you did a 360 from the charity stripe or dunked from the three point line there was going to be no way you could win. The 2000 Slam Dunk Contest does have to get some points for having three amazing dunkers instead of just two in 1988. Final Verdict This is about as tough a call as it gets. I watched Vince Carter's between the legs dunk about 10 times yesterday (thank you Tivo) as I just couldn't get enough of it. It's absolutely amazing. I do, however, have to cast my vote for the 1988 Slam Dunk Contest as it was the most iconic ever and had more drama. The style, grace, and power that Jordan and Dominique displayed were out of this world. It was two of the three greatest dunkers ever (#1 Vince Carter, #2 Michael Jordan, #3 Dominique Wilkins) raising the bar for what a slam dunk contest should be. It had a lasting impression and changed my life forever. Let's keep this conversation going by letting us know which you think is the best dunk contest ever.  Give us your thoughts below.     The post Was 1988 or 2000 the greatest NBA Slam dunk contest ever appeared first on Bacon Sports.
Original Story:
http://www.baconsports.com/was-1988-o...
THE BACKYARD
BEST OF MAXIM
RELATED ARTICLES
LeBron James and his place among the greatest of all-time will be debated long after he has retired from the game. His recent run of play has been not nothing short of remarkable. Over the past ten games James has averaged 31. points per game and has shot.621 percent. His hot streak has collided directly with the week-long celebration of Michael Jordan's 50th birthday. Please...
HOUSTON The weekend started on Friday, when LeBron James started talking about Michael Jordan talking about LeBron James. This is the nature of NBA All-Star weekend, which finishes with the All-Star game at 8 p.m. ET Sunday at Toyota Center in Houston. It is a weekend for sorting things out whos better than whom, what is the state of the NBA, how popular is basketball globally...
Heat forward LeBron James has been lights out in his past seven games. James has been scoring at will and has lead the Heat on a seven game winning streak. LeBron has had record performance with at least 30 points and 60 percent shooting in six straight games. Anytime an all-star player is on a great streak, the media and fans start up the debate who is the best player to have played...
8 a.m. ET: LeBron James, Kobe Bryant, Kevin Durant and the rest of basketball's brightest stars are set to share the court in Houston. The NBA All-Star Game tips off Sunday with leaguewide bragging rights on the line. James Harden of the host Rockets may have trouble cracking his team's rotation for once. The Western Conference squad is the deeper of the two, but the East will...
You may have forgotten that back in December of 2011, the Lakers and Hornets all but had a deal in place that would have sent Chris Paul to the Lakers to team up with Kobe Bryant. That's until the deal was vetoed by the NBA. But with all the struggles the Lakers have had since then, you always knew that Kobe Bryant wouldn't forget. Why? Because the NBA quite possibly may have...
Kobe told Dwight Howard to leave the Clown Act in Orlando, but to date Howard has ignored him. That is the reason why there has already been several dust ups between Kobe and Dwight. While Kobe didn't point out Dwight specifically in these quotes provided by Larry Brown Sports, it is pretty obvious who he is talking about. "I'm not happy right now and hopefully my teammates...
You can make an argument that  Lebron James, Michael Jordan and Kobe Bryant all could be rated  the number one player of All-Time. If I was a betting man, Jordan would be the number one choice. The game in the Jordan era was different, more physical, lots of hand checking and harder fouls were allowed. Second for me would be Kobe. He has the work ethic of MJ and a drive of his...
Kobe Bryant has one season remaining on his current deal with the Lakers.
Justin Jackson showed why he is one of the nation's top prospects in 2014 at LeBron James Skills Academy. Here's a highlight reel of him at the event.
LeBron has been simply phenomenal this season. It will be very hard for any other player to overcome him in the MVP race I'm sure you've heard of all the ridiculous, superhuman-like stats that LeBron James of the Heat has put up recently in the month of February in which James' Heat have played six games, five of which they have won. A shooting percentage...
Saturday Night Live's Jay Pharoah is a master impressionist, and his Stephan A. Smith is right on par with his Will Smith, Denzel Washington and Jay-Z. SNL mocked Smith's boisterous claims that he has has more insight because he knows athletes personally. According to Pharoah's Smith, he has shared a plate of spaghetti Lady & the Tramp-style with Steve Nash and taken...
NBA News

Delivered to your inbox

You'll also receive Yardbarker's daily Top 10, featuring the best sports stories from around the web. Customize your newsletter to get articles on your favorite sports and teams. And the best part? It's free!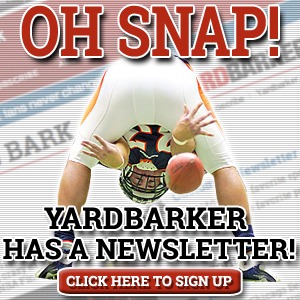 Latest Rumors
The Backyard

Today's Best Stuff

For Bloggers

Join the Yardbarker Network for more promotion, traffic, and money.

Company Info

Help

What is Yardbarker?

Yardbarker is the largest network of sports blogs and pro athlete blogs on the web. This site is the hub of the Yardbarker Network, where our editors and algorithms curate the best sports content from our network and beyond.