Found May 02, 2012 on Hoops Addict:
Tyson Chandler will be named the NBA's Defensive Player of the Year this afternoon. Remember him? You may have a faint recollection of the man who became the defensive anchor for the Dallas Mavericks last season as they won their first ever championship.
Original Story:
http://www.hoopsaddict.com/was-lettin...
THE BACKYARD
BEST OF MAXIM
RELATED ARTICLES
SIMMER DOWN NOW
Just when you thought that Dallas Mavericks head coach Rick Carlisle was a peaceful individual, he decided to have an epic coaching meltdown last night.It happened in the second quarter of last night's game three between the Mavericks/Thunder after a lack of an offensive goal-tending call on Oklahoma City's Kendrick Perkins sent him into a rage not seen before.Carlisle needed...
One more play. The NBA game is a curious one. One that presents us with almost 3 hours of theater in which their can be hundreds of events that lead to victory. And yet, many observers often walk away wondering why they watch the 1st 75-90 of the game. Because, often, it seems that only the final few minutes -- often referred to as "crunch time" -- is all that truly matters...
DALLAS For half a decade, the Dallas Mavericks have mastered the art of winning close games. For this bastardized season, they've painted outside the lines as the most wobbly close-game combatants among playoff teams. But for one game on Thursday Game 3 in this first-round playoff series against a blossoming Oklahoma City team the ability to arrange for close games and the...
During the press conference after the Dallas Mavericks' game two loss to the Oklahoma City Thunder on Monday night, Mavs head coach, Rick Carlisle, had some choice words concerning how he feels the Thunder are playing. "We don't like the cheap shots when they give them, and they don't like them if we give them." Said Carlisle. "The dirty ********'s got to stop." ...
ATTENTION, ATTENTION, ATTENTION all  Dallas Mavericks players, coaches, staff and fans, just roll it up for this year, go home and we'll see you next season and better luck next time. If you listened to some of the commentators after the game, that's the impression you would have gotten, especially from Charles Barkley on TNT, as he quoted, "Dallas is just not good enough...
Lamar Odom's time with the Mavericks was a disaster. Anyone who watched the 32-year-old struggle in his 50 games in Dallas probably believes Odom's professional career is close to being over. So how could anyone with basketball knowledge believe Odom, who averaged career-lows of 6.6 points and 4.2 rebounds, could be considered to represent the US in the Olympics? According...
DALLAS After falling down 0-2 in this Round 1 best-of-seven series, the Dallas Mavericks couldn't get out of Oklahoma City fast enough but the Basketball Gods refused to even grant them that wish, as a hailstorm prevented the team plane from departing OKC following Monday's Game 2 loss. Ah, more time on a bus, then on a plane, then on a day off before Thursdays Game 3 in...
The defending NBA champs are in trouble. The veteran-laden Mavs are proving to be no match for the up-and-coming OKC Thunder. That doesn't mean they won't go down without a fight though. Things got heated between the Mavs fearless leader, Dirk Nowitzki, and the Thunder's enforcer, Kendrick Perkins last night. http://www.youtube.com/watch?v=7r0K-Mgx0_Y Check us out on Facebook...
Playoff series are as much about what happens between games as they are about what happens during the game. This is where the nuances of a Playoff series are worked out and coaches prove their real value. They adjust and tinker with their game-plans to give their team new ways to put players in the exact right spot to be effective and score. This is the tug and war. The good coaches...
DALLAS (AP) -- Kevin Durant finally found his postseason shooting touch to get Oklahoma City off to a quick start, and the Thunder never trailed on the way to a 95-79 victory over the Dallas Mavericks on Thursday night for a commanding 3-0 series lead over the defending NBA champs. After two close games on their home court, the young Thunder ran away with Game 3. They will run...
A clearly frustrated Rick Carlisle took the podium last night after the Thunder beat his Mavs 102-99. A reporter asks Carlisle about a run in between Dirk Nowitzki and Kendrick Perkins and Carlisle responds in no uncertain terms that there is some dirty play going on. And it needs to stop.
DALLAS -- The defending champions are 48 minutes from elimination. The Oklahoma City Thunder put a pounding on the Dallas Mavericks that likely has signaled a changing of the guard in the Western Conference. The Thunder's 95-79 romp Thursday has the young upstarts one victory from advancing to the second round. The Mavericks, down three games to none in the best-of-seven...
Mavericks News

Delivered to your inbox

You'll also receive Yardbarker's daily Top 10, featuring the best sports stories from around the web. Customize your newsletter to get articles on your favorite sports and teams. And the best part? It's free!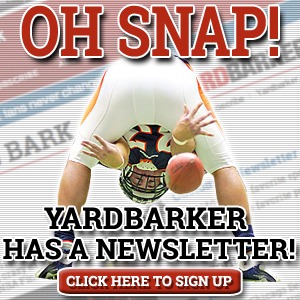 Latest Rumors
Best of Yardbarker

Today's Best Stuff

For Bloggers

Join the Yardbarker Network for more promotion, traffic, and money.

Company Info

Help

What is Yardbarker?

Yardbarker is the largest network of sports blogs and pro athlete blogs on the web. This site is the hub of the Yardbarker Network, where our editors and algorithms curate the best sports content from our network and beyond.