Found December 01, 2011 on Wizards Extreme:
The Washington Wizards will not be using the amnesty clause on Rashard Lewis once the Collective Bargaining Agreement (CBA) is complete, according to Lewis' agent.
For those not caught up in the legal red tape that is the CBA, the amnesty clause gives NBA teams the opportunity to waive one player from their roster and not have his salary count against their cap.  With many teams over the cap, the clause helps because the release of a player helps the team avoid paying the luxury tax.
When the clause was announced, many believed Lewis would be waived given his $21 million salary.  So why are the Wizards not releasing him?
There are a couple of reasons.  For one, the team is under the salary cap so there isn't a danger of having to pay the luxury tax.  They can afford to keep Lewis on the roster.
Second, While getting rid of his $21 million for this season would be helpful in signing other free agents, the crop of available players this offseason is significantly diluted when compared to years past.
Tyson Chandler?  Nene?  Those are two of the top free agents available, so from a fiscal standpoint, it doesn't make sense to rid the team of Lewis and his expiring deal to bring on an above average player for more years and more dollars in the long term.
Lastly, Lewis' expiring $21 million will be an attractive trade bargaining chip in favor of the Wizards.  There will be plenty of teams looking to get under the cap, or to simply free up cap space, and make a potential run at high prized free agents like Chris Paul, Deron Williams, and Dwight Howard.  Washington should be able to continue its rebuild by acquiring young and relatively inexpensive building blocks to surround John Wall by moving Lewis' contract later in the season.
Remember - acquiring Lewis in the Gilbert Arenas trade wasn't done to make him a staple part of the franchise.  It was to shave off a year of having to pay Arenas, and be one year closer to rebuilding the team the way owner Ted Leonsis visions it.  Not using the amnesty clause fits that plan.


Original Story:
http://www.wizardsextreme.com/washing...
THE BACKYARD
BEST OF MAXIM
RELATED ARTICLES
Rashard Lewis's agent, Tony Dutt, confirmed to Yahoo! Sports on Wednesday that the Wizards would not use the amnesty clause to waive his client. The new collective bargaining agreement will contain a provision that allows teams to cut a player and have the entire salary removed from the cap. Lewis would appear to be a prime candidate to be released since he is two years removed...
Rashard Lewis is due a prorated portion of $21.1 million in 11-12 and $22.6 million in 12-13.
Things aren't looking so good for Washington Wizards forward Rashard Lewis financially. There are rumors the Wizards are going to release him and his $22 million per year salary when the NBA offseason officially begins. Normally, that wouldn't matter because NBA contracts used to be guaranteed, but the new collective bargaining agreement has some stipulation that allows teams...
In case you stopped paying attention after the NBA locked out its players on July 1, you might not realize that John Wall was pretty busy this extended offseason. He played in charity exhibitions and pickup basketball games all over the country and flaunted the explosiveness and freakish athleticism that he wasn't able to display during a rookie season that was altered by some...
If we didn't call this the amnesty provision the Gilbert Arenas rule, we would call it the Rashard Lewis rule. He is owed $21.1 million this season and $22 million next season, and while he still has some value at as a stretch four he doesn't have second-highest-paid-player-in-the-league value. But the Wizards are not going…
After making some outpost in Virginia their training camp home the past seven seasons, a hurried NBA schedule has forced the Wizards to hold their first practices at Verizon Center beginning Dec. 9. The Wizards began the John Wall era last season with a brilliant marketing strategy to open training camp with a Midnight Tip-Off event at George Mason's Patriot Center that was free...
Wizards President Ernie Grunfeld is addressing the media today at 12:30 to discuss the upcoming NBA season. Beat writer Michael Lee is live-tweeting the news conference. 12:55 p.m.: Preseason schedule: #wizards will host PHI on Dec. 16, travel to PHI on Dec. 20. 12:48 p.m.: In case there is any confusion: Ernie Grunfeld: "In all likelihood, we won't amnesty anybody this year...
The truncated 66-game season the NBA will have this year will either benefit veteran teams or younger teams. It all depends on your perspective. "You can have an argument for whatever you want to," said Wizards head coach Flip Saunders at a press conference Friday at Verizon Center. "Veteran teams ...
Ernie Grunfeld sat in front of reporters, with a Wizards banner draped on the wall behind him, and explained the team's plans in free agency, his expectations for the upcoming condensed season and how the young players on the roster have developed during a protracted offseason. A few hundred feet away, in the bowels of the Verizon Center, Andray Blatche, Brendan Haywood, Roger...
The NBA's new collective bargaining agreement hasn't been signed off on, yet, and the NBA Players Association hasn't even officially reformed. Training camps and free agent signings are still technically not due to hit until December 9th, though there was a slow and steady trickle of NBA players seen walking into the team practice facilities that they were literally locked...
NBA News

Delivered to your inbox

You'll also receive Yardbarker's daily Top 10, featuring the best sports stories from around the web. Customize your newsletter to get articles on your favorite sports and teams. And the best part? It's free!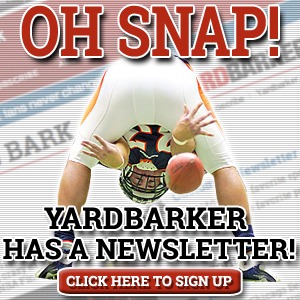 Latest Rumors
Best of Yardbarker

Today's Best Stuff

For Bloggers

Join the Yardbarker Network for more promotion, traffic, and money.

Company Info

Help

What is Yardbarker?

Yardbarker is the largest network of sports blogs and pro athlete blogs on the web. This site is the hub of the Yardbarker Network, where our editors and algorithms curate the best sports content from our network and beyond.